Machos- Middle Eastern Nachos for Game Day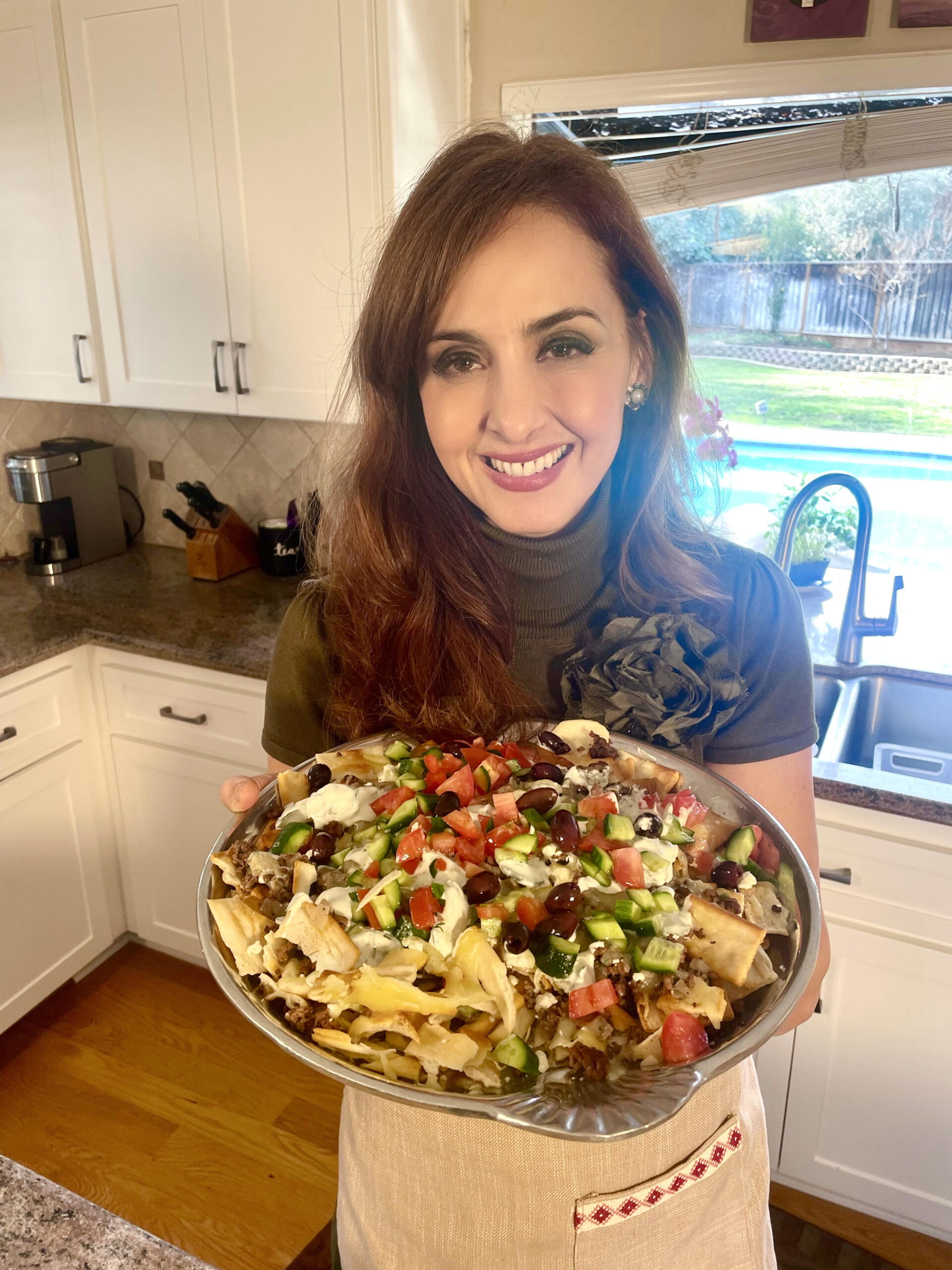 By: Blanche Shaheen/Arab America Contributing Writer
As first generation Arab Americans, my siblings and I were not exposed to nachos until we saw everyone eating them at a middle school sports rally. Like most children, we didn't really have high culinary standards, so salty, crunchy chips drowning in a fake cheesy sauce hooked us immediately.
In high school, we looked forward to our parents' night out so that we could raid the kitchen our own way. Thinking we were teenage cooking prodigies, we piled cheese a foot high on stale chips and plopped them into the microwave. Regardless of the rubber-coated mountain that resulted, we were proud of our do-it-yourself nachos.
As adults, our tastes grew a bit more sophisticated, so we tried adult nachos with the works – topped with beef, onions, tomatoes, chiles and sour cream. There are two categories of people – those who wouldn't touch nachos if their lives depended on it and those who will dive full throttle into a plate of nachos with no regrets, never mind the aftermath of meat sweats and lactose intolerance.
These days I can't afford to go on nacho binges and still fit into my jeans the next day. The question of how to enjoy this treat somewhat guilt-free and stay true to my healthy Middle Eastern diet roots led to my recipe for "Machos."
"Machos" are essentially Middle Eastern nachos, packed full of lean protein, fiber and, yes, real cheese. First, swap out tortilla chips for crunchy pita chips. The thicker the pita chip, the more toppings it can hold without breaking apart. You can use really lean ground beef with 4% fat or ground turkey, but you can also use the 80/20 ground beef for extra fat and flavor.
Instead of orangy cheese product, use real mozzarella, which has lower saturated fat than most cheeses. The addition of a little zesty feta cheese also goes a long way in adding flavor without having to use too much.
Instead of salsa, a cucumber tomato salad, otherwise known as salata baladia, does the job of adding a juicy and crispy texture. Finally, you can replace traditional sour cream with cucumber yogurt sauce. If you don't want to make the cucumber yogurt sauce from scratch, you can purchase store bought tzatziki for a shortcut. If you like a bit of heat, feel free to amp up the macho factor with a big splash of hot sauce. You can serve "Machos" on a platter or in bowls, so each person can dig in with a fork.
For a video tutorial of how to make nachos, click on the video below:
MACHOS
Ingredients:
1 tbsp olive oil
1 lb ground beef
½ onion minced
4 cloves garlic minced
1 tsp ground allspice
1 tsp allspice
Dash of lemon pepper
Salt to taste
2 tbsp finely chopped parsley
12 ounces pita chips
½ cup crumbled feta cheese
1 cup mozzarella cheese
¾ cup Kalamata olives (optional)
Tomato Cucumber Salad – Salata Baladia
1 large tomato, finely diced
1 large persian cucumber, finely diced
½ red onion, finely chopped
1 tbsp olive oil
Juice of one lemon
Salt to taste
Tzatziki Sauce
8 ounces full fat Greek Yogurt
1 large Persian cucumber, peeled and grated
1 tbsp olive oil
1 large clove or 2 small cloves of garlic, finely minced
¼ cup minced fresh mint
1 tbsp minced fresh dill
Juice of 1/2 lemon
Salt to taste (about ½ tsp)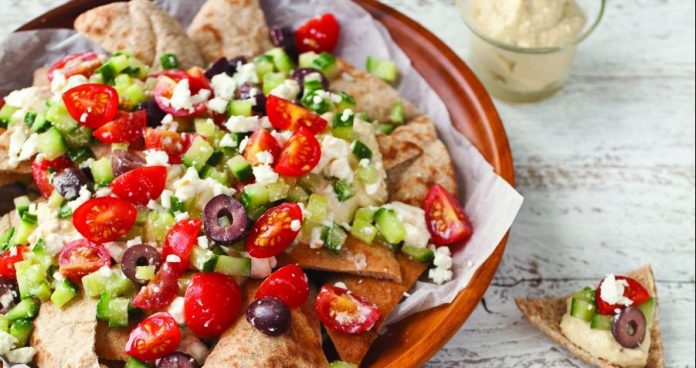 Blanche Shaheen is the author of the cookbook called "Feast In the Middle East, a Journey of Family and Cuisine" which you can order here: https://secure.mybookorders.com/mbo_index.php?isbn=9781545675113 She is also a journalist, and host of the popular cooking show called Feast in the Middle East. She specializes in Arab cuisine of the Levant and beyond. You can check out her cooking video tutorials at https://www.youtube.com/user/blanchetv Her recipes can also be found at: https://feastinthemiddleeast.wordpress.com/