Marrakesh: Exploring the Red City's Rich History, Culture, and Cuisine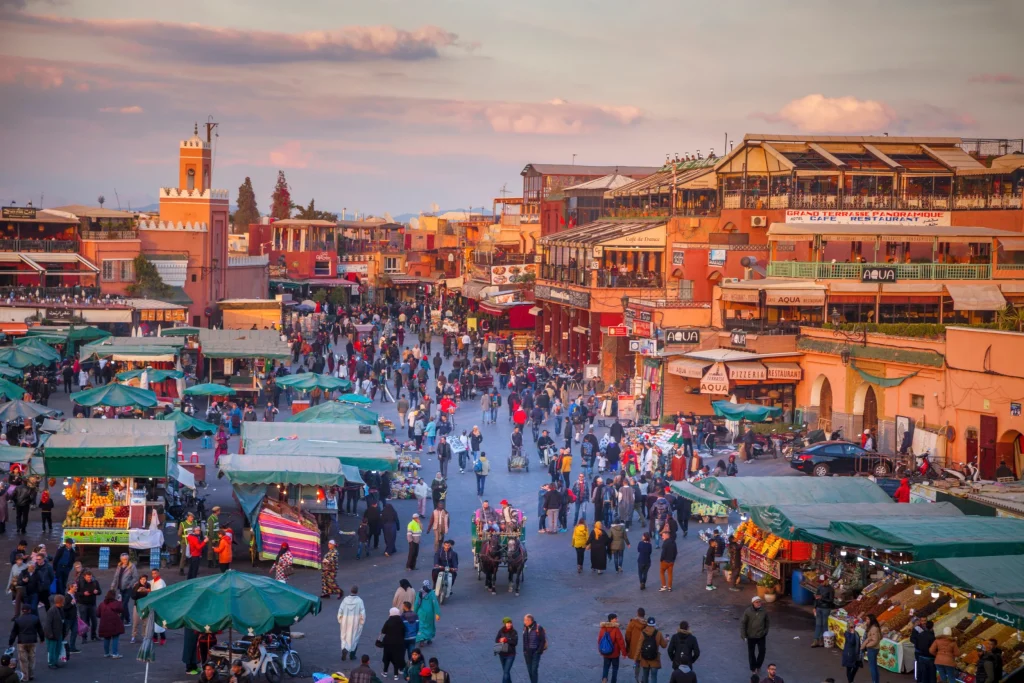 By: Joanna Sawtari / Arab America Contributing Writer
Known as the Red City, Marrakesh is a treasure trove of architectural wonders, traditional craftsmanship, and warm hospitality. Join us on a journey as we delve into the captivating allure of Marrakesh where history, culture, and cuisine blend seamlessly to create an unforgettable experience.
The Red City's Fascinating History
Marrakesh's history dates back nearly 1000 years when it was first founded by Yusuf ibn Tashfin, the leader of Morocco's Almoravid empire. The founding of the Red City stimulated the spread of Islam throughout the whole country and some parts of Spain. New religious movements partook in the spread of Islam, building mosques and religious sites- one of which is the renowned Koutoubia Mosque. This mosque happens to be one of Marrakesh's foremost tourist attractions, a landmark that can be seen from nearly every square in the city.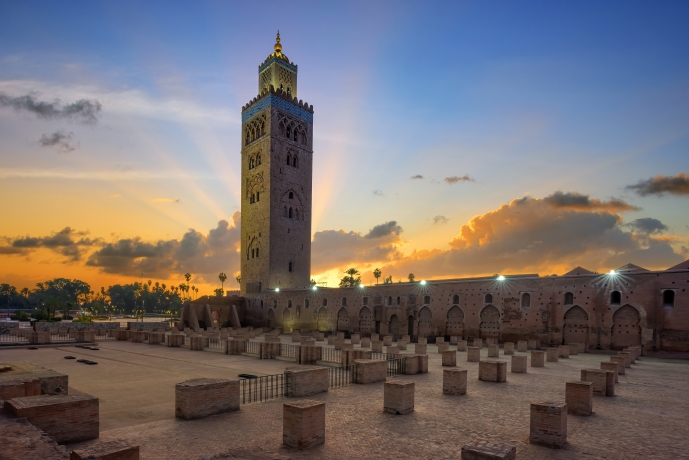 Koutoubia Mosque: Marrakech Tours
Marrakesh's economy continued to grow through the influx of tourism and trade. People from all over the world came to see historic sites located in the city. This paved the way for souks and outdoor markets, which also continue contributing to Marrakesh's economy.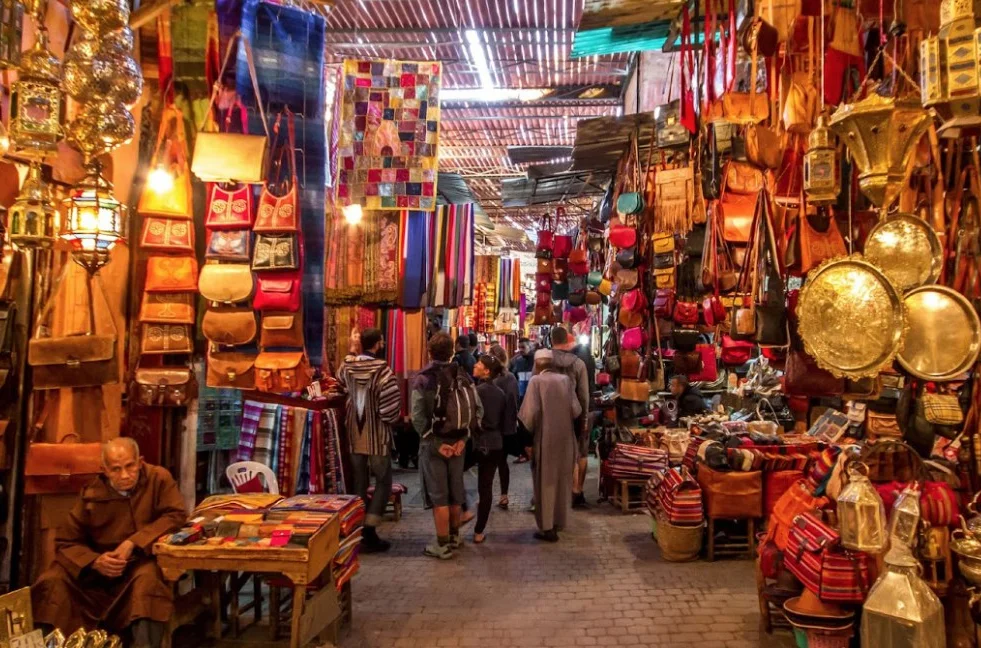 Souks in Marrakesh: Riadsmara
The vibrant souks of Marrakesh are a testament to the city's commercial and cultural exchanges. These bustling marketplaces offer an overload of sights, sounds, and scents. Here, you can find an array of goods, from traditional handicrafts and textiles to spices, jewelry and leather goods. The souks serve as a hub for local artisans, who proudly display their craft and preserve traditional techniques that have been passed down through generations. The souks are one of the primary tourist attractions in Marrakesh as they allow foreigners to get a real sense of Moroccan culture first-hand.
A Diverse Culture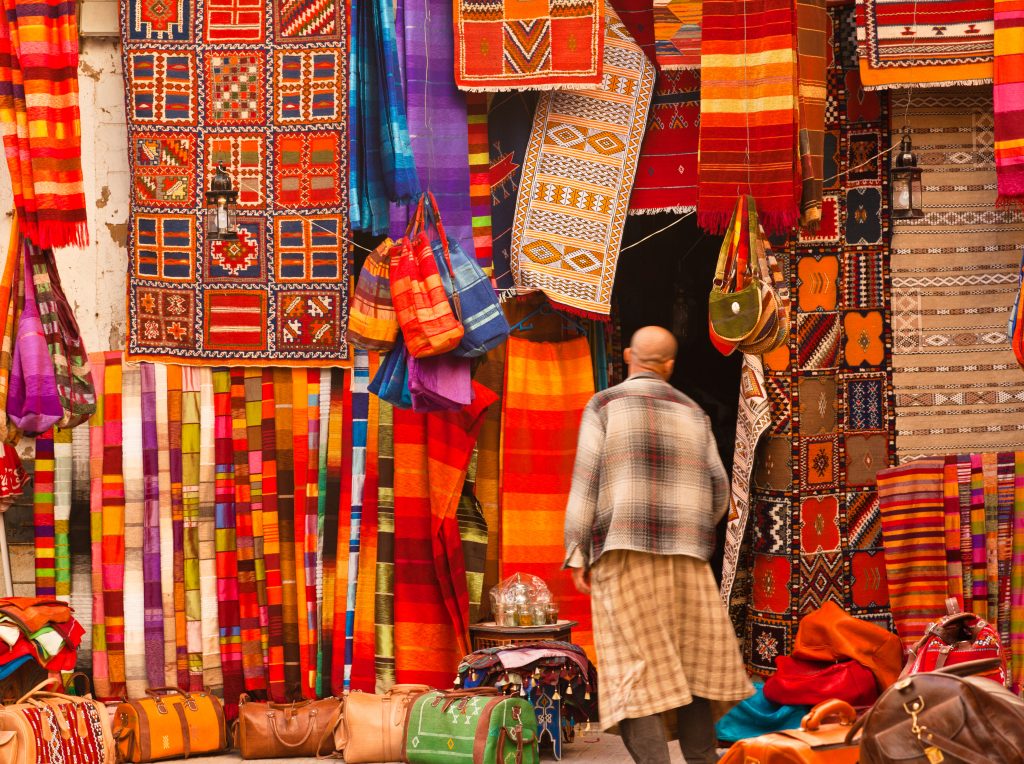 Traditions in Marrakesh: So Travel
Marrakesh's rich diversity is seen in various facets of the city. With a notable prevalence of Arabic and French speakers paying tribute to its historical roots that span a millennium. The coexistence of these languages in the Red City highlights the connection between residents and the city's heritage. 
However, language is not the sole avenue through which Marrakesh expresses its rich culture. The dress code in Marrakesh is another significant medium that showcases the connected identities that endure within the Moroccan population. Through seamlessly blending elements of North African and Middle Eastern traditions. The attire worn by Marrakesh's residents encapsulates a blend of cultural influences. This reflects the vibrant nature of Marrakesh's society. Highlighting their remarkable ability to embrace and preserve both their historical roots and contemporary expressions of identity. It exemplifies their unwavering connection to tradition while simultaneously embracing the evolution of their cultural heritage.
A Cuisine Like No Other
Moroccan cuisine is renowned for its aromatic herbs, rich spices, and exquisite combinations of flavorful ingredients. A trip to Marrakesh is incomplete without trying the delicious meals, particularly couscous. Couscous is eaten with a variety of vegetables or meats and is a common staple in Morocco. It is especially popular on Fridays after prayer, where people gather at local restaurants and eat couscous.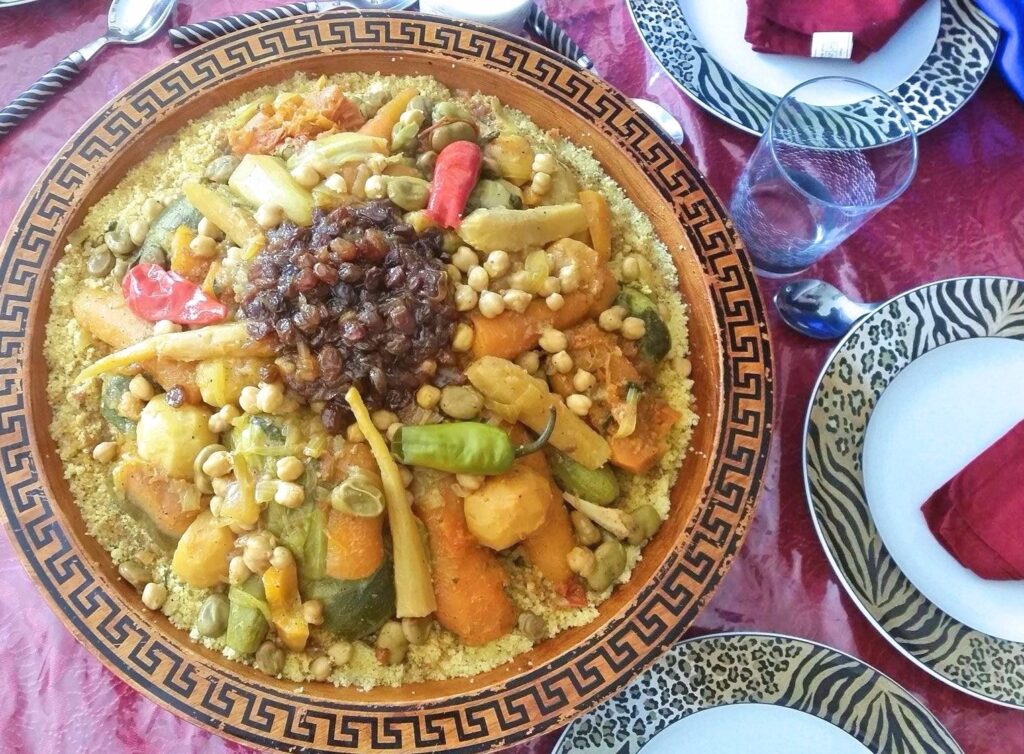 Couscous: Taste of Maroc
Your Next Trip to the Red City
To fully experience the wonders of Marrakesh, it is essential to explore at least one of the city's historic sites. Indulging in a shopping spree through the souks is also crucial. Especially when it's followed by a delicious Moroccan dinner and a cup of mint tea. This is the perfect way to complete your trip and make the most of your time in this incredible city.
Check out Arab America's blog here!