Meet the Arab Pioneers That Graced the Google Homepage This Past Year
By Salma Heram / Arab America Contributing Writer
Every day, thousands of people use the Google search engine to browse the internet, from looking up the definition of a word to finding a new recipe to try out. Oftentimes, a beautiful Google Doodle meets them- an illustration taking the place of the regular Google logo that "celebrates holidays, anniversaries, and the lives of famous artists, pioneers, and scientists." Throughout the years, many Arabs have been recognized in these intricate little surprises. Follow along as we highlight some of the Arabs that have graced the Google homepage in 2022 and 2023. 
Karima Mokhtar

Known as the "Mother of Egyptian Cinema," Karima Mokhtar is known for her many roles playing maternal characters in Egyptian cinema and television. Born on January 16, 1934, in Sahel Selim, Egypt, Mokhtar's parents initially disapproved of her pursuit of an acting career. Nevertheless, she successfully auditioned for her first role in the public sphere, presenting on "Baba Sharou," a children's radio program. This helped her land her first acting role in Thaman El Horeya (The Price of Freedom) in 1967, kickstarting an incredible career that earned her the Best Actress Award at the Cairo Arab Media Festival in 2007. Perhaps her most influential role, however, is the "Mama Noona" character in the immensely popular soap opera Yetraba Fi Ezo (May He Grow Up Prosperous). Although Karima Mokhtar passed in 2017, her legacy lives on, as thousands celebrate her birthday via the Google Doodle six years later. 
Ihsan Abdel Kouddous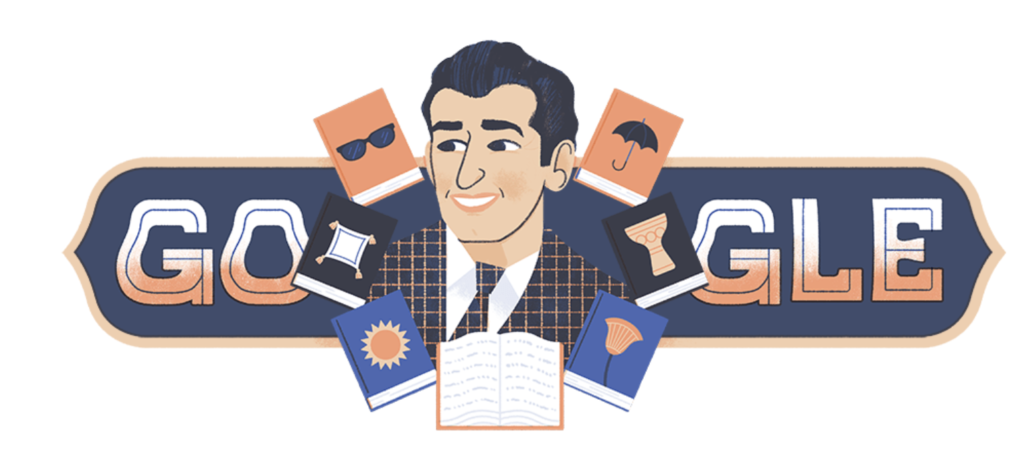 Ihsan Abdel Kouddous was an Egyptian journalist and author who wrote about current events, fictional stories, and novels. He was a writer and editor for Egypt's popular Al Akhbar and Al-Ahram newspapers. Born on January 1, 1919, in Cairo, Egypt, Ihsan Abdel Kouddous was passionate about literature and writing throughout his youth, starting his career with his mother's magazine Rose Al-Yousef and quickly realizing he wanted to pursue journalism. As a journalist, Kouddous covered various current events, especially political and social issues, which graced the pages of his popular column, Cafe on Politics Street. In this column, he used a conversational narrative technique, to make the reader feel they were overhearing discussions in a cafe. Although jailed several times for his controversial views and political stances, Ihsan Abdel Kouddous continued to write. Aside from journalism, he also wrote short stories and novels. This particular Google Doodle celebrates the anniversary of the publishing of the English translation of one of his most famous books, La Anam (I Do Not Sleep). 
Abdulhussain Abdulredha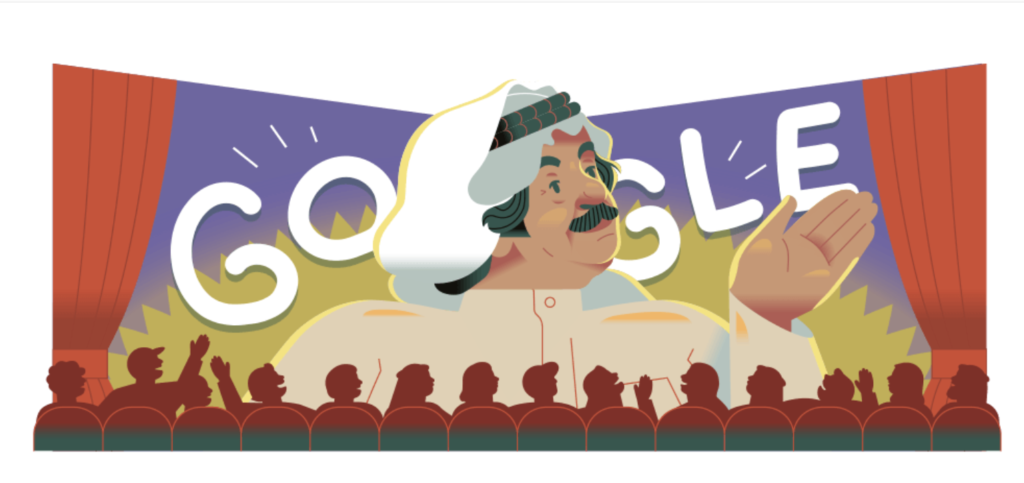 Abdulhussain Abdulredha was a Kuwaiti actor, comedian, singer, and playwright. Seen as a father figure in Kuwaiti comedy, Abdulhussain is known for his work in the tragi-comedy genre, and entertainment while also encouraging his audience to contemplate issues affecting Arab societies. He also moved audiences with his powerful singing voice and bold social commentary. Furthermore, in 2006, Abdulhussain founded and directed Funoon TV, an entertainment television channel that was the first to focus on comedic material in the Arabic language. The Doodle celebrates his birthday, which was on December 6, 1939.
Ousha bint Khalifa Al Suwaidi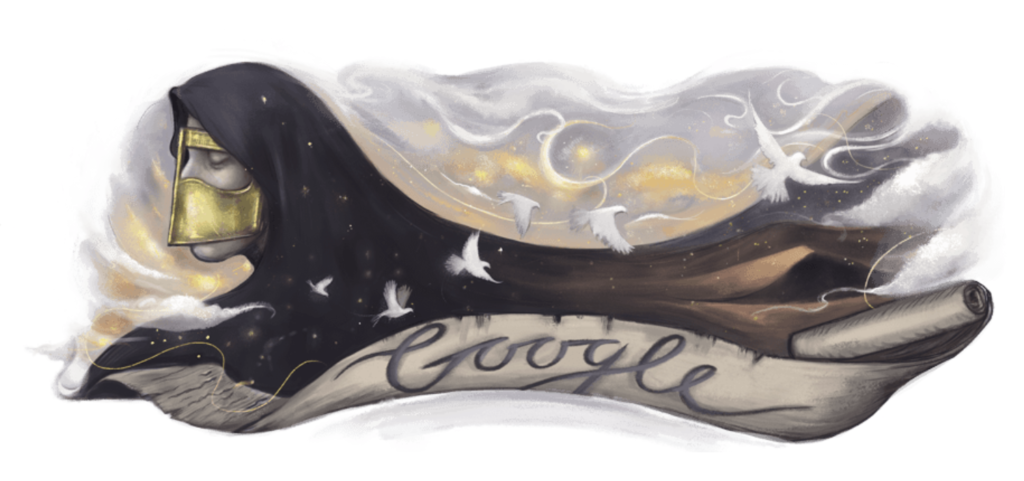 Born in Al Ain, UAE, on January 2, 1920, Ousha bint Khalifa Al Suwaidi is known as one of the greatest Nabati poets of the 20th century. Fondly nicknamed "Fatat Al-Arab" (Girl of the Arabs), Ousha gained popularity at 15, when she was nationally recognized for his powerful poetry recitals. Her work features themes of patriotism, nostalgia, love, culture, and history, inspired by the Arabian Gulf and desert landscapes and her personal experiences in the UAE and the country's history. The Google Doodle was featured on the anniversary of an event in 2011 honoring Ousha Al Suwaidi's work and contributions to literature. The poetry community established an annual award for Emirati poets in  Ousha Al Suwaidi's name. Furthermore, a section of the Women's Museum in Dubai and a library at the Emirates International School are dedicated in her honor. Ousha's success in a male-dominated genre of literature opened the door for future female poets, and she continues to inspire young Arab female poets today. 
Hamed Gohar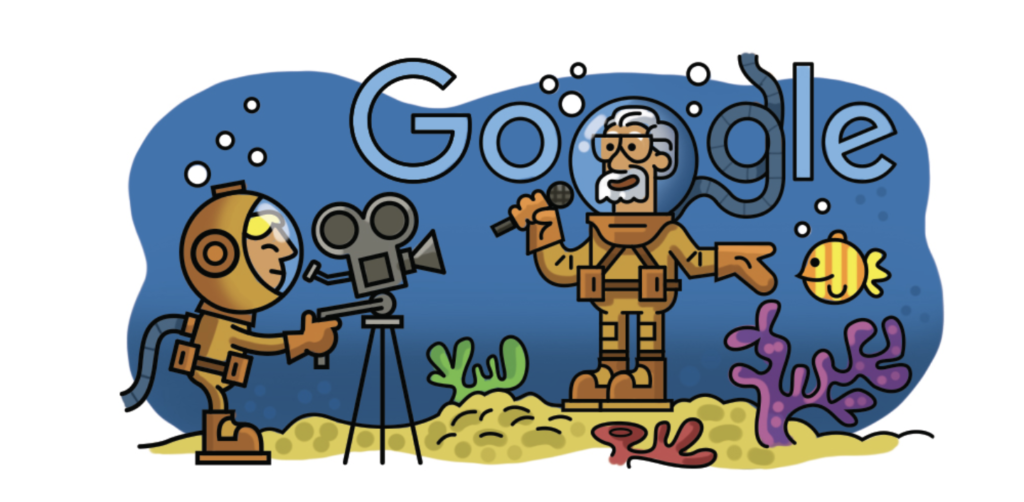 On November 25, 2022, Google celebrated Hamed Gohar's 115th birthday. Hamed was a renowned Egyptian marine biologist, scientist, and TV host of his show "Sea World" for 18 years. Born in Cairo, Egypt, in 1907, Hamed studied medicine in 1925 at Cairo University but then decided to pursue biology and earned a master's degree in oceanography from Cambridge University in 1931. Hamed then began researching soft coral in the Red Sea and discovered that the dugong, a sea mammal thought to be extinct, still existed there. Throughout his career, Hamed made many contributions to Egyptian and Arabic marine biology, including working with the Arabic Language Academy to create scientific libraries in Arabic. Furthermore, he served as an adviser to the United Nations Secretary-General and helped organize the first International Conference on Law of the Sea in Geneva.
Haja El Hamdaouia
This Doodle celebrates the birthday of Moroccan singer Haja El Hamdaouia, born in Casablanca, Morocco, on October 28, 1930. Seen as a cultural icon and best known for her contributions to the Moroccan chaabi music genre, Haja sang about a plethora of themes, from love and daily life to national pride and independence. The chaabi genre blends urban and rural Moroccan folk music, and through it, Haja pushed boundaries in Morccon music, singing with makeshift orchestras and at cabarets.
Dr. Saniya Habboub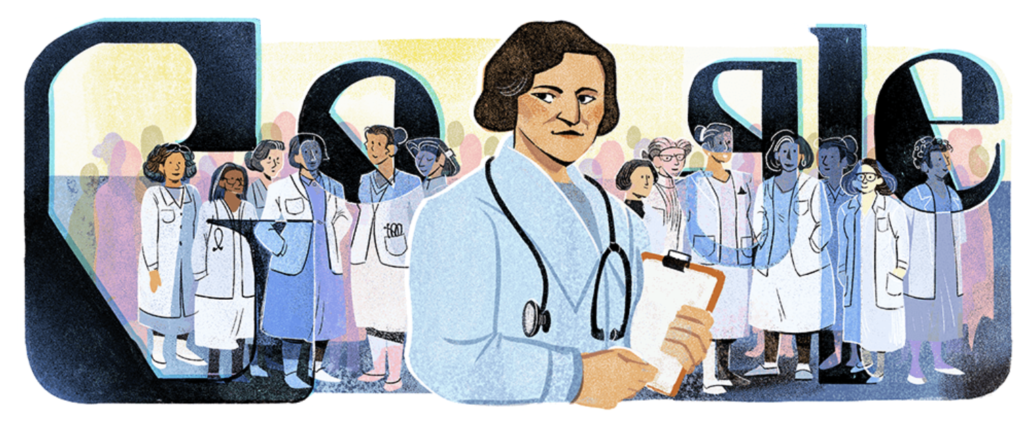 Dr. Saniya Habboub was a Lebanese medical pioneer, among the first female doctors from Lebanon to study medicine in the U.S. In 1926, she was one of the first to graduate from the American Junior College for Women in Beirut (AJCW), then went on to study at the American University in Beirut (AUB). She then traveled to the U.S. to pursue medicine, and on June 10, 1931, she graduated from the Women's Medical College in Pennsylvania with a medical degree in gynecology and obstetrics. When she returned to Beirut, she opened up her own clinical practice in her neighborhood, Bab Idriss. She co-founded the Lebanese Red Cross Association and served as a board member for the Muslim Orphan's Home, the Young Women's Muslim Association, and Maqassed Hospital. After 50 years of dedicated medical service, the Saniya was honored with a Health Medal of Merit by the Lebanese government in 1982.
Mahmoud Abdel Aziz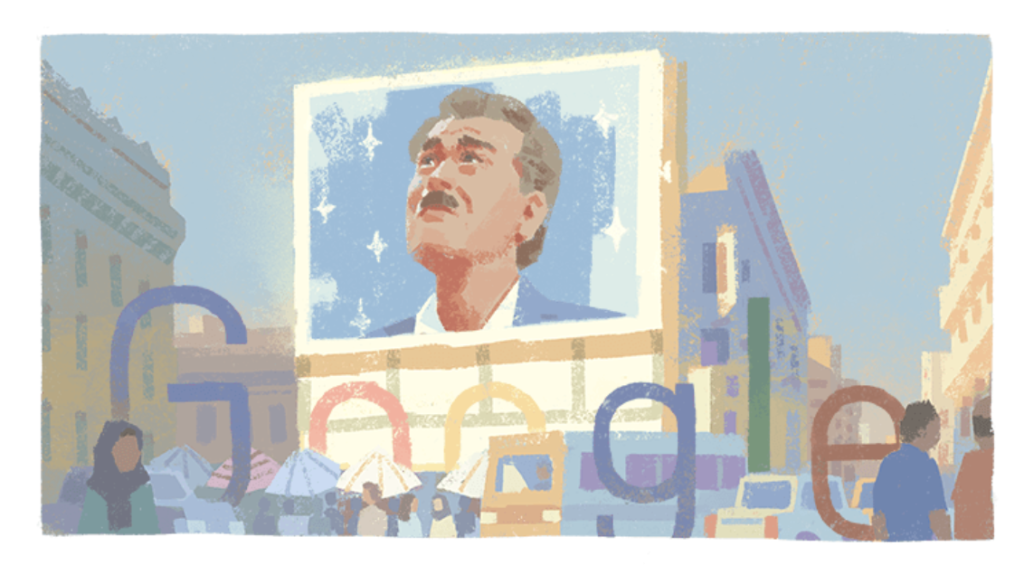 This Google Doodle celebrates what would have been Egypt actor Mahmoud Abdel Aziz's 76th birthday. Born in Alexandria, Egypt, on June 4, 2022, Mahmoud is known for portraying diverse roles throughout his career, from dramas and soap operas to comedies and action films. He was an integral part of 20th-century Egyptian film, playing complex characters who dealt with important social problems in Egypt, including the country's population crisis, women's rights, unemployment, and widowhood. His rise to fame and ability to excel in many different types of roles continues to inspire aspiring actors today. 
Naziha Salim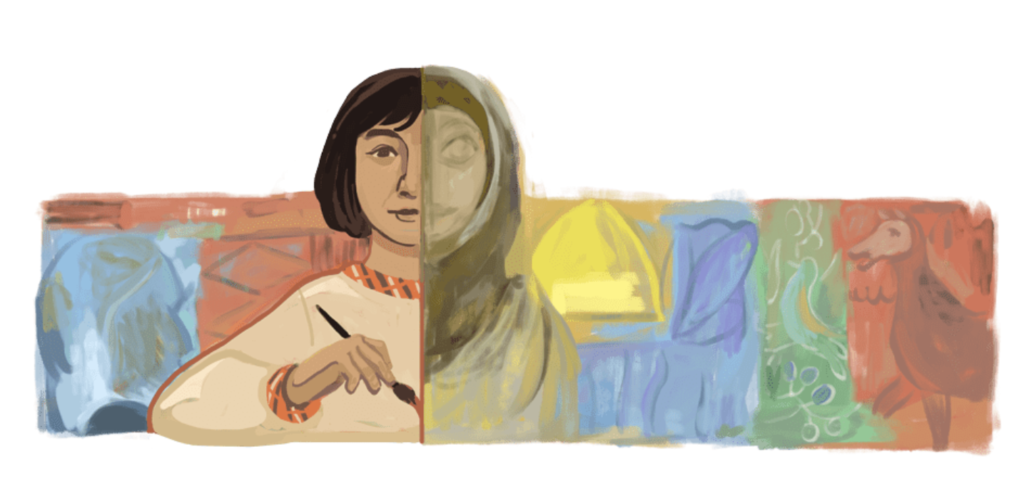 Naziha Salim was one of Iraq's most influential artists in the contemporary art field. Although born in Turkey, Naziha remained closely attached to her Iraqi heritage, as her vivid, bright work often depicts rural and peasant life in Iraq. She studied painting at Baghdad Fine Arts Insitute, and graduated with distinction, later becoming one of the first women to earn a scholarship to continue her education at the École Nationale Supérieure des Beaux-Arts in Paris. There, she specialized in fresco and mural painting. Later, she returned to Iraq, working as a professor at the Fine Arts Institute until her retirement. She was also one of the founders of Al-Ruwwad, "a community of artists that study abroad and incorporate European art techniques into the Iraqi aesthetic."
Impact
These influential Arabs continue to inspire all as they grace the homepage of the most used search engine in the world. With their contributions to science, art, history, medicine, literature, and theater, these Arab pioneers are a source of pride for all, and it is wonderful to see them highlighted on such a global scale. 
Check out Arab America's blog here!