Proclamations, Resolutions, and Statements Issued in Commemoration of National Arab American Heritage Month-April 2023
Since we launched our movement for National Arab American Heritage Month in 2017, we have received numerous proclamations for this initiative. This year, the Arab America Foundation salutes over two-hundred-fifty Arab Americans on twenty-eight state teams who have approached governors, state officials, mayors, school boards, and county executives across the country. Additionally, we have received 45 state/governor proclamations to date. Our goal is to reach 50 states this year. Can you get your state on board and help our community make history?
This document updates daily as we receive more proclamations.s
For media inquiries, contact: info@arabamerica.com or call: 877-272-2944
Proclamations, Resolutions, and Statements to Date:
48 States(Including DC)/144 Proclamations, Resolutions, and Statements
46 State Governors
2023 Proclamation from the President of the United States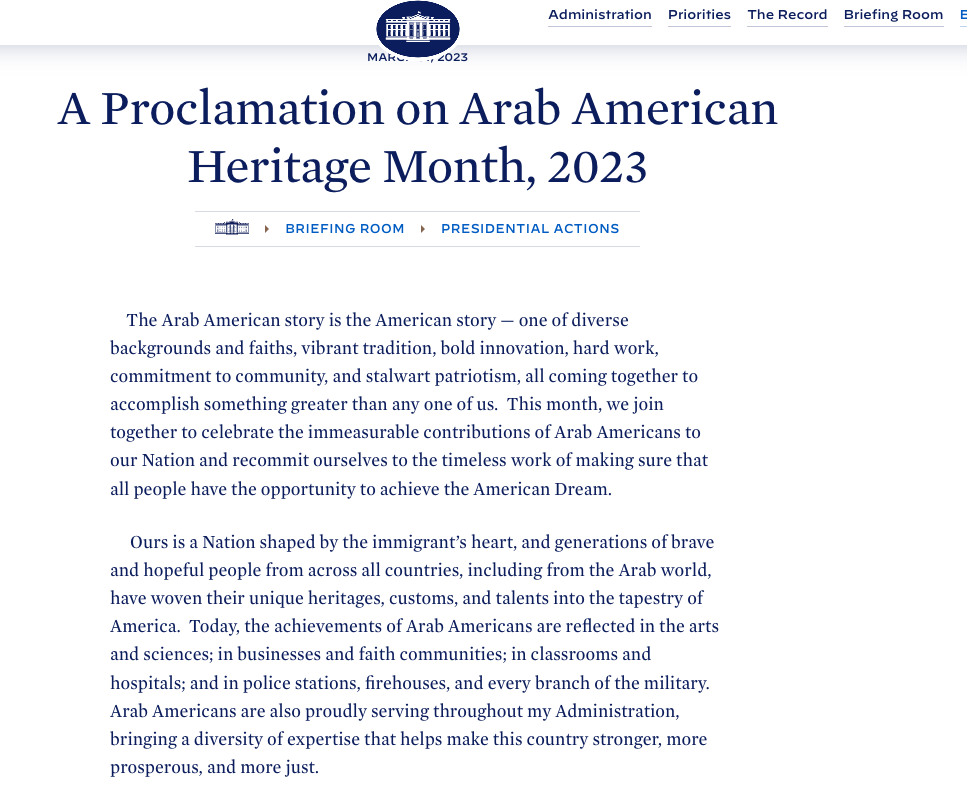 2023 Proposed House Resolution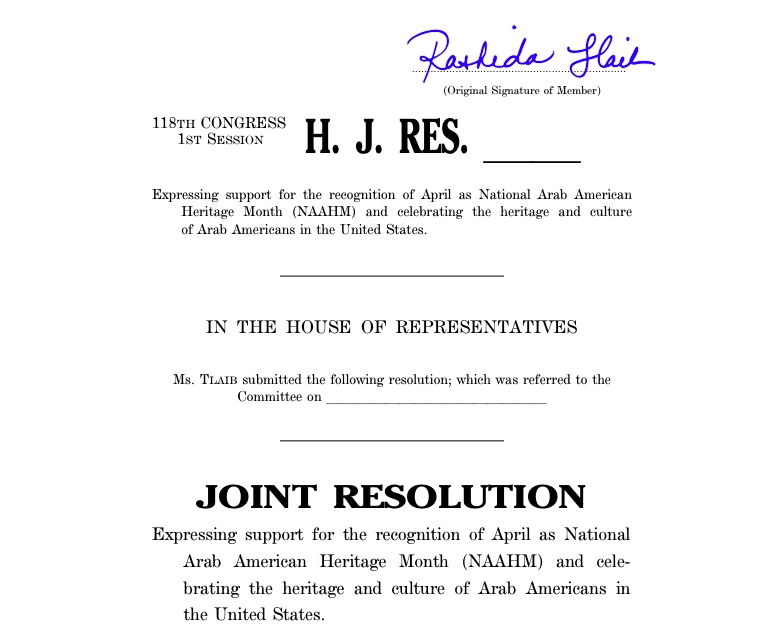 U.S. State Department 2023 Statement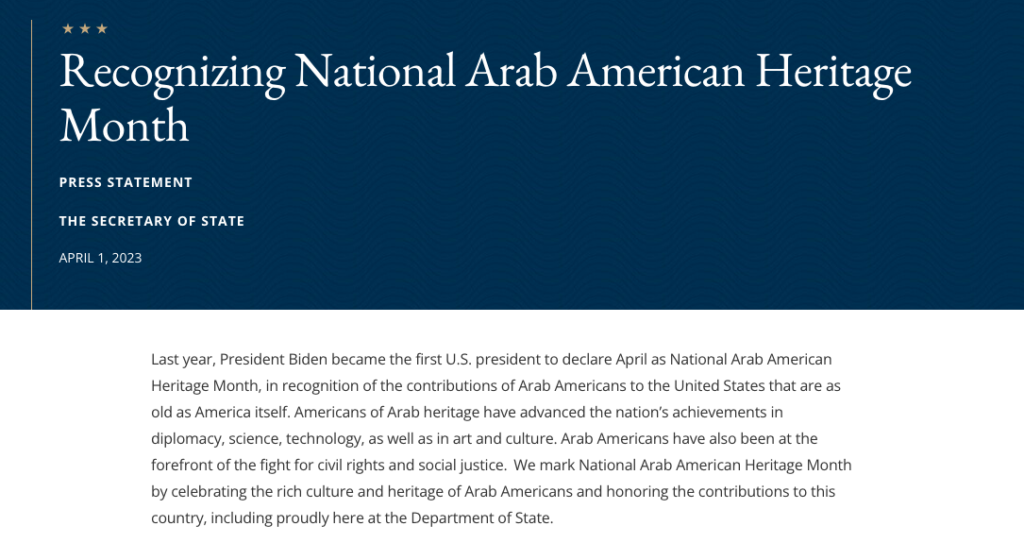 National Education Association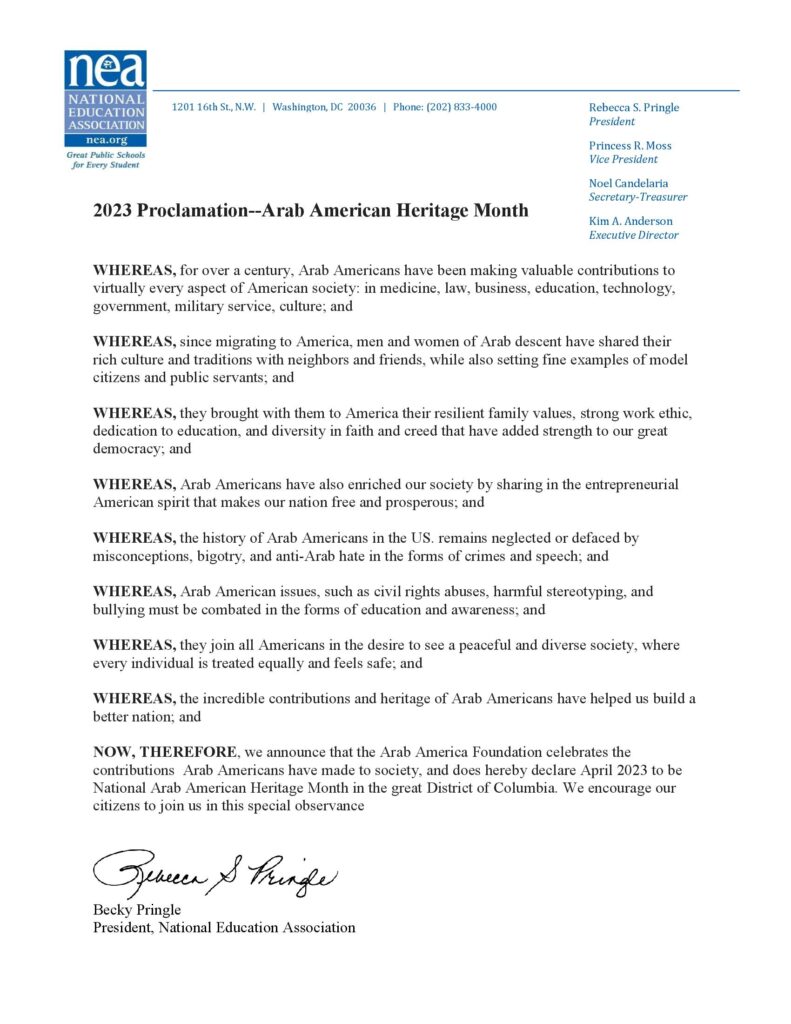 1. Alabama
Alabama Governor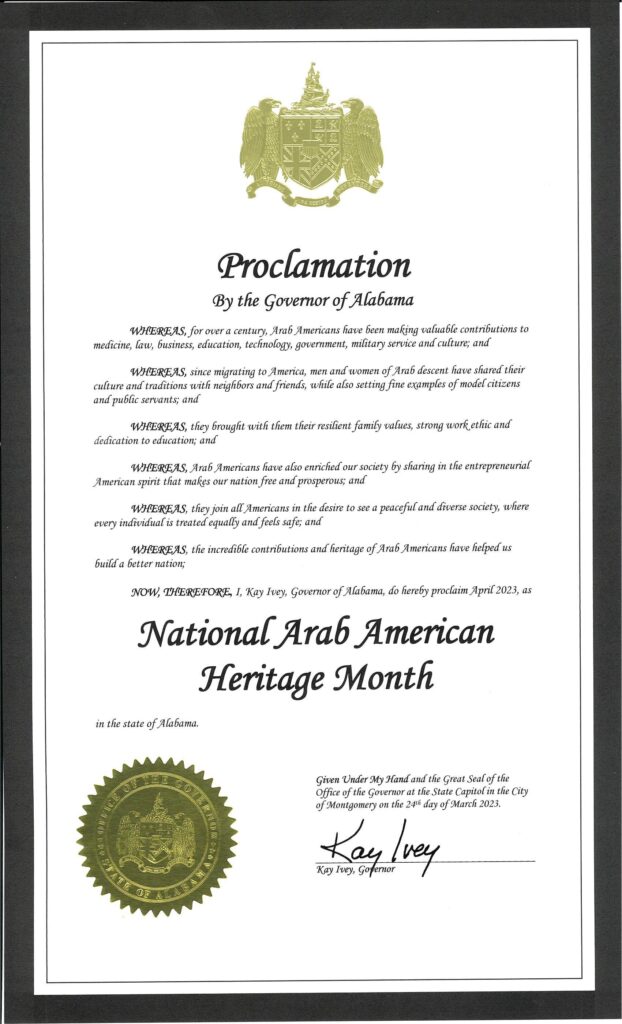 2. Alaska
Alaska Governor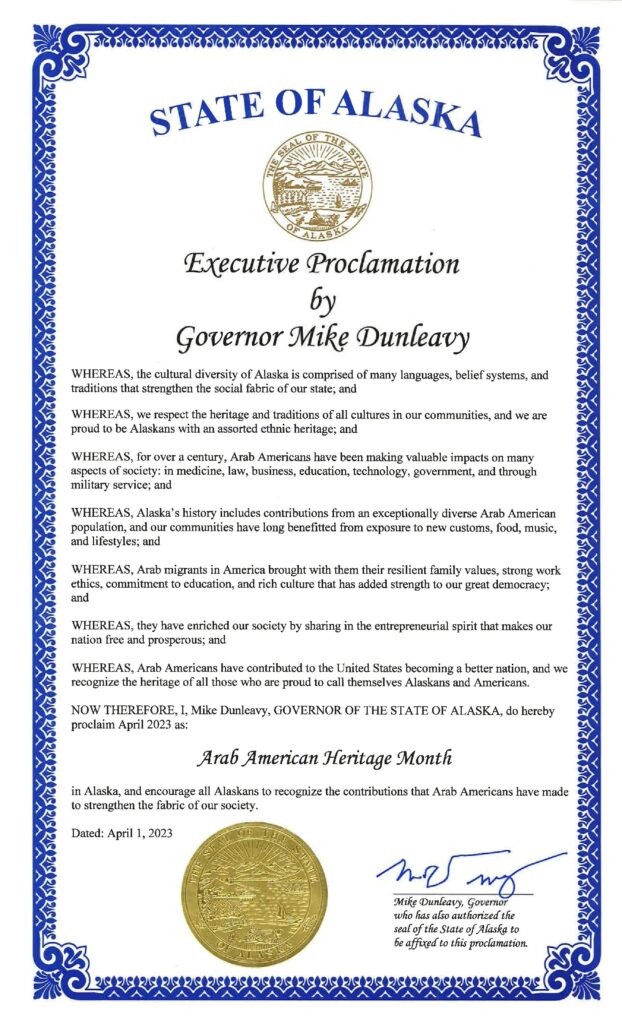 3. Arizona
Arizona Governor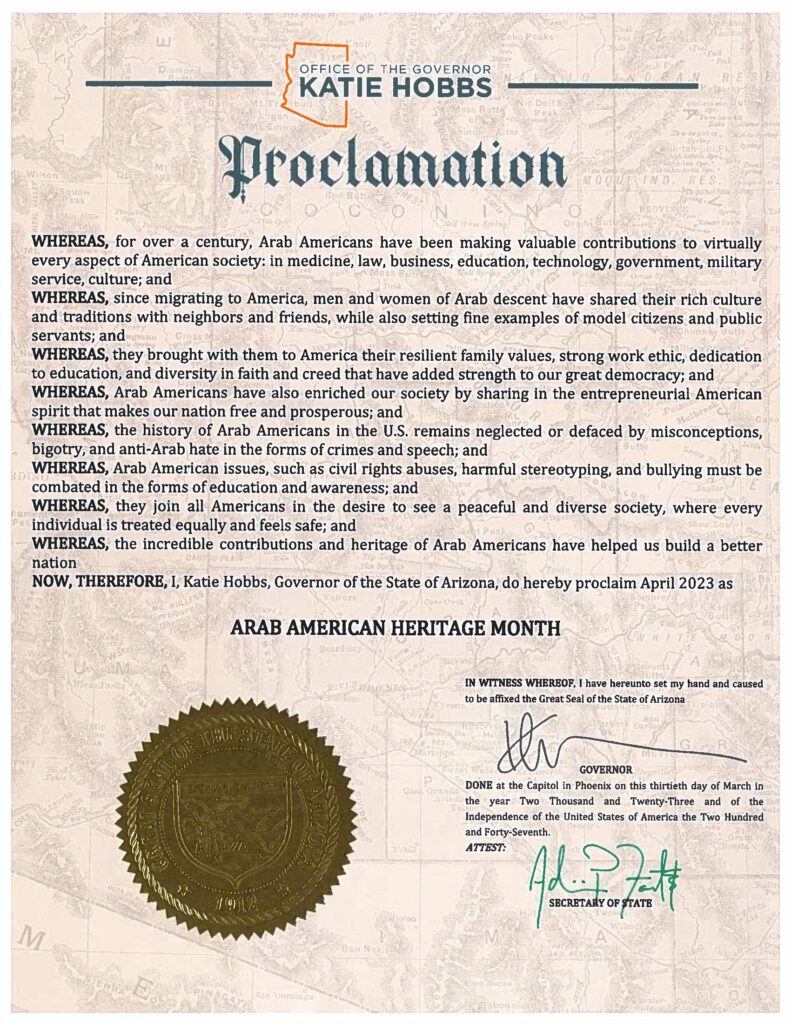 4. Arkansas
Arkansas, Governor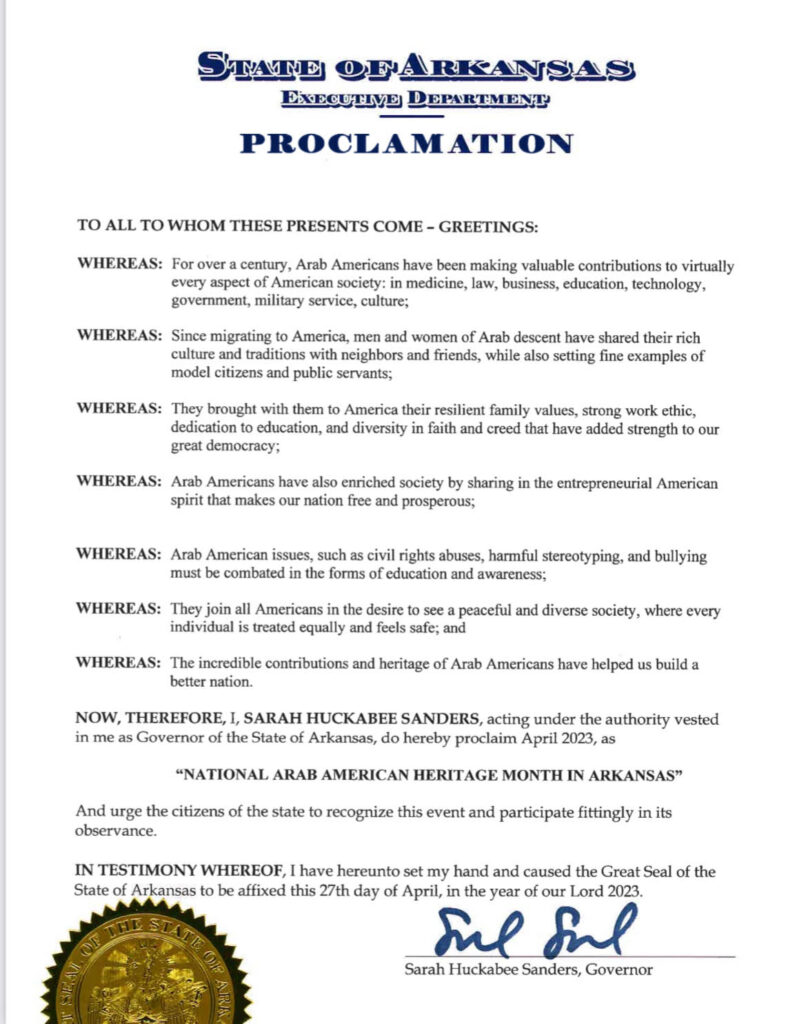 5. California
California, Permanent Concurrent Resolution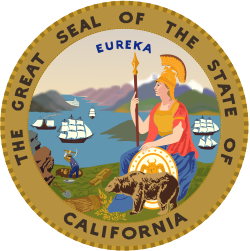 Calfornia, Governor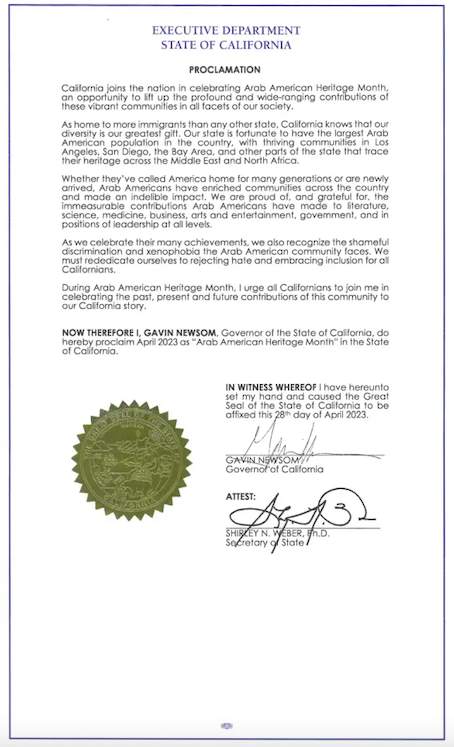 California Senate Concurrent Resolution 50 Arab American Heritage Month 2023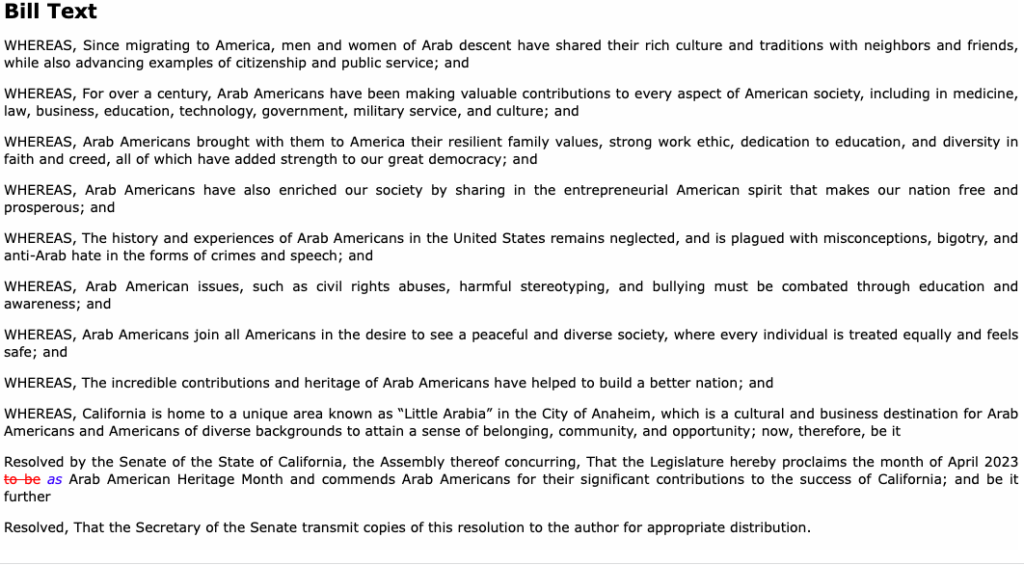 Los Angeles County, Calfornia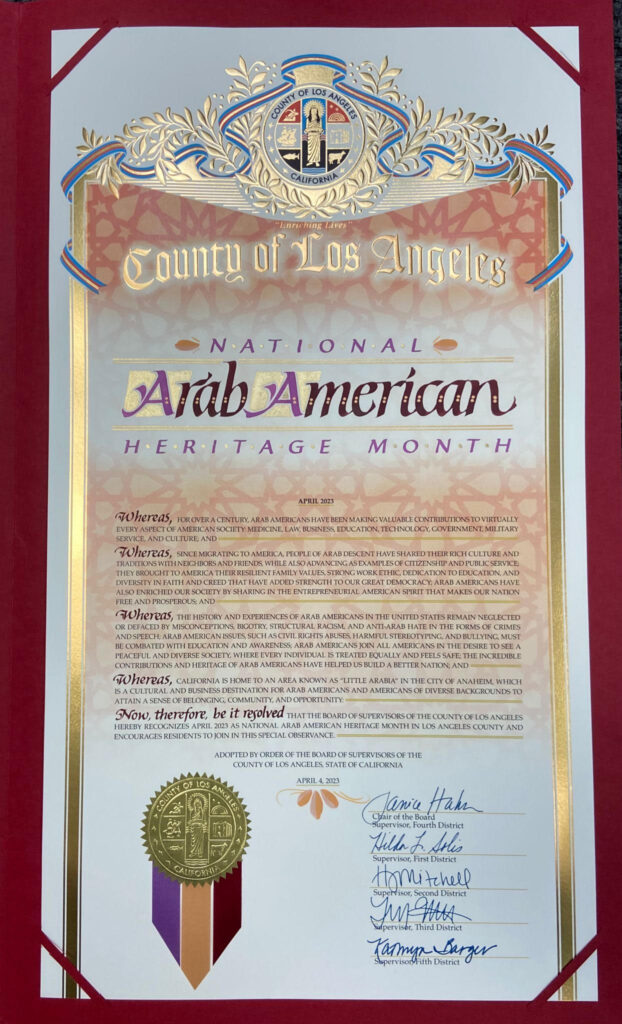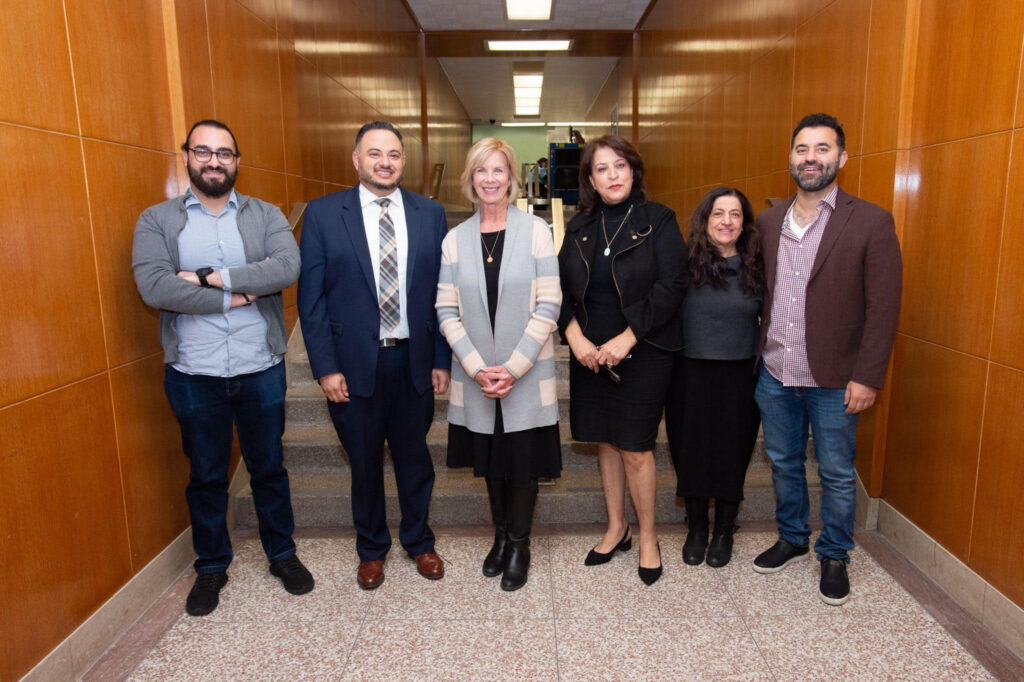 Anaheim, California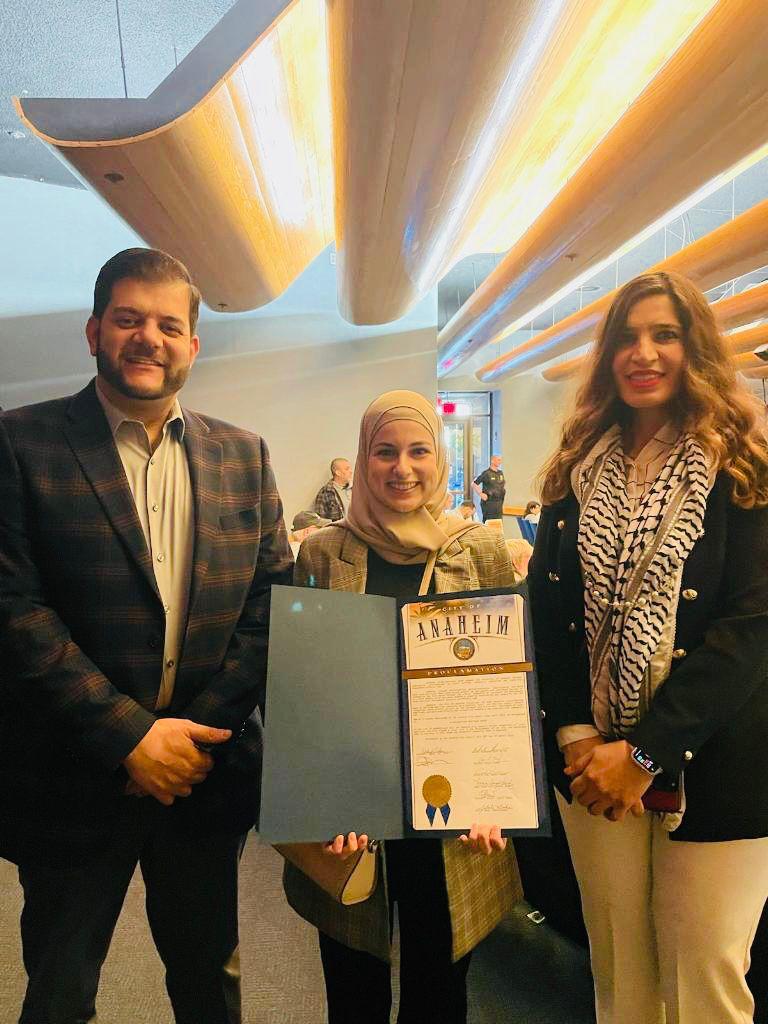 Buena Park, California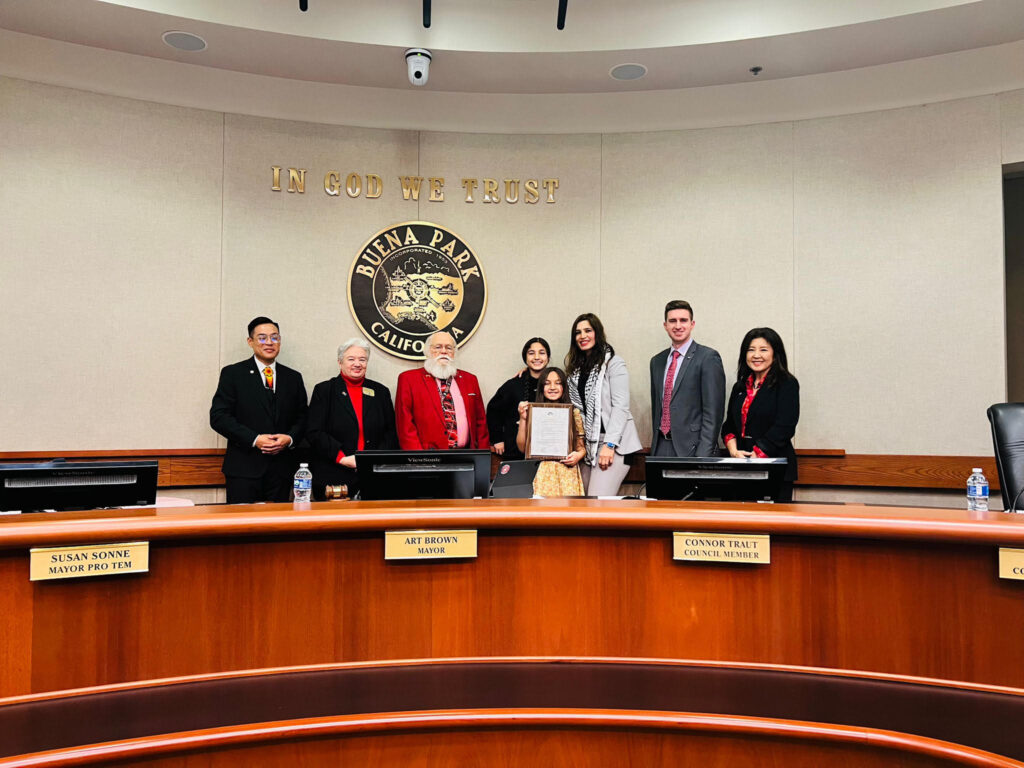 Chula Vista, California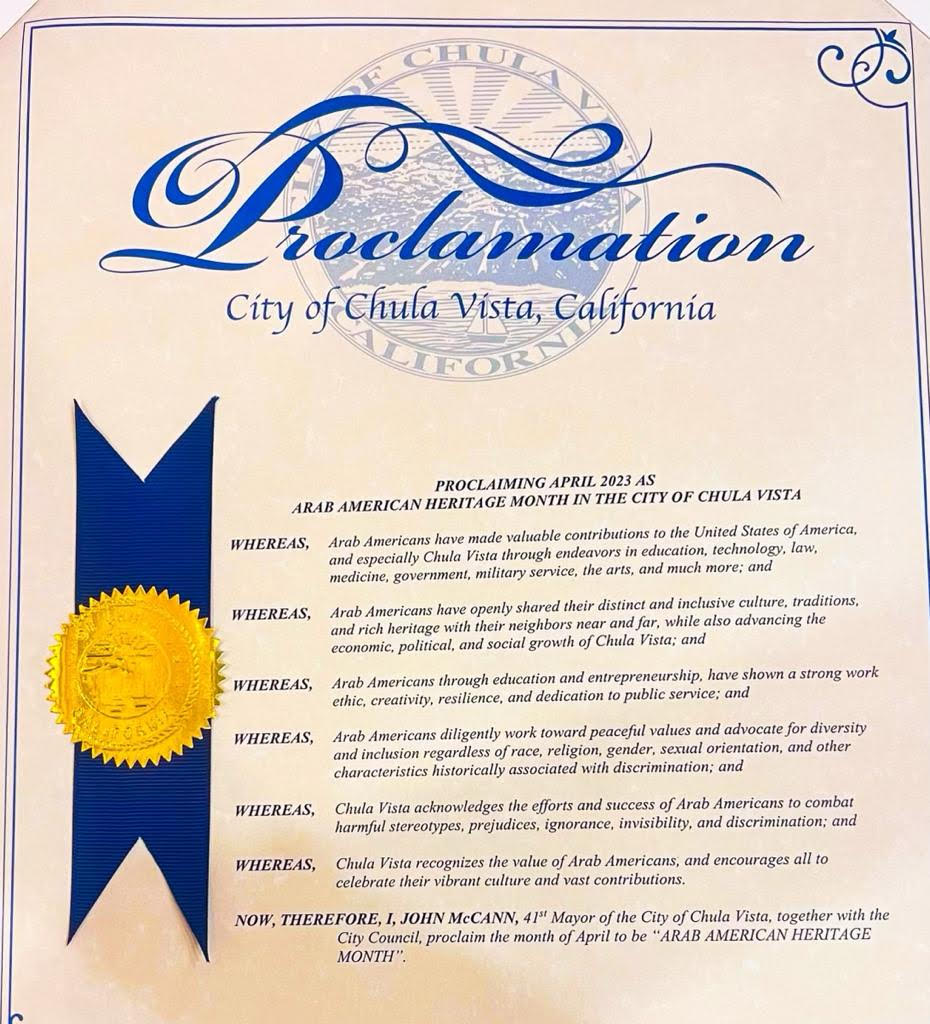 Fullerton, California
Garden Grove, California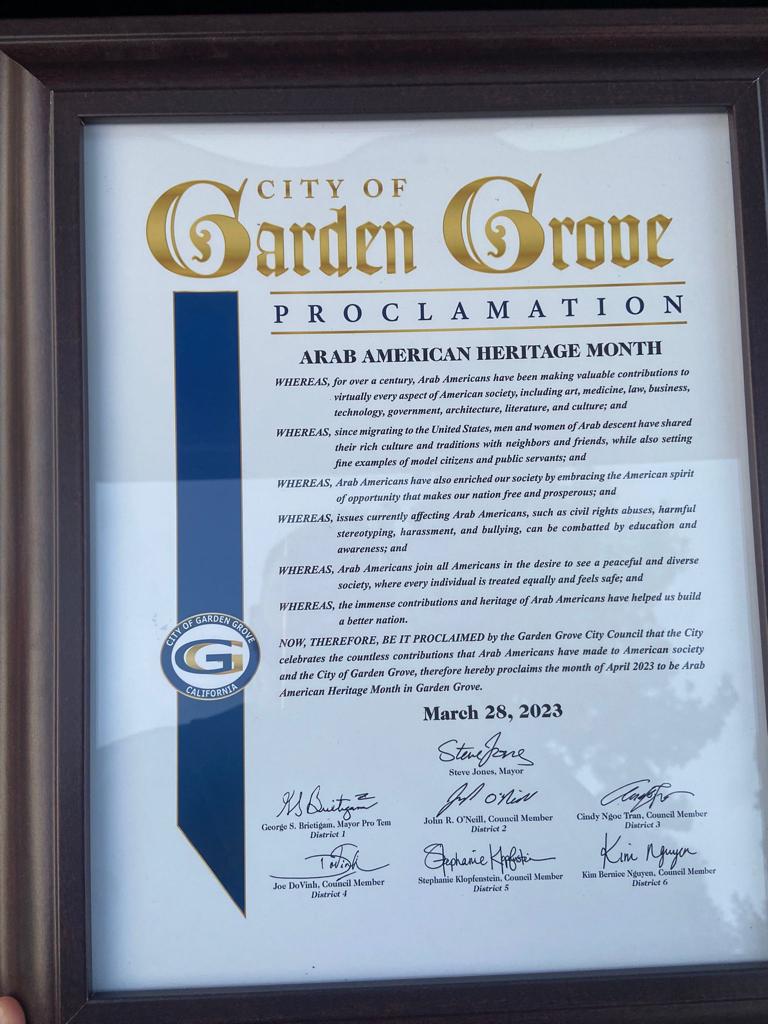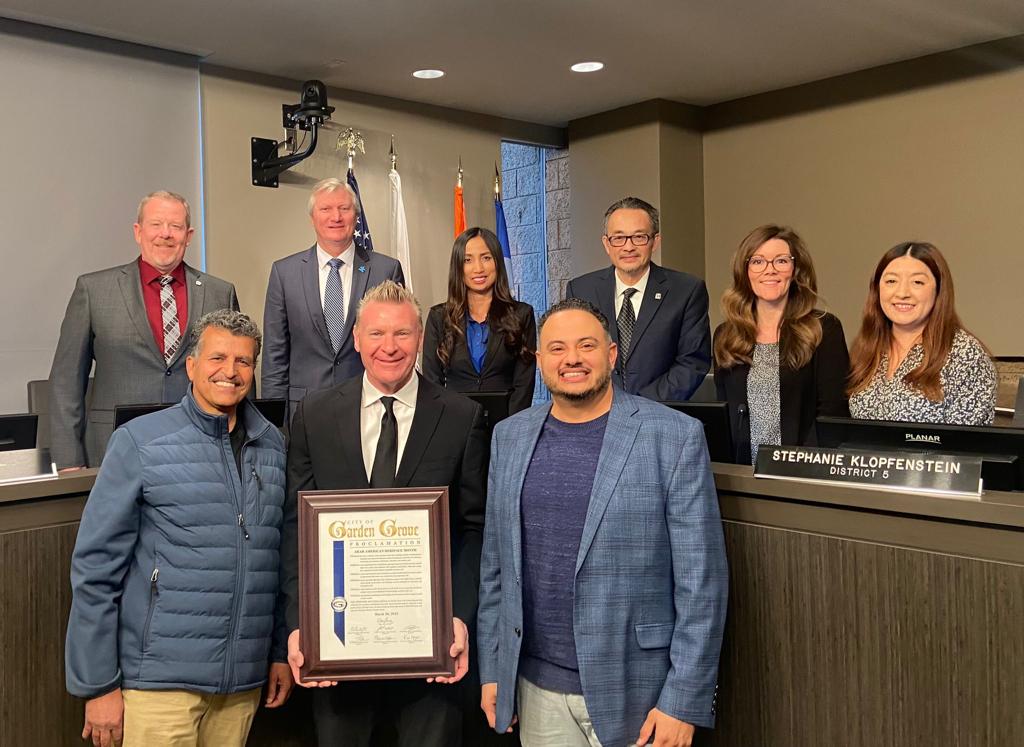 Glendale, California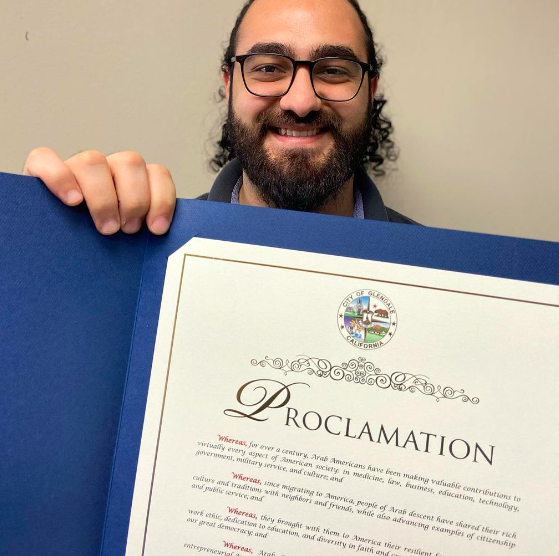 Irvine, California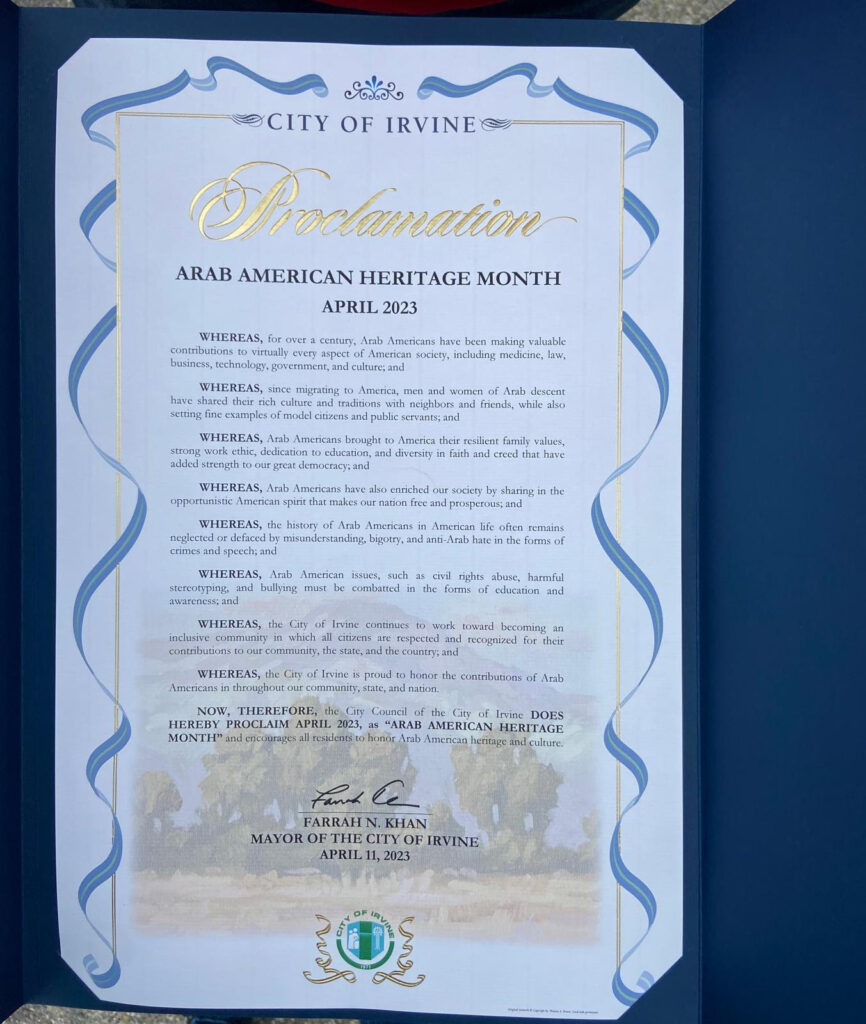 Laguna Beach, California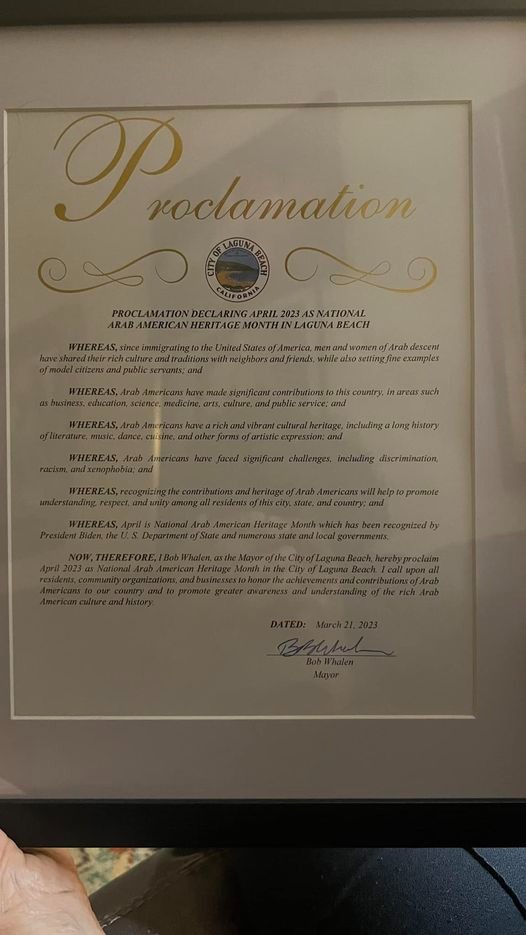 Long Beach Community College, California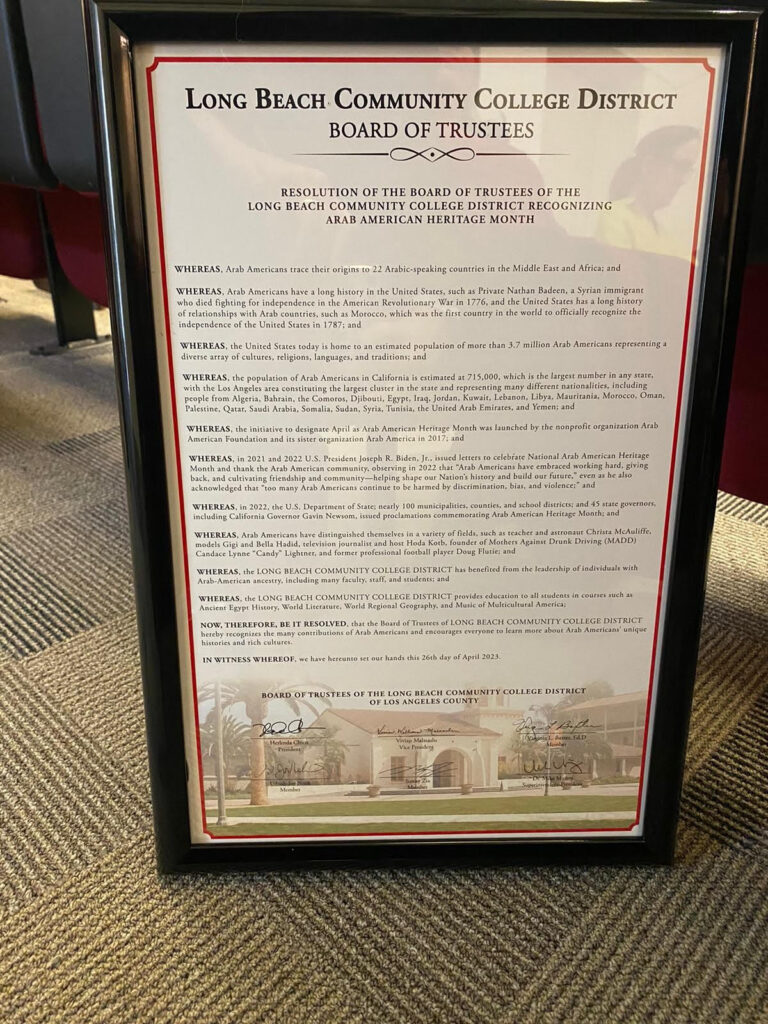 Orange, California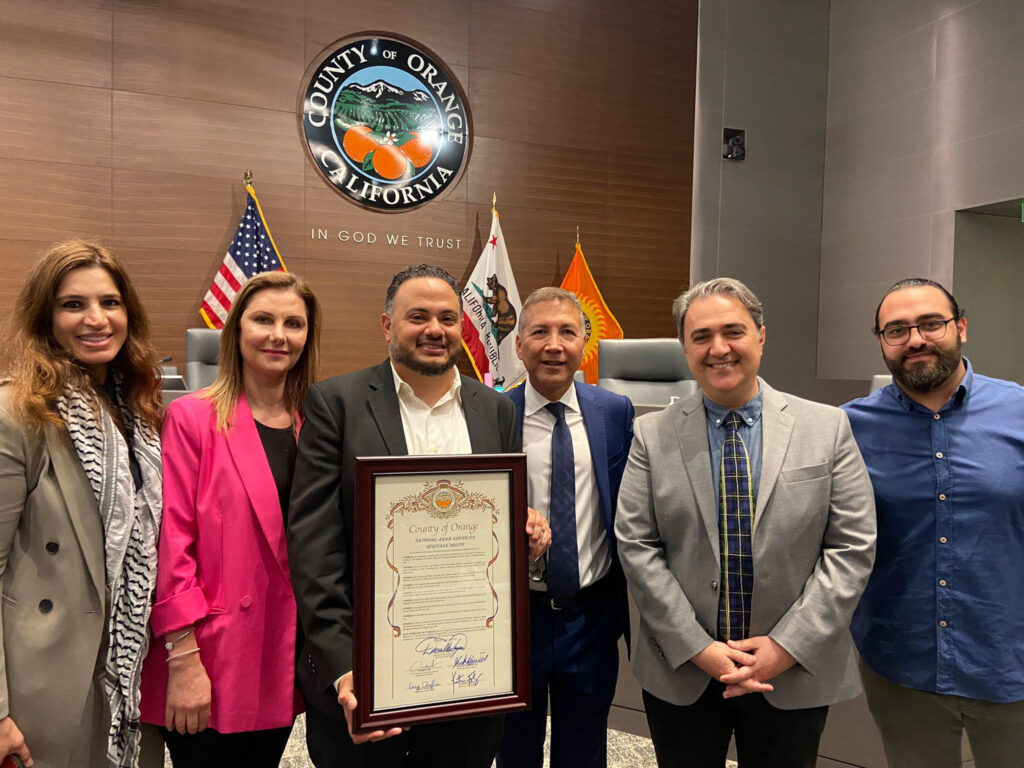 Rancho Cucamonga, California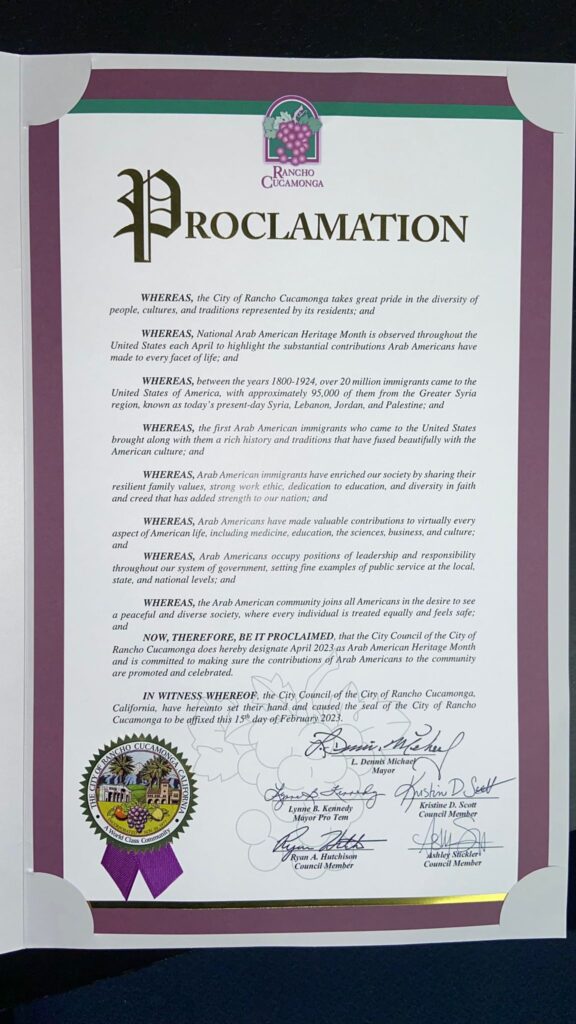 San Diego, California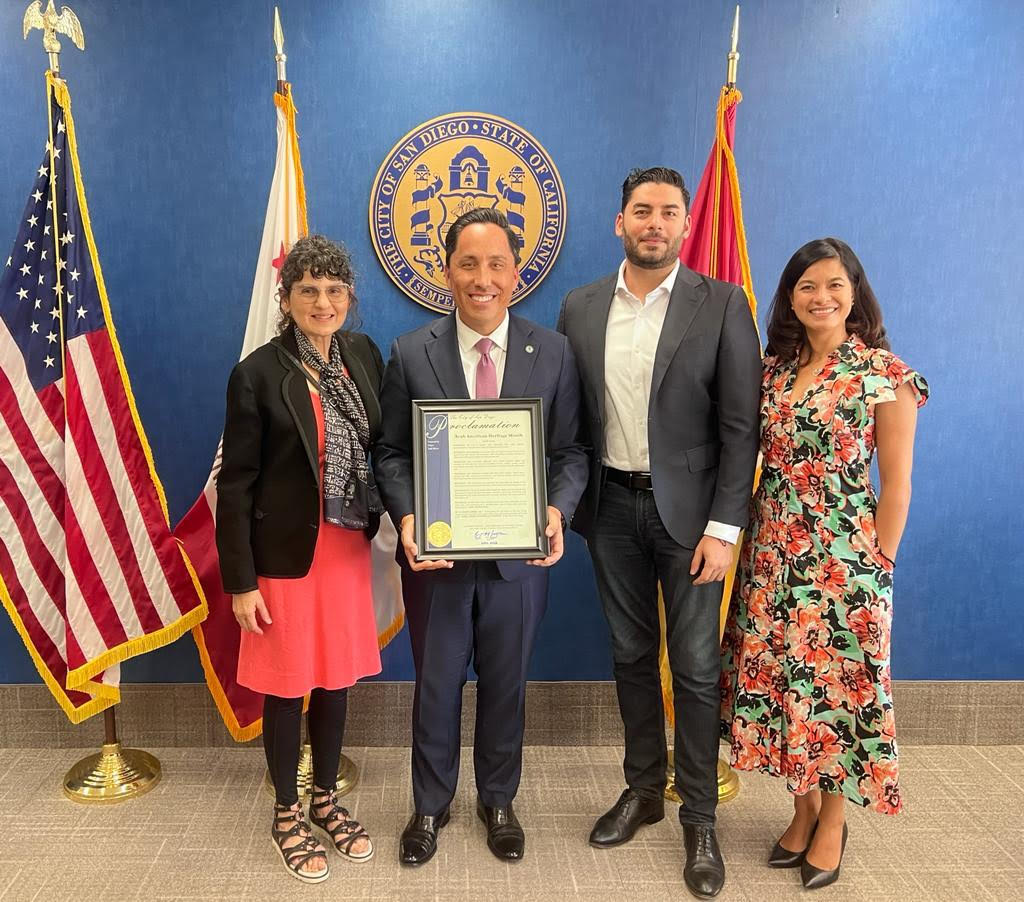 San Diego County, California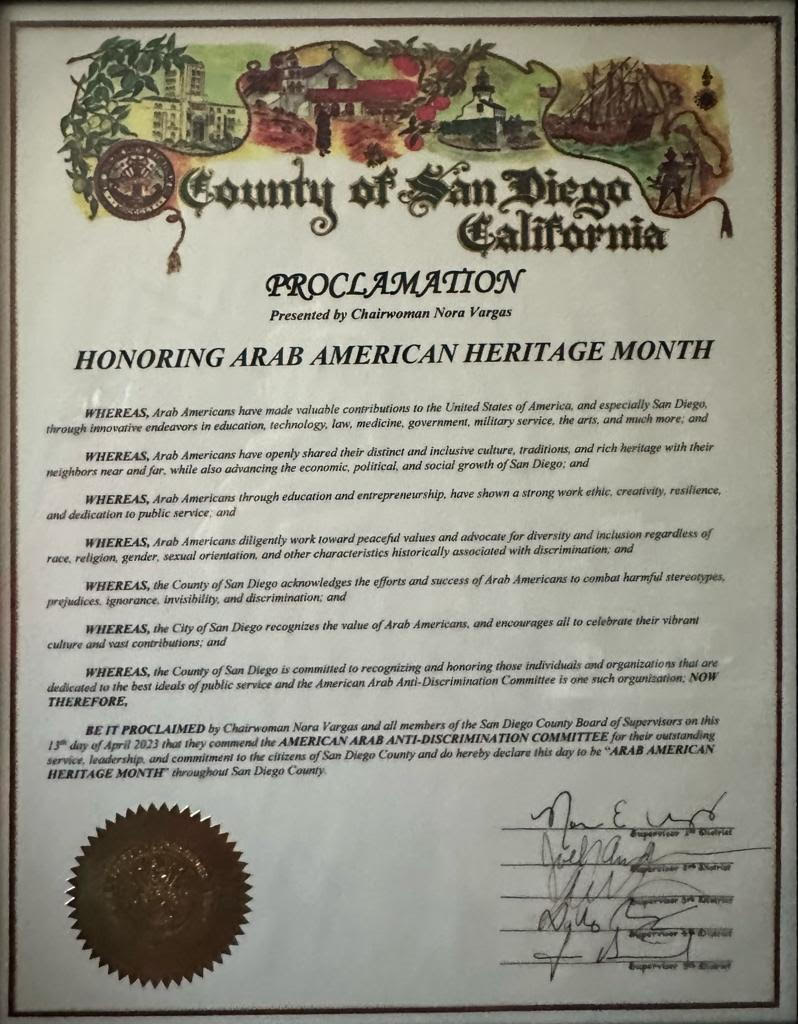 6. Colorado
Colorado Governor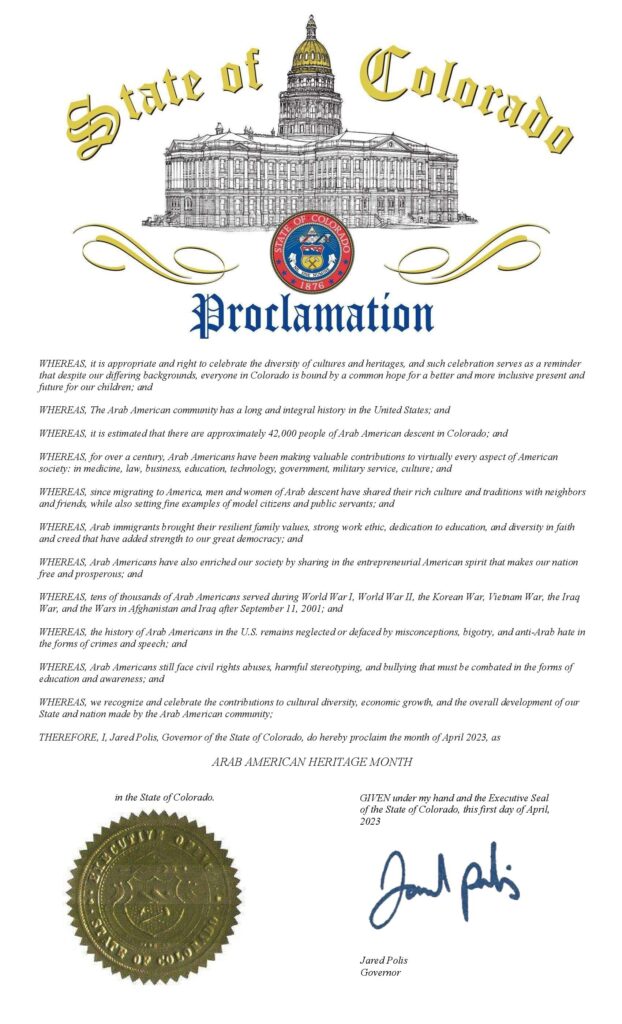 7. Connecticut
Connecticut Governor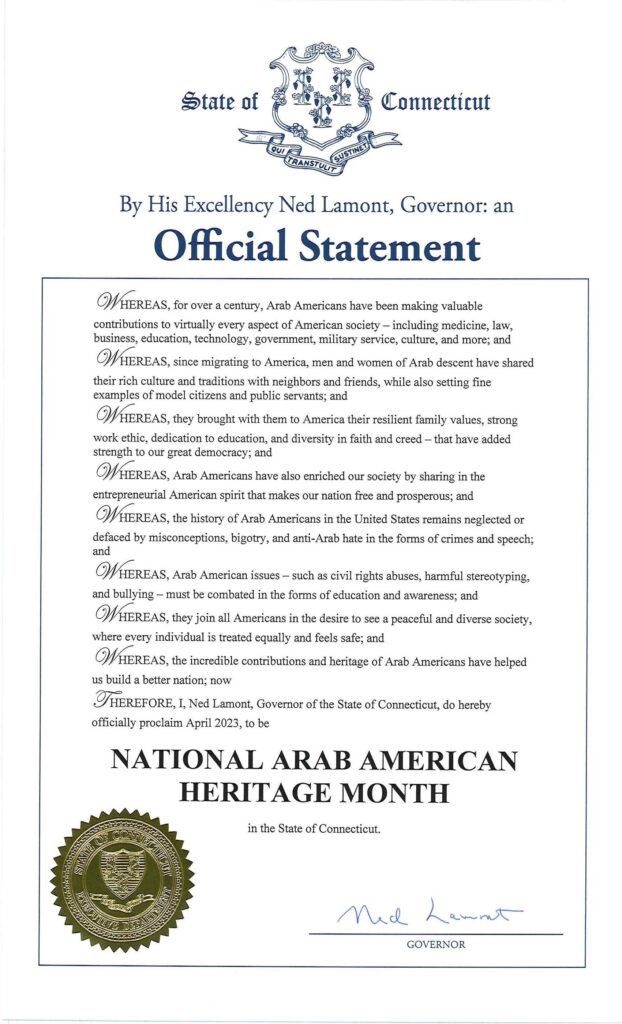 8. Delaware
Delaware Governor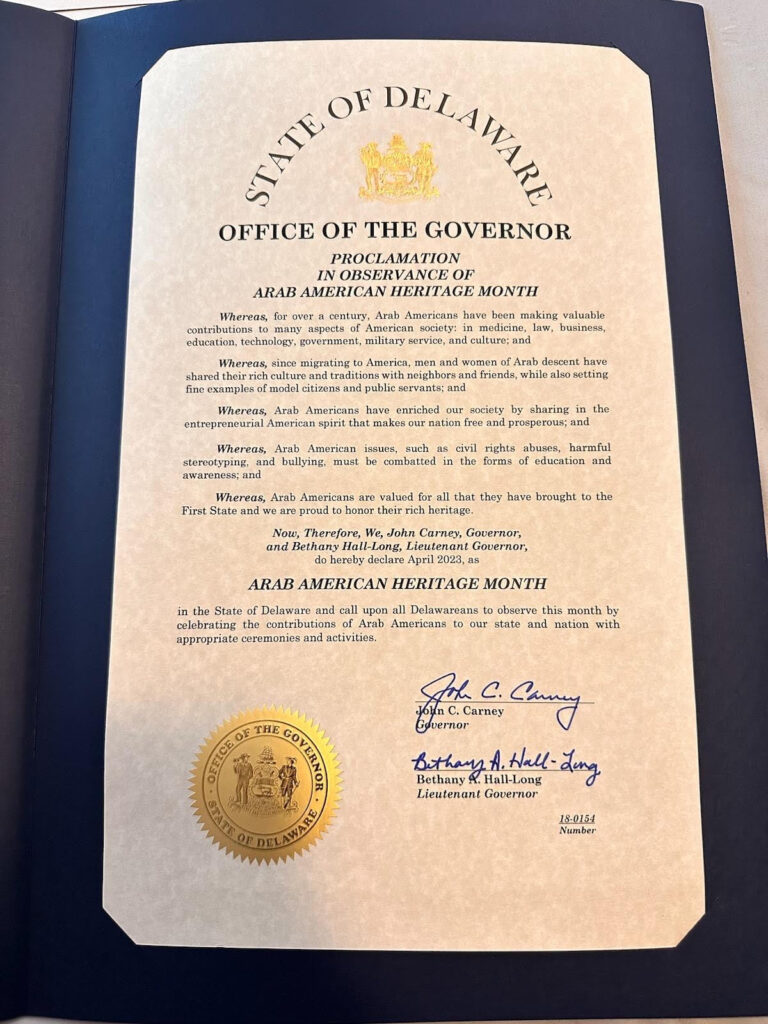 9. District of Columbia
Washington DC, Mayor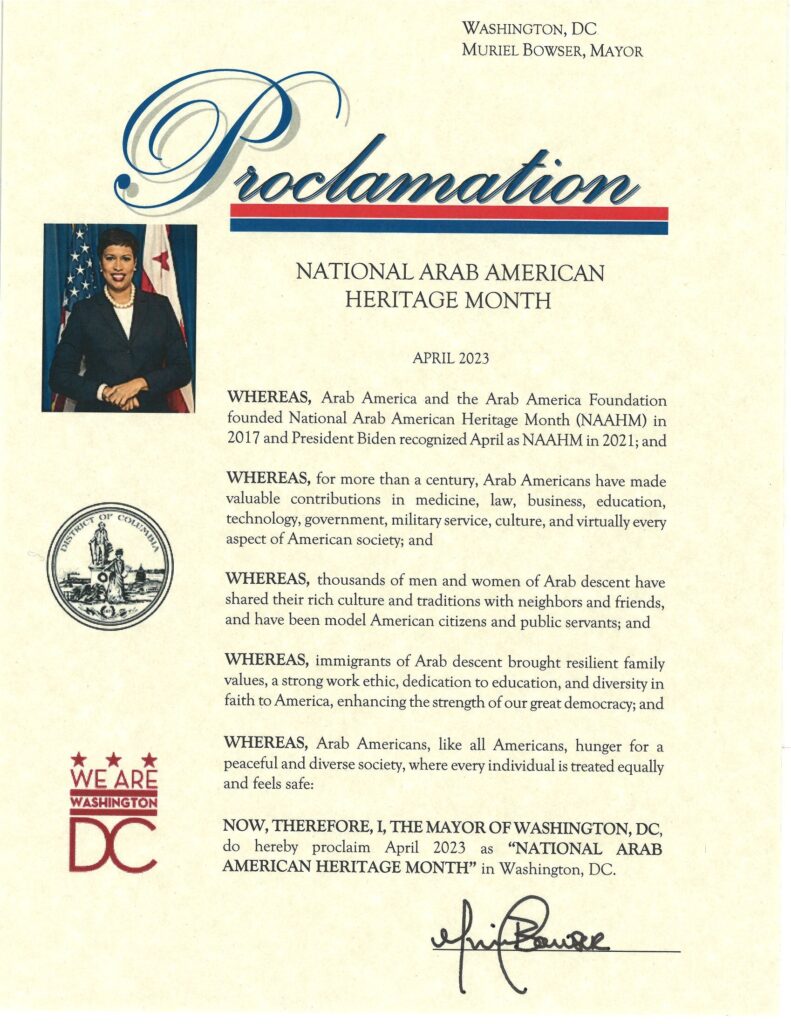 10. Florida
Miami, Florida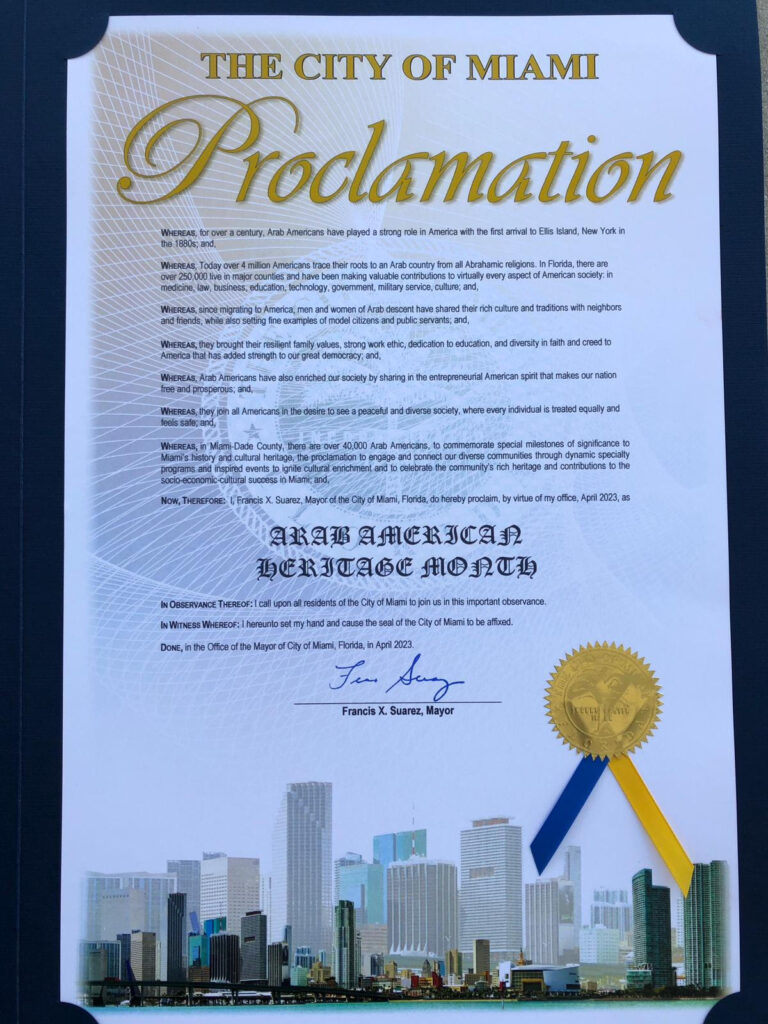 Belle Glade, Florida
Broward County, Florida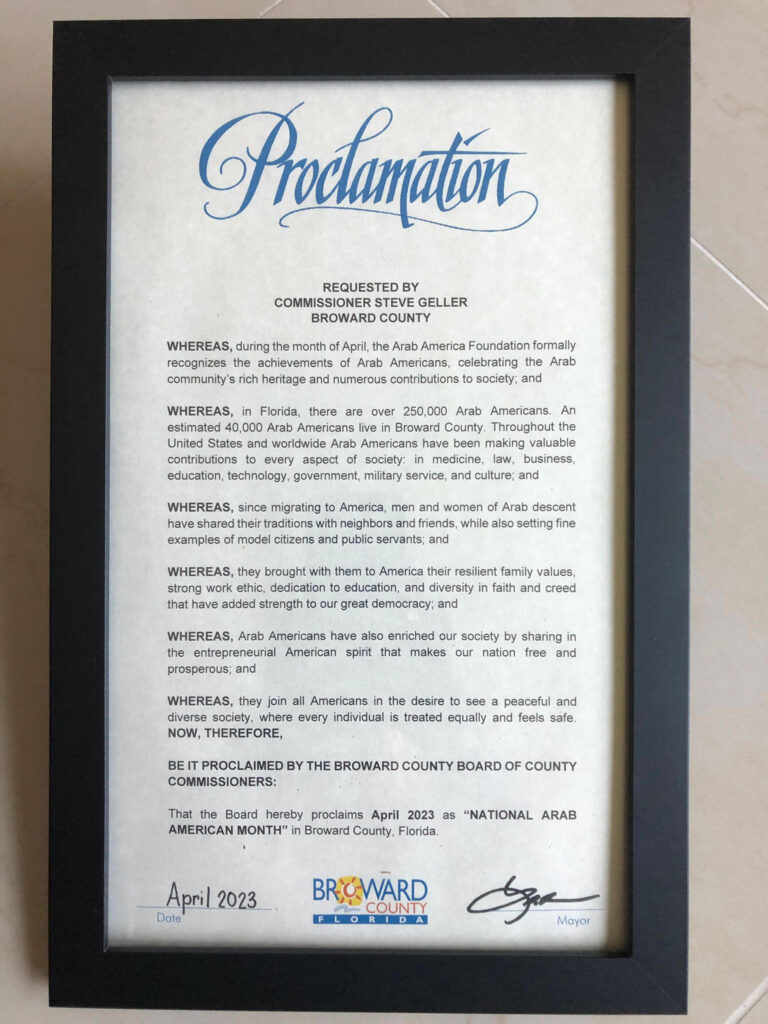 Boca Raton, Florida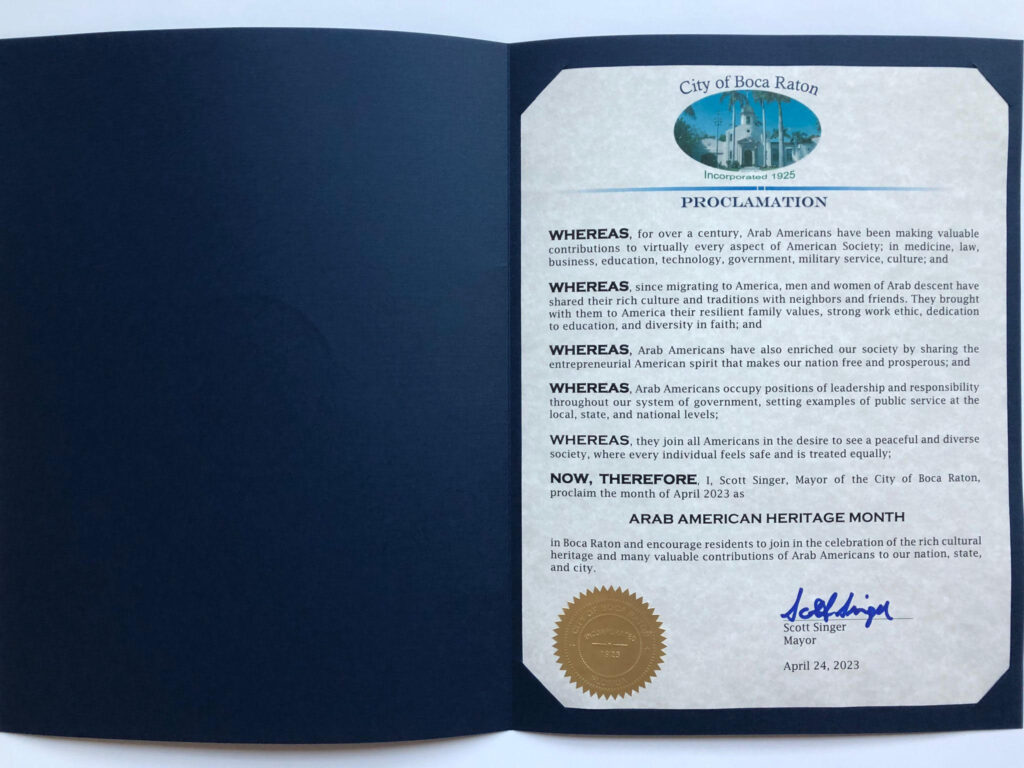 Clermont, Florida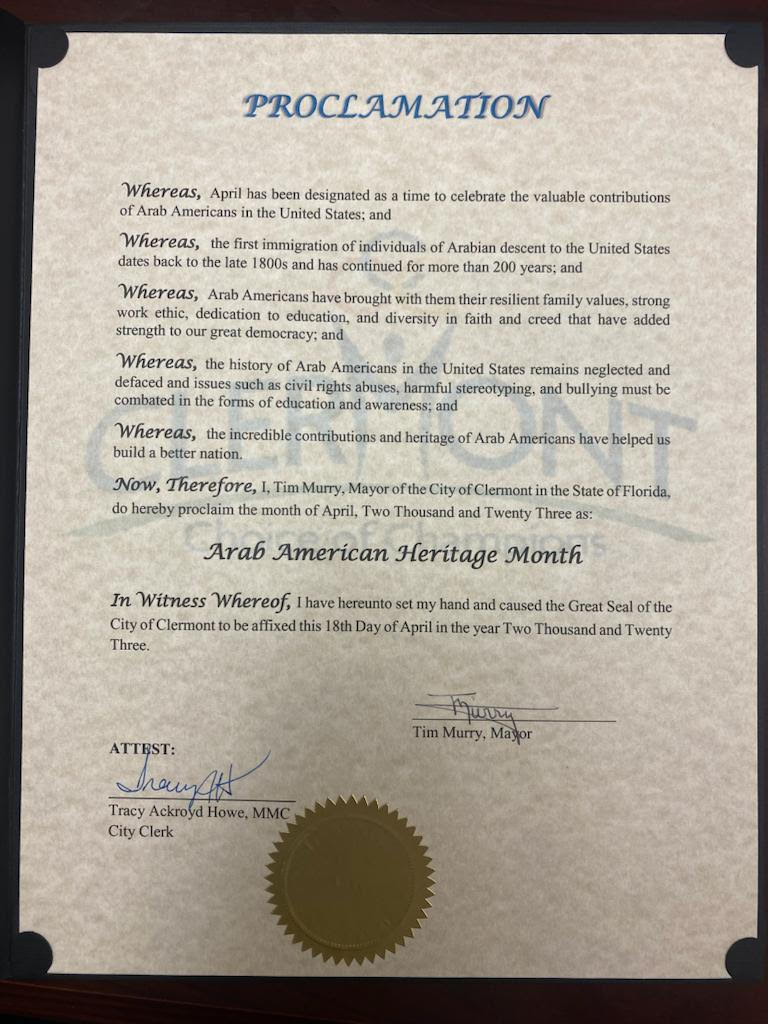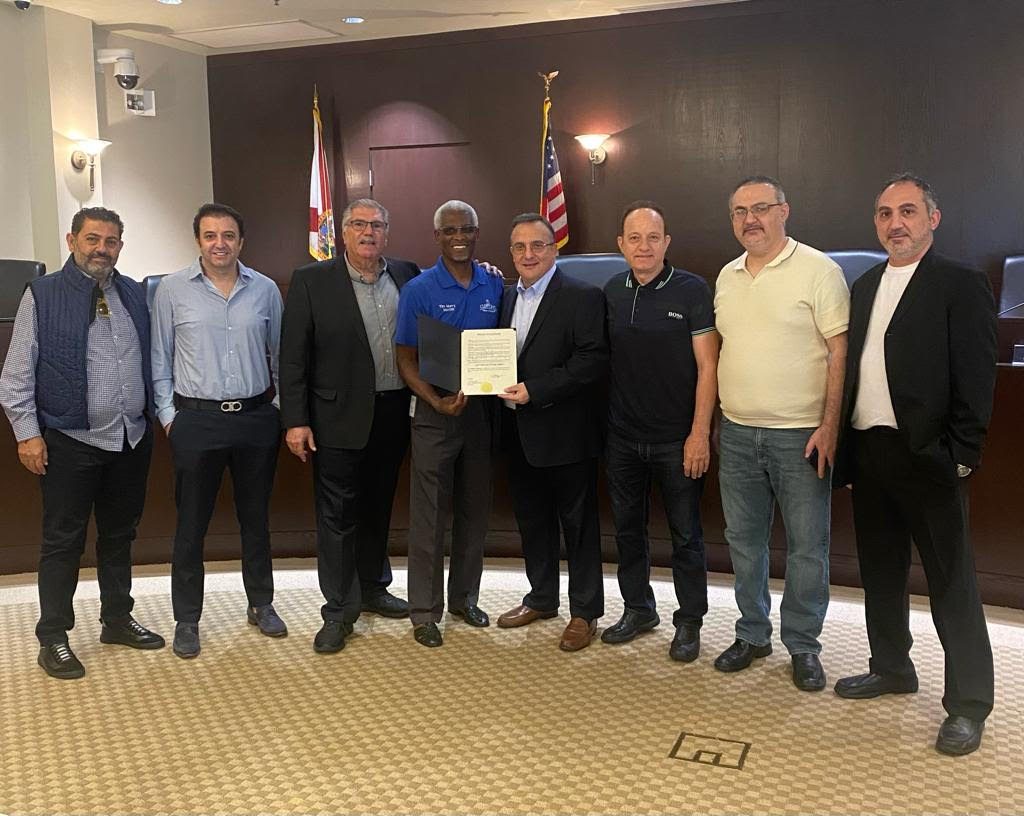 Cocoa Beach, Florida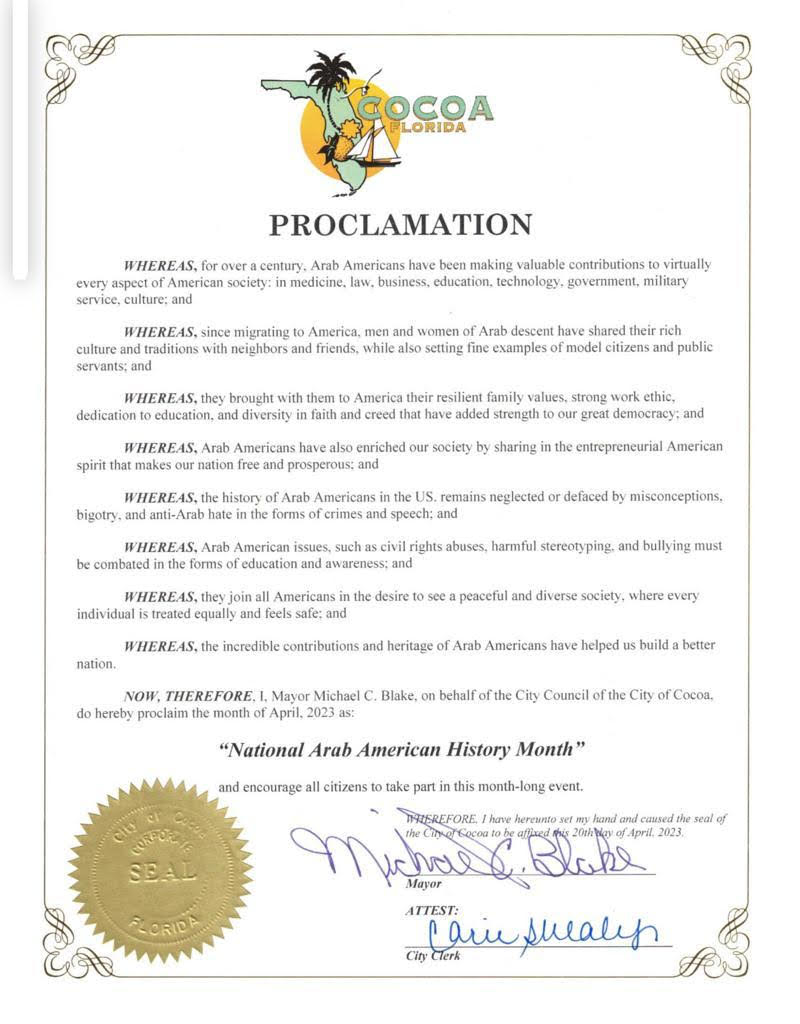 Coral Springs, Florida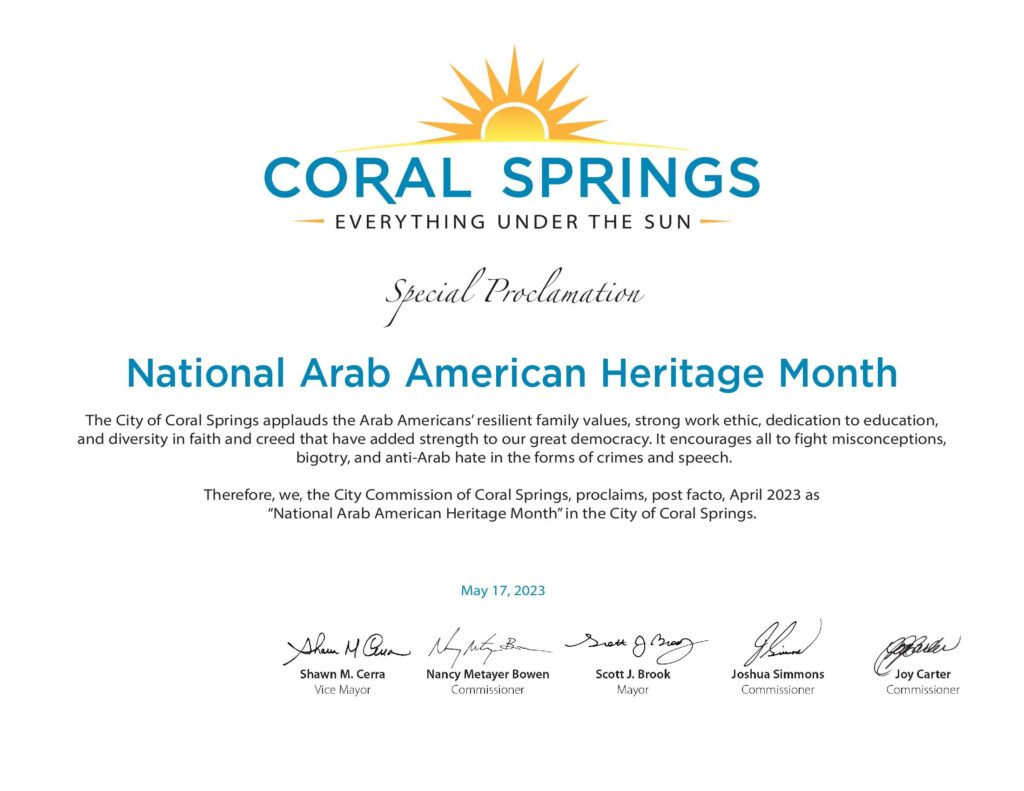 Deerfield Beach, Florida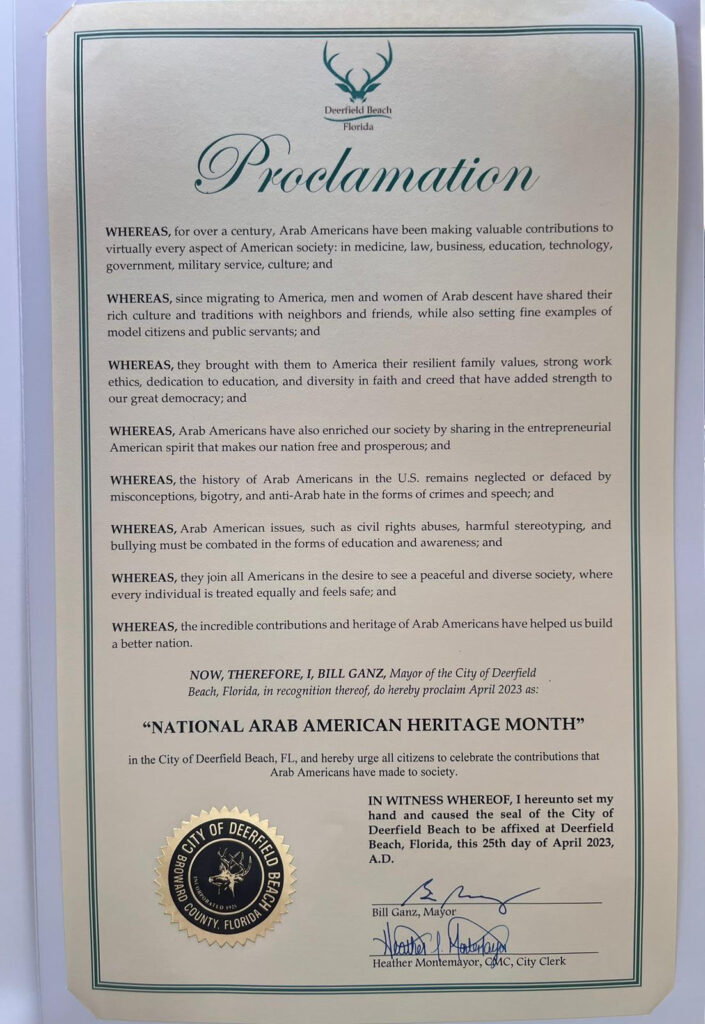 Fort Lauderdale, Florida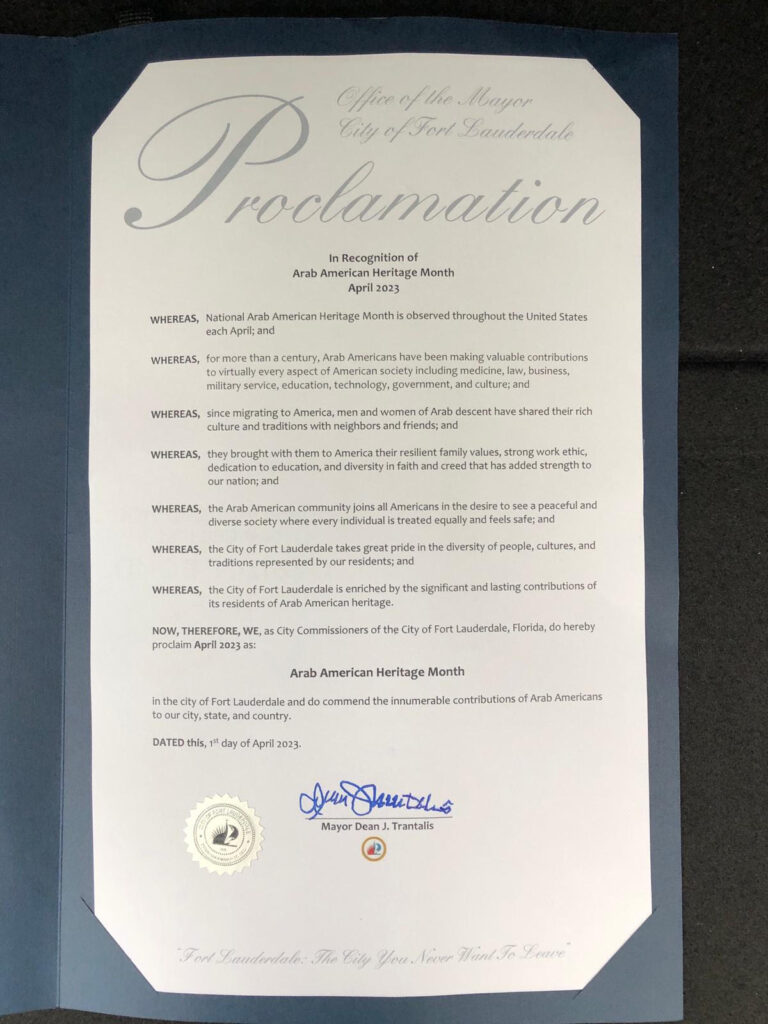 Gainsville, Florida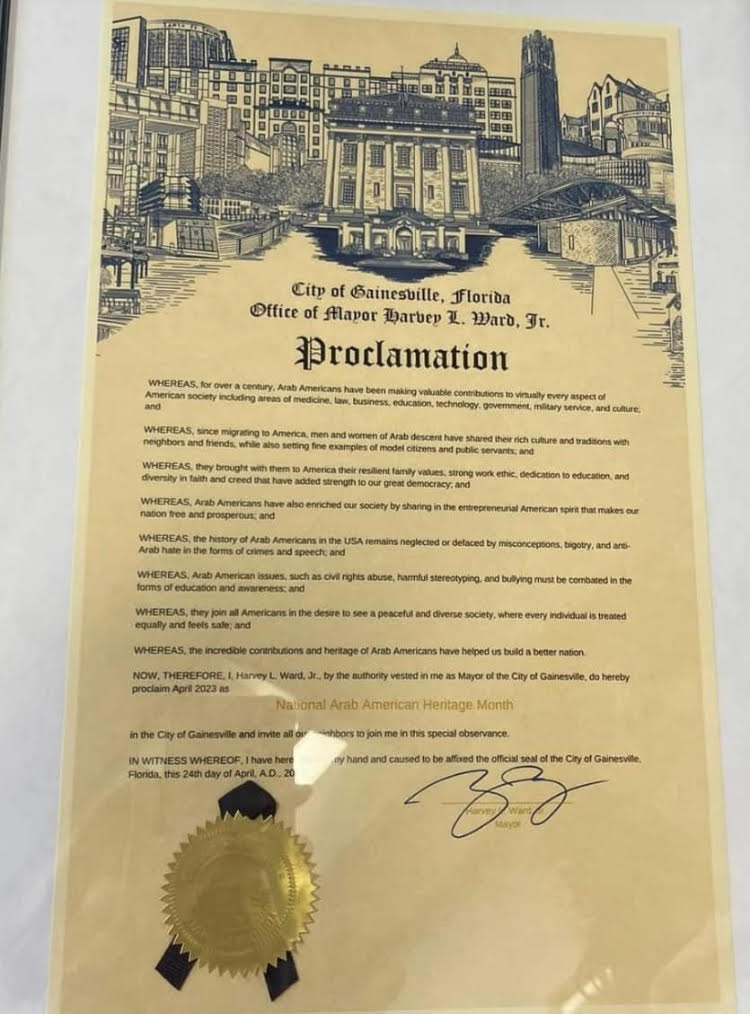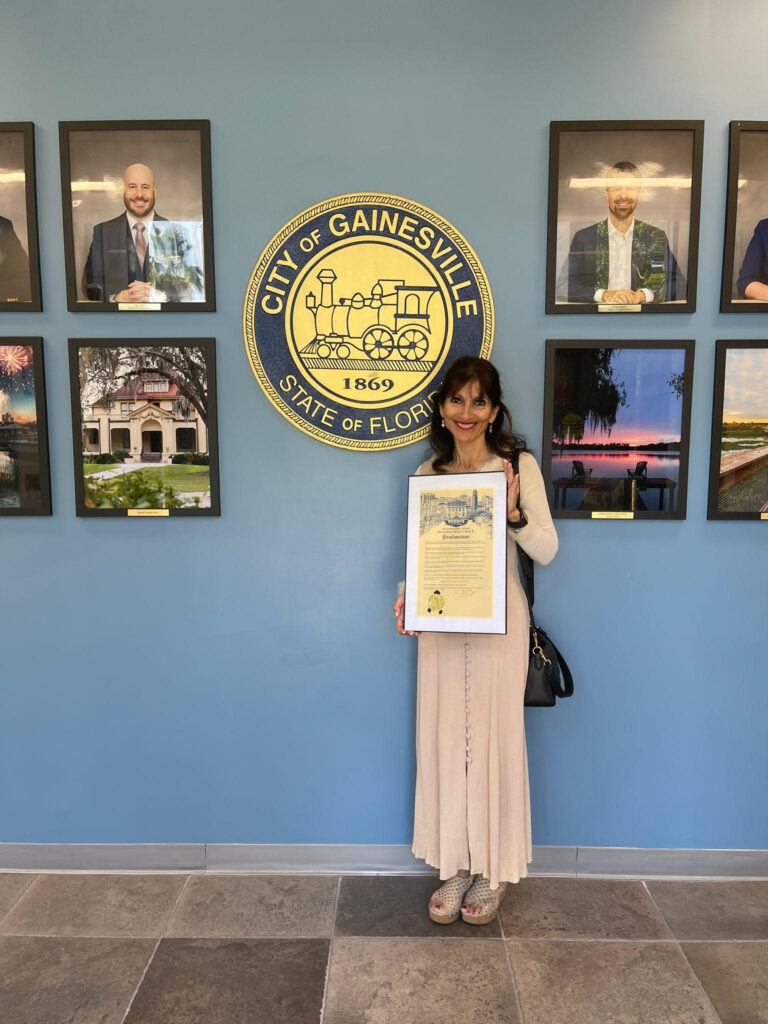 Deltona, Florida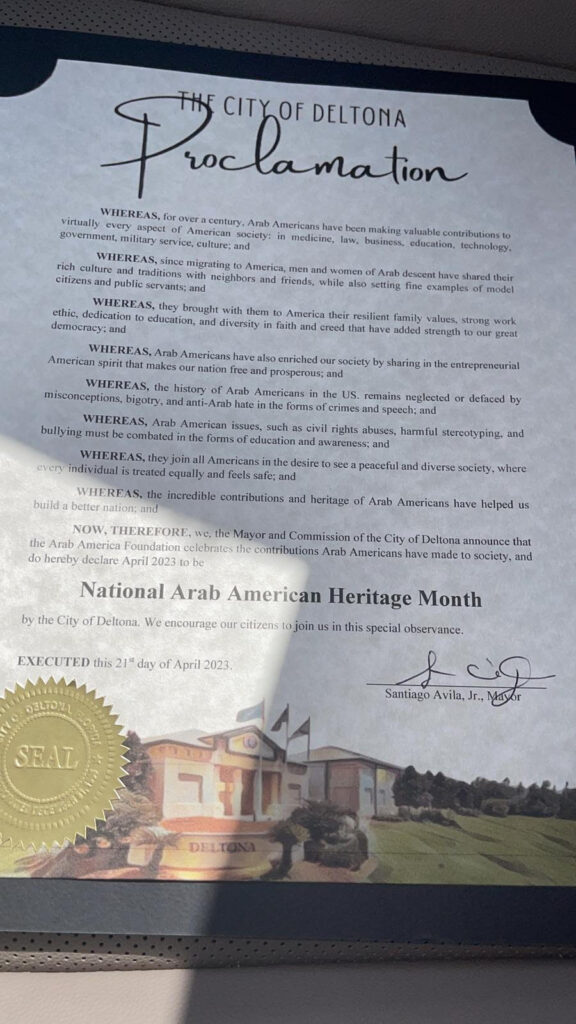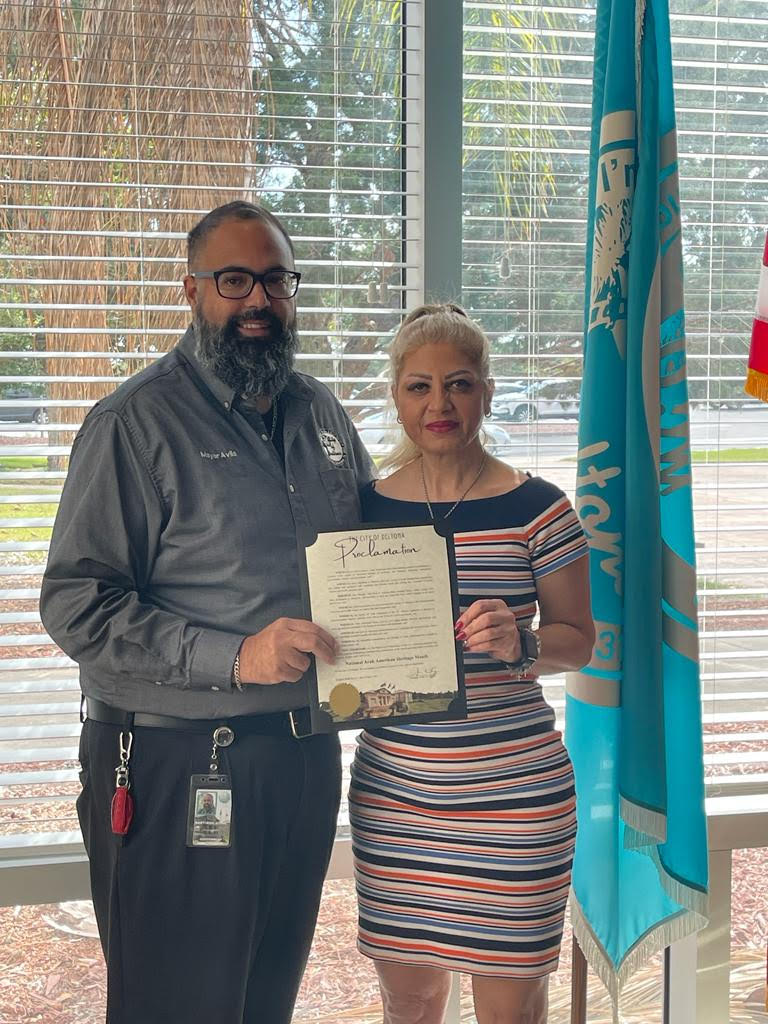 Edgewater, Florida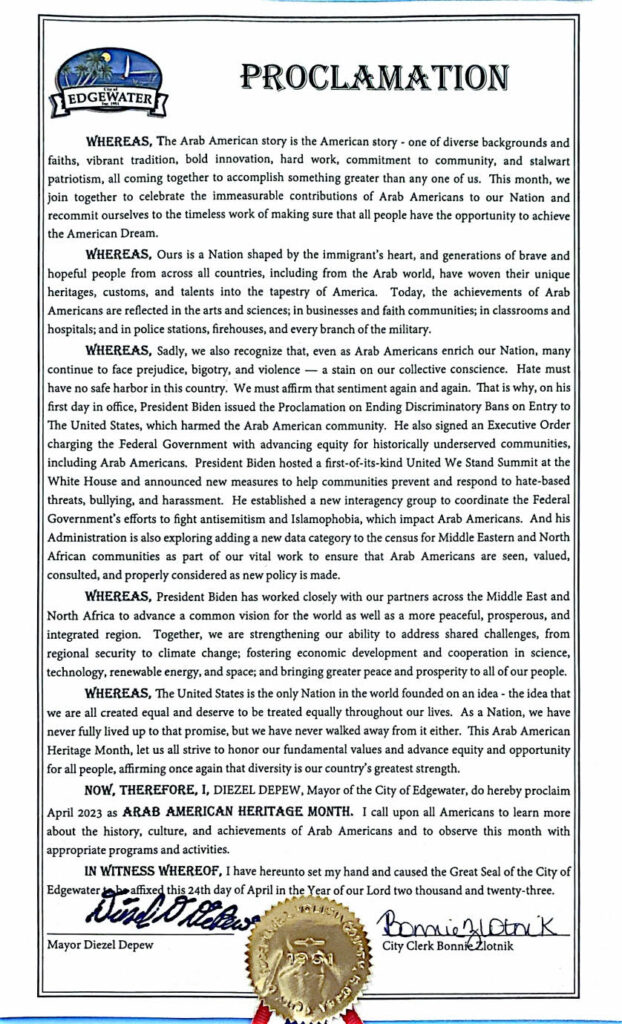 Jacksonville, Florida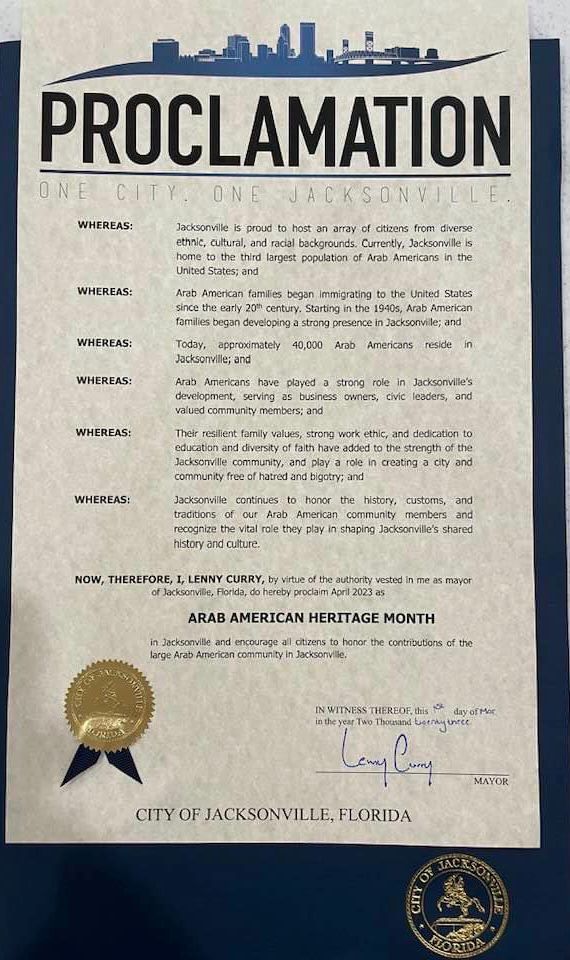 Kissimee, Florida
Ocala, Florida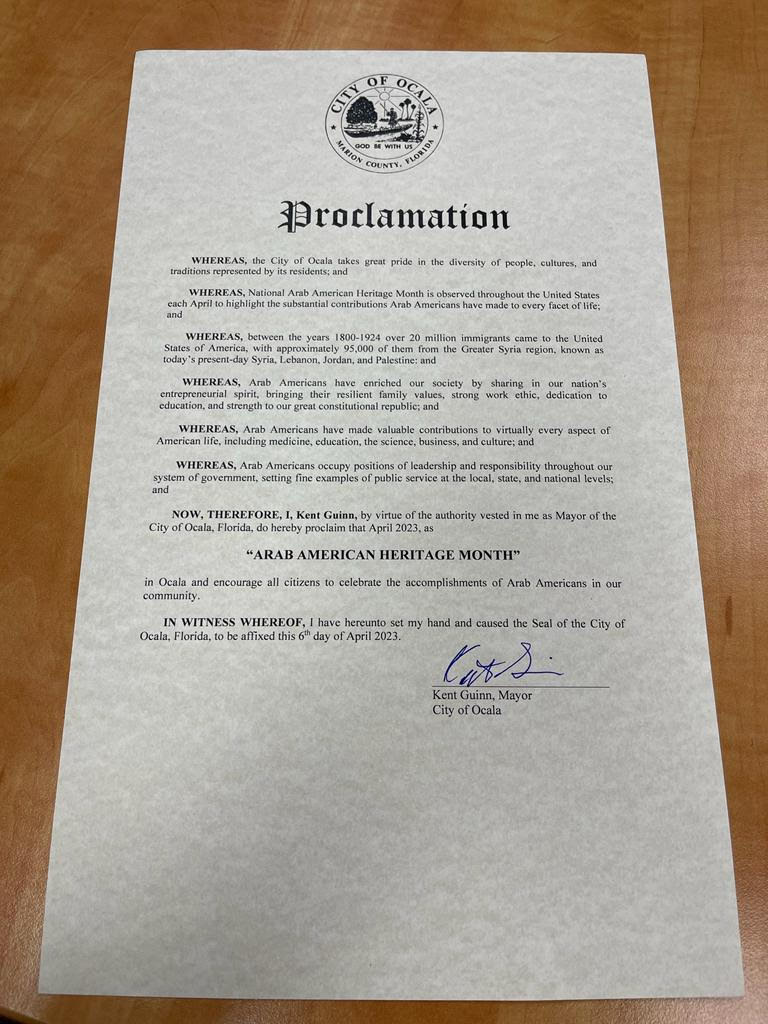 Ollin Women, Florida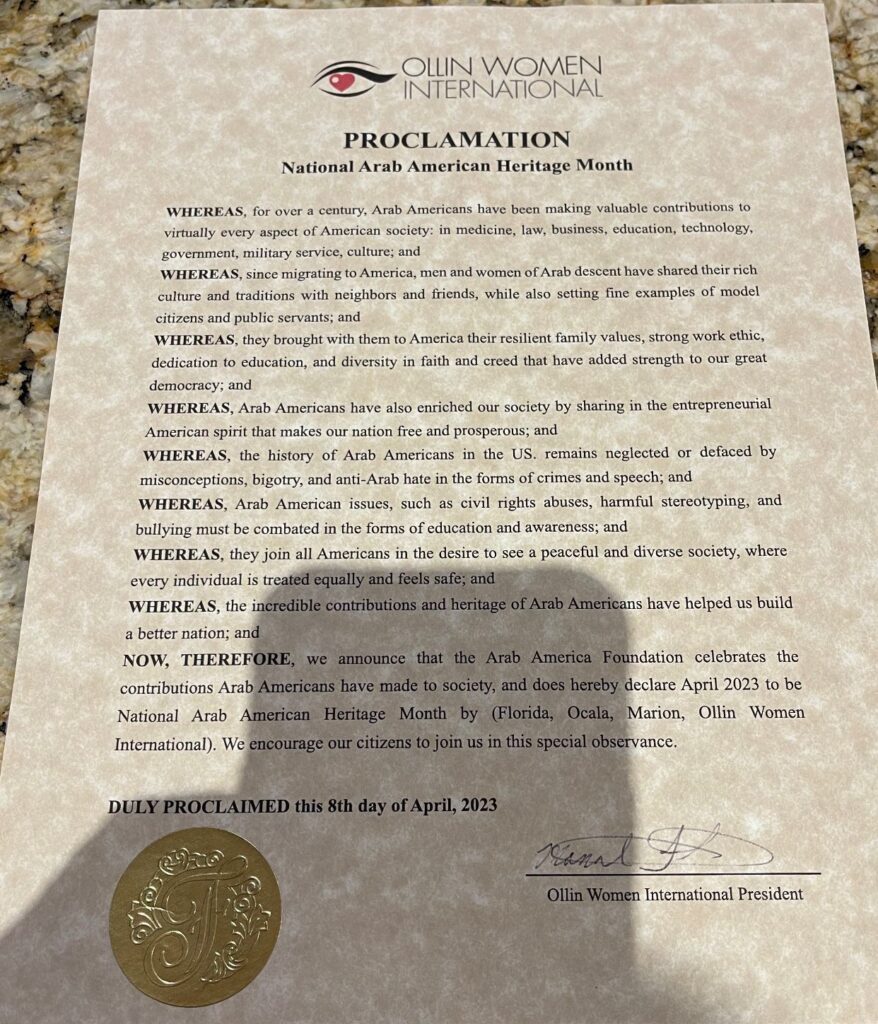 Orange County, Florida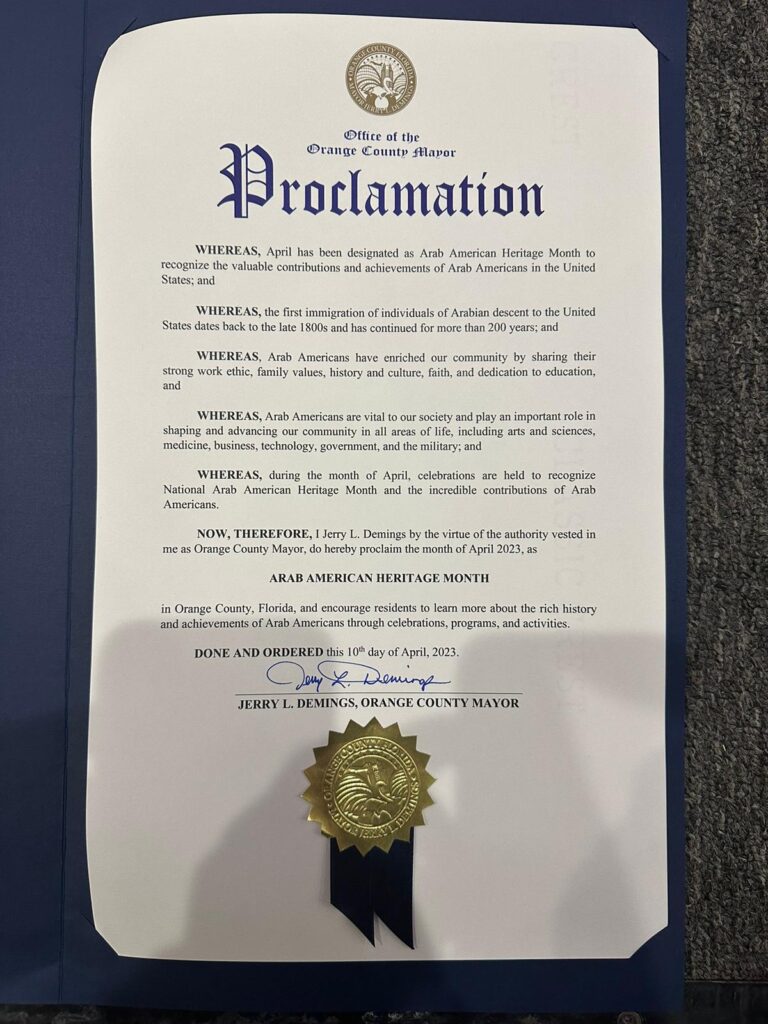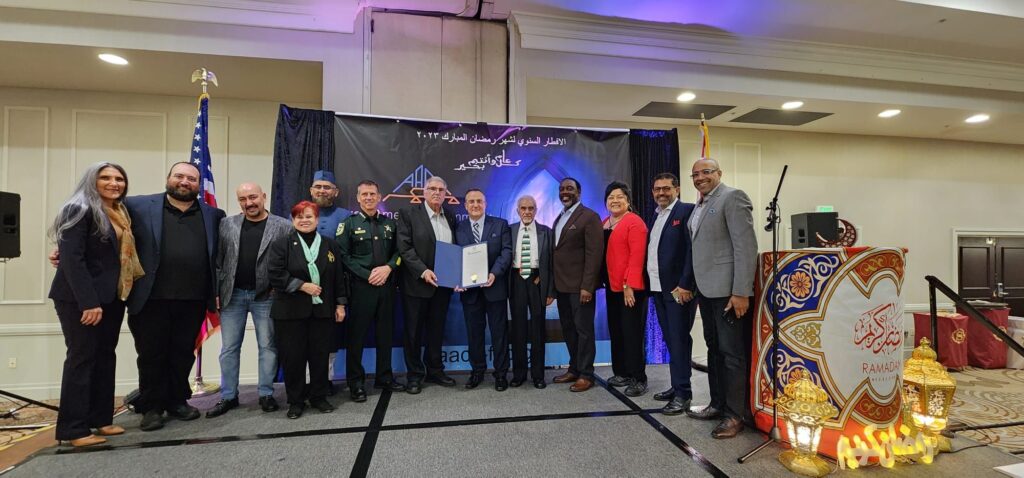 Orlando, Florida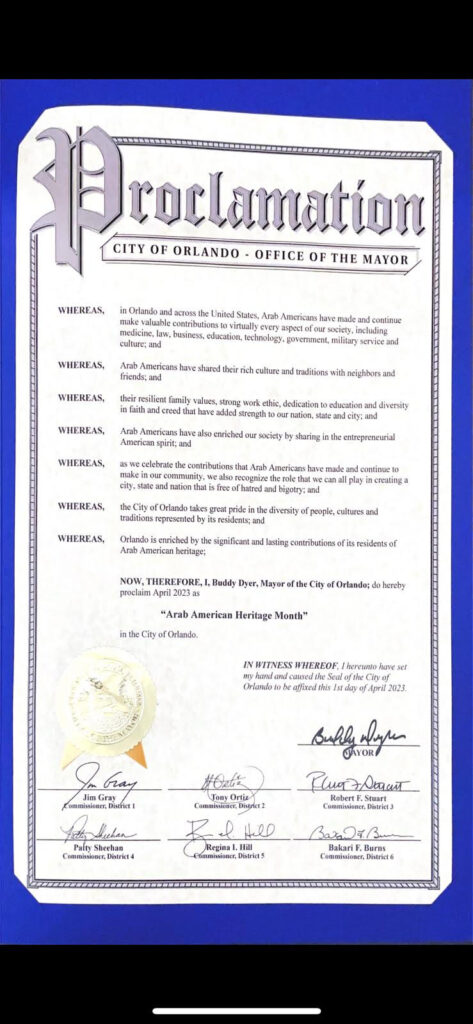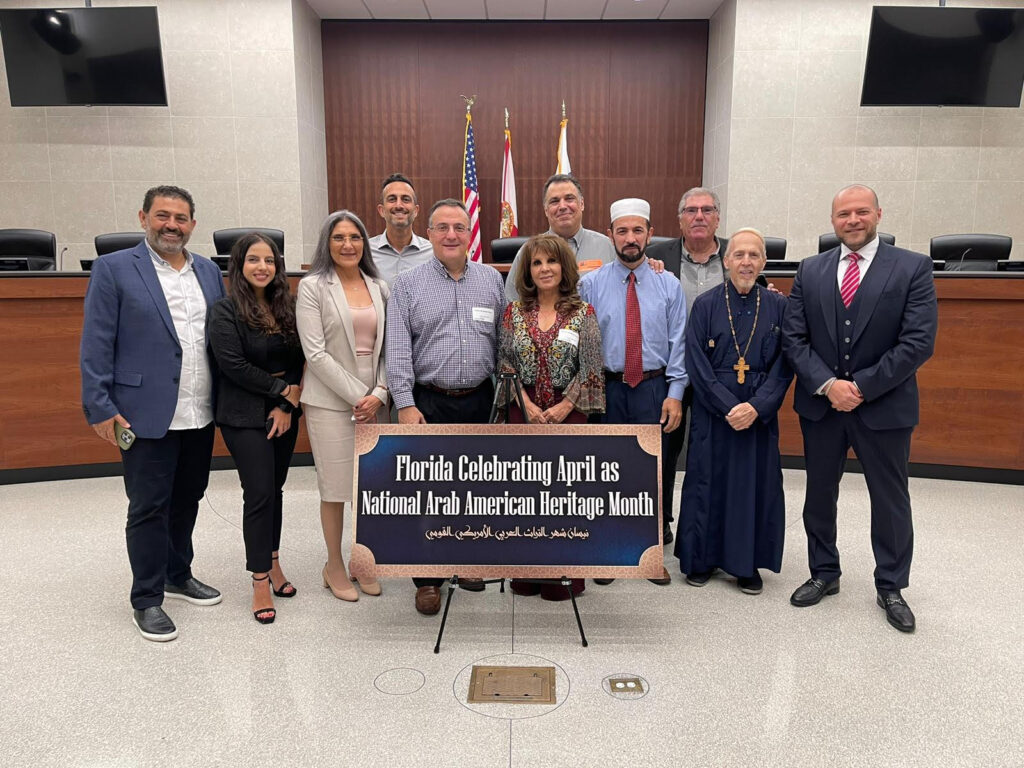 West Palm Beach, Florida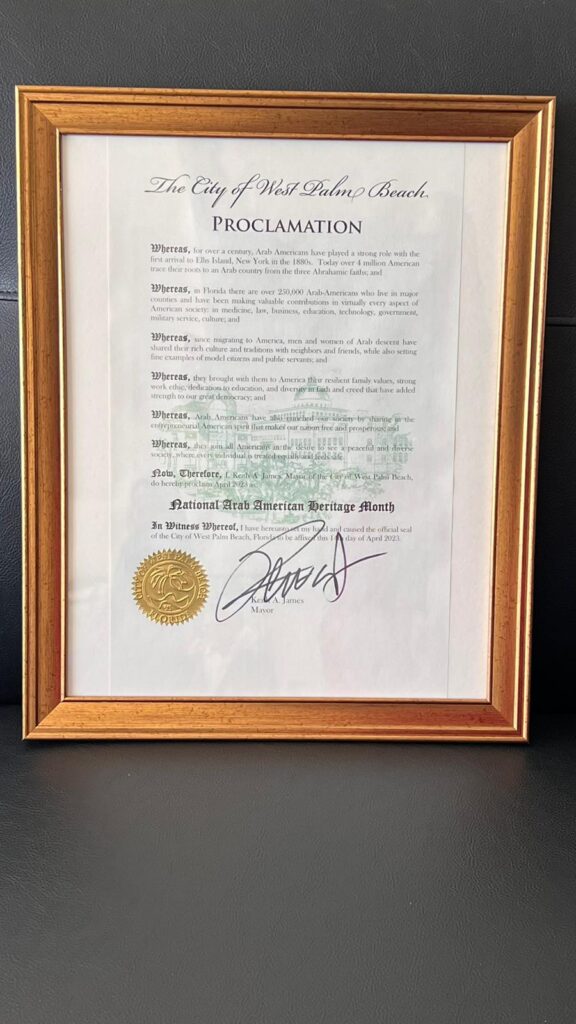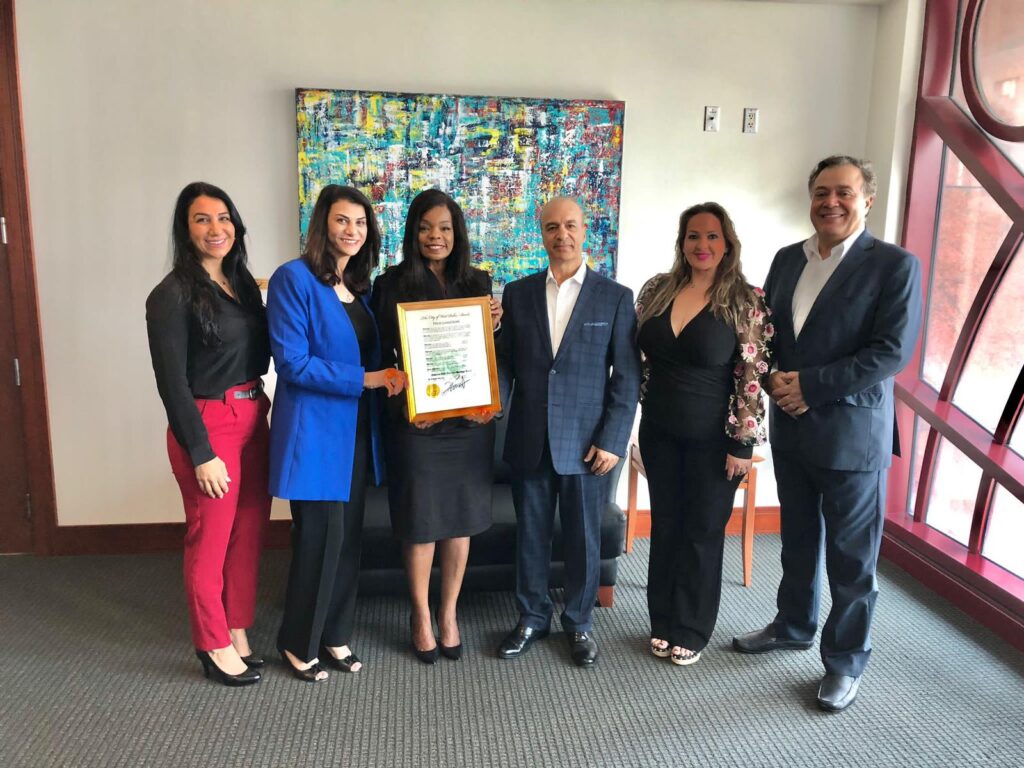 Tallahassee, Florida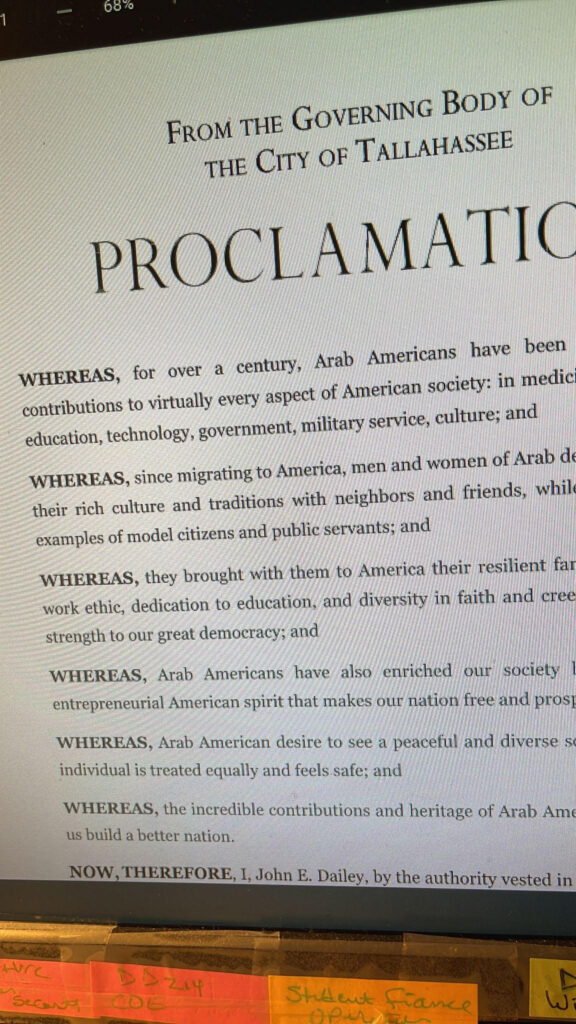 Temple Terrace, Florida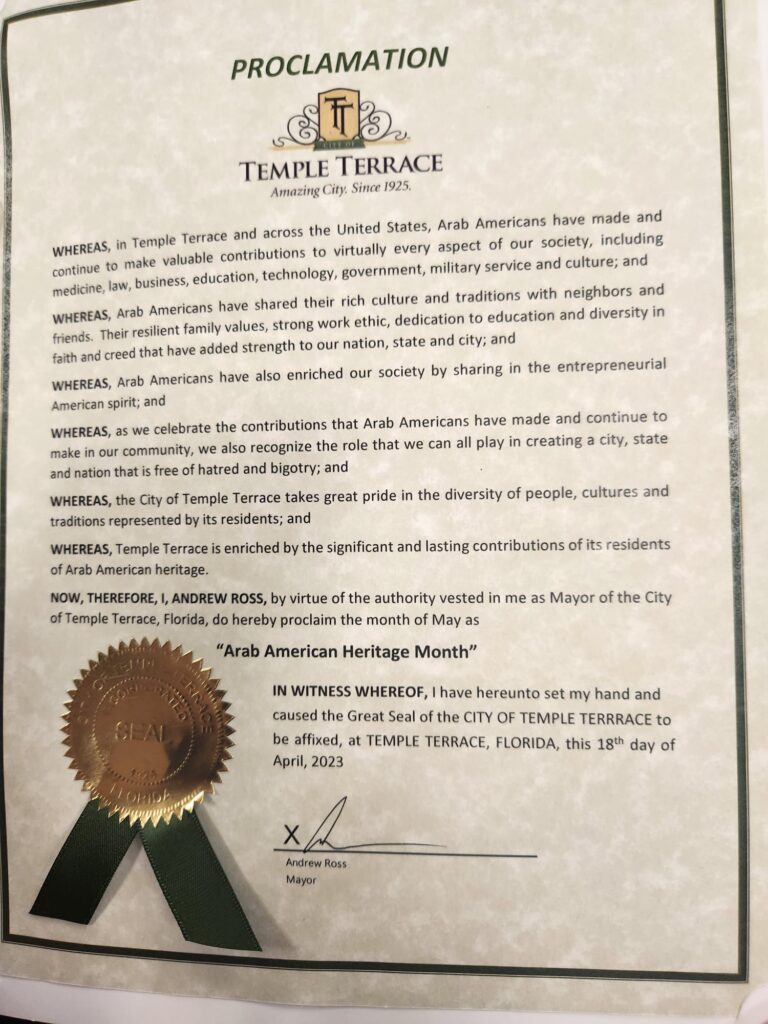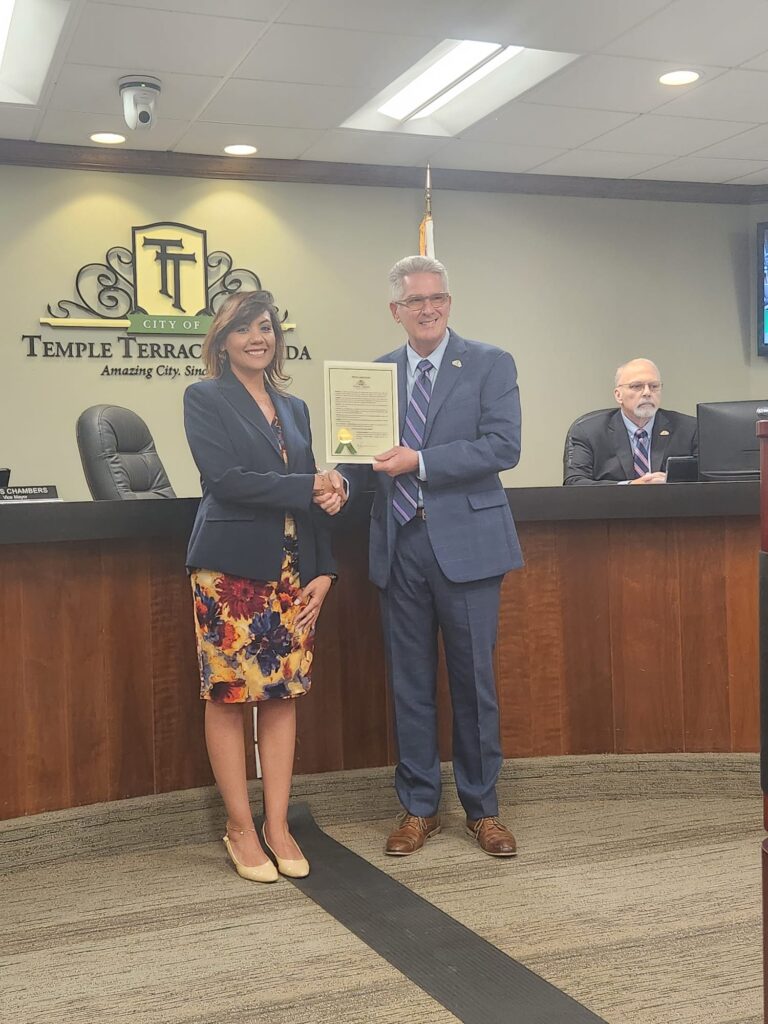 11. Georgia
Georgia Governor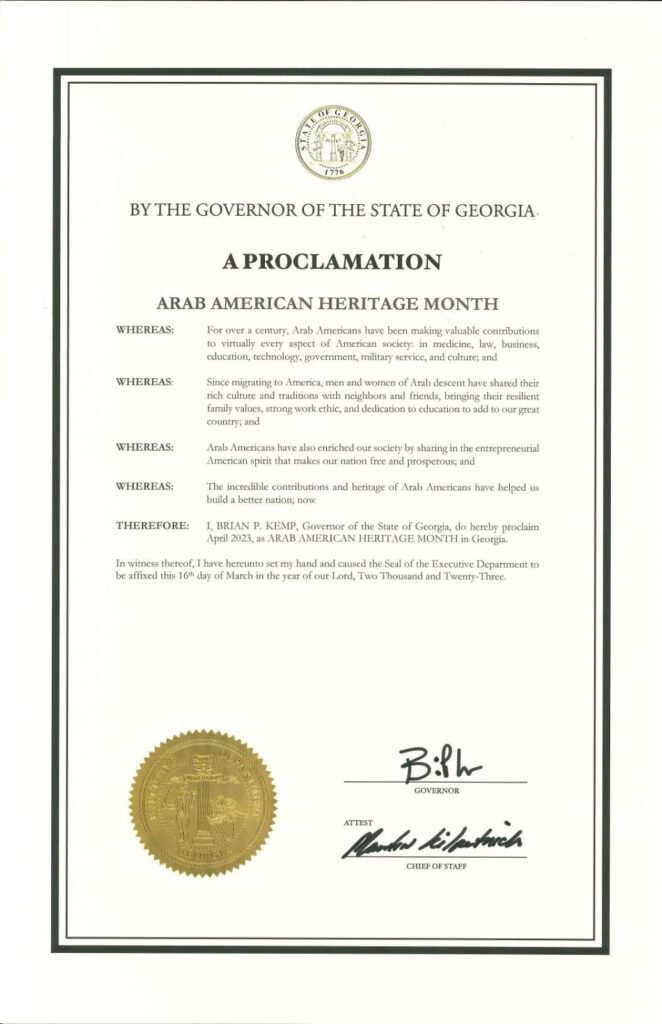 Senator Elena Parent, Georgia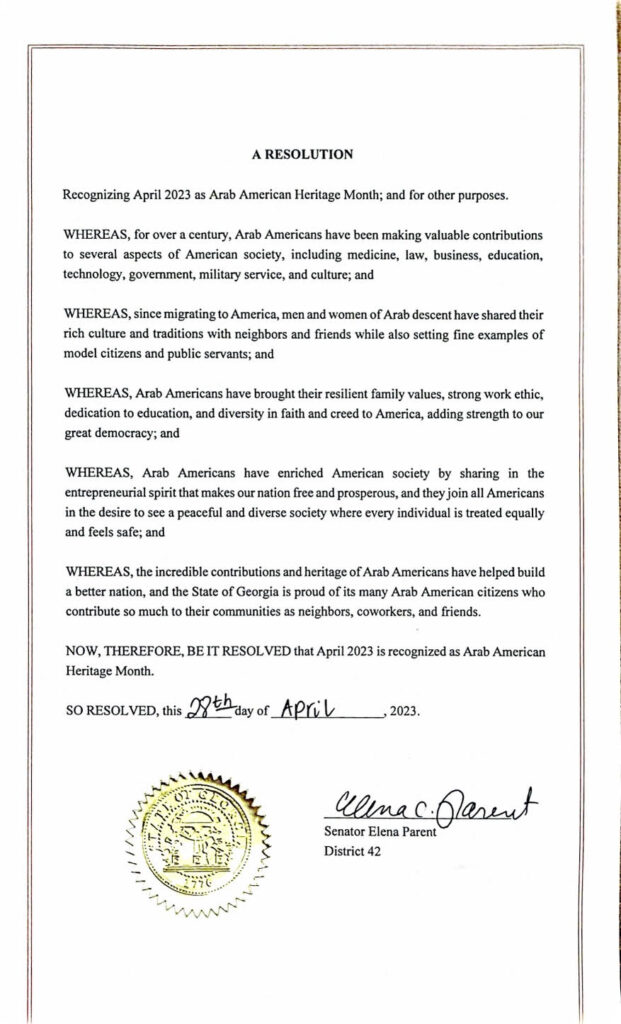 Snellville, Georgia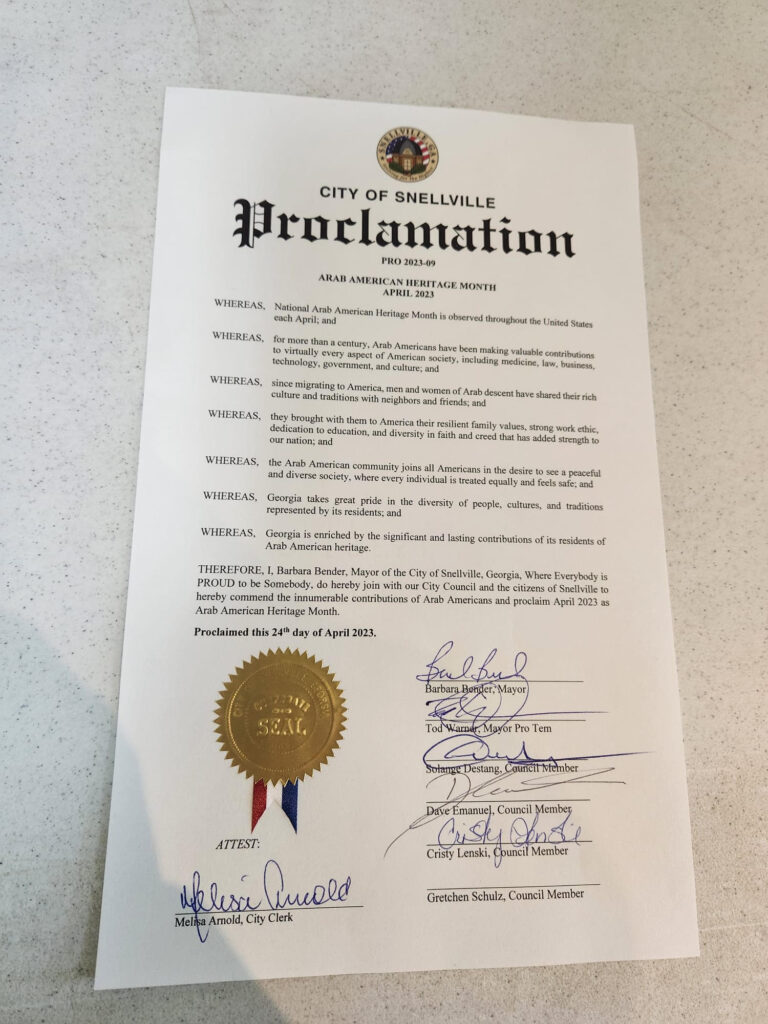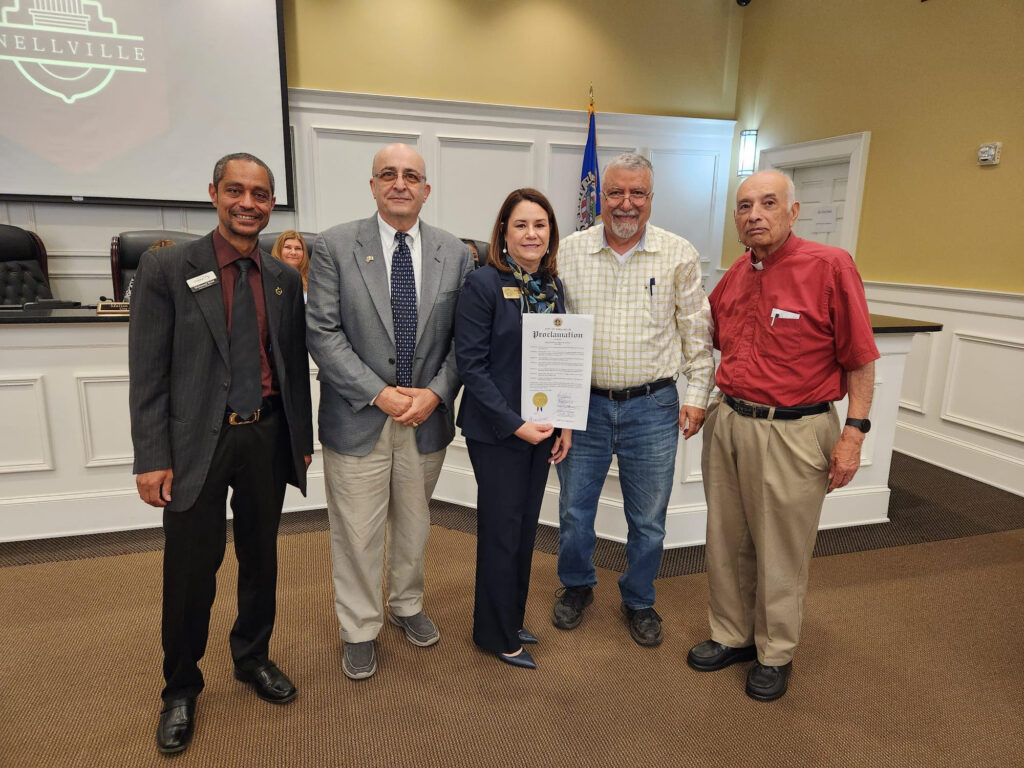 12. Hawaii
Hawaii, Governor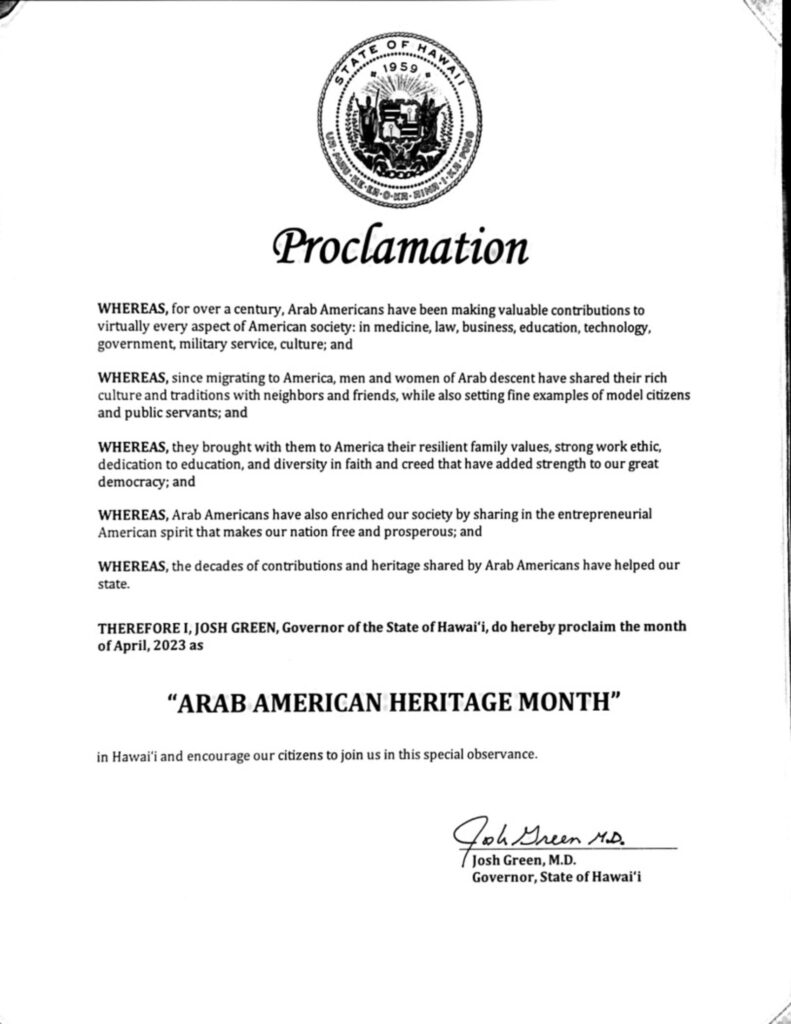 13. Illinois
Illinois Permanent Arab American Heritage Month Act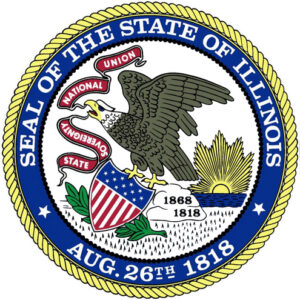 Illinois Governor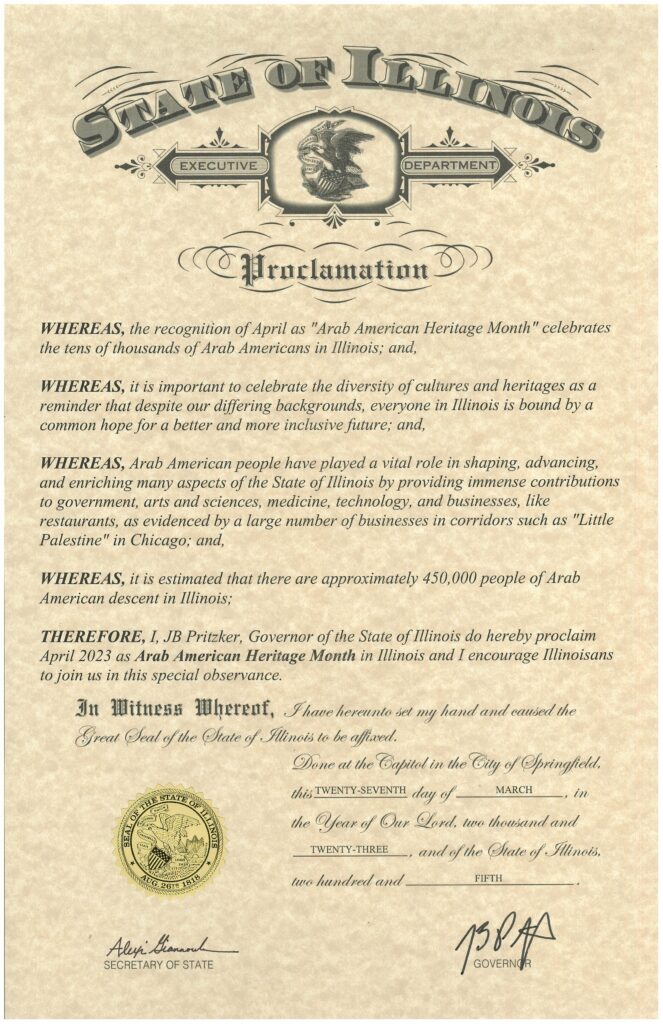 Chicago City Council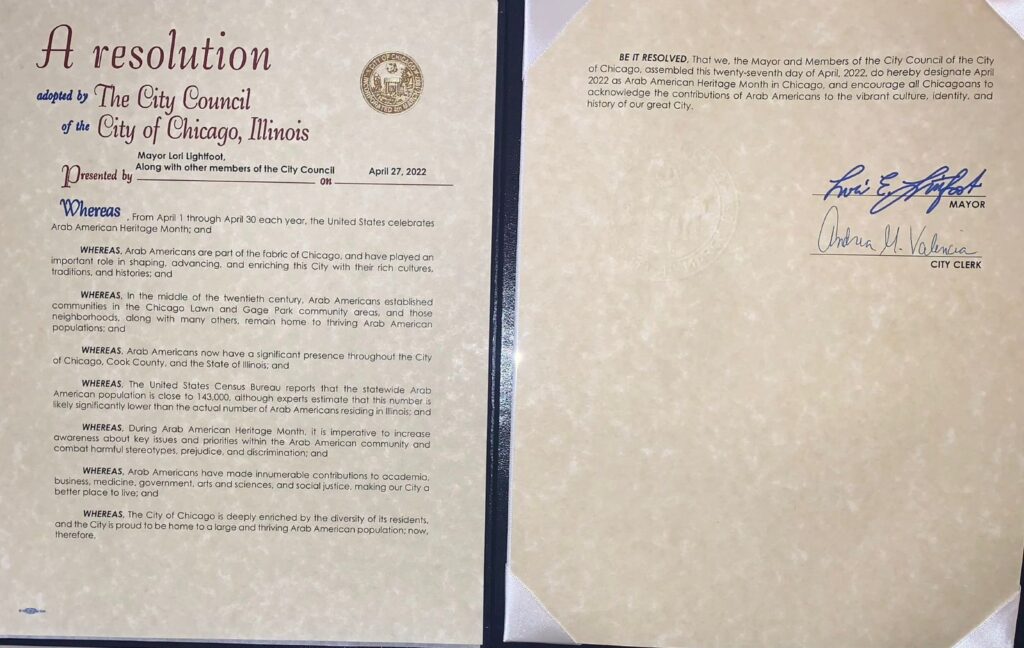 Kendall County, Illinois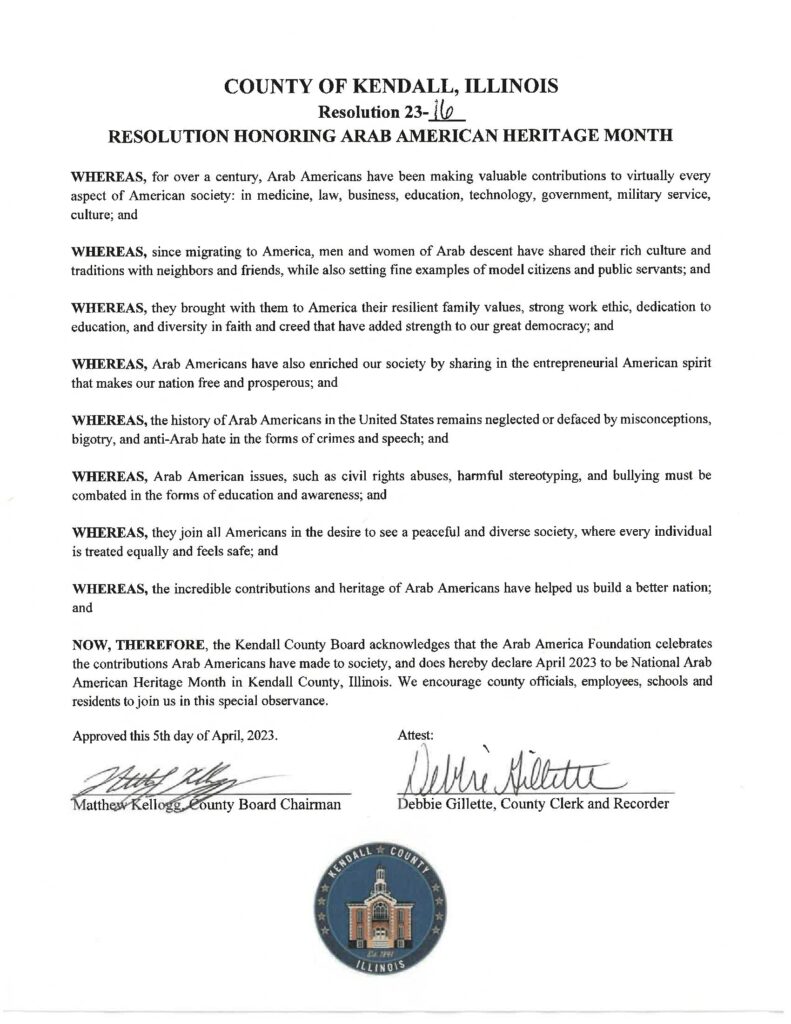 14. Indiana
Indiana, Governor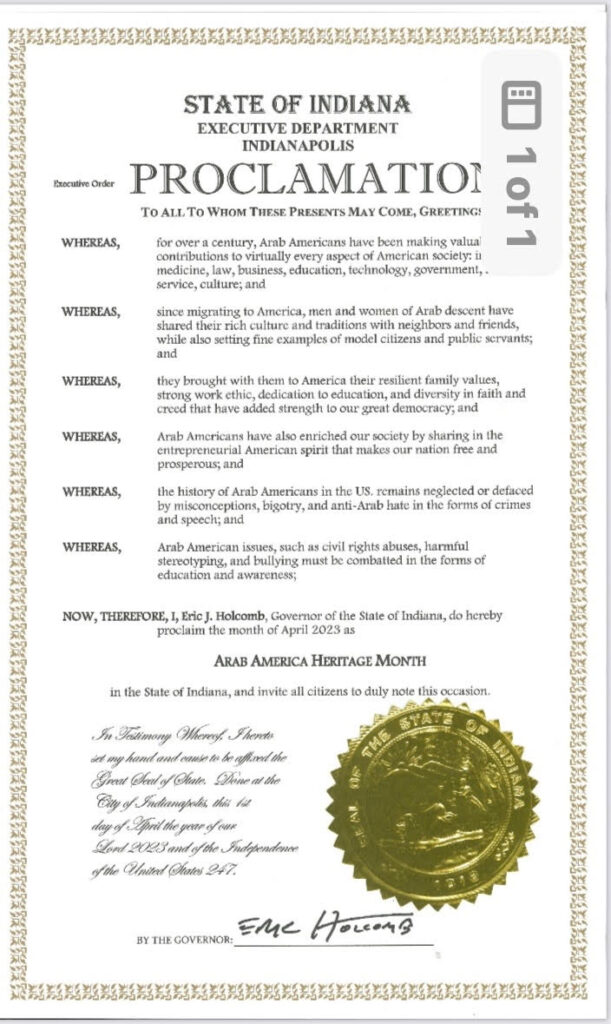 Indiana Permanent Senate Resolution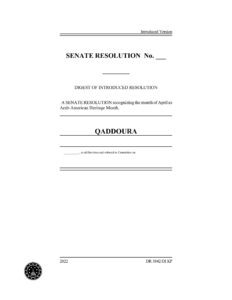 15. Kansas
Kansas, Governor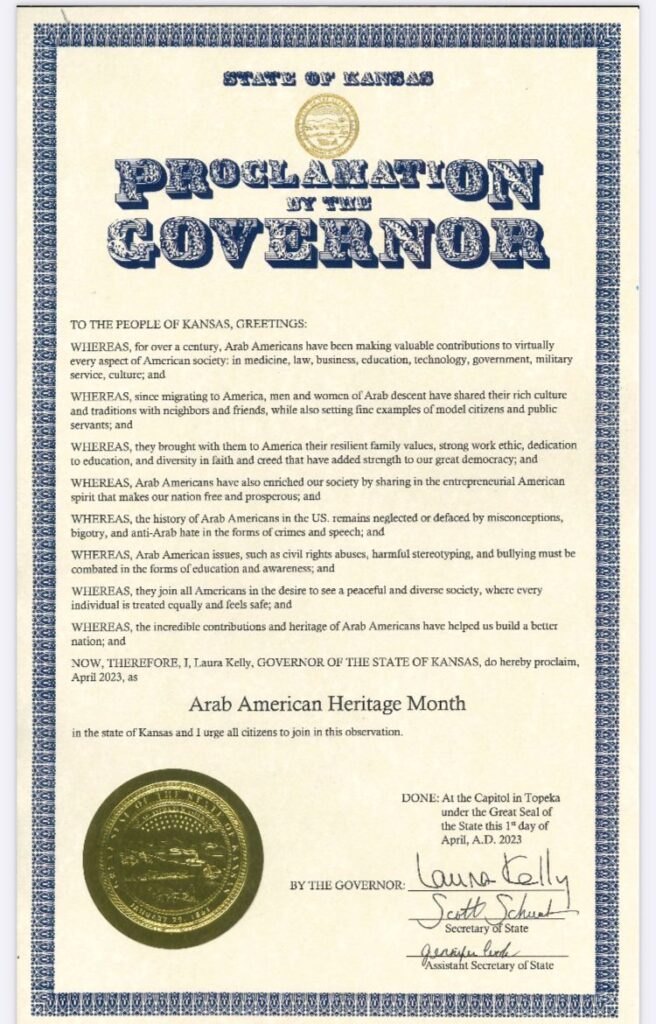 16. Kentucky
Kentucky, Governor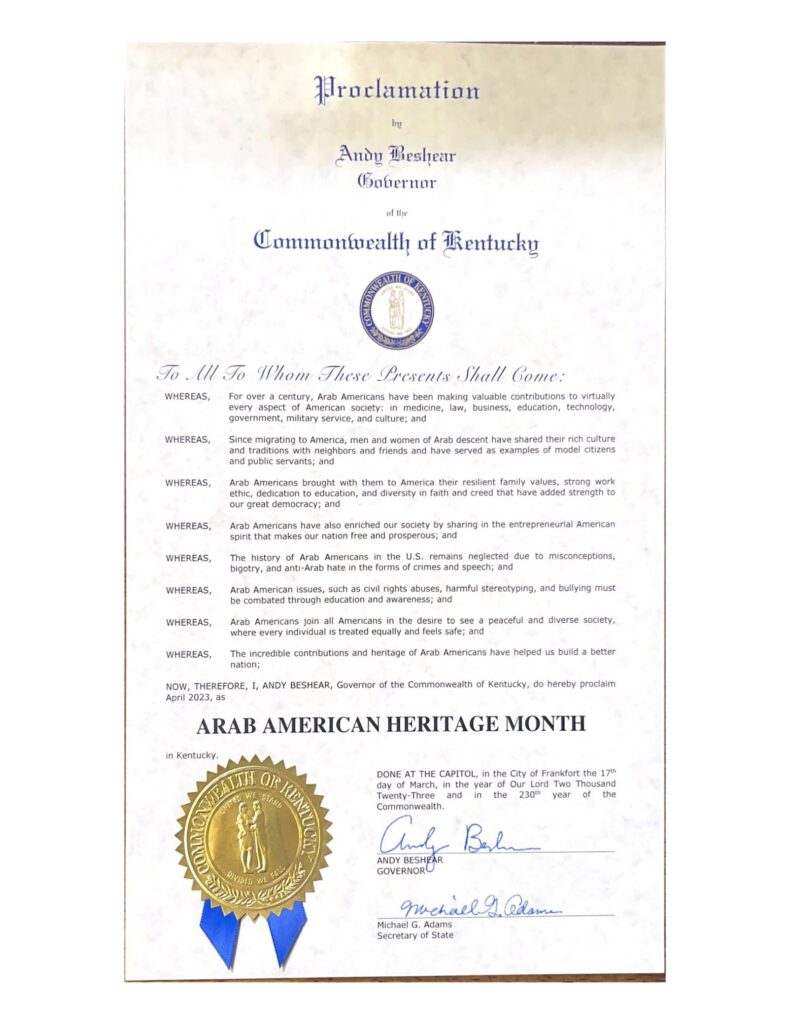 17. Louisiana
Louisiana Governor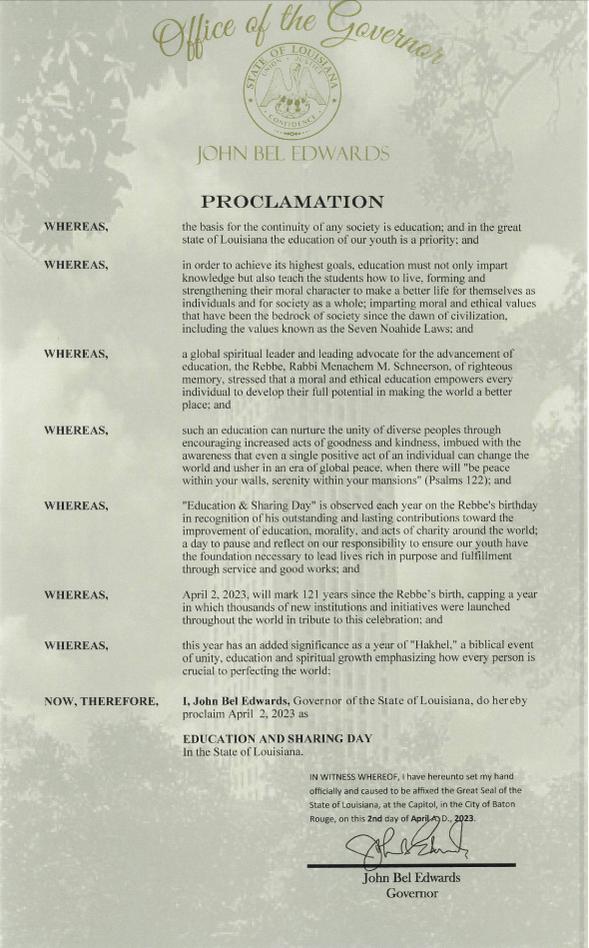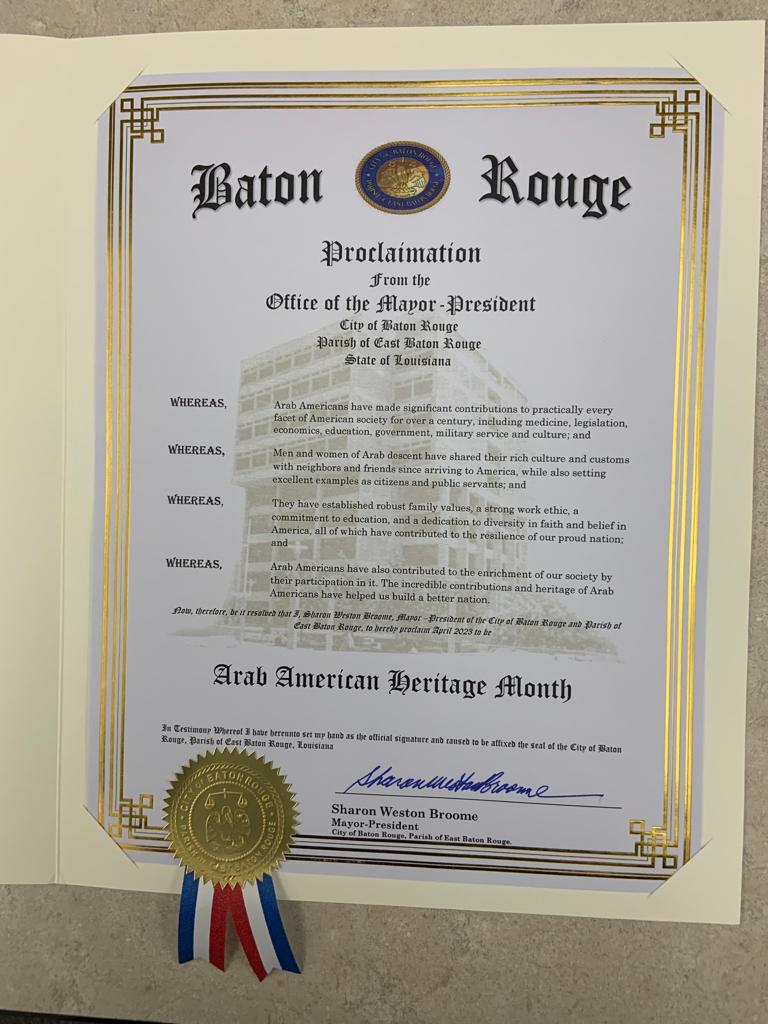 Baton Rouge, Lousiana
18. Maine
Maine Governor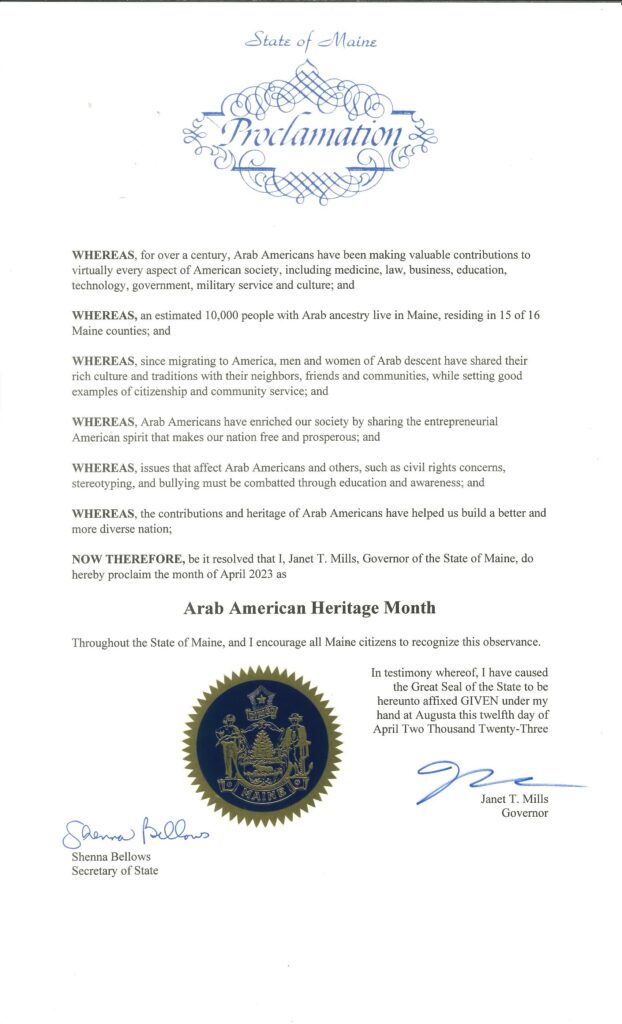 Portland, Maine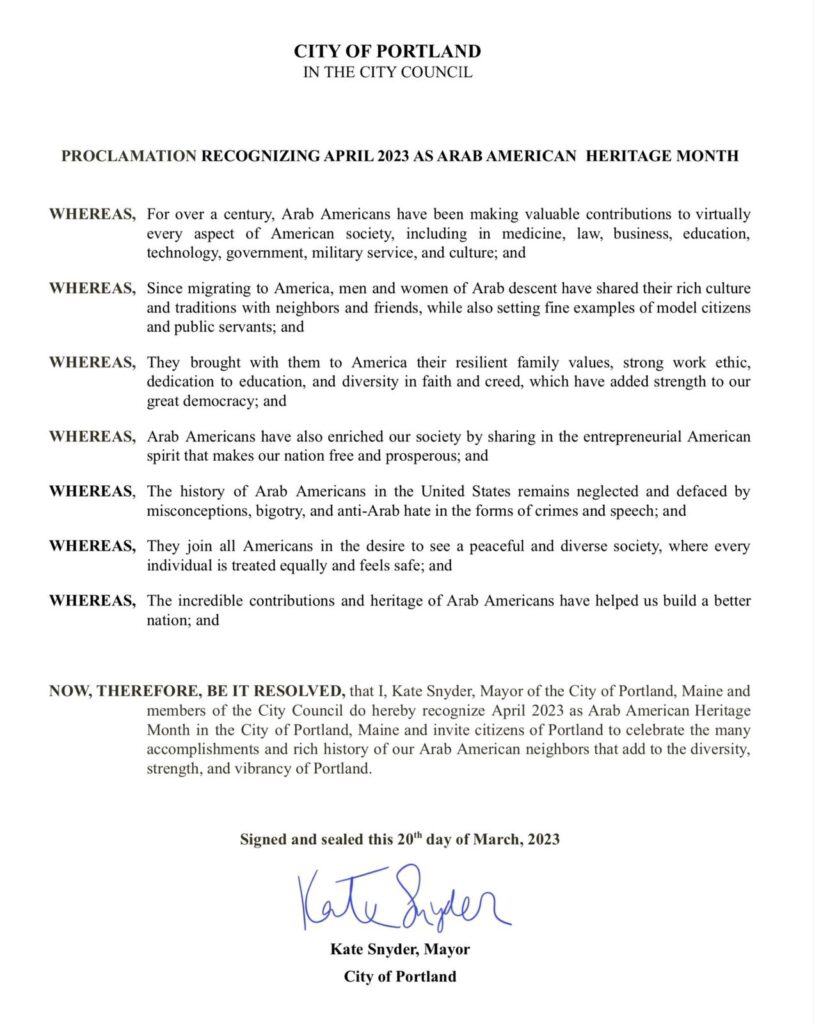 Westbrook, Maine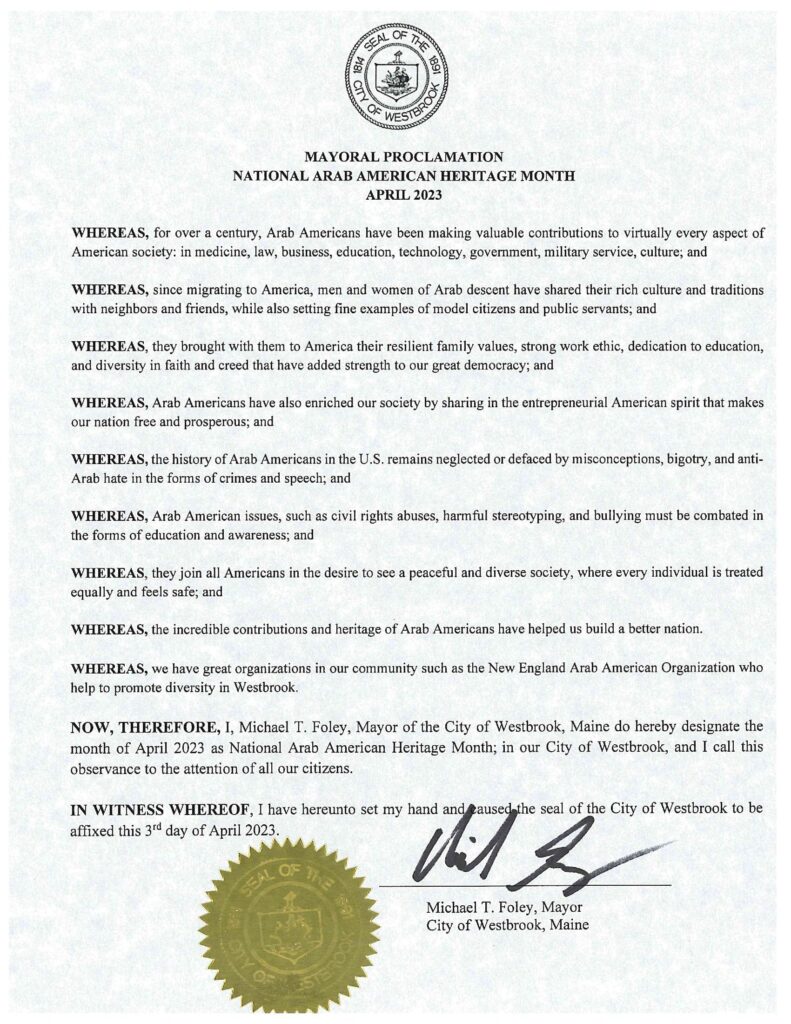 19. Maryland
Maryland, Governor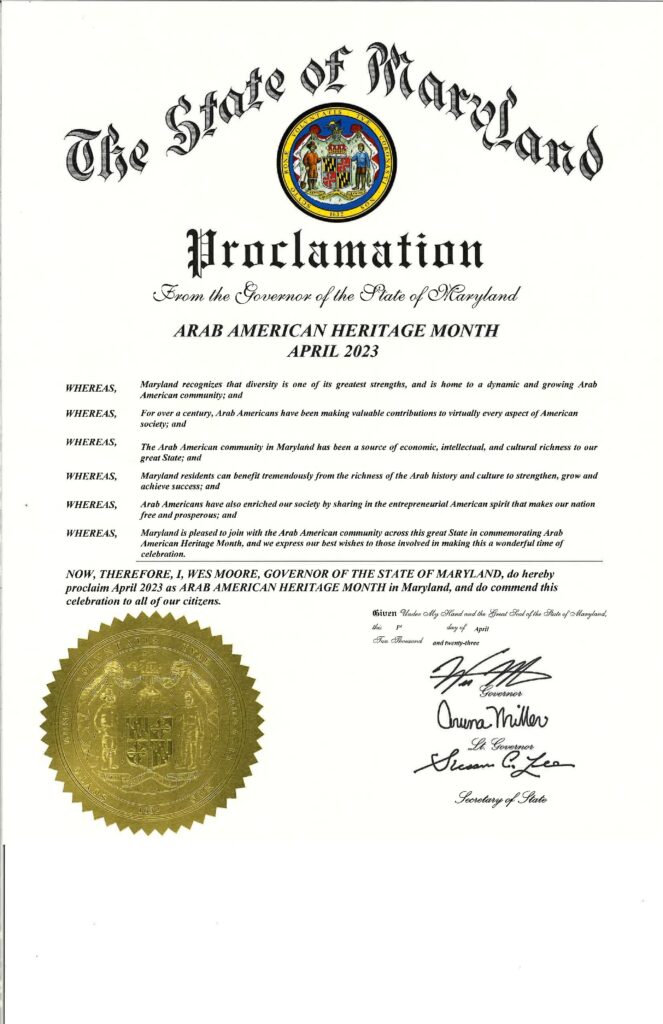 Baltimore, Maryland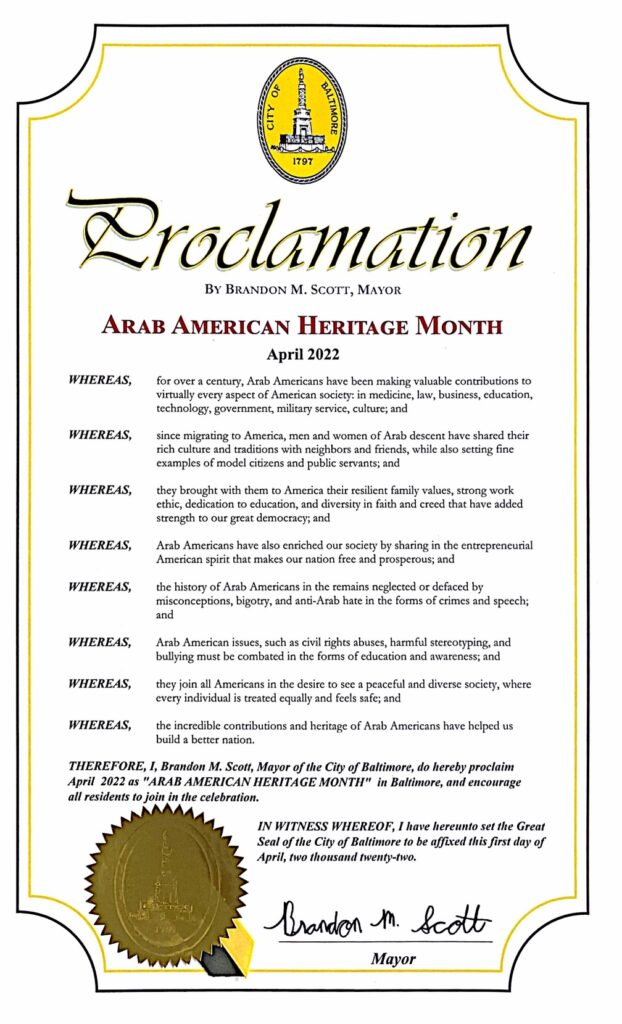 20. Massachusetts
Massachusetts Governor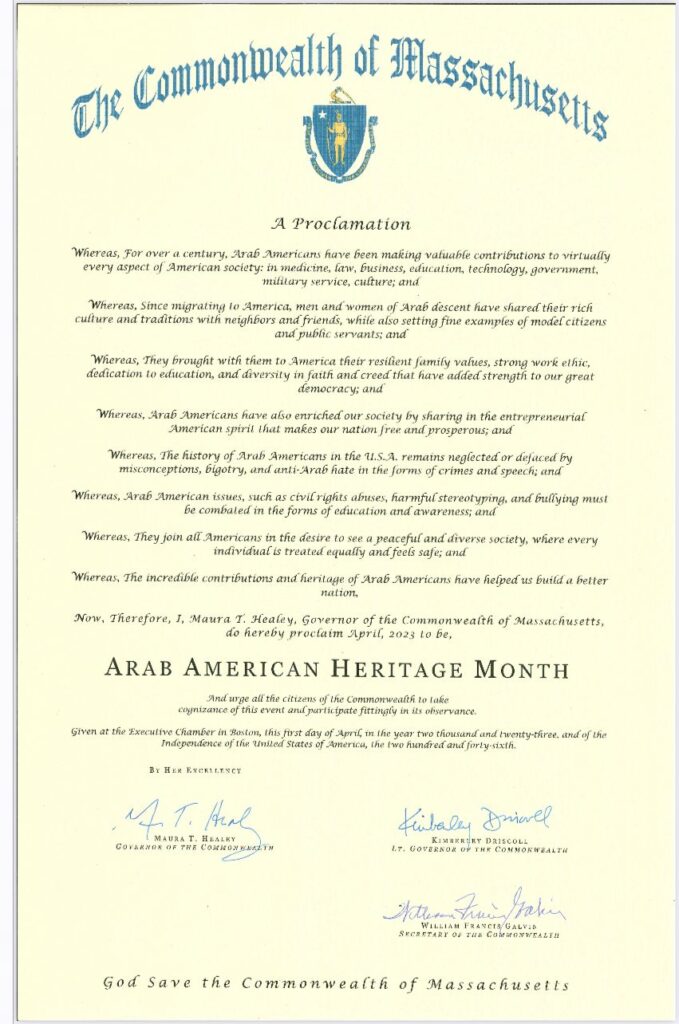 Malden, Massachusetts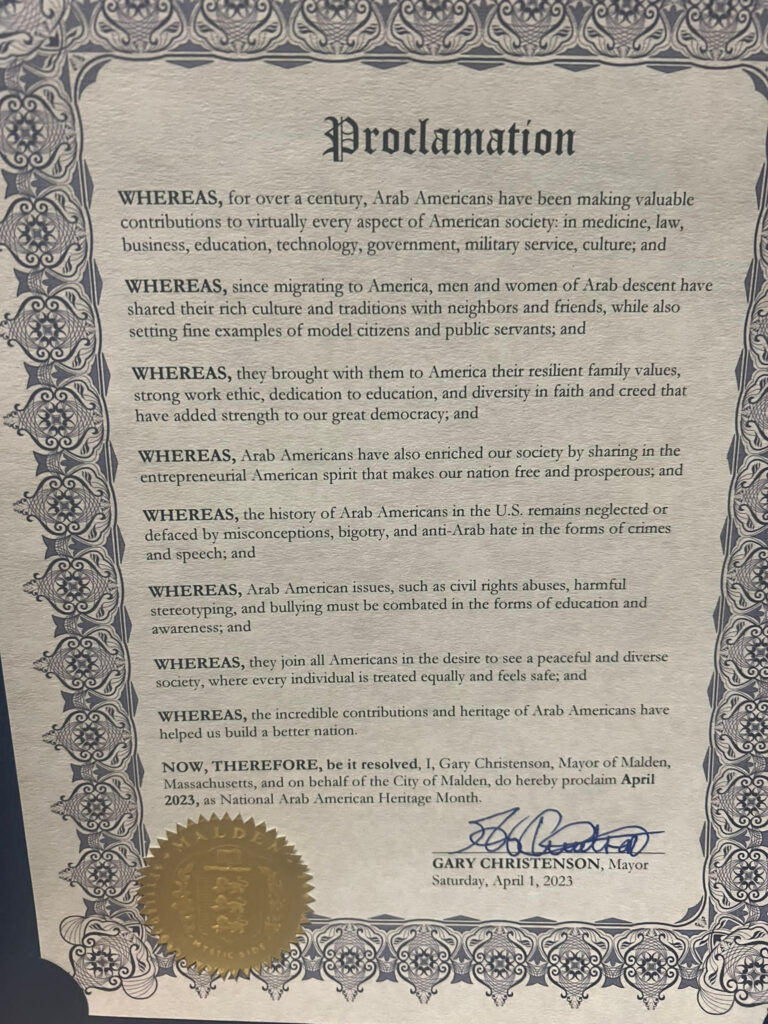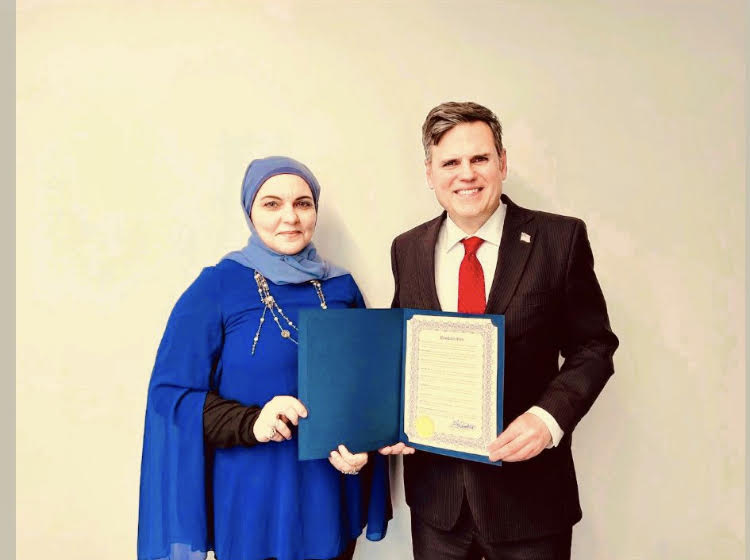 Revere, Massachusetts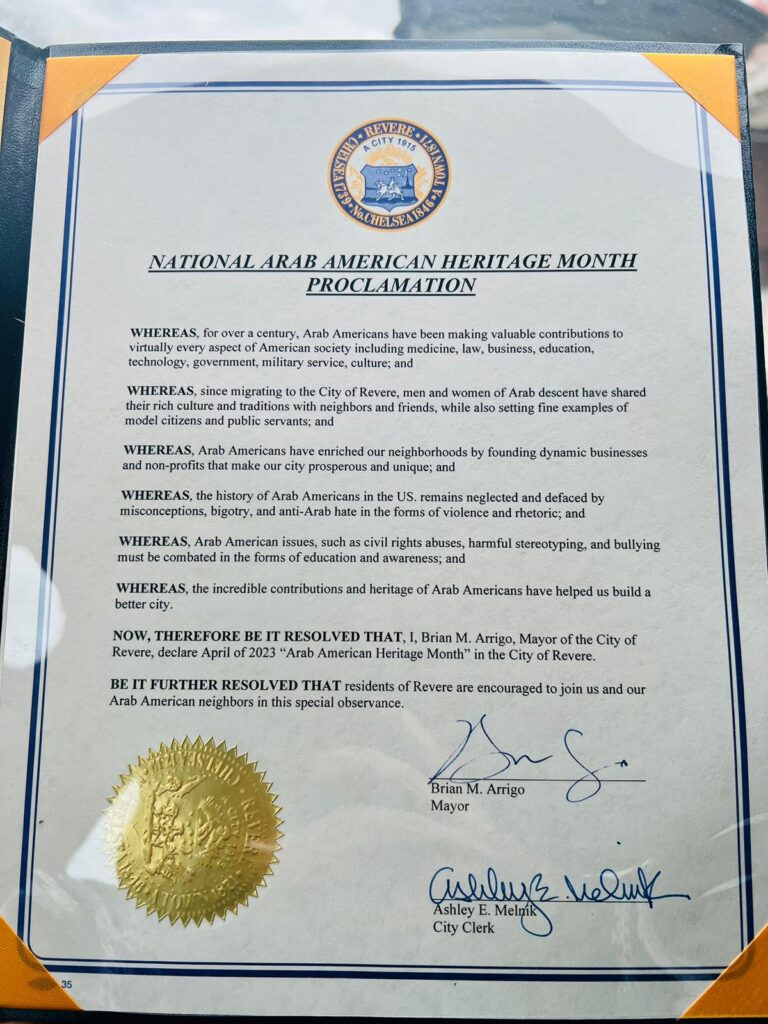 21. Michigan
Michigan Governor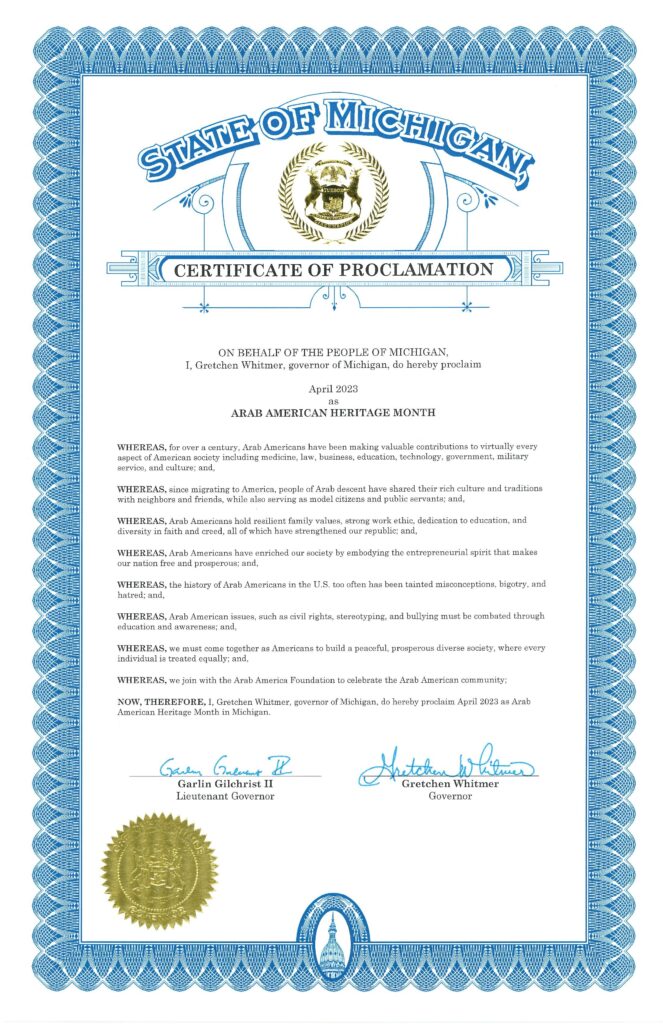 Detroit City Council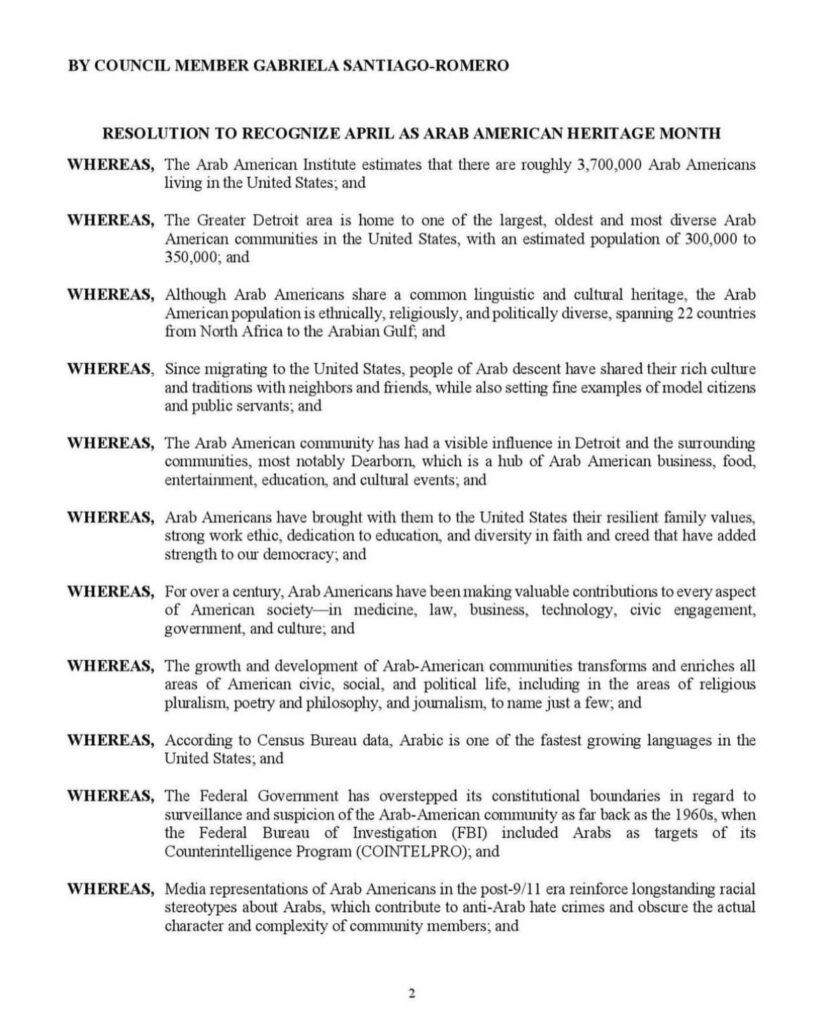 Ann Arbor, Michigan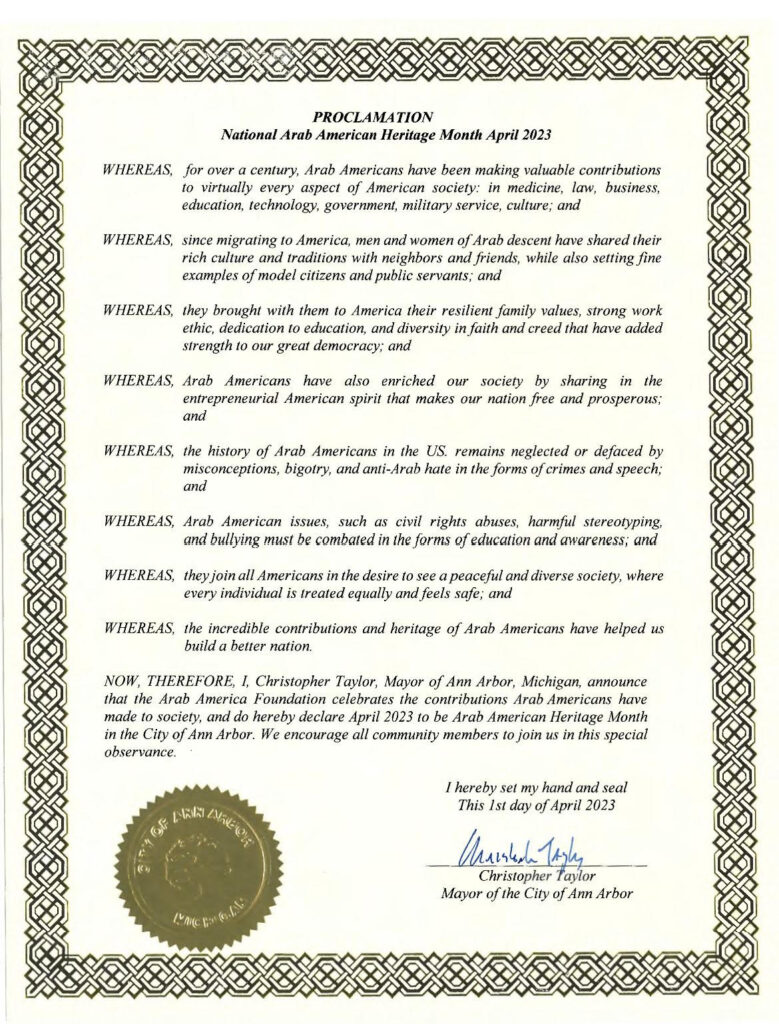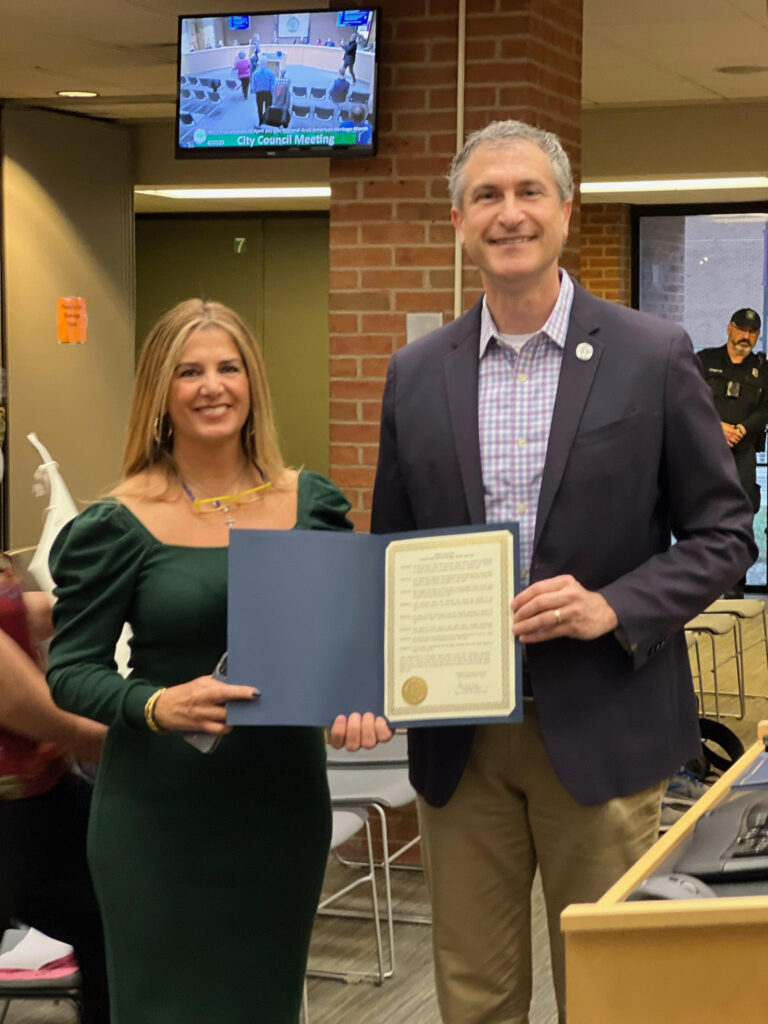 Clinton Township, Michigan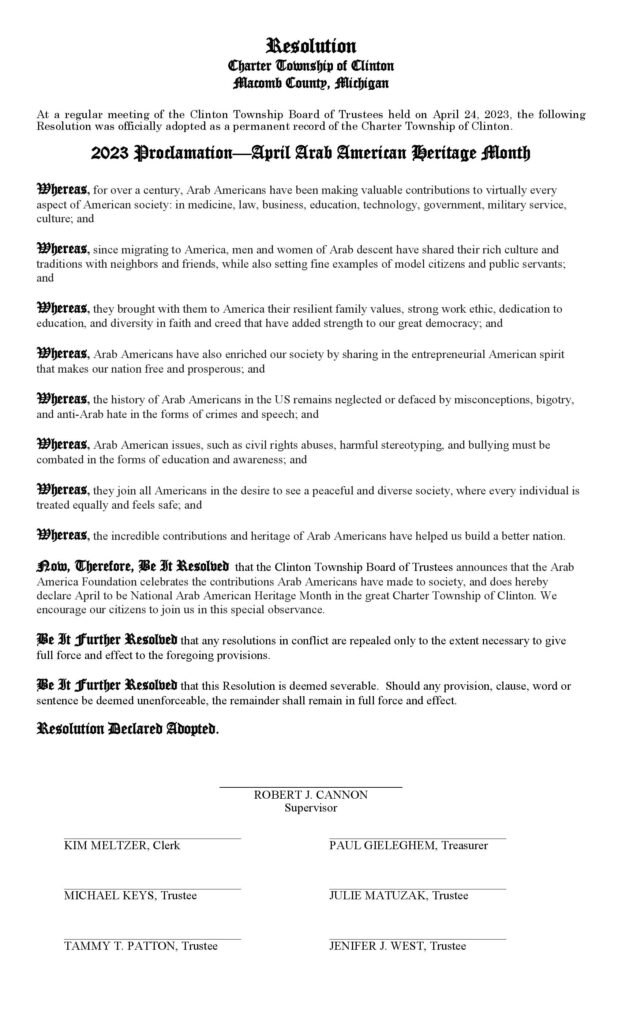 Dearborn, Michigan
Dearborn Heights, Michigan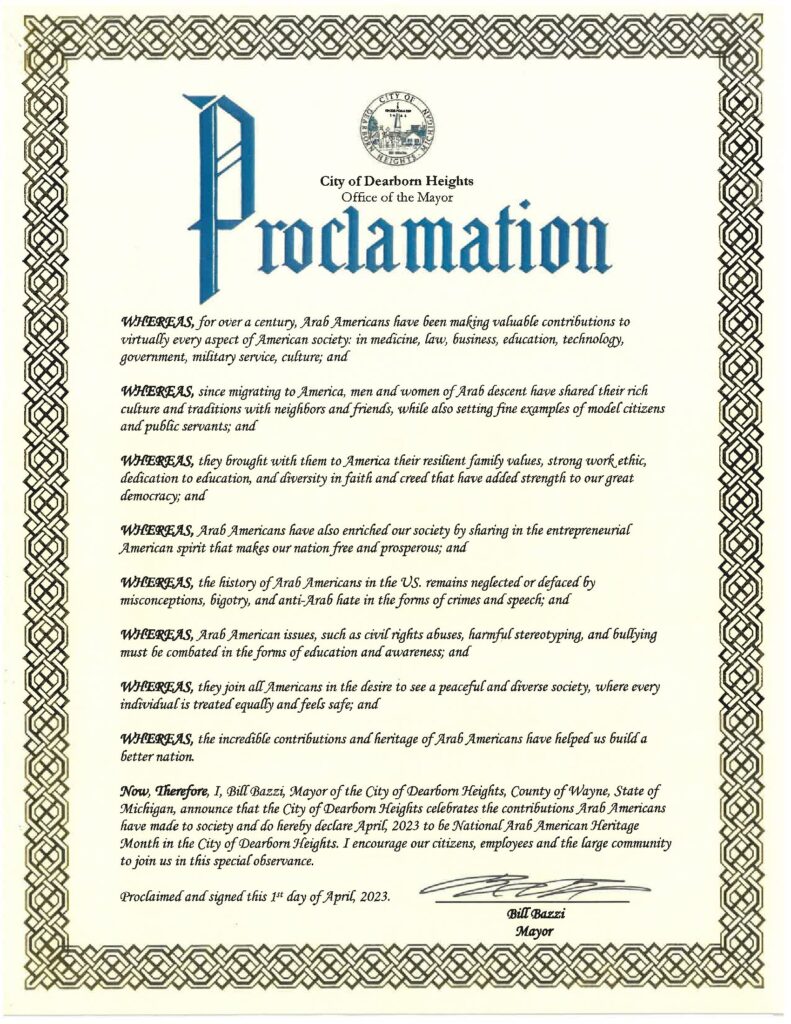 Hamtramck, Michigan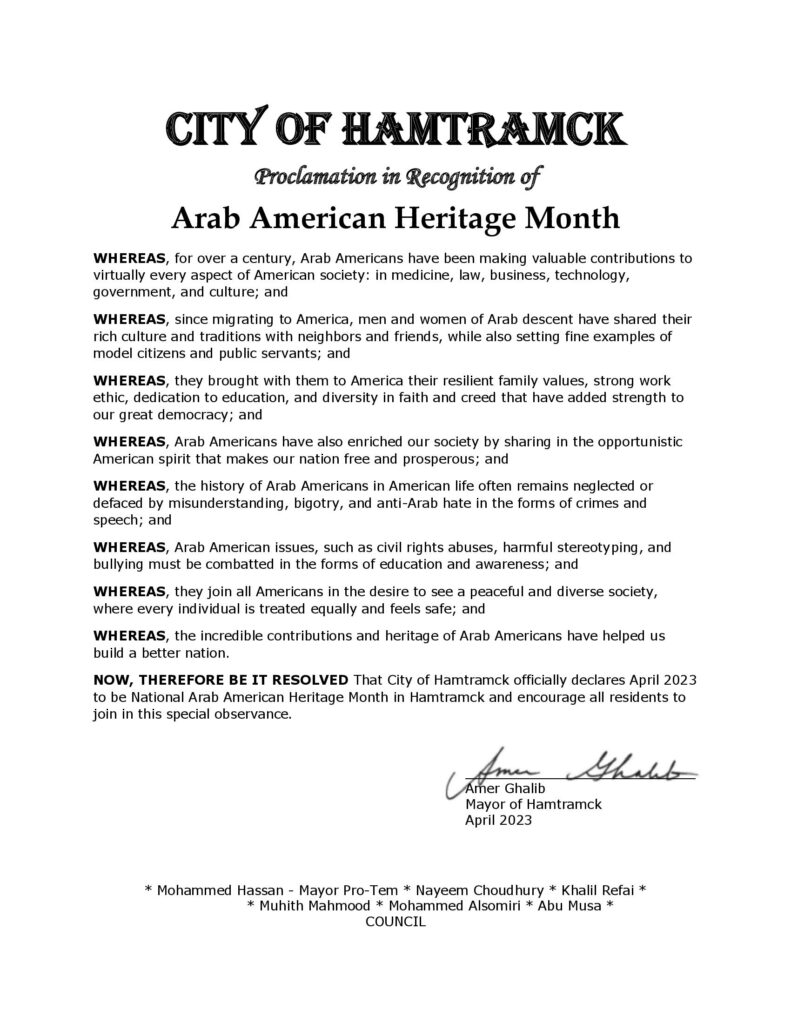 Macomb County, Michigan
Northville, Michigan
Rochester Hills, Michigan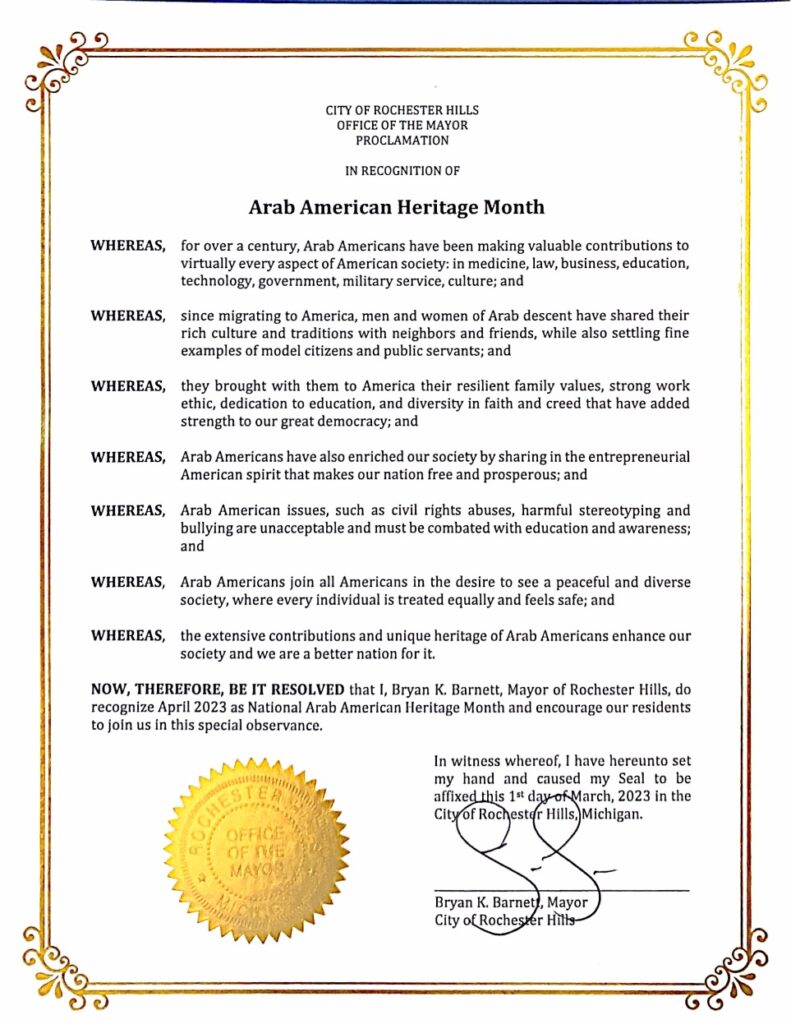 Wayne County, Michigan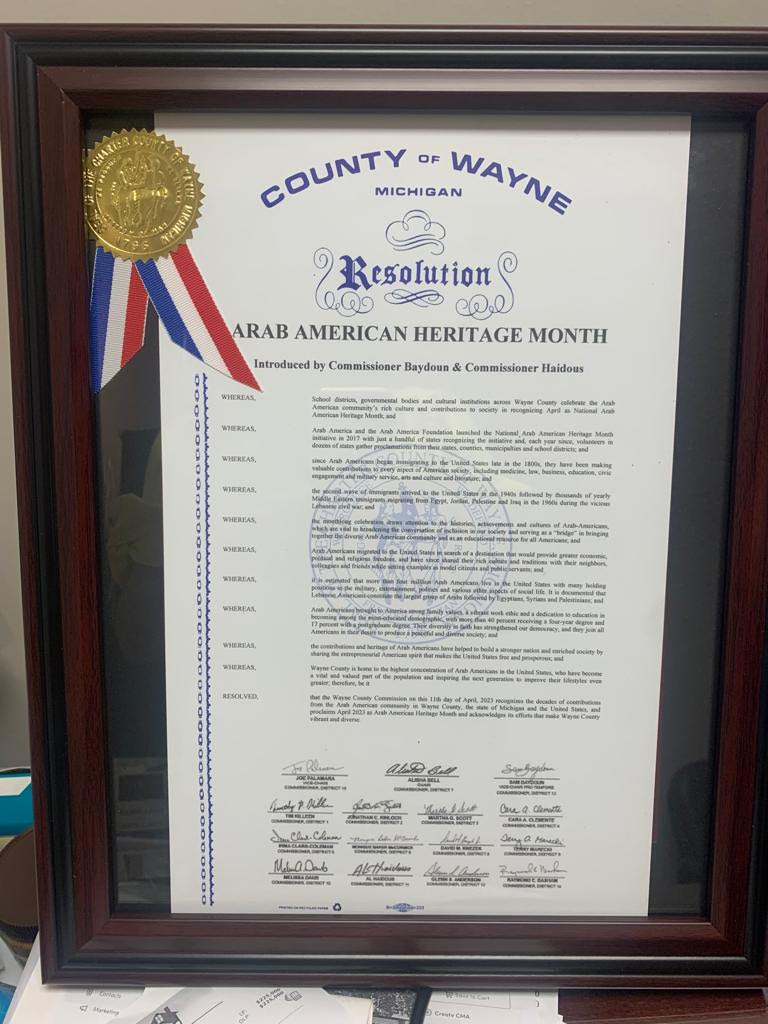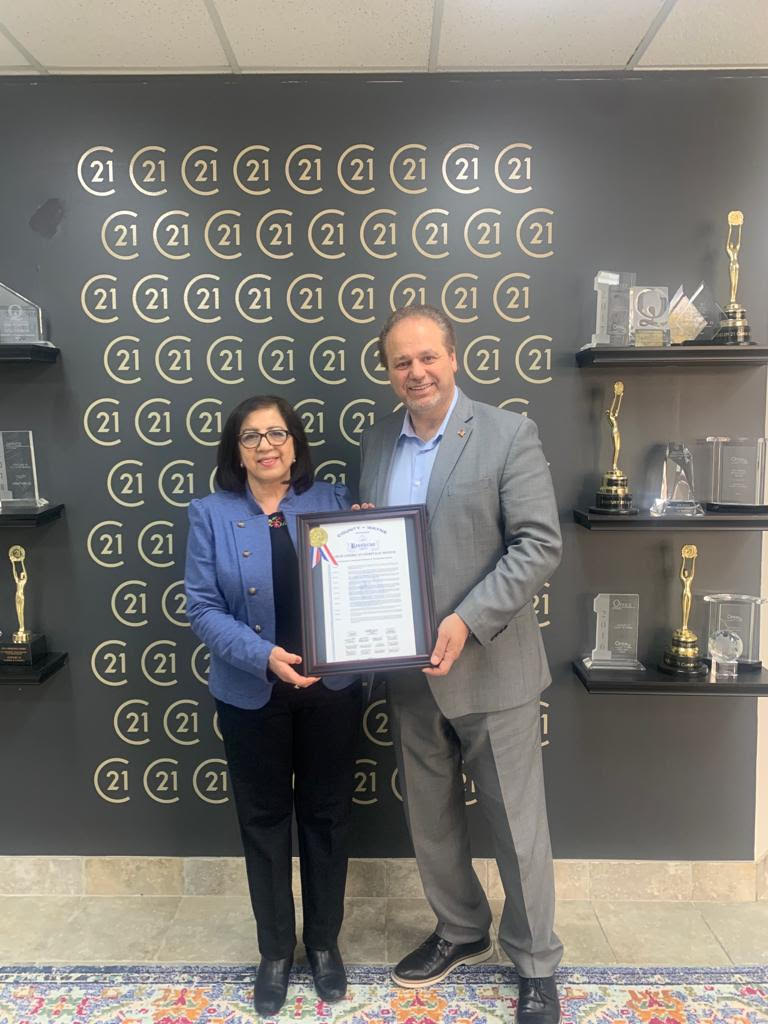 22. Minnesota
Minnesota Governor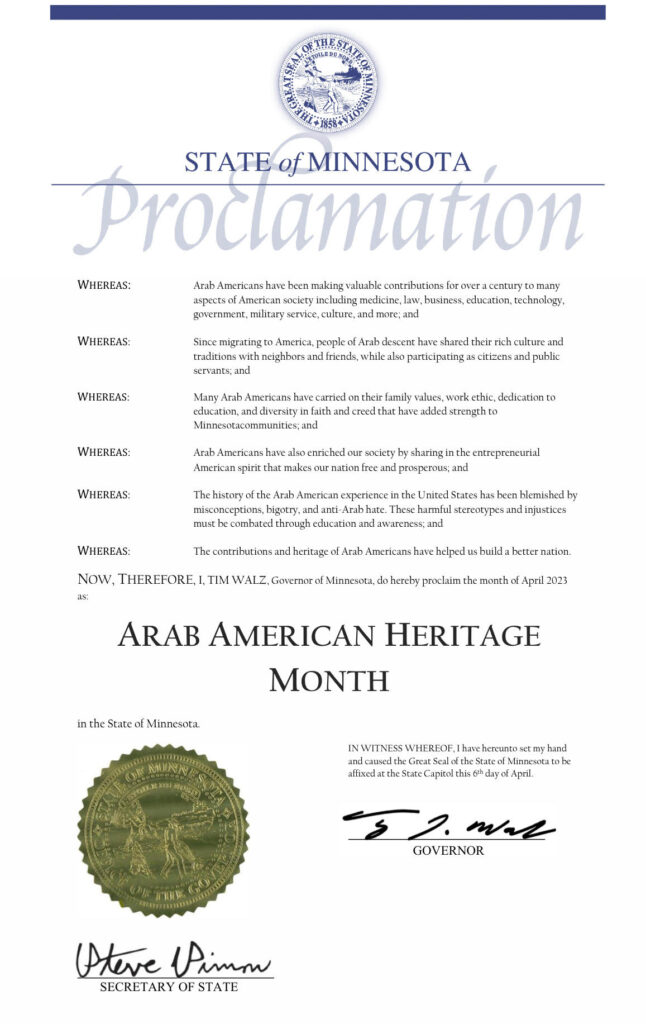 23. Mississippi
Mississippi Governor
23. Missouri
Missouri Governor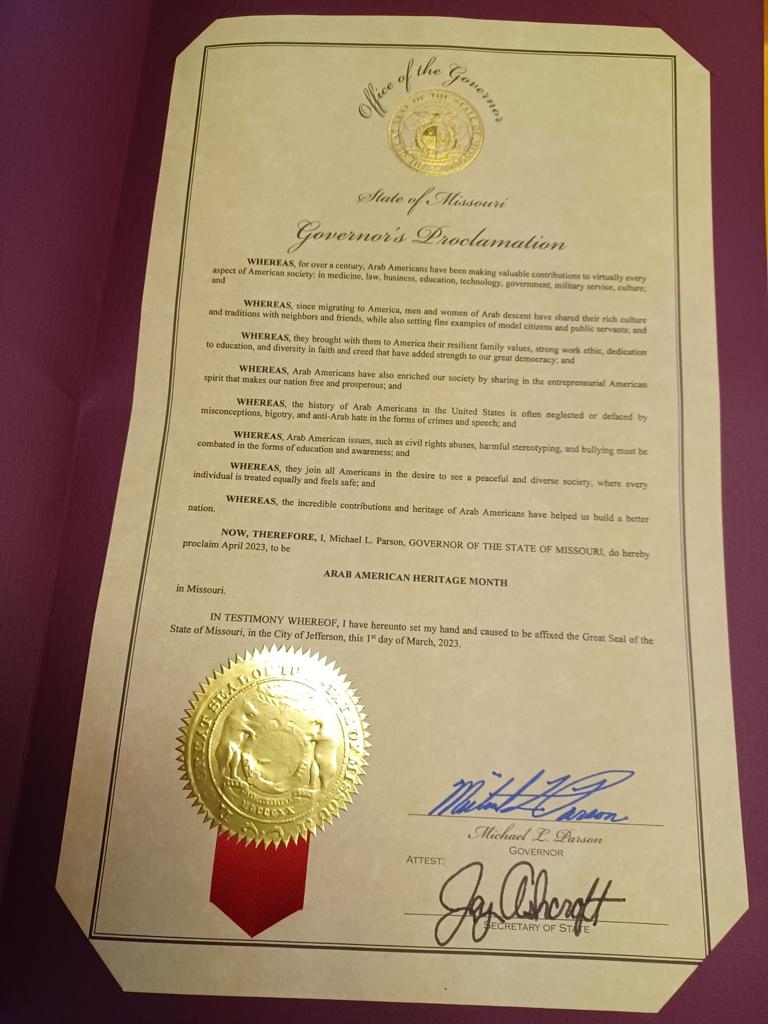 24. Montana
Montana Governor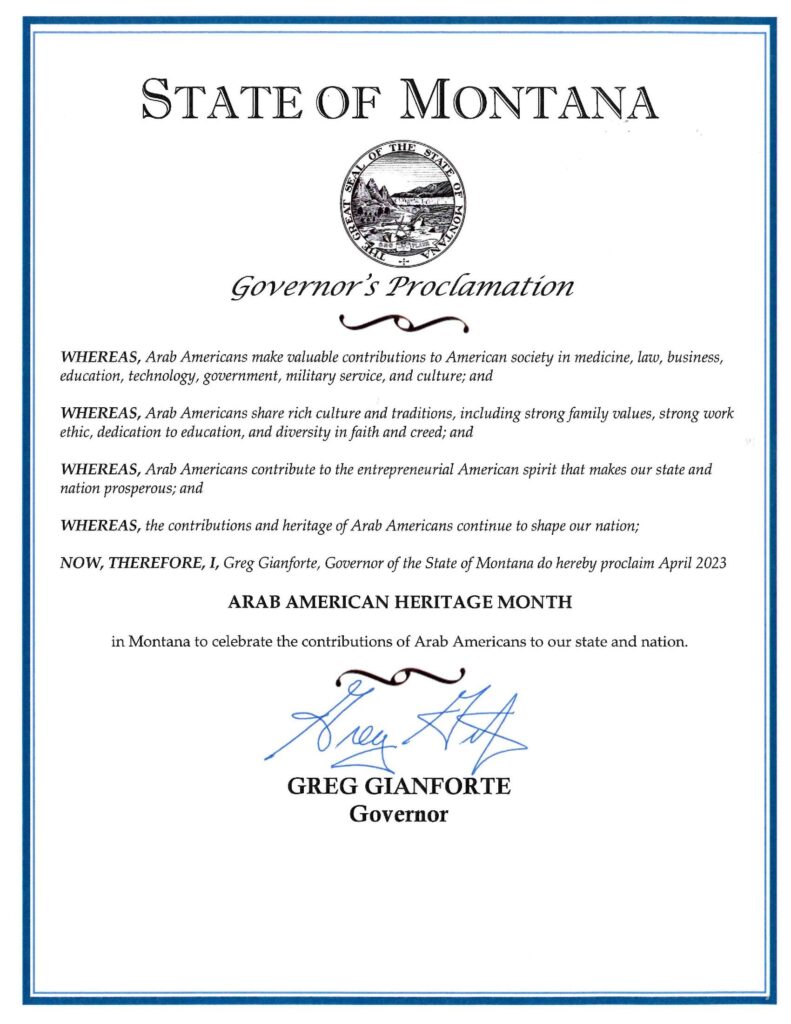 25. Nebraska
Nebraska Governor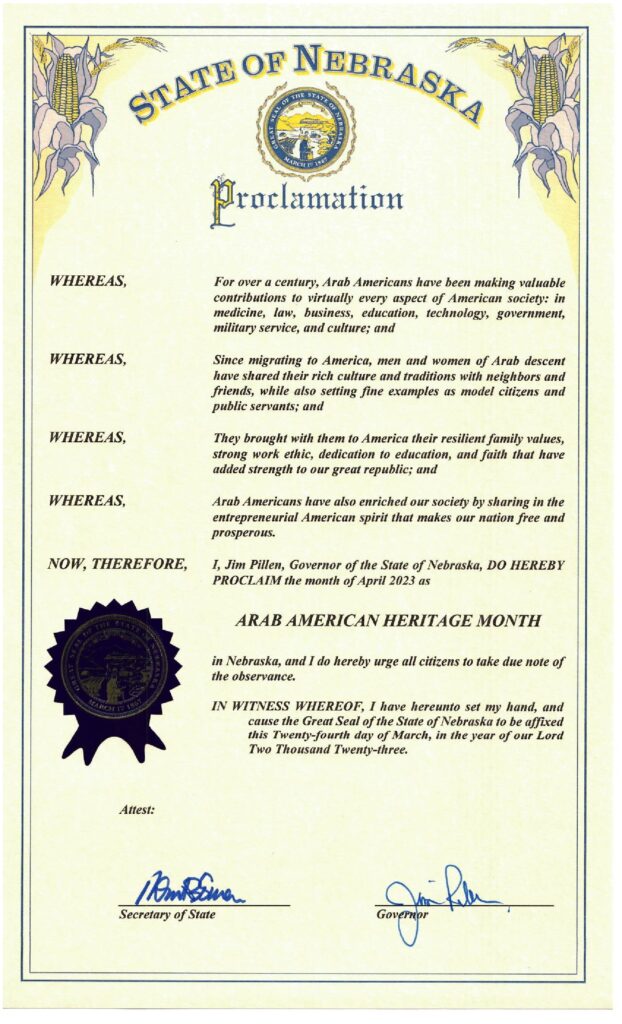 26. Nevada
Nevada Governor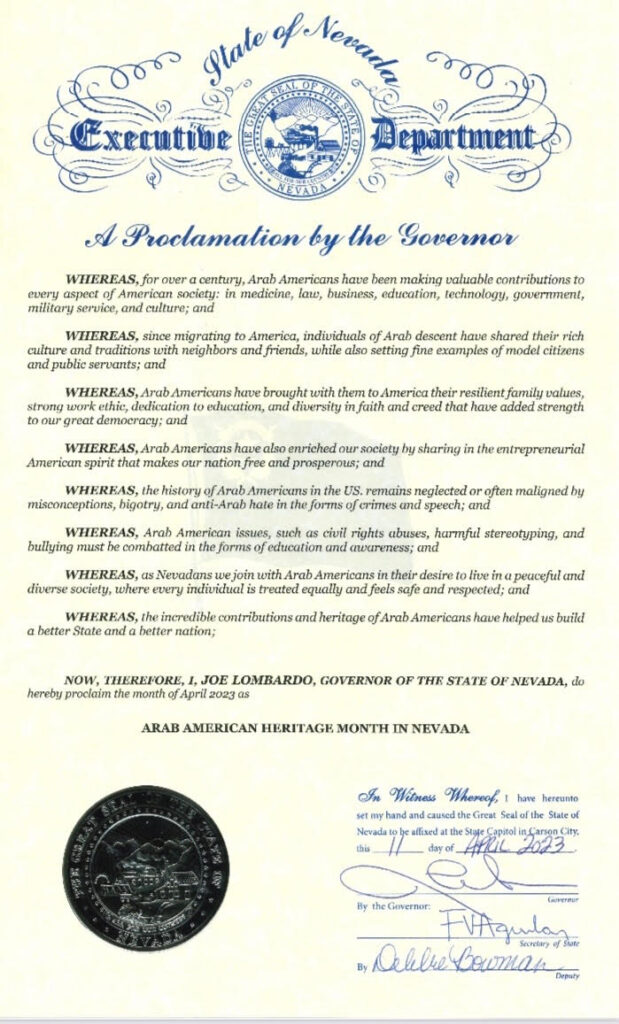 27. New Jersey
New Jersey Governor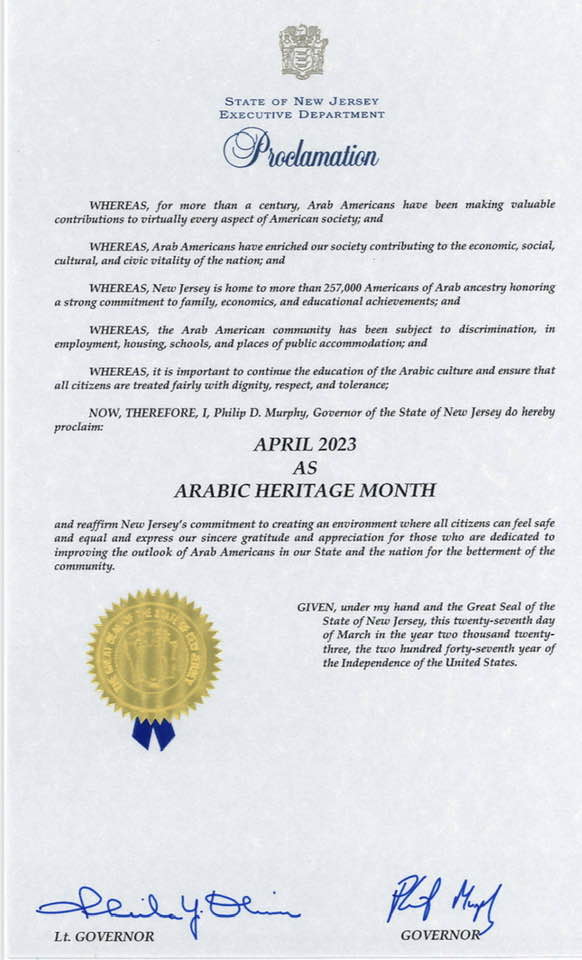 Clifton, New Jersey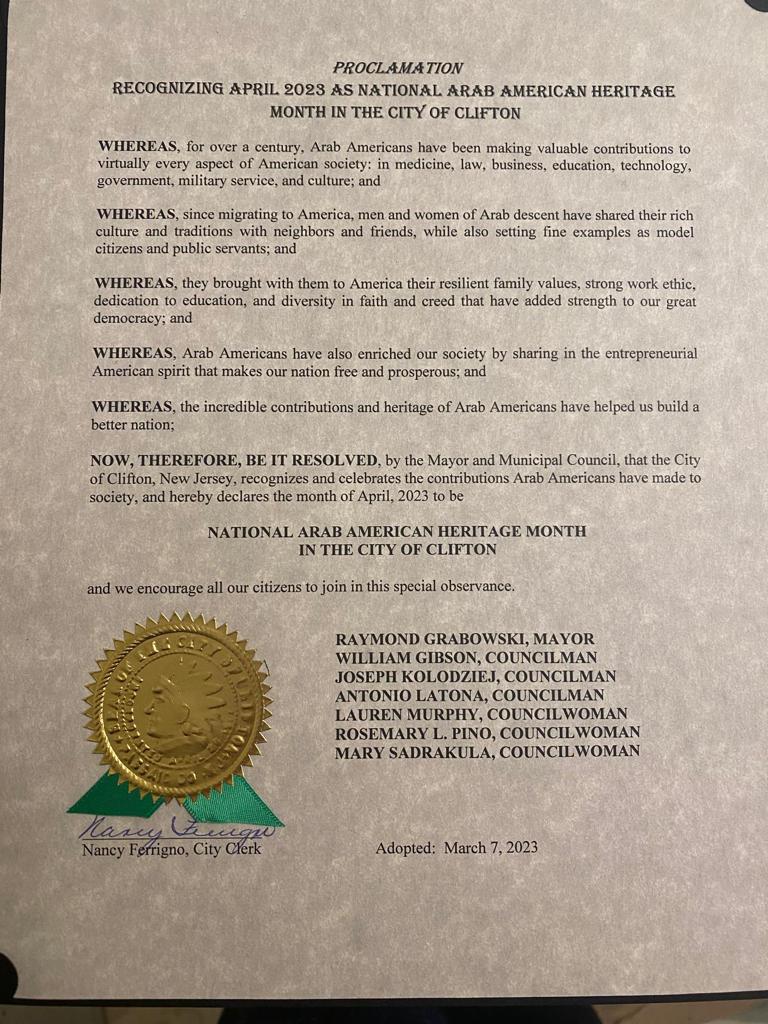 Haldeon, New Jersey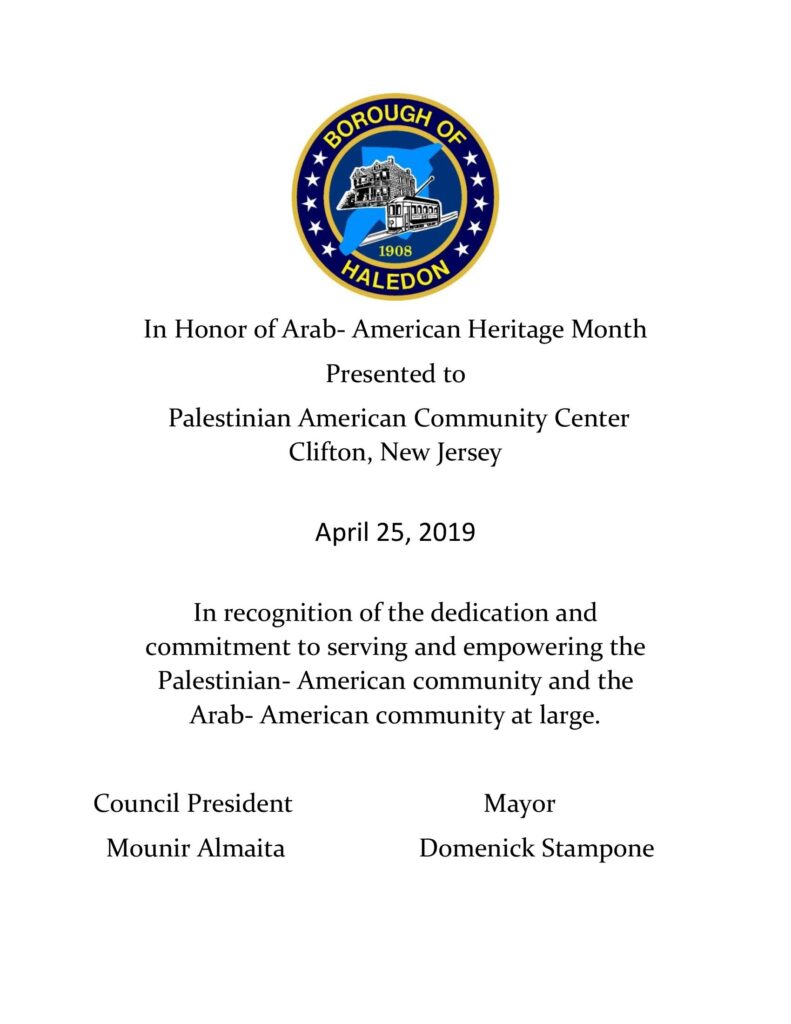 Passaic, New Jersey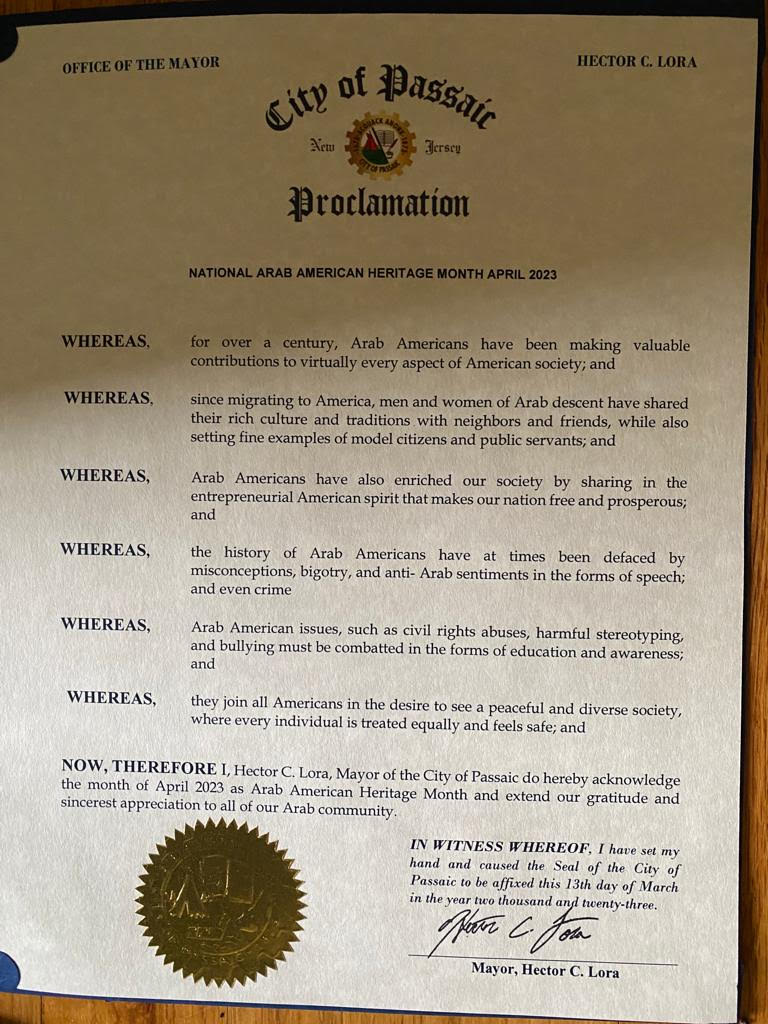 Patterson, New Jersey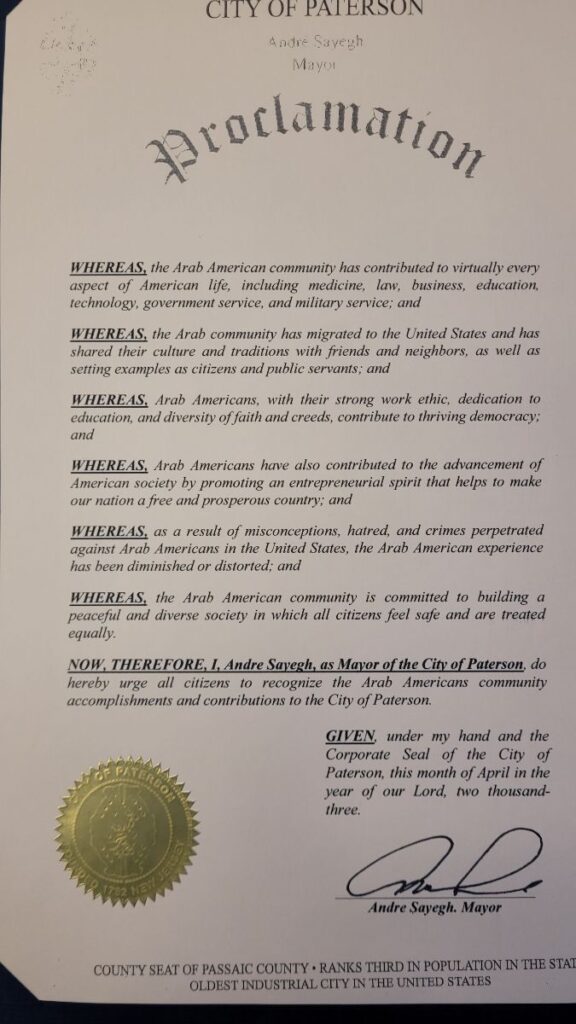 28. New York
New York Governor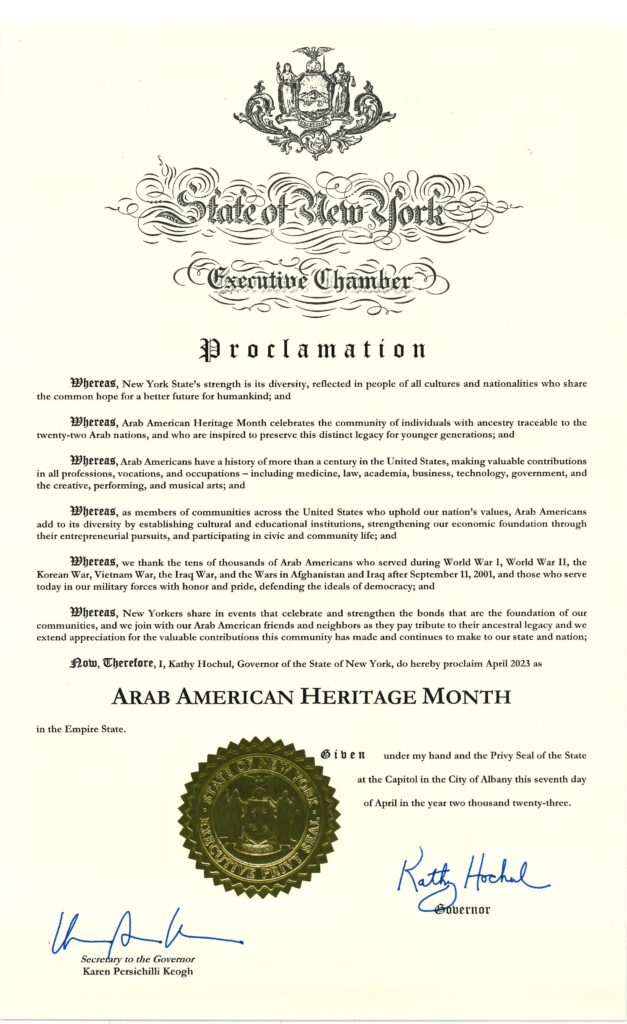 Yonkers, New York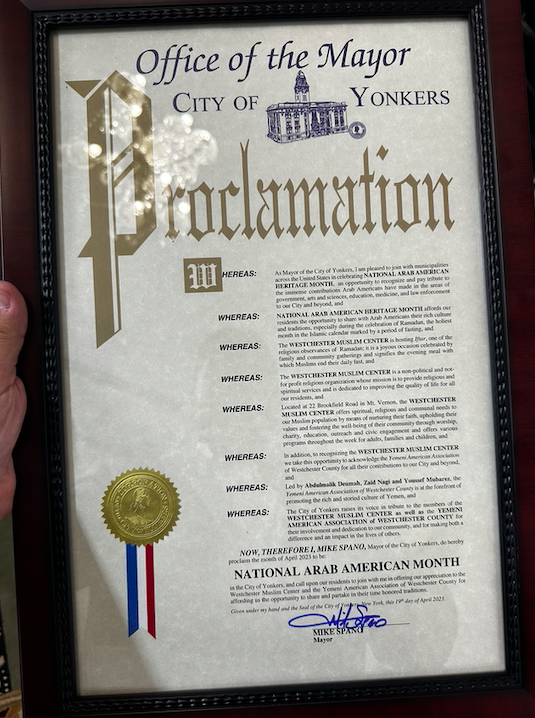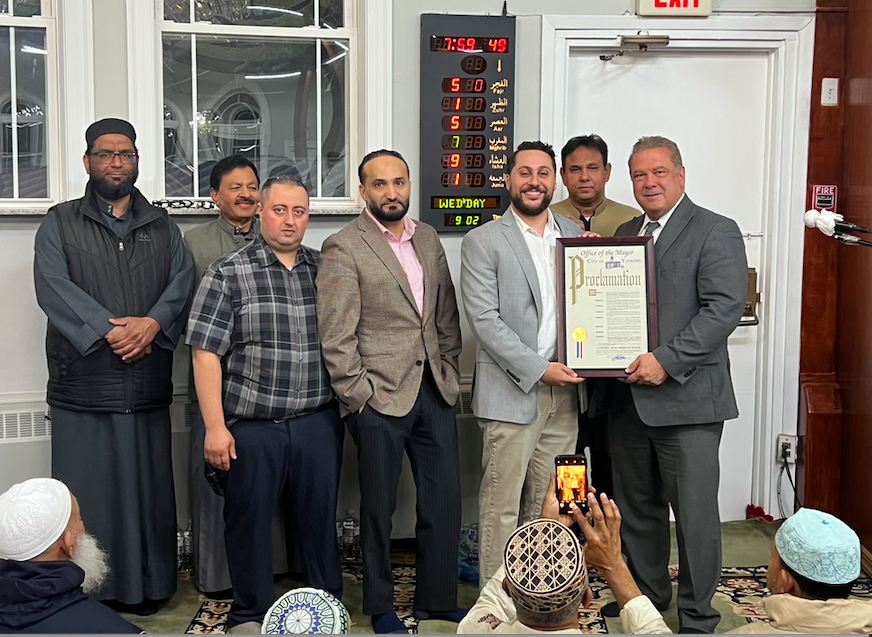 29. New Hampshire
New Hampshire Governor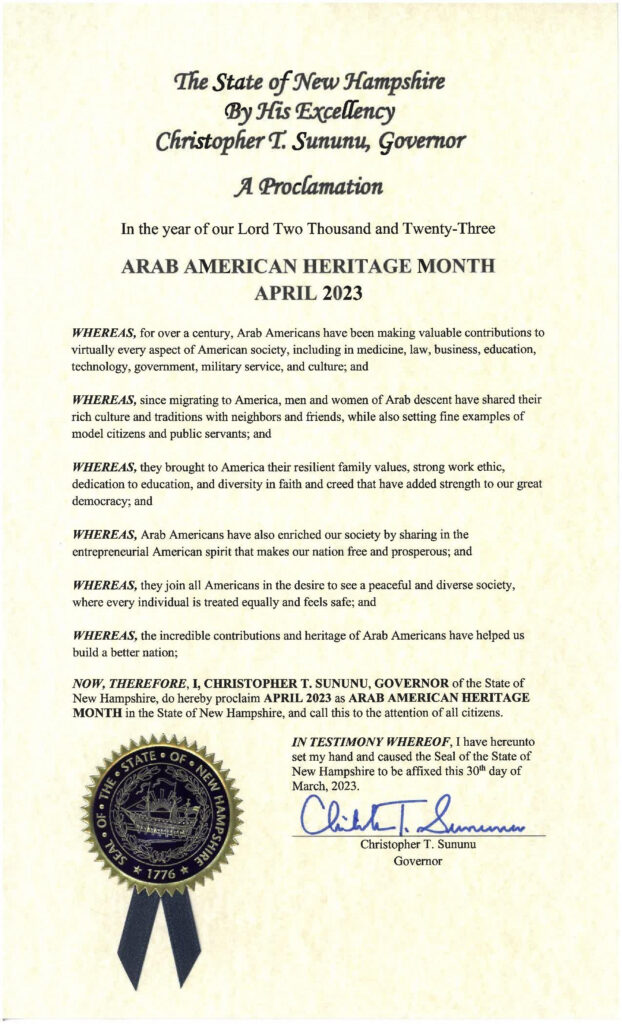 30. New Mexico
New Mexico Governor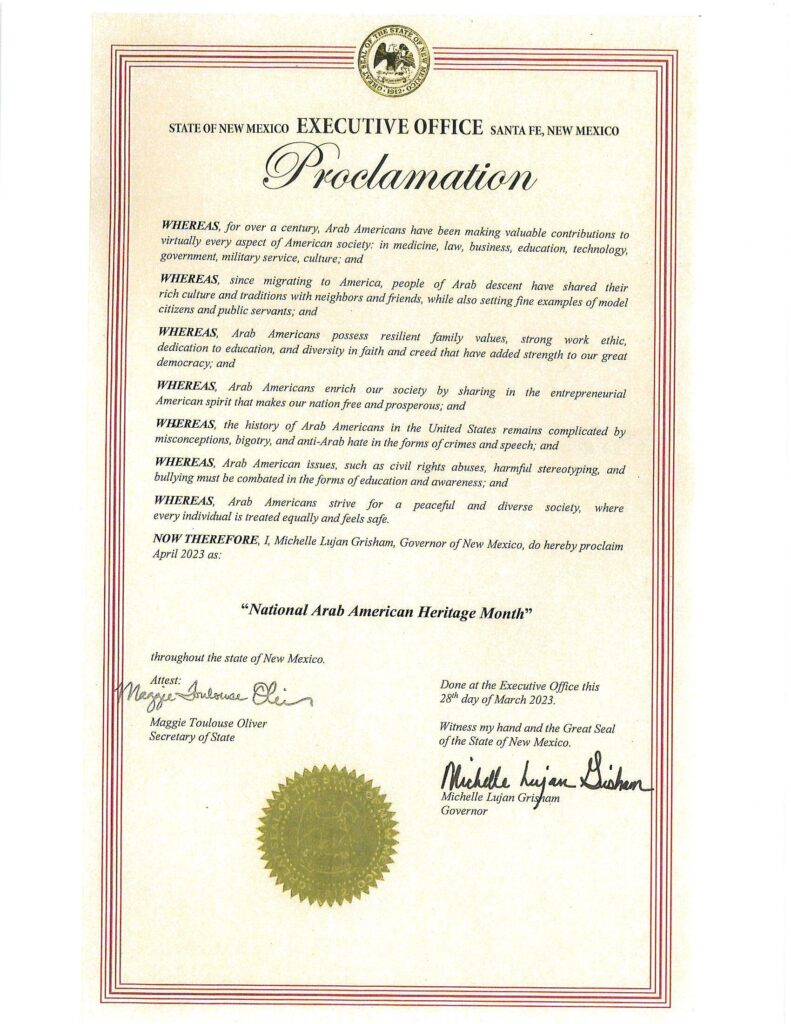 31. North Carolina
North Carolina Governor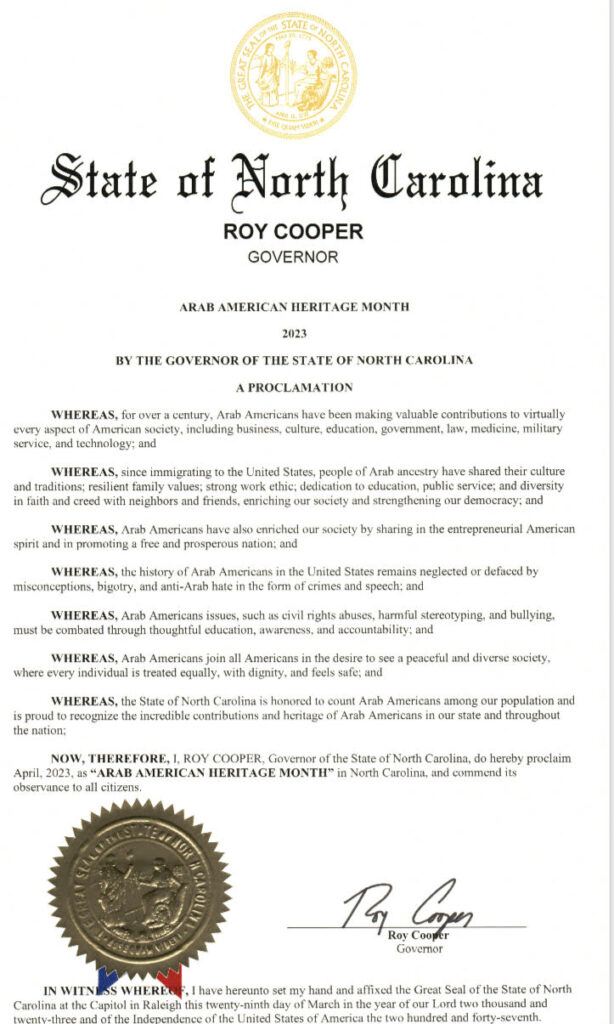 32. North Dakota
North Dakota Governor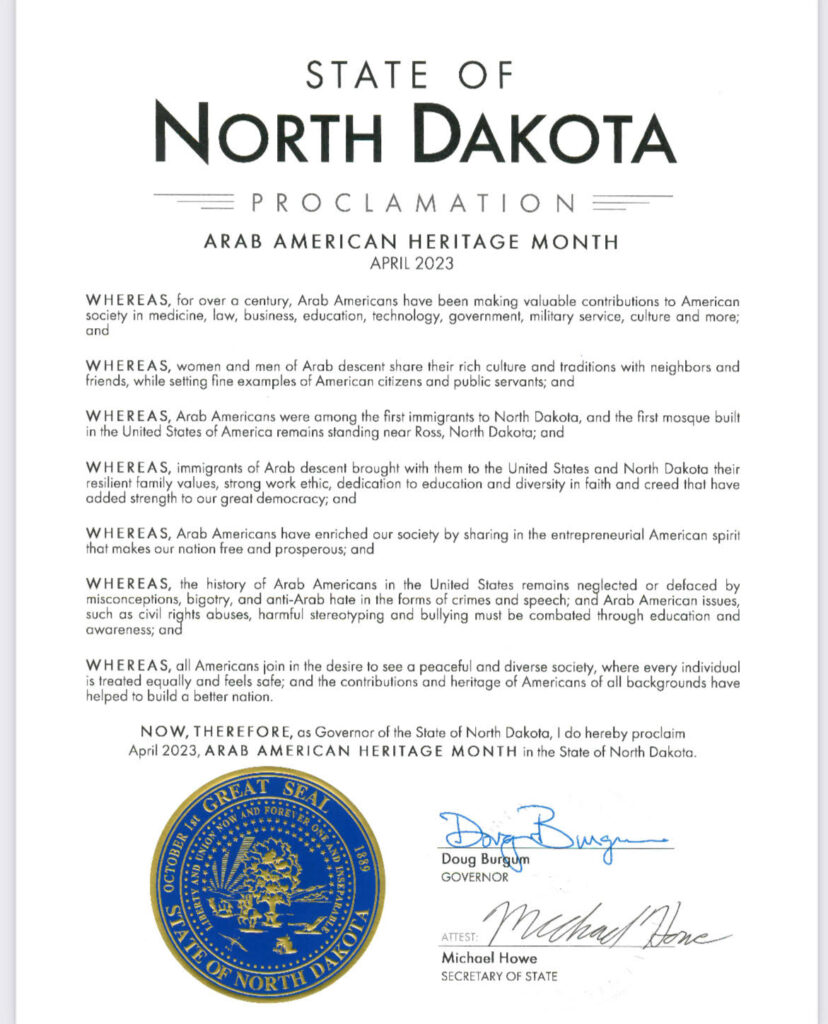 33. Ohio
Ohio Governor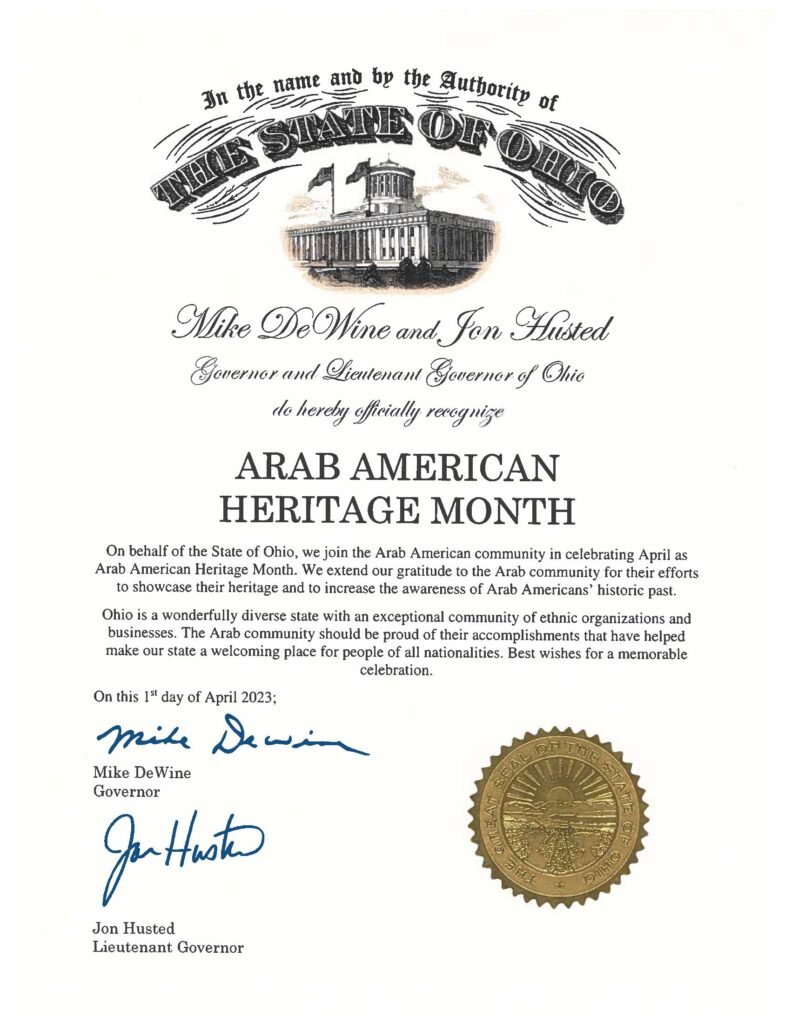 Ohio Secretary of State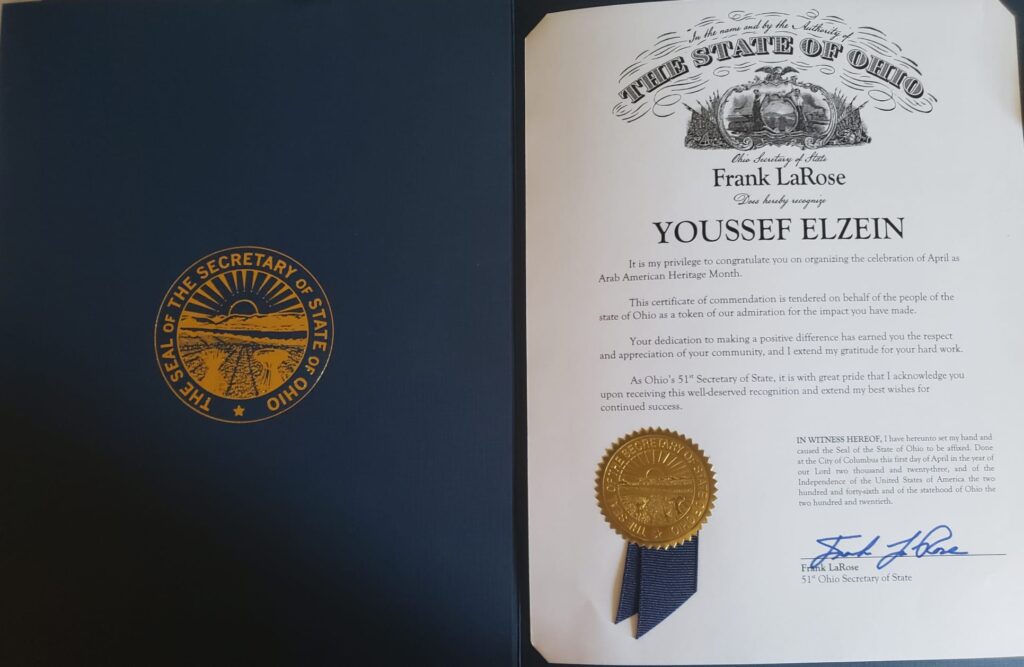 Cincinnati Ohio, Mayor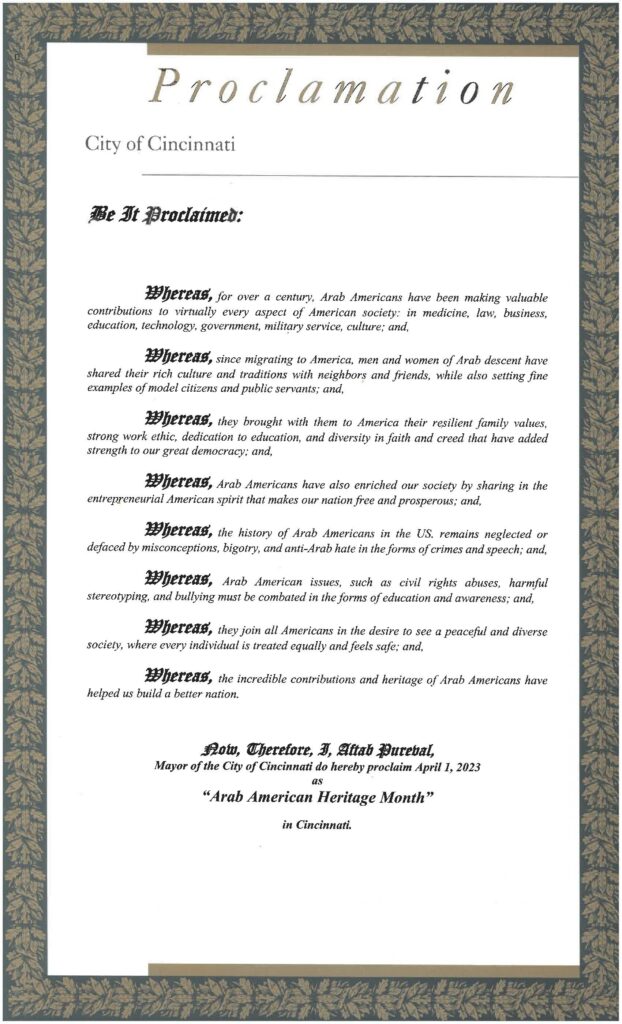 Beavercreek, Ohio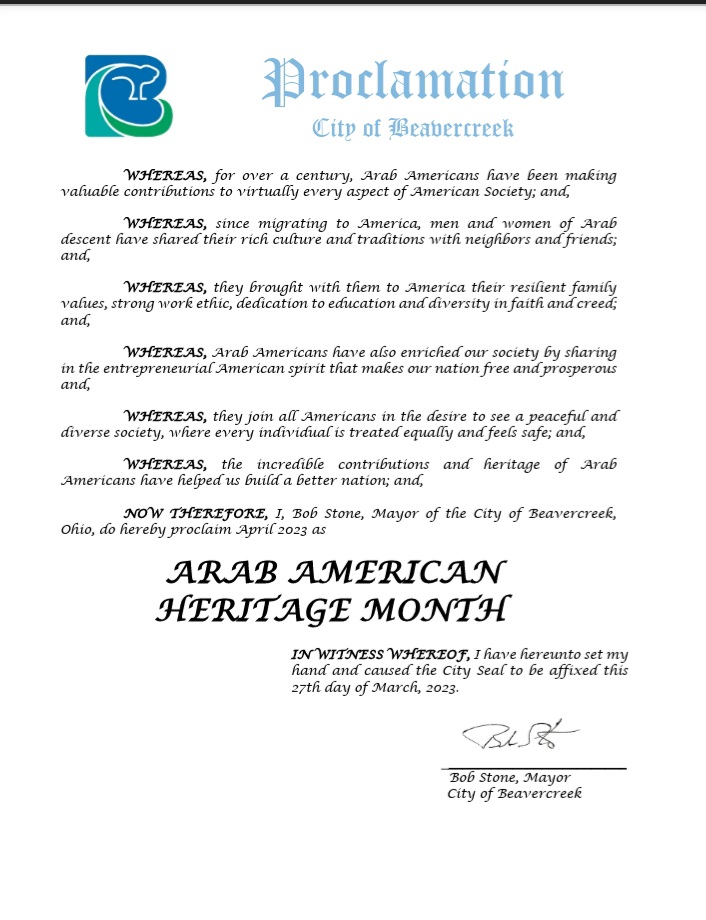 Clayton, Ohio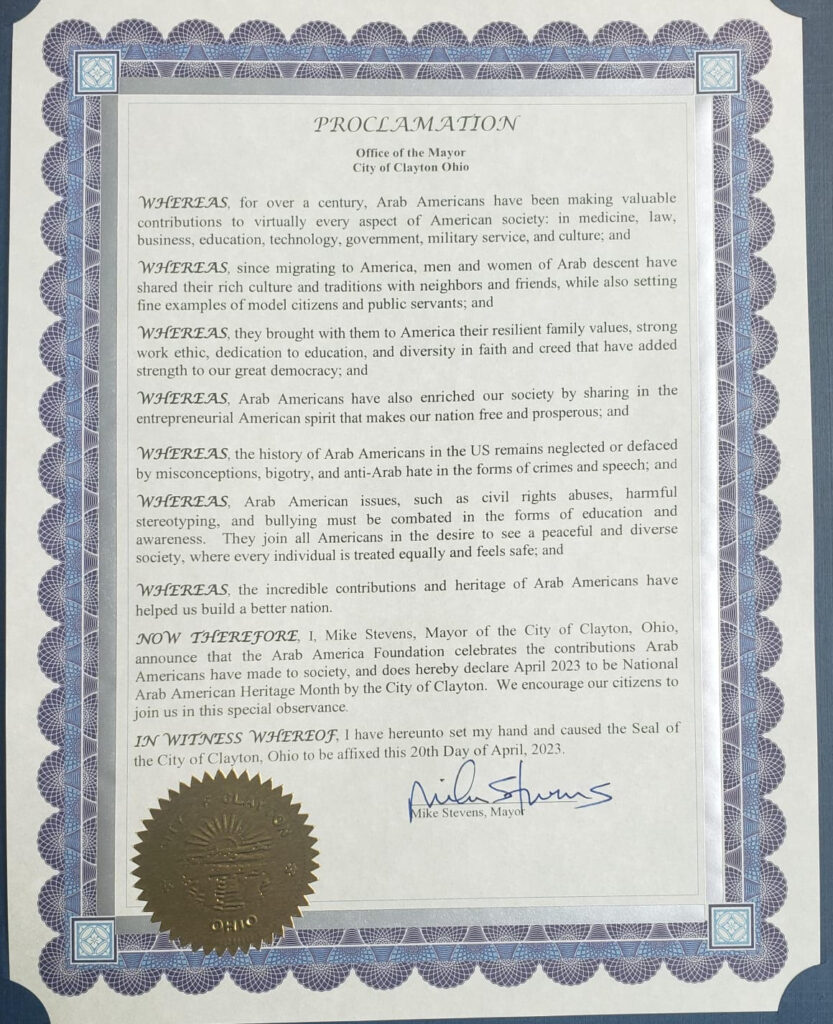 Columbus, Ohio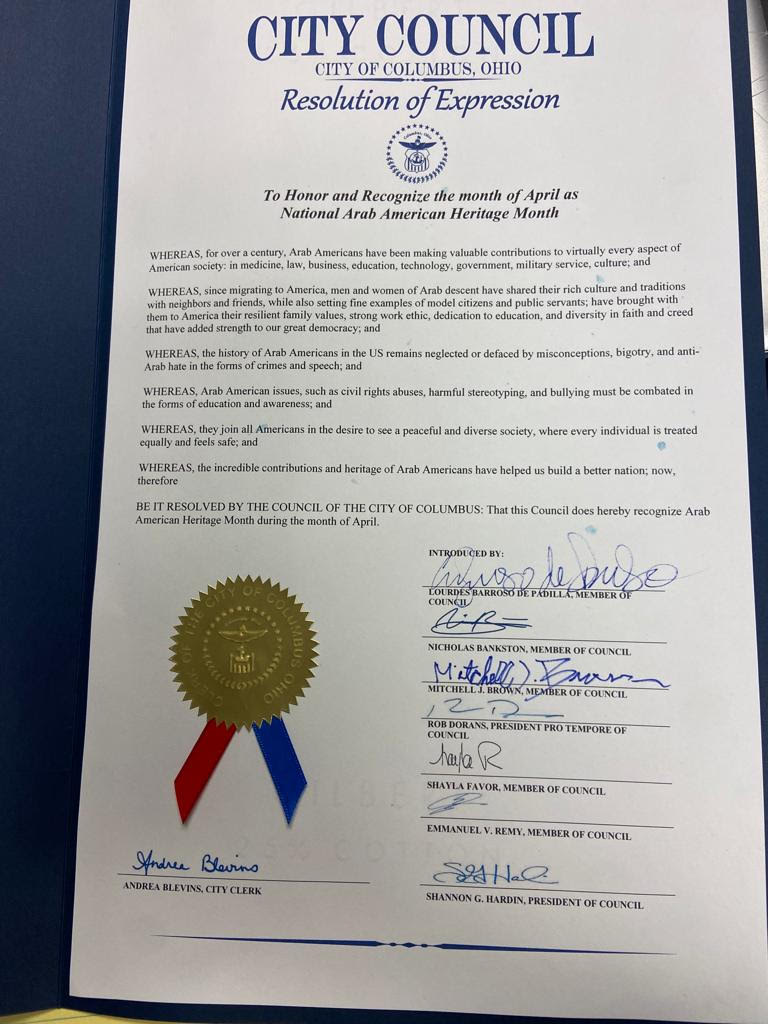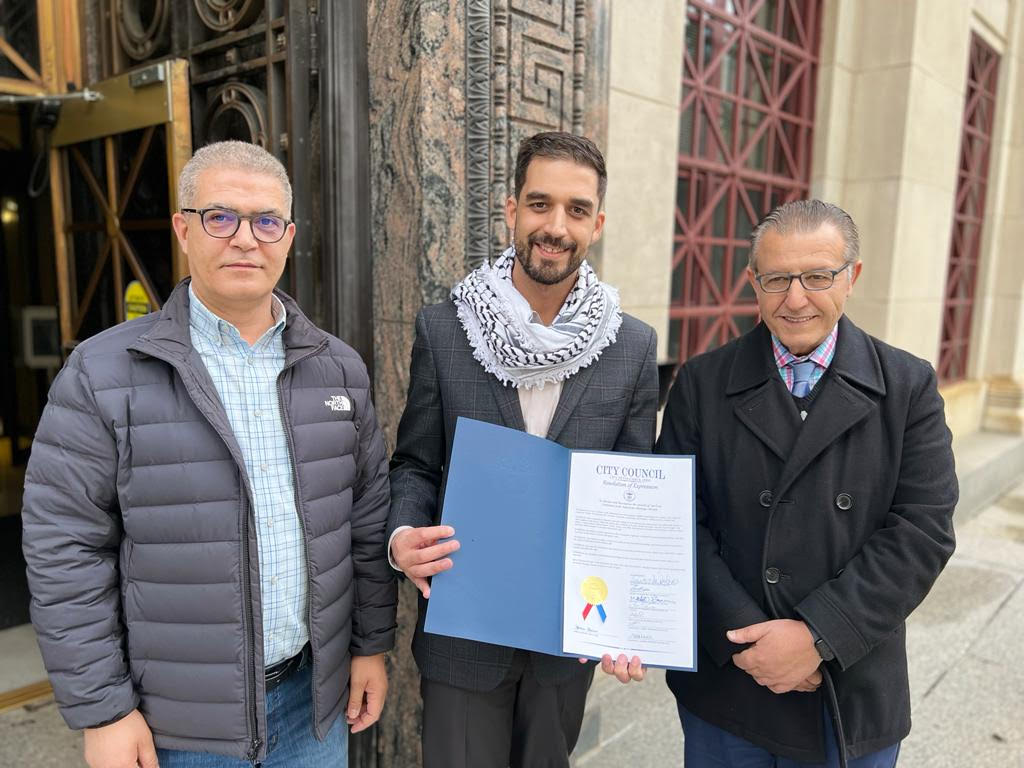 Centerville, Ohio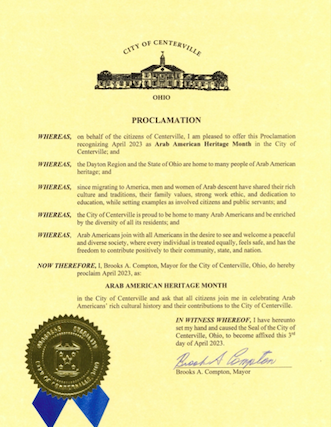 Cuyahoga County
Dayton Ohio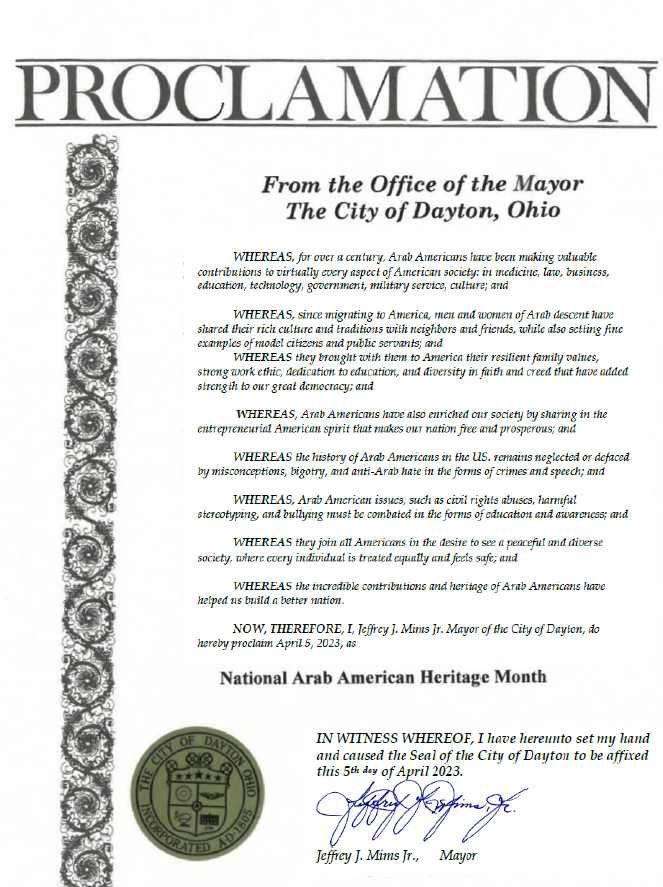 Dayton, Ohio, NAACP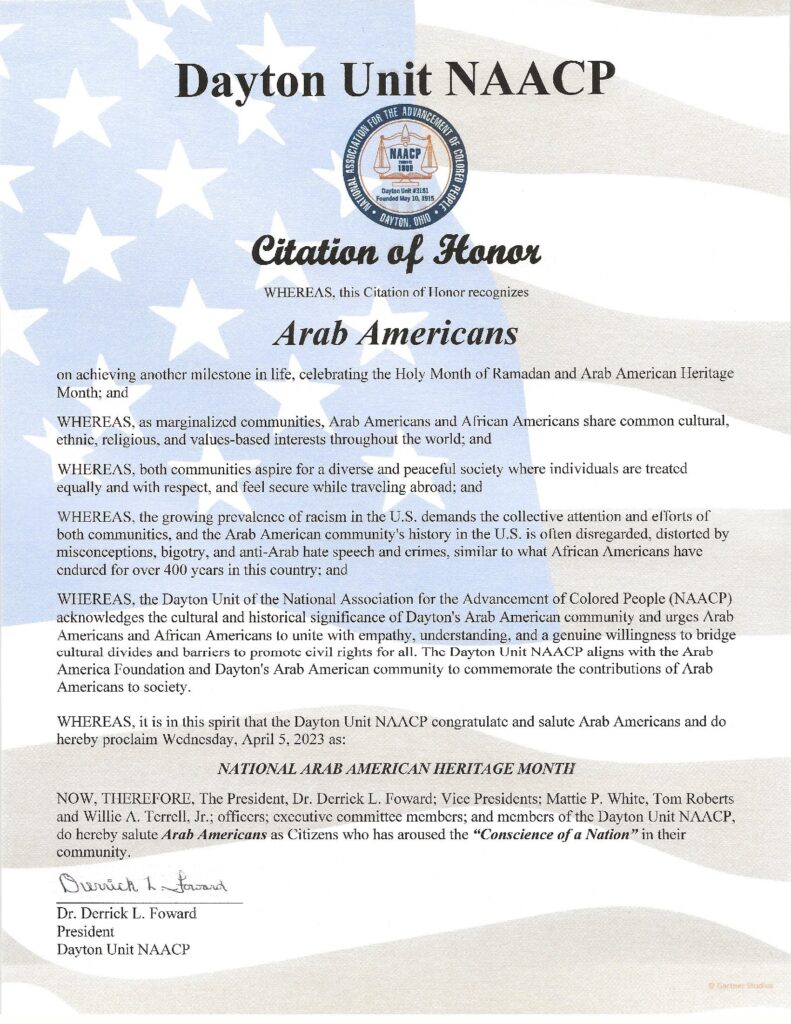 Dublin, Ohio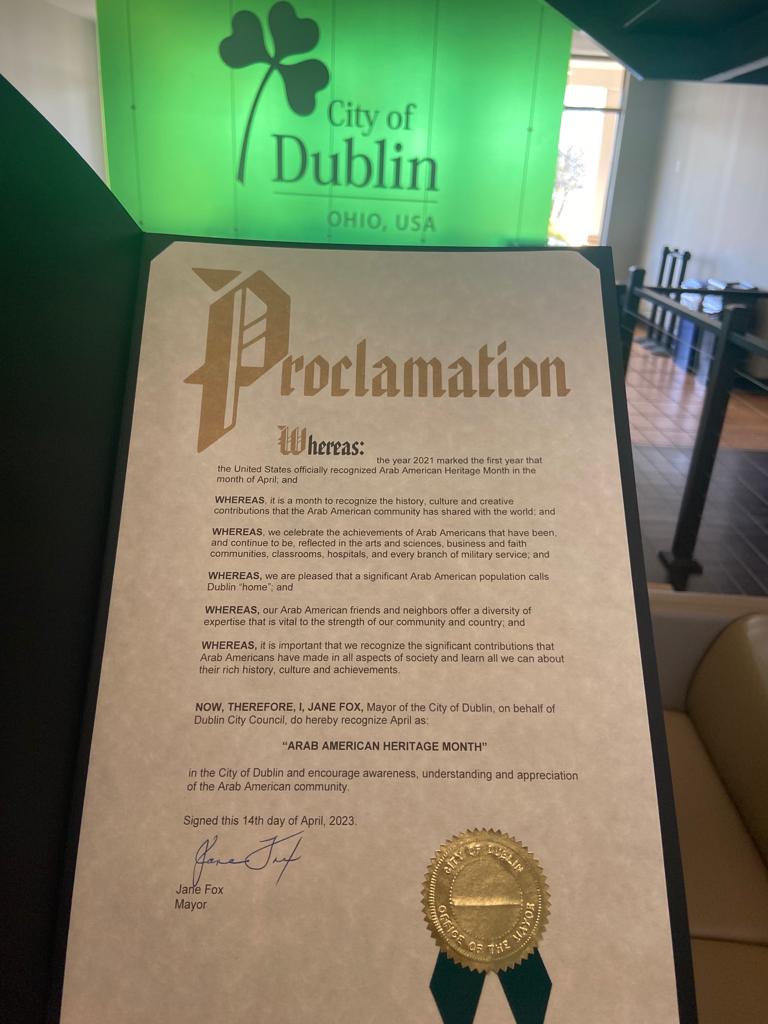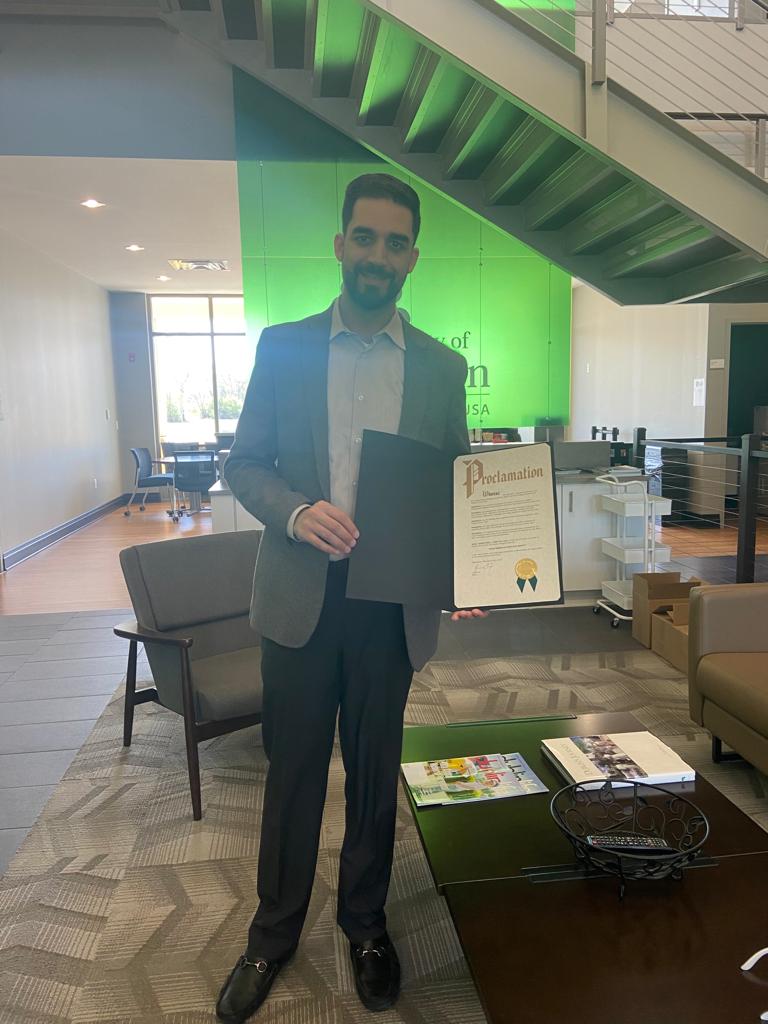 Englewood, Ohio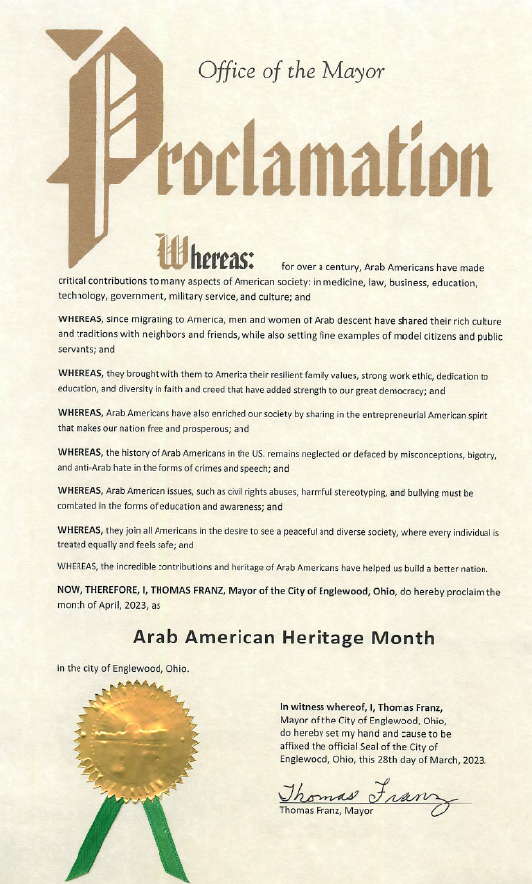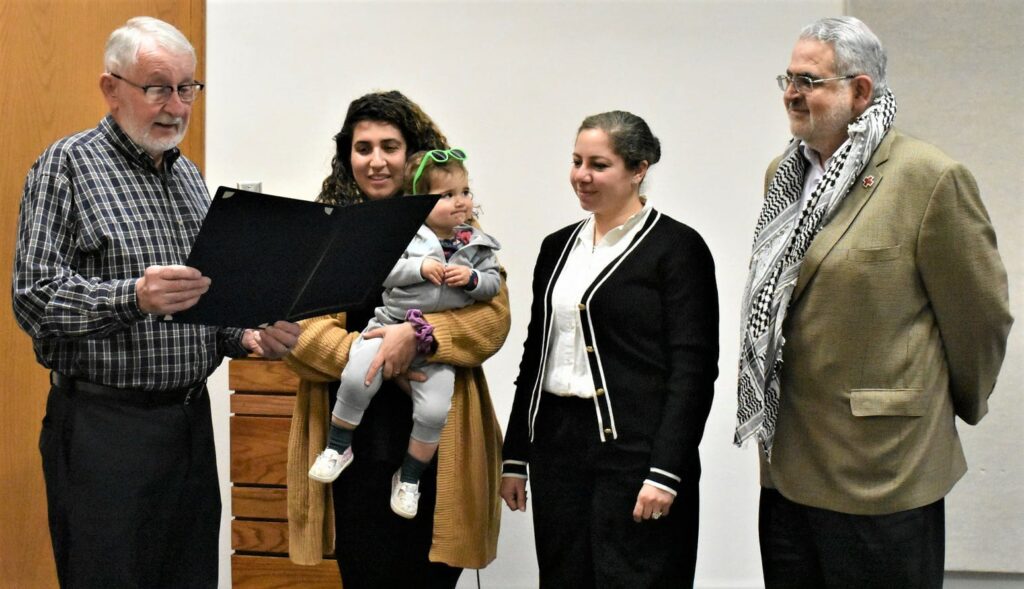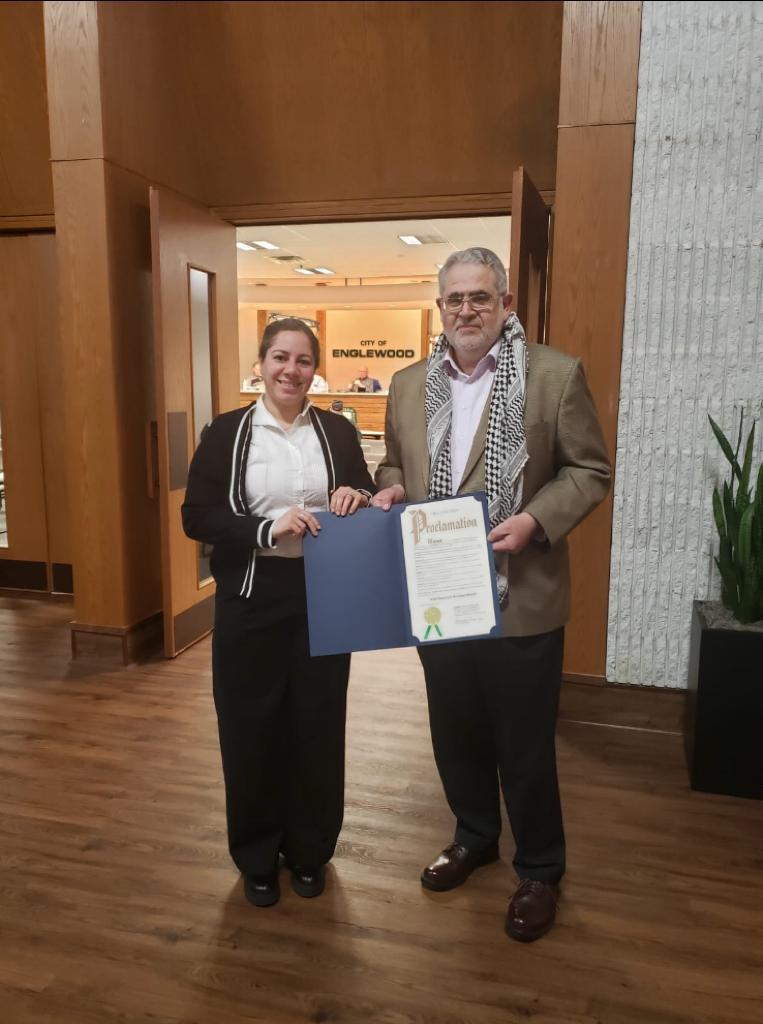 Fairborn, Ohio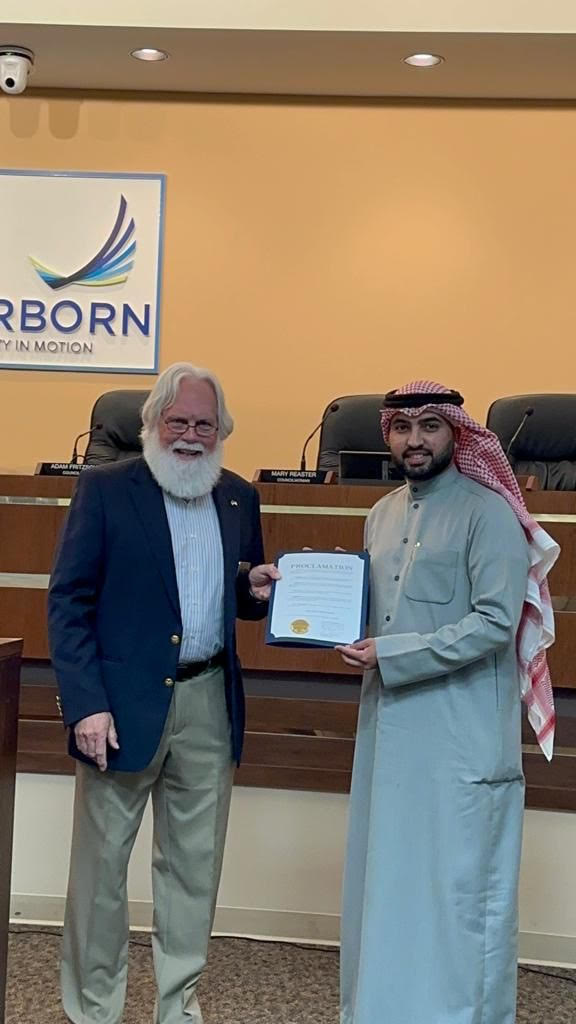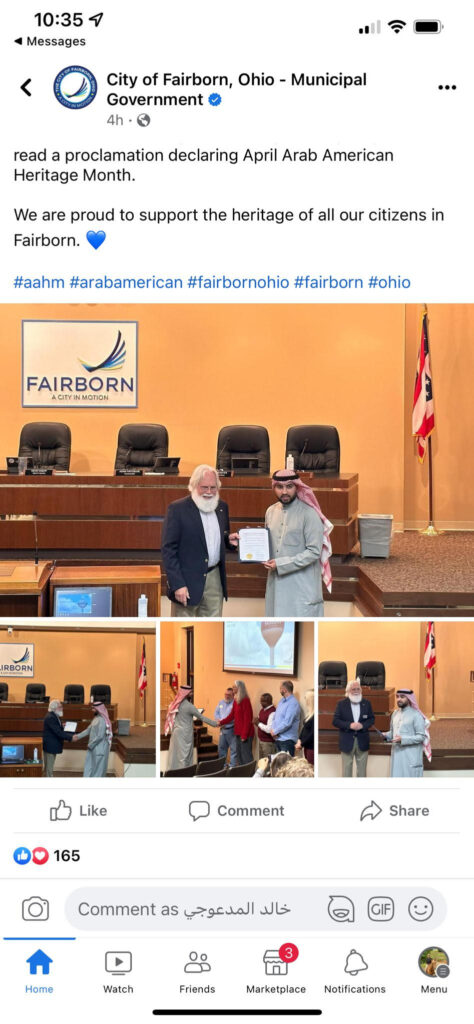 Kettering, Ohio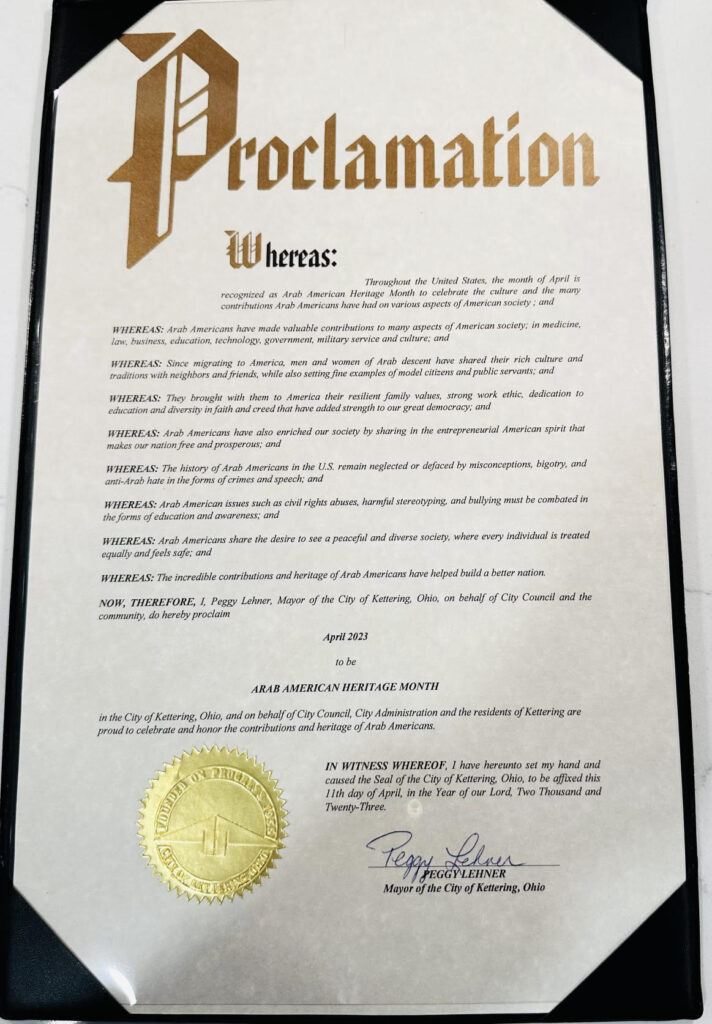 Hilliard, Ohio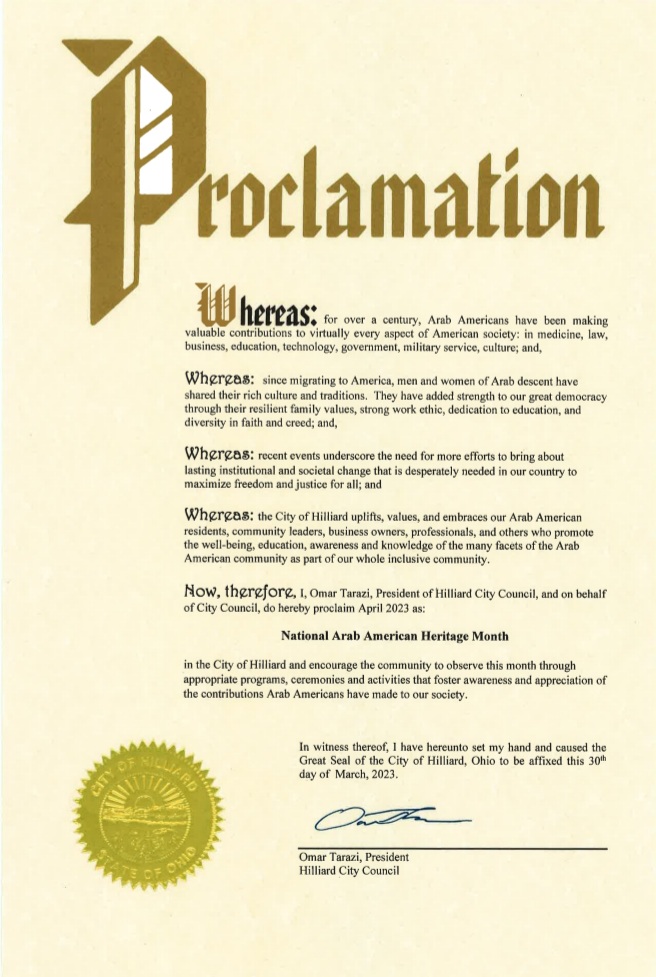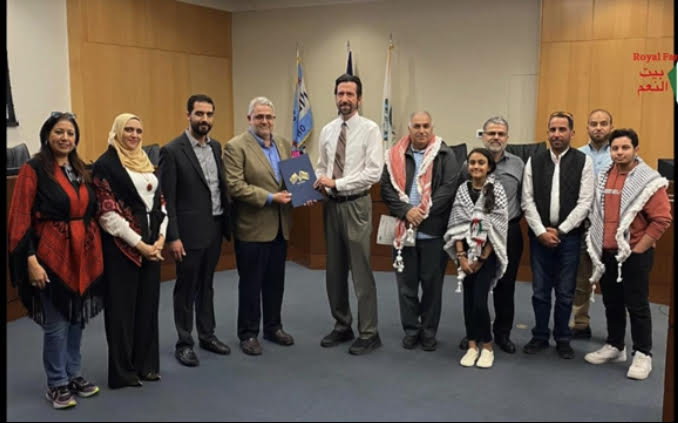 Montgomery County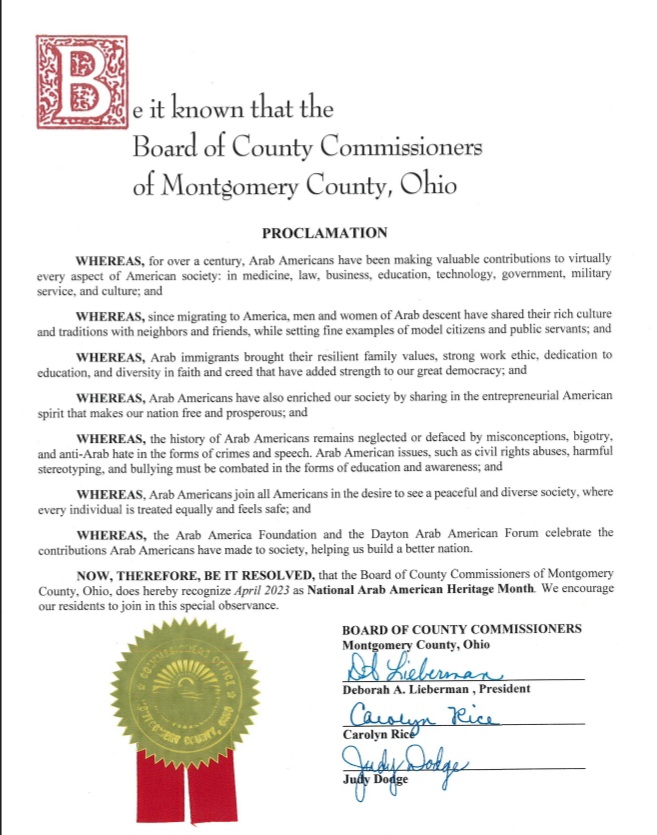 Lakewood, Ohio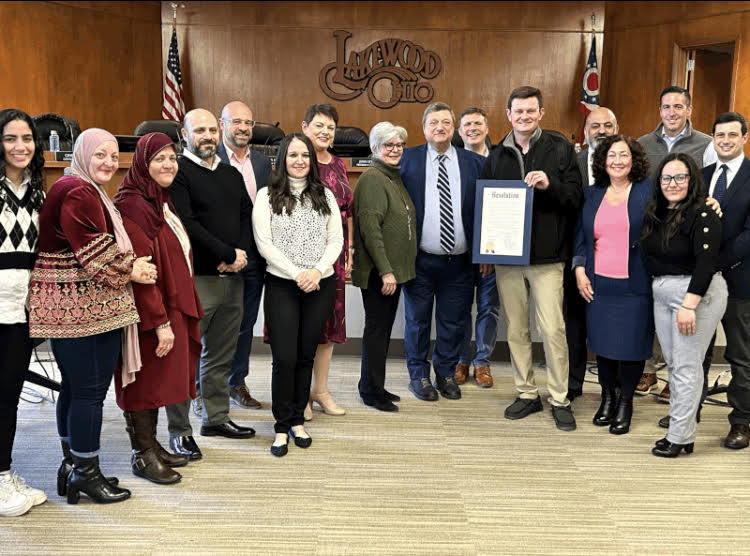 Riverside, Ohio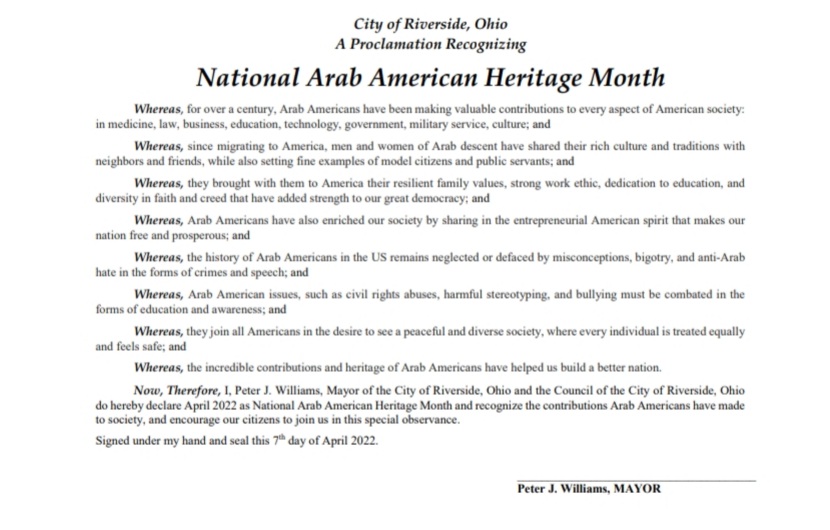 Springfield Ohio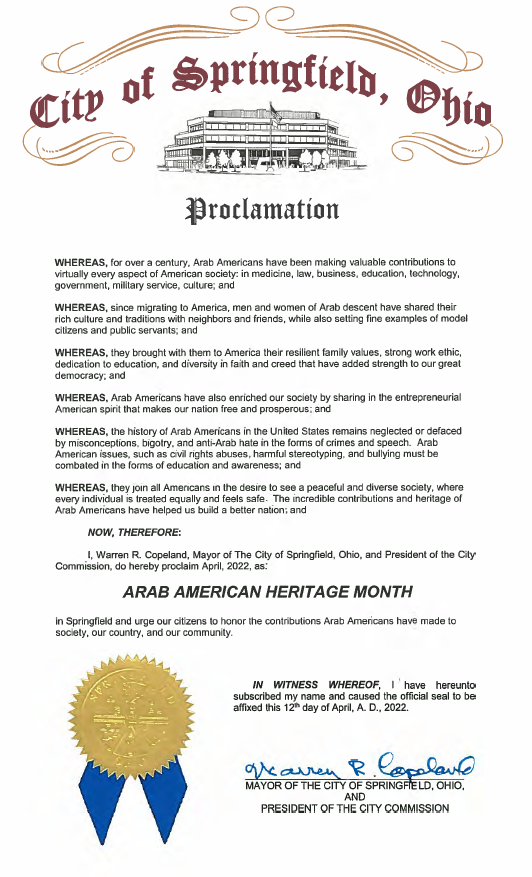 Toledo, Ohio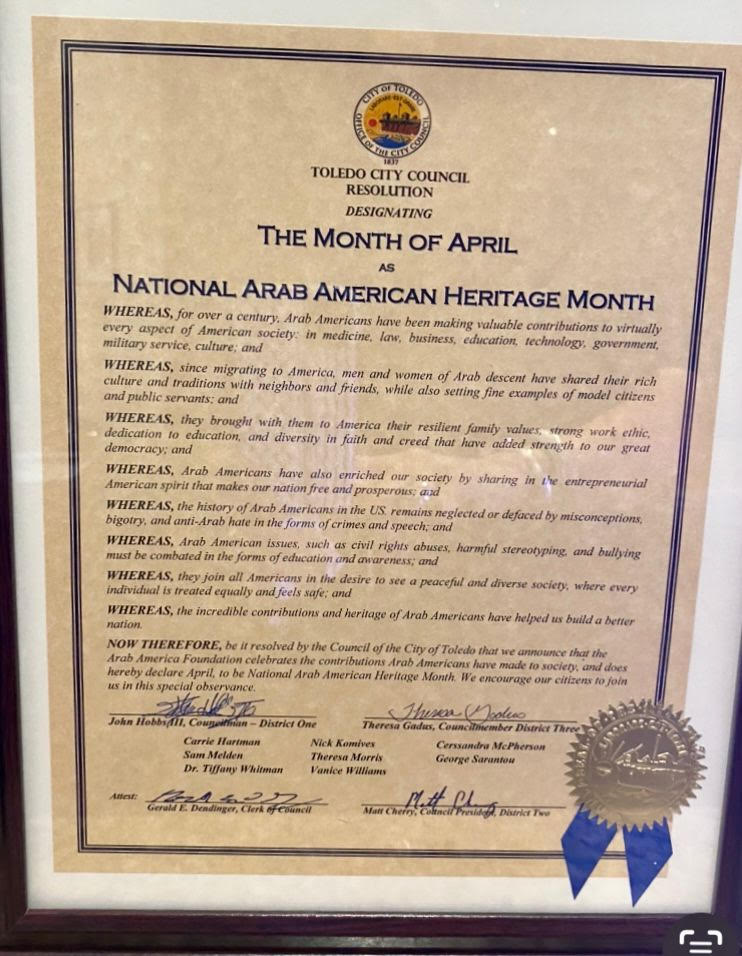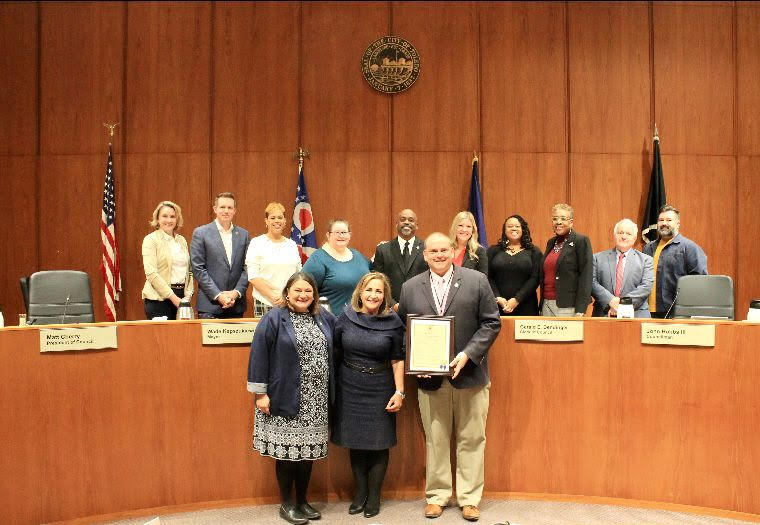 Westlake, Ohio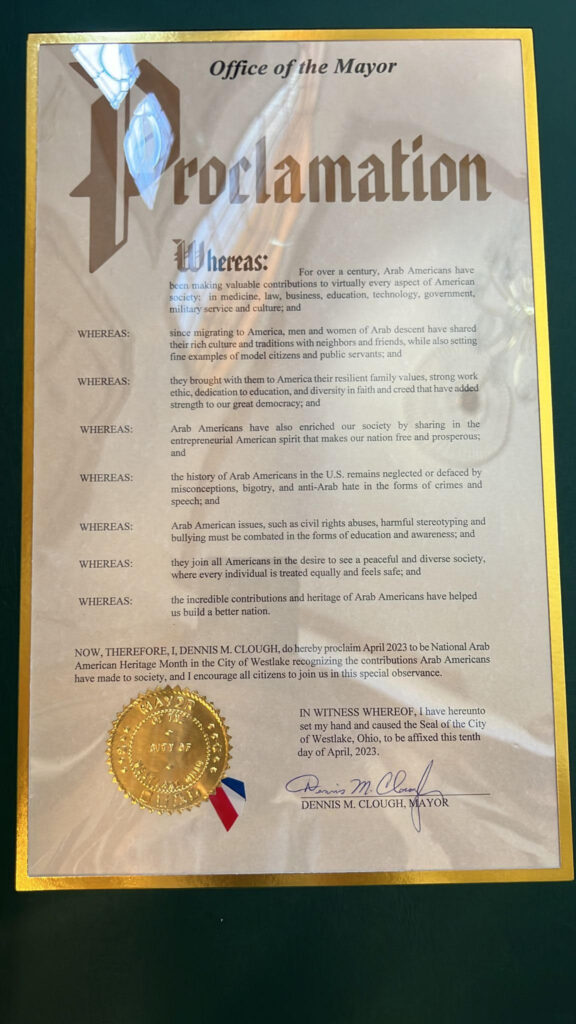 34. Oklahoma
Oklahoma Governor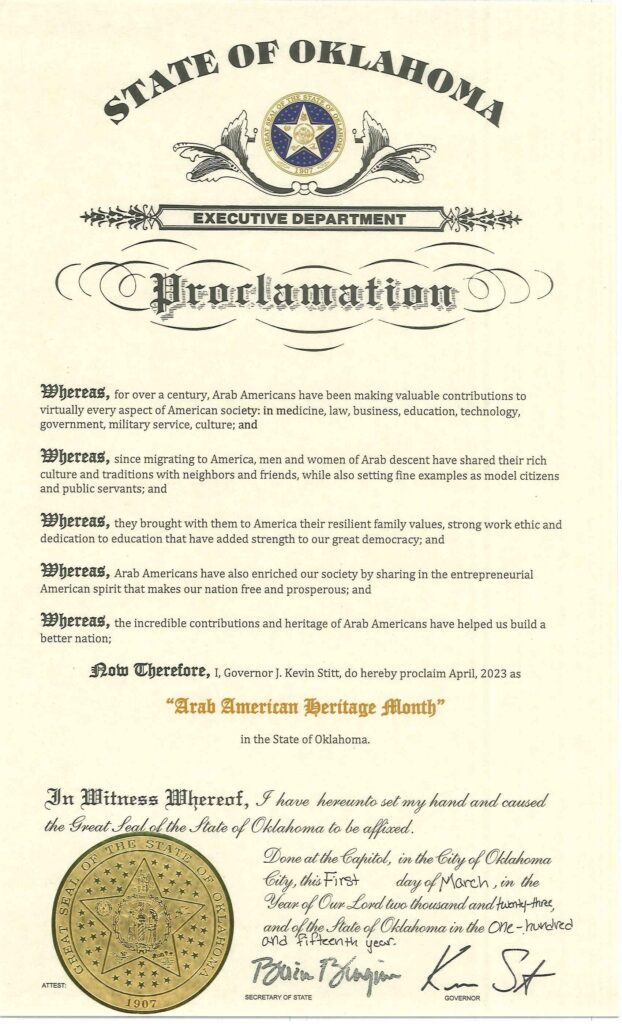 35. Oregon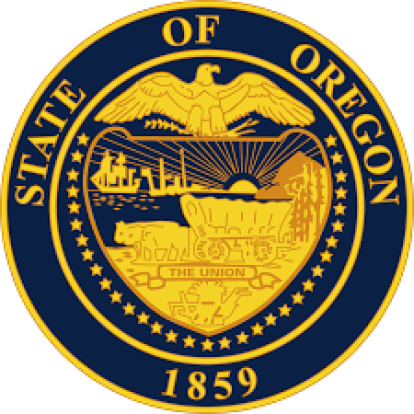 Oregon Permanent House Bill 2914
36. Pennsylvania
Pennsylvania Governor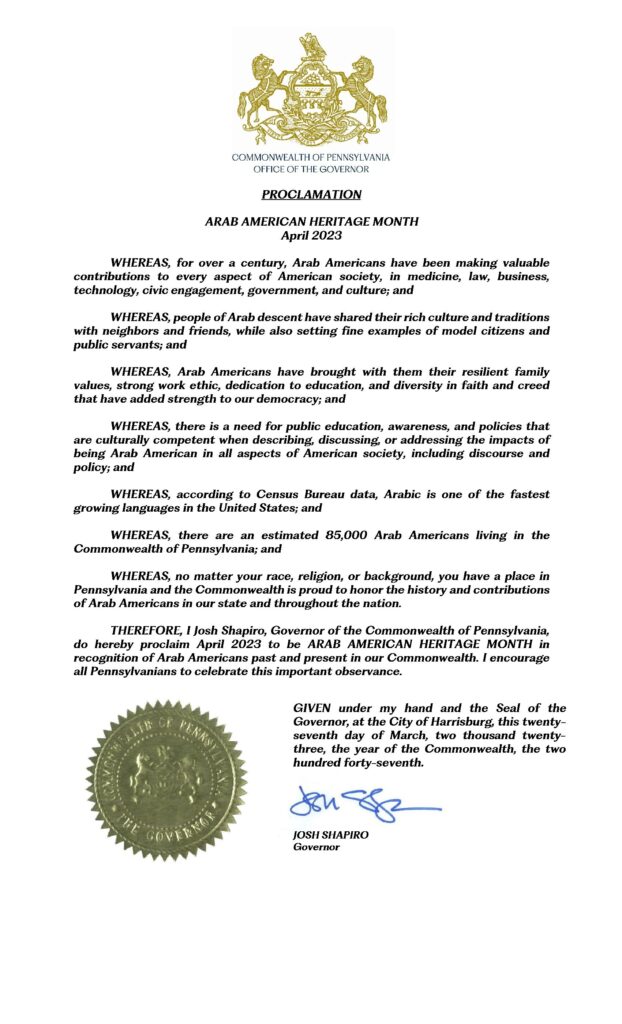 37. Rhode Island
Rhode Island Governor
38. South Carolina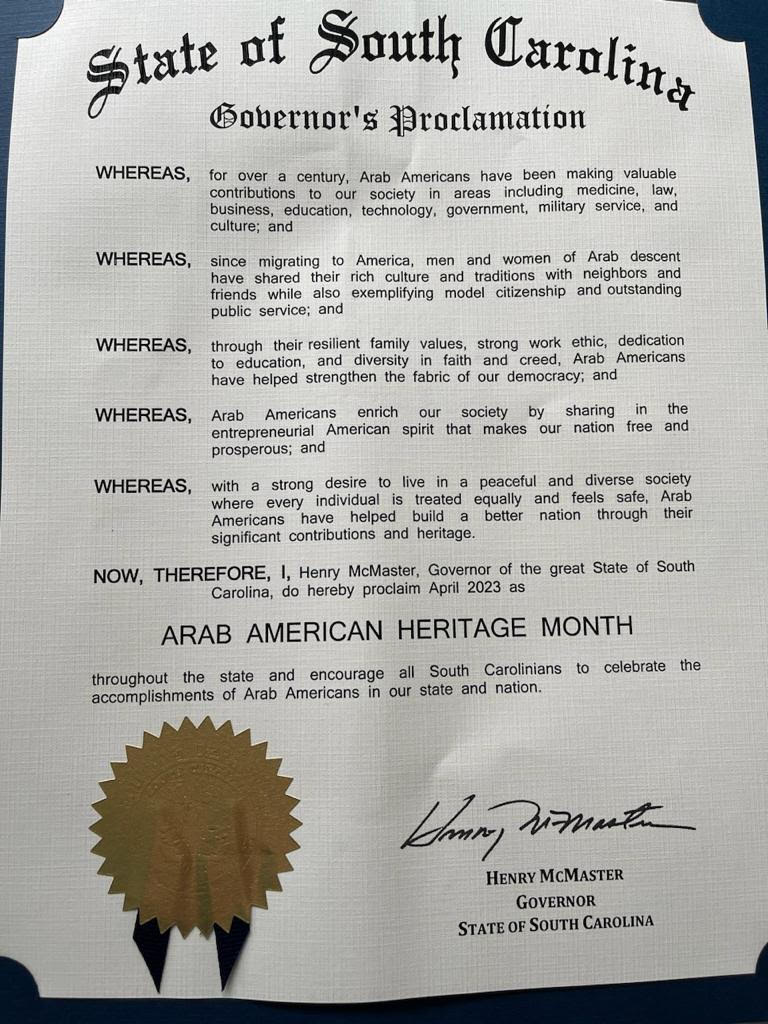 39. South Dakota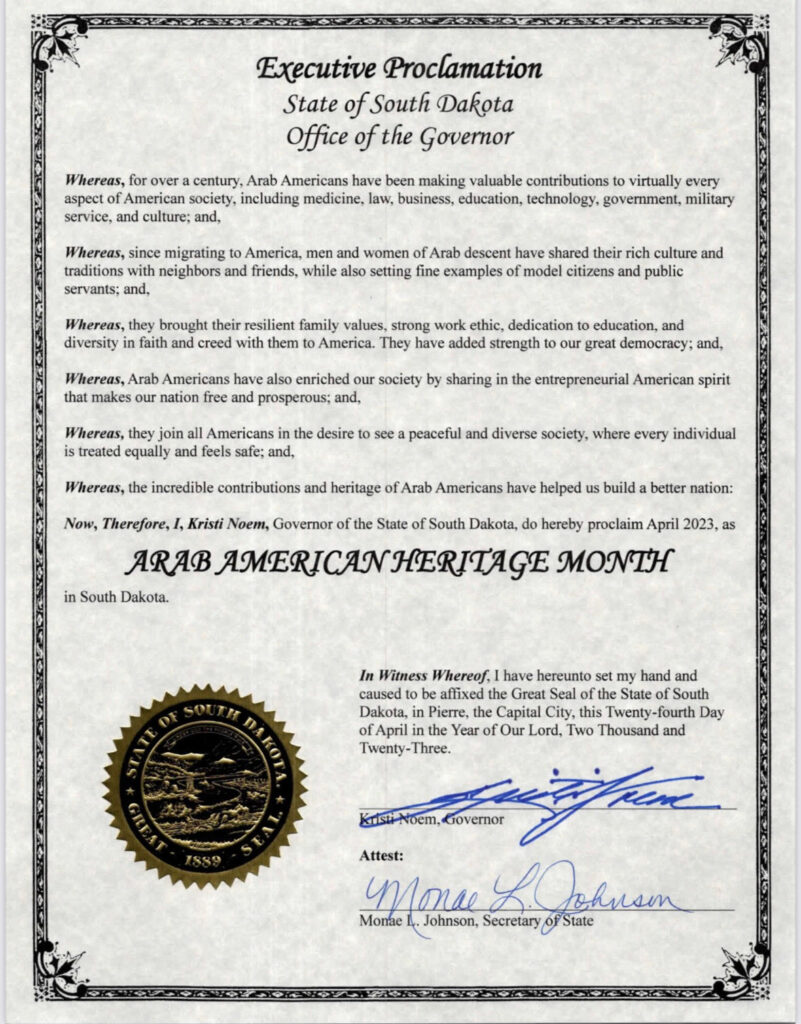 40. Tennessee
Tennessee Senate, House. Governor Concurrent Resolution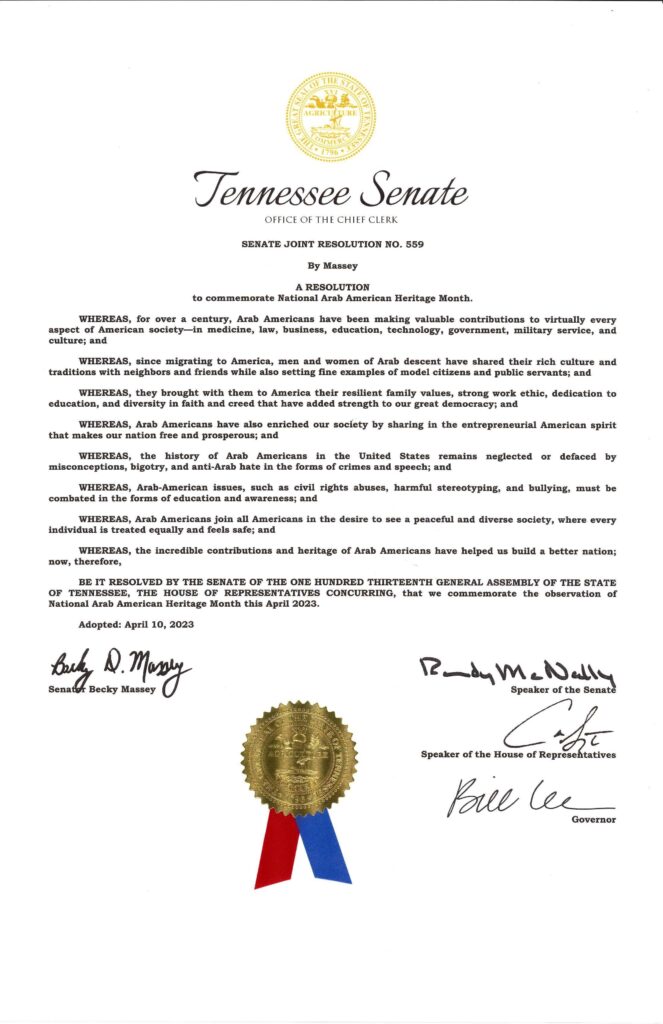 Memphis, Tennessee, Mayor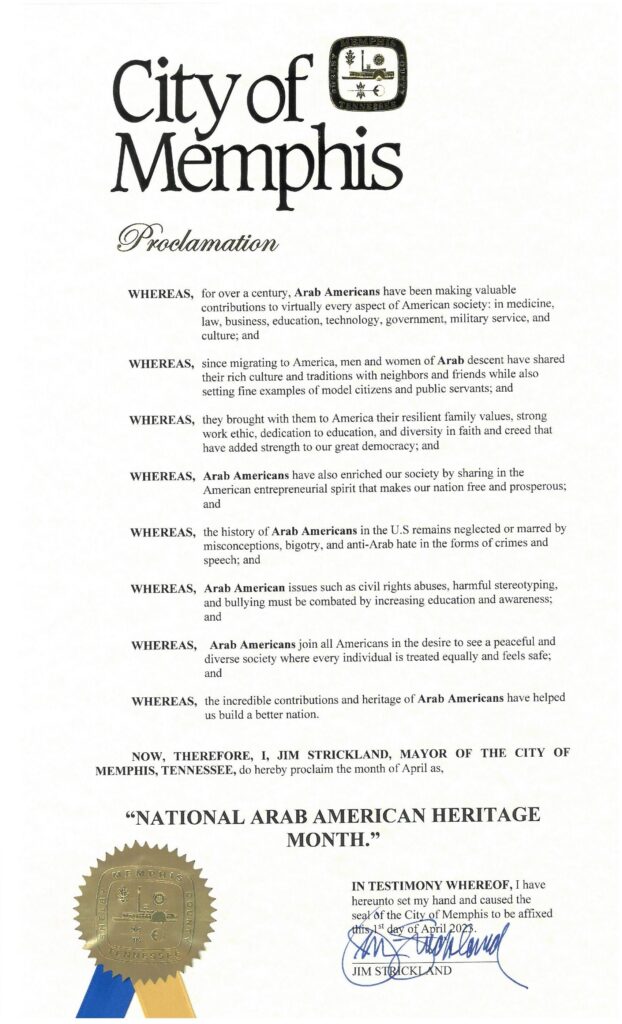 41. Texas
Texas Governor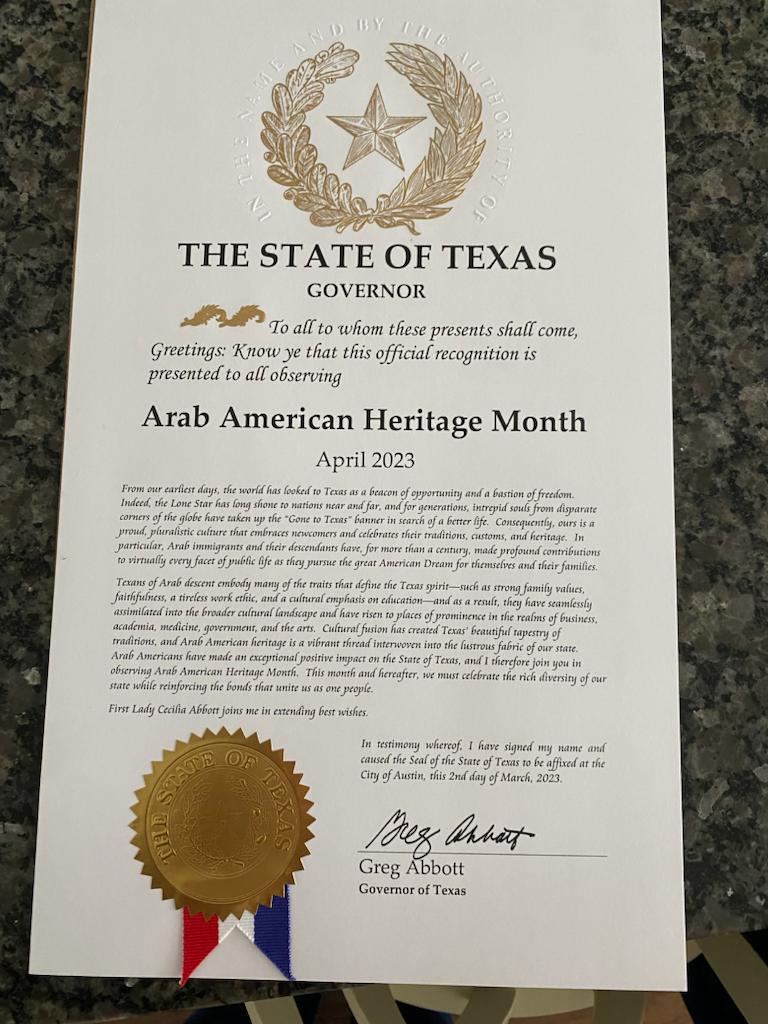 Dallas, Texas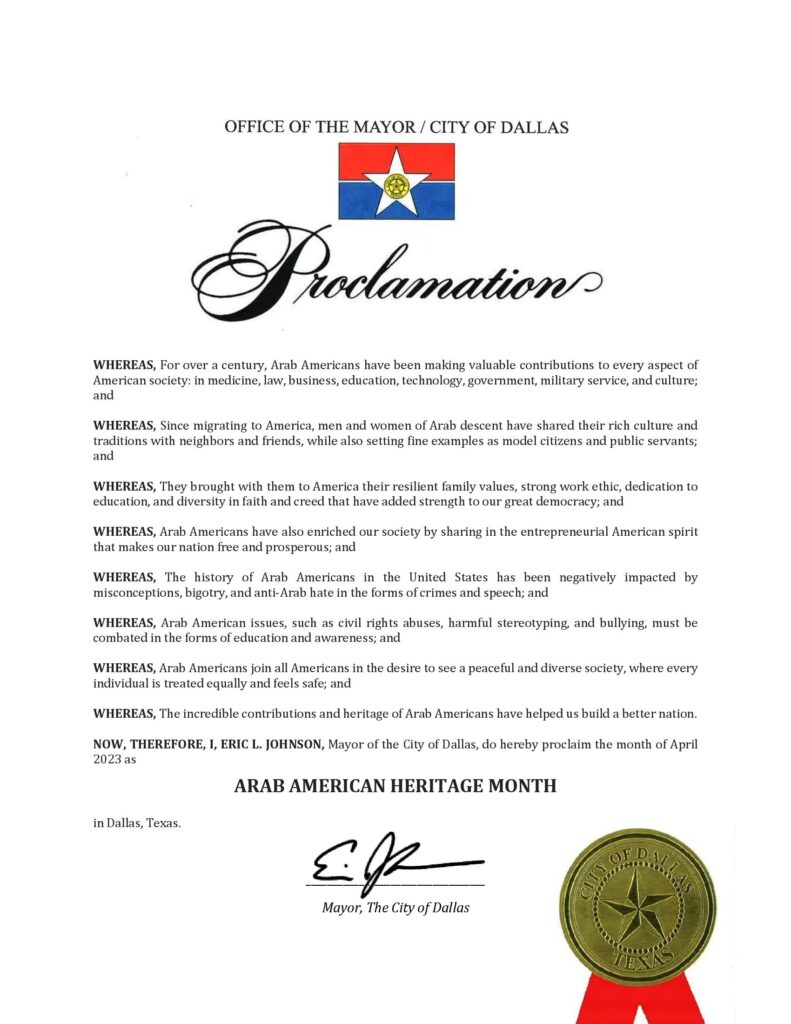 Harris County, Texas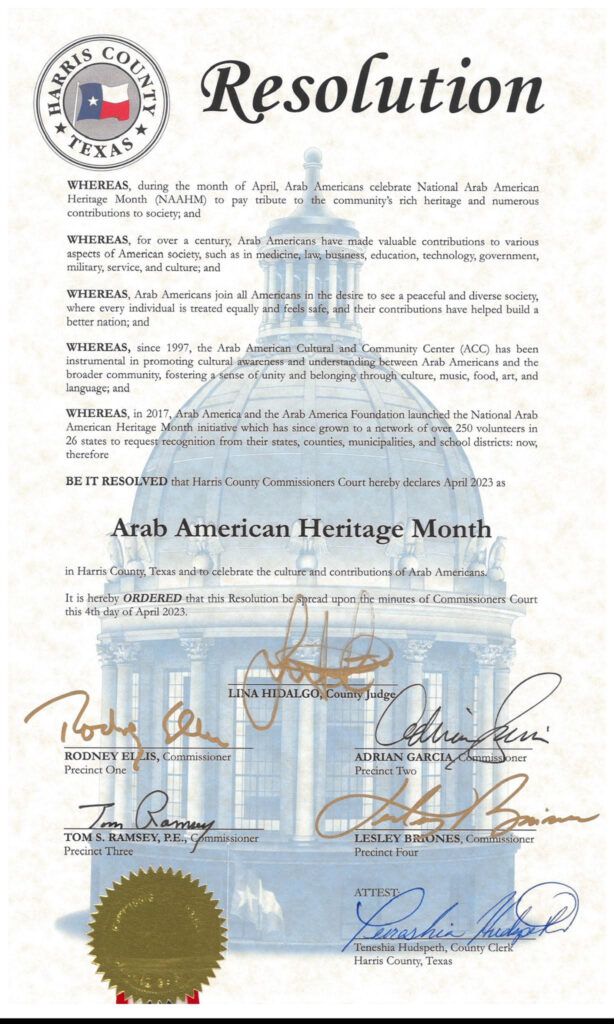 Houston, Texas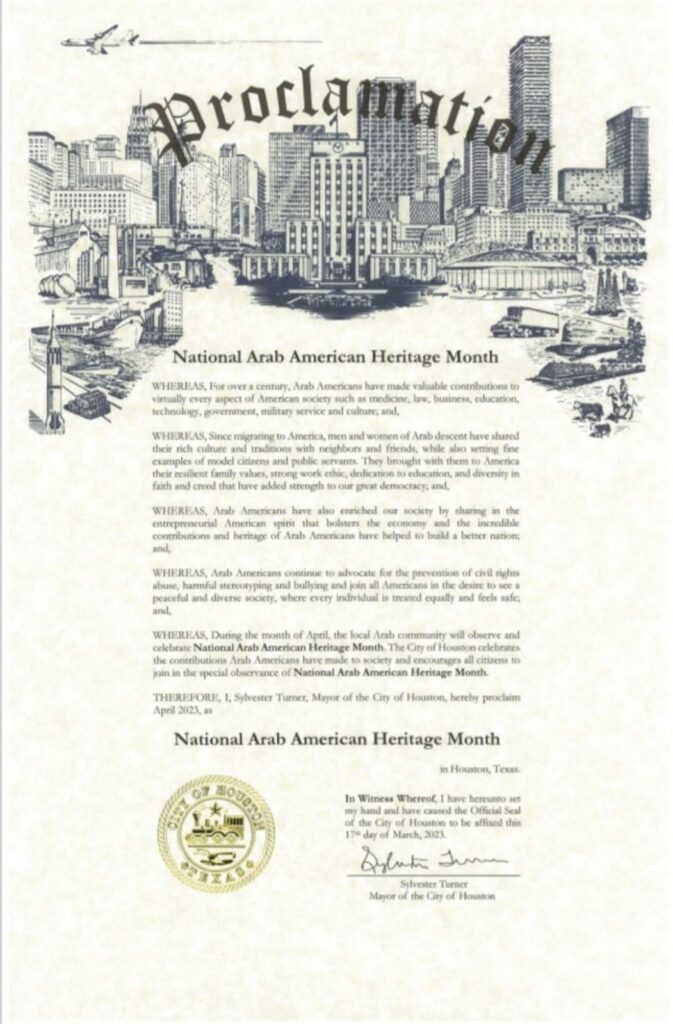 San Antonio, Texas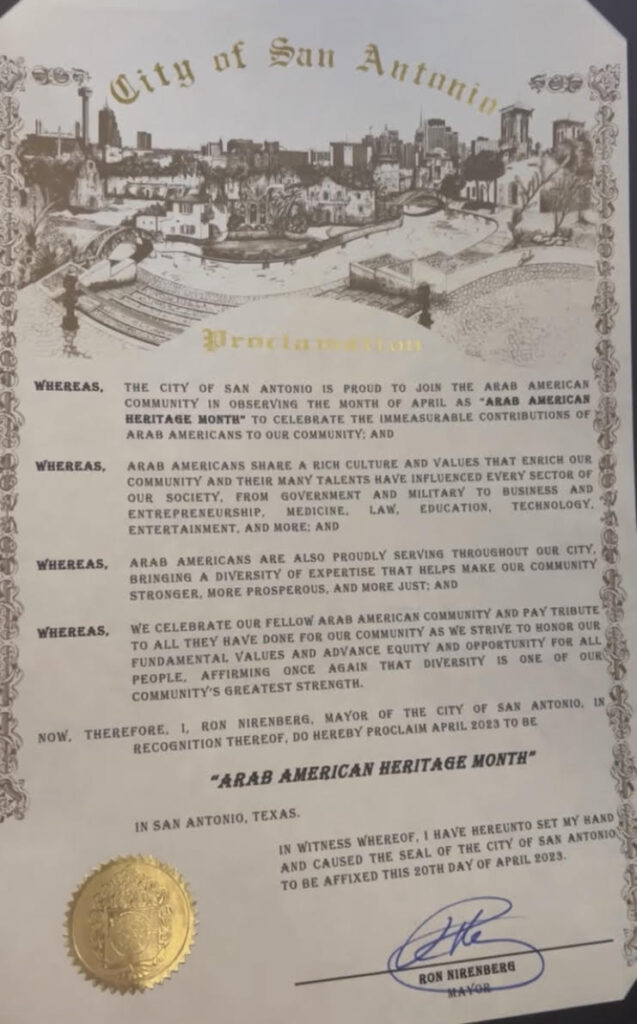 42. Utah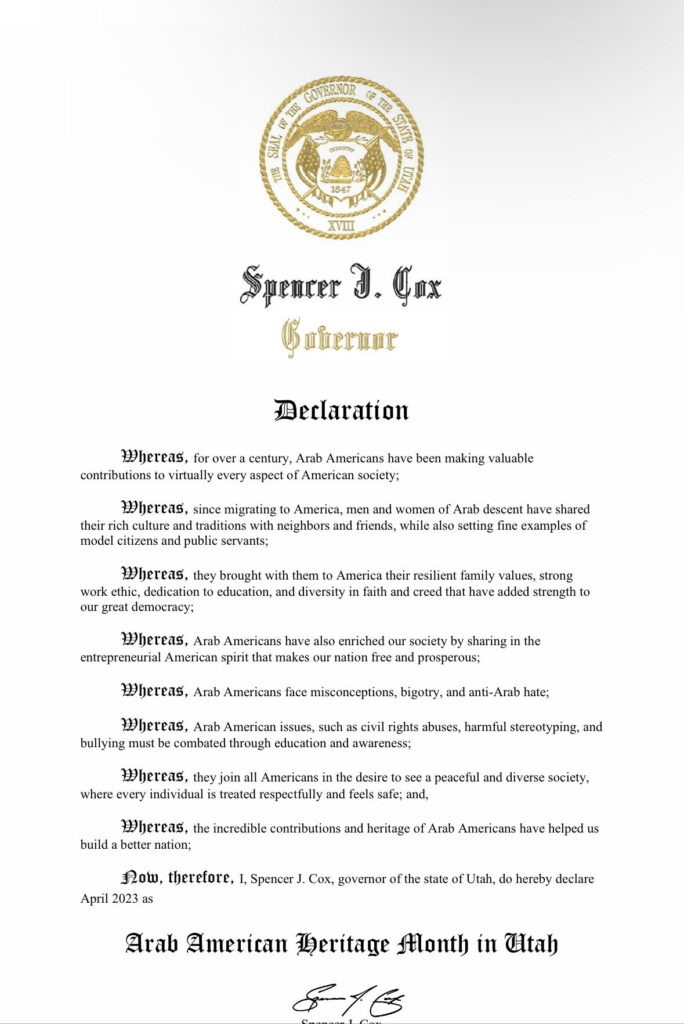 43. Vermont
Utah Governor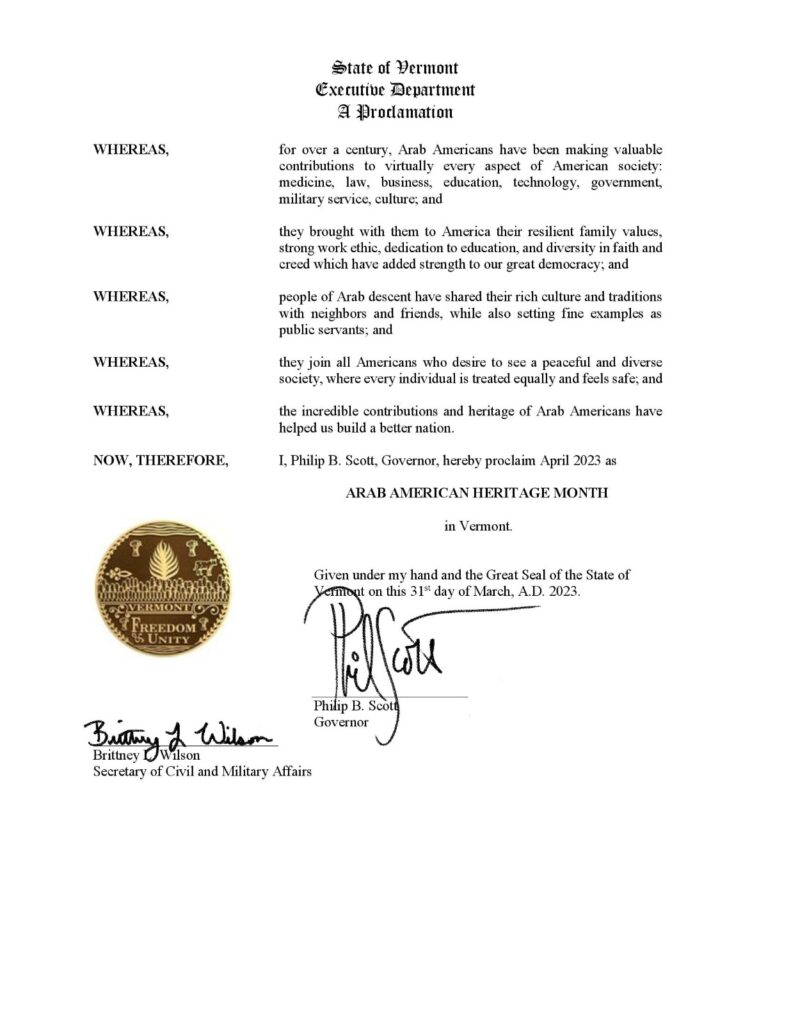 Vermont Governor
44. Virginia
Virginia Governor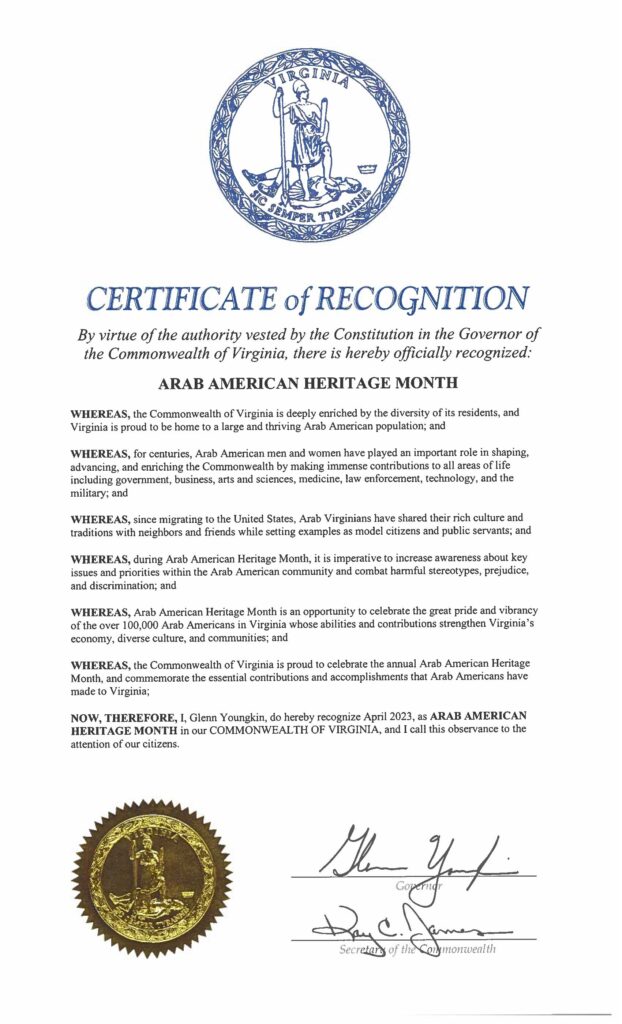 Arlington, Virginia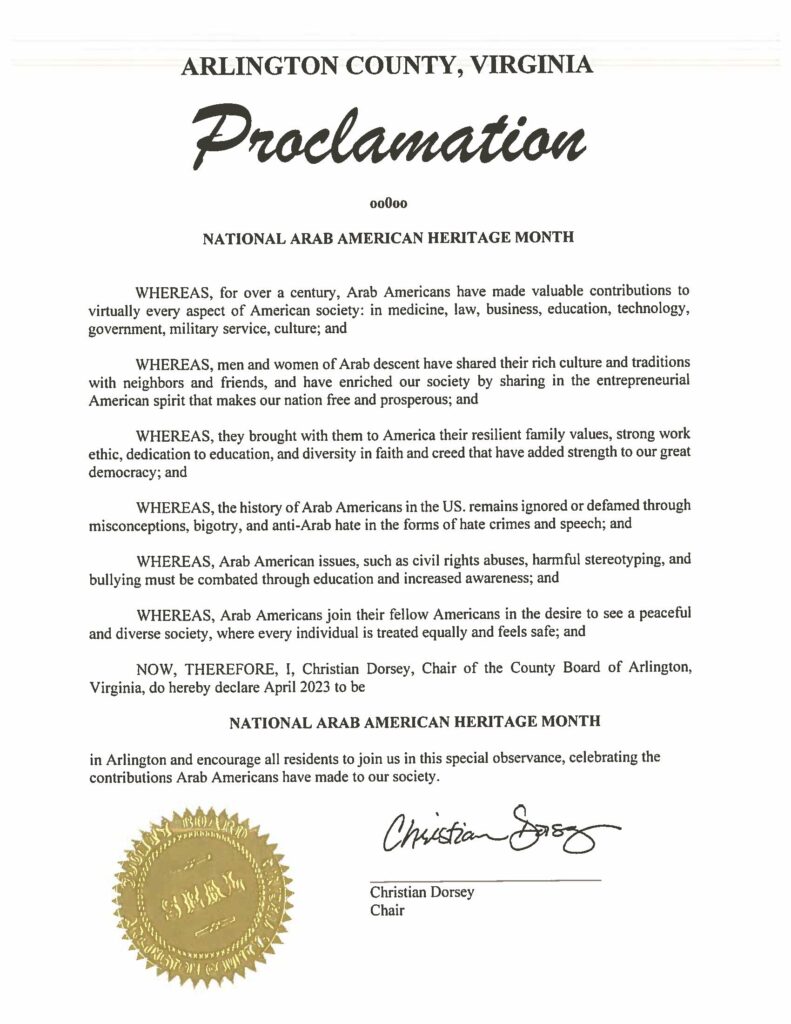 45. Washington
Spokane, Washington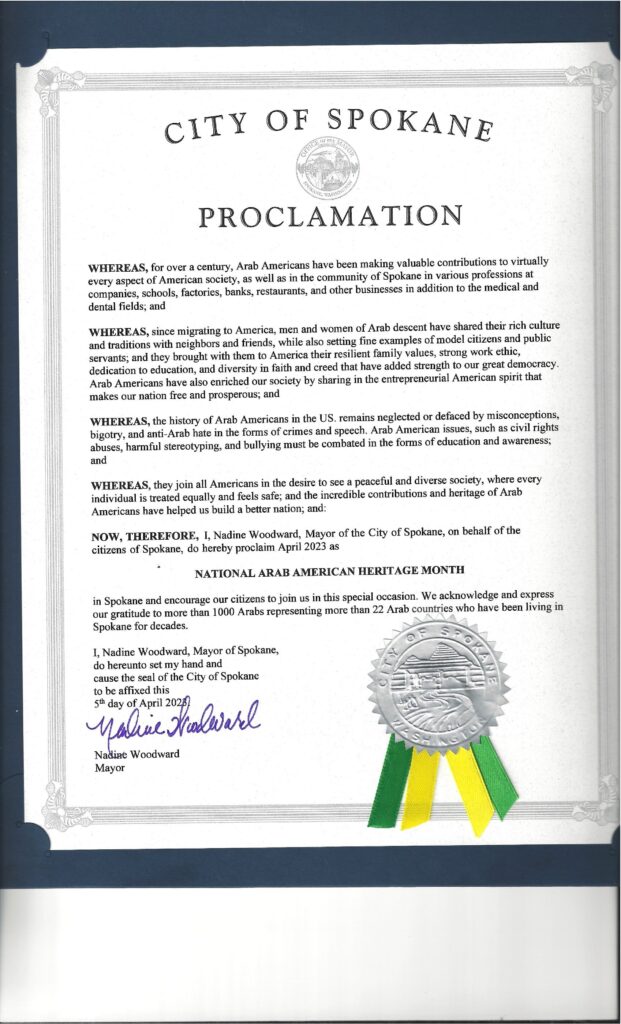 46. West Virginia
West Virginia Governor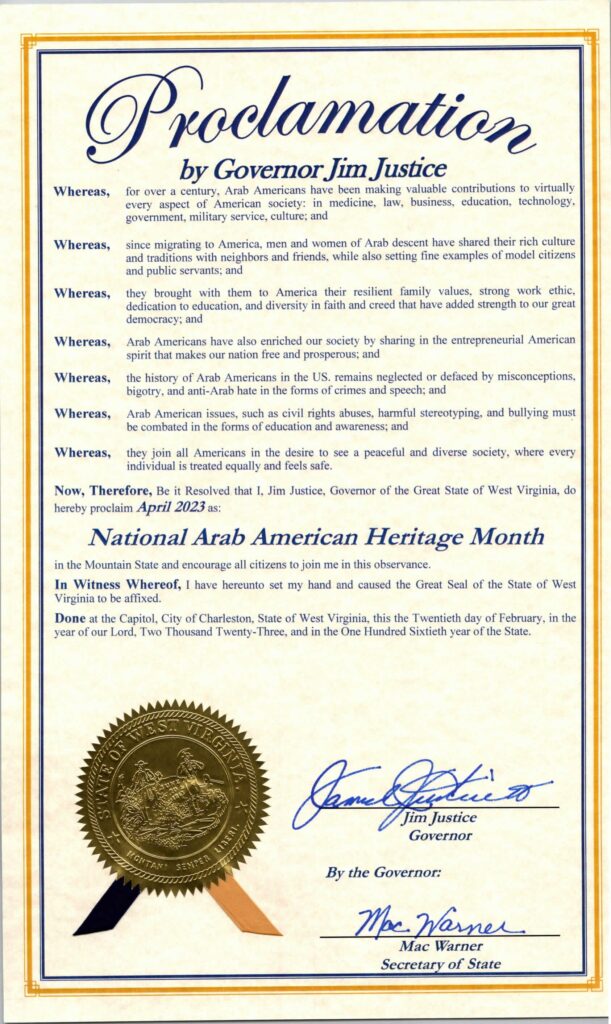 47. Wisconsin
Wisconsin Governor
Madison, Wisconsin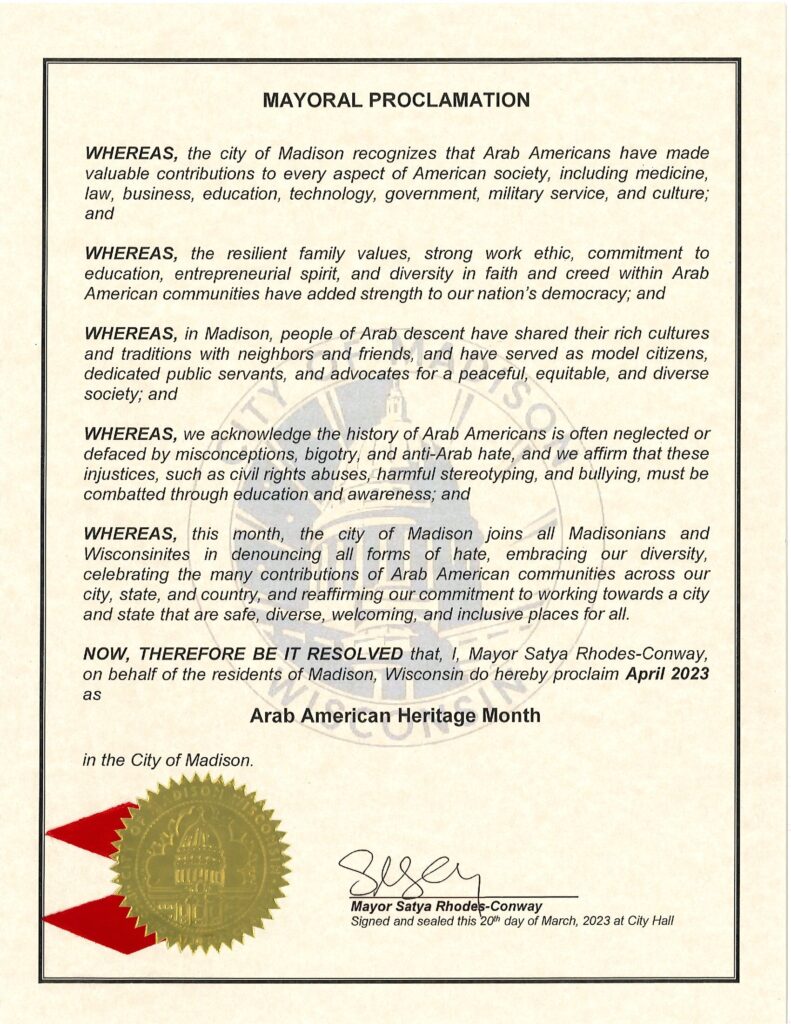 Milwaukee, Wisconsin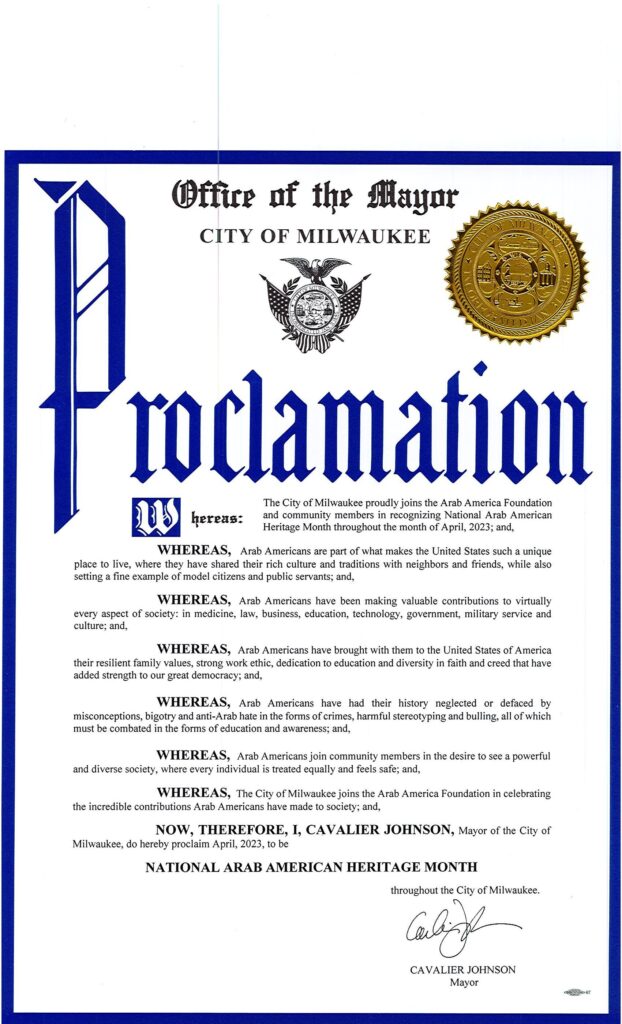 48. Wyoming
Wyoming Governor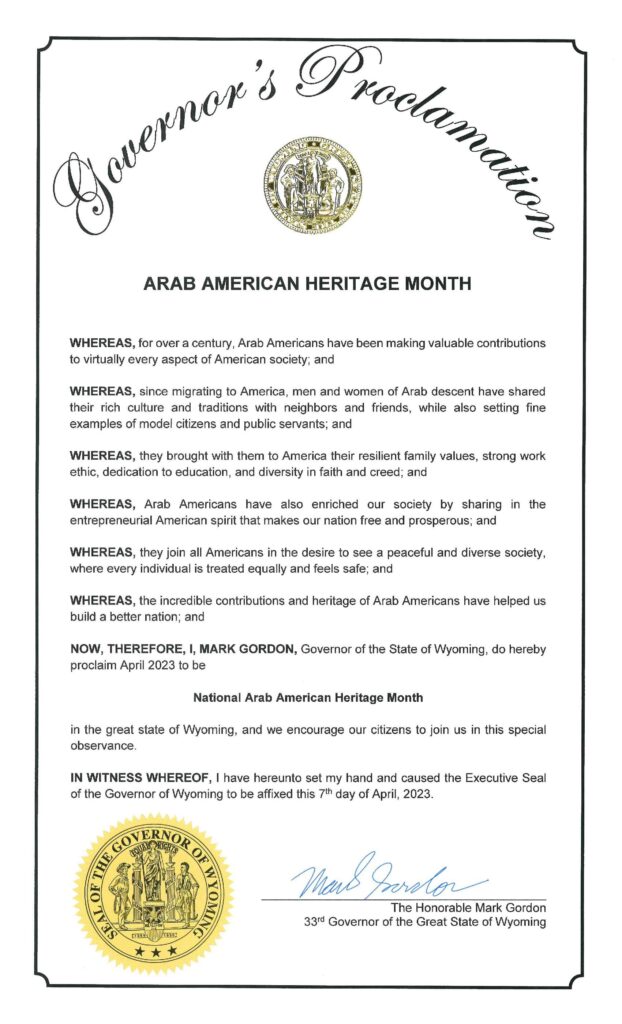 Compiled by Arab America
Visit our blog here!