Recipe of the Day
Mahshi Malfouf - Stuffed Cabbage Rolls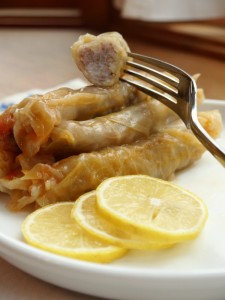 Meat-filled cabbage rolls are the most widely eaten of all the stuffed vegetables. Serves about 8.
1 medium head cabbage about 3 lbs
1 lb lamb or beef, ground or cut into very small pieces
1 cup rice, rinsed
2 cups stewed tomatoes
3 tablespoons melted butter
4 tablespoons finely chopped fresh mint
2 tablespoons finely chopped fresh coriander leaves
1 teaspoon pepper
1/2 teaspoon allspice
1/2 teaspoon cumin
l/8 teaspoon cayenne
2 teaspoons salt
8 cloves garlic, chopped into large pieces
1/2 cup lemon juice
Place cabbage in a pot of boiling water, then cook for few minutes to soften leaves. Loosen leaves with a knife from the bottom. Trim thick ribs, then cut large ones in half. (If inner leaves are not soft, boil again for few minutes.) Set leaves aside and reserve ribs.
Combine remaining ingredients except, 1 teaspoon of the salt, garlic and lemon juice, to make stuffing.
Place some stuffing, depending on the size of leaf on the wide end of cabbage leaf and roll, tucking in ends while rolling. Continue until all leaves are stuffed.
Cover bottom of a saucepan with trimmed ribs. Arrange rolls side by side in alternating layers, placing garlic pieces between rolls. Sprinkle remaining salt over top, then add lemon juice. Cover with an inverted plate, then add enough water to barely cover plate.
Bring to boil, then cover and cook over medium/low heat for 1 hour or until meat and rice are done.
Serve hot as the main course or for snacks.