Recipe of the Day
Shawrbat 'Adas Ma' Ruzz - Lentil and Rice Soup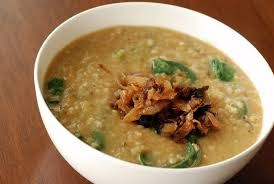 If desired, after this soup, found in all the Greater Syria area, is cooked, it can be puréed in a blender, then the coriander and lemon juice added. It is a great meal on its own for those cold winter evenings. Serves about 6.
4 tablespoons olive oil
2 large onions, finely chopped
4 cloves garlic, crushed
1 cup split lentils
2 teaspoons salt
1 teaspoon pepper
1 teaspoon cumin
1/4 teaspoon cayenne
pinch of saffron
8 cups boiling water
4 tablespoons rice, rinsed
2 tablespoons very finely chopped fresh coriander leaves
2 tablespoons lemon juice
Heat oil in a saucepan, then sauté onions until they begin to brown. Add garlic and stir-fry for further 3 minutes, then add the remaining ingredients, except coriander leaves and lemon juice. Bring to boil, then cover and cook over medium heat for 40 minutes or until lentils are tender adding more water if necessary. Remove from heat, then stir in coriander leaves and lemon juice and serve.