Recipe of the Day
Fatayer Laban Ma' Qawarma - Yogurt Pies with Qawarma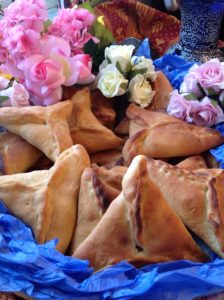 In the Middle East, there are various types of vegetarian and meat pies. For Habeeb Salloum, this yogurt pie with qawarma (preserved meat in fat) is at the top of the list.
Makes 12 large pies
Ingredients
1 1/2 pounds of frozen dough or equivalent amount of home made dough
1 cup qawarma with fat removed or 1 cup lamb or beef cut into tiny pieces and fried
1 1/2 cups yogurt, which has been drained of its water and has solidified (labana – cream cheese maybe substituted for the yogurt)
1 medium onion, finely chopped
1 teaspoon salt
1/2 teaspoon pepper
Directions
Thaw out the dough then cut into 12 equal pieces. Roll into balls, then cover and allow to rest for one hour.
In the meantime, prepare a filling by thoroughly combining the remaining ingredients.
Roll each ball to a 4 to 5 inch round or larger if desired. Place 1 heaping tablespoon of filling (or divide filling into 12 equal portions one portion on each round, fold dough over, shaping into a triangle and closing firmly by pinching the edges.
Place the pies in a well greased baking pan, then bake in a 400F preheated oven for 10 to 15 minutes or until pies turn golden brown. (If a darker colour is desired, brown lightly under the broiler.)
Brush the tops of pies with butter, then serve hot.