Recipe of the Day
Hummus - Chickpea Purée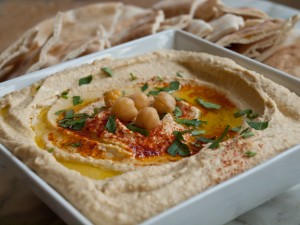 Perhaps the most popular Arab appetizer is hummus. It can be eaten with any meat, vegetables, and bread for a filling snack.
Ingredients
2 cups cooked chickpeas
1/4 cup water
4 tablespoons tahini
4 tablespoons lemon juice
2 cloves garlic, crushed
salt to taste
pinch of cayenne
1 tablespoon finely chopped parsley
2 tablespoons olive oil
Place chickpeas, water, tahini, lemon juice, garlic, salt and cayenne in a blender; then blend into thick paste. (If a thinner consistency is desired, add more water.) Place in a shallow platter and refrigerate for at least 1 hour. Just before serving, decorate with parsley; then sprinkle with oil.