Recipe of the Day
Mujaddara - Vegetarian Lentil Delight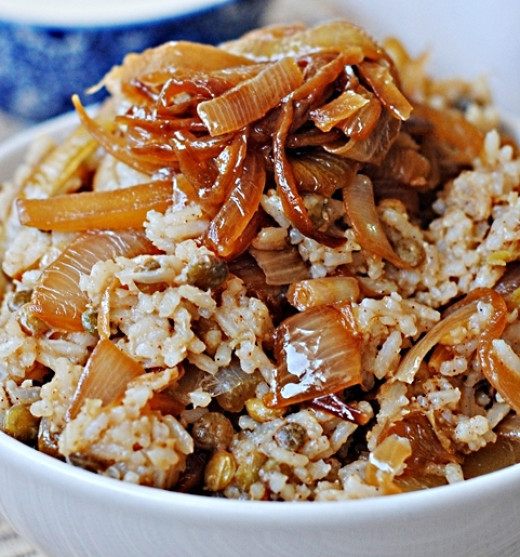 In the Bible, Esau sold his birthright to his twin brother Jacob for a bowl of pottage – believed to be Mujaddara. It was one of the preferred dishes which the Arab immigrant peasants brought with them to North America. Yet, they never served it to their guests. The old country tradition of not serving this delightful dish to guests because of the few cents it costs to make, was never forgotten. Serves 4 to 6.
1 cup lentils, rinsed
5 cups water
1/4 cup rice, rinsed
4 tablespoons butter
3 medium onions, chopped
1 teaspoon salt
1/2 teaspoon pepper
1/2 teaspoon cumin
1/4 teaspoon chili powder
Place lentils and water in a saucepan, then bring to boil. Cover, then cook over medium heat for 20 minutes or until lentils are half cooked. Add rice, then bring to boil. Reduce the heat to low, then cook for further 30 minutes or until both lentils and rice are tender but still intact and slightly firm, adding more water if necessary.
In the meantime, melt butter in a frying pan, then sauté onions until they turn golden brown.
Stir in the frying pan contents and remaining ingredients into the saucepan, then stir and cook for a further 3 minutes. Serve hot.