Recipe of the Day
Tajine - Lamb Tajine with Prunes and Honey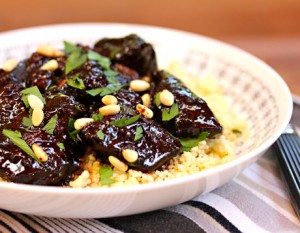 Tajine is both the name for a vast number of stews found on the menus of every Moroccan eating-place and the utensil in which they are cooked. Prepared from fish, chicken, lamb or other meats and a wide variety of vegetables, they are fragrant, tart, spicy and sweet. Stewed with fruits, olives, lemons, herbs and spices, and simmered to produce tasty sauces, they are a perfect answer to a hungry man's dreams. Serves about 10 to 12.
6 tablespoons olive oil
4 pounds lamb, cut into 1-inch cubes
2 medium onions, finely chopped
1 cup fresh coriander, finely chopped
5 cloves garlic, crushed
3 teaspoons salt
1 teaspoon ginger
1 teaspoon pepper
1 teaspoon tarragon
1 teaspoon cinnamon
4 cups water
2 cups small prunes, pitted
4 tablespoons honey
2 teaspoons orange blossom water
2 tablespoons toasted sesame seeds
Heat oil in a saucepan, then add lamb cubes, onions, coriander, garlic, salt, ginger, pepper, tarragon, cinnamon and water. Cover then bring to boil. Lower heat to low, then simmer for 1 1/2 hours or until the lamb is well cooked, adding more water if necessary. Stir in prunes and honey then simmer over low heat for 15 minutes, stirring frequently. If more sauce desired, add more water. Stir in orange blossom water then bring to boil. Remove from heat and place on a serving platter, then sprinkle with toasted sesame seeds. Serve immediately.