Recipe of the Day
Sahlab - Dessert Pudding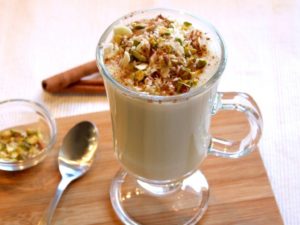 Sahlab is a body-warming, sugary pudding, and one of the most famous desserts in the Arab world and Turkey. It is made from the orchid tubers of the orchid plant, which are dried to make sahlab powder. You can purchase sahlab powder from Middle Eastern markets to make the drink at home.
Sahlab is very easy to prepare. It can be made either with hot milk or hot water, and then topped with cinnamon and pistachios, which make the dessert richer and more nutritious.
Ingredients:
5 cups of Milk
1 cup of sugar
3 table spoon of cornstarch
½ tea spoon of rose water
Cinnamon
Coconut
Pistachio
Preparation:
Mix the milk, sugar, cornstarch, and rosewater together.
Optional: Sprinkle cinnamon, coconut shavings, and pistachio grinds on top.