Recipe of the Day
Ashura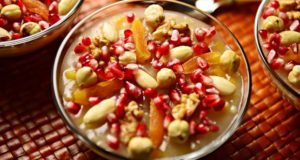 Ashura pudding is more than just a flavorsome dessert; it is also great for the immune system, especially during the winter months.
Ingredients:
1 liter of milk
1 cup white sugar
½ cup of cooked whole wheat/grain cereal
4 teaspoons of starch
1 teaspoon rose water
For garnish:
Chopped nuts, chopped dried fruit, cinnamon, raisin or coconut
Directions:
In a pot, add milk to the cooked whole grains (boiled in water) and sugar.
Heat it up until the sugar dissolves, then add the starch and let the mixture boil together.
When it is almost pudding, add rose water for flavor.
Pour the mixture in serving cups and garnish with your choice of chopped nuts, cinnamon, coconut, raisin or chopped dried fruit.
Leave it to cool down then refrigerate it.