Recipe of the Day
Sfeeha - Small Meat Pies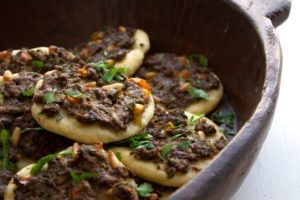 Sfeeha is a very common appetizer in Arab households. It is easy to make and enjoyed by virtually everyone.
Ingredients
20 ready-to-bake biscuits (dough)
1 pound of ground beef or lamb
2 onions, minced
1 tomato, minced
1/2 lemon
1/2 tbsp all spice
Salt to taste
Pepper to taste
Optional: 1/4 cup of pine nuts
Directions
Spray olive oil cooking spray onto a baking sheet
Flatten ready-to-bake biscuits and place on the baking sheet
In a large bowl, mix together ground beef/lamb, minced onion, all spice, salt, and pepper.
Squeeze the lemon onto the meat and mix again
With a spoon, spread a thin layer of meat over the biscuits
Top the biscuits with pieces of minced tomato and pine nuts
Bake for 15 minutes in the oven at 350 degrees