Saints Peter and Paul Orthodox Church in Potomac to Host 38th Annual Mediterranean Festival Sept. 22-24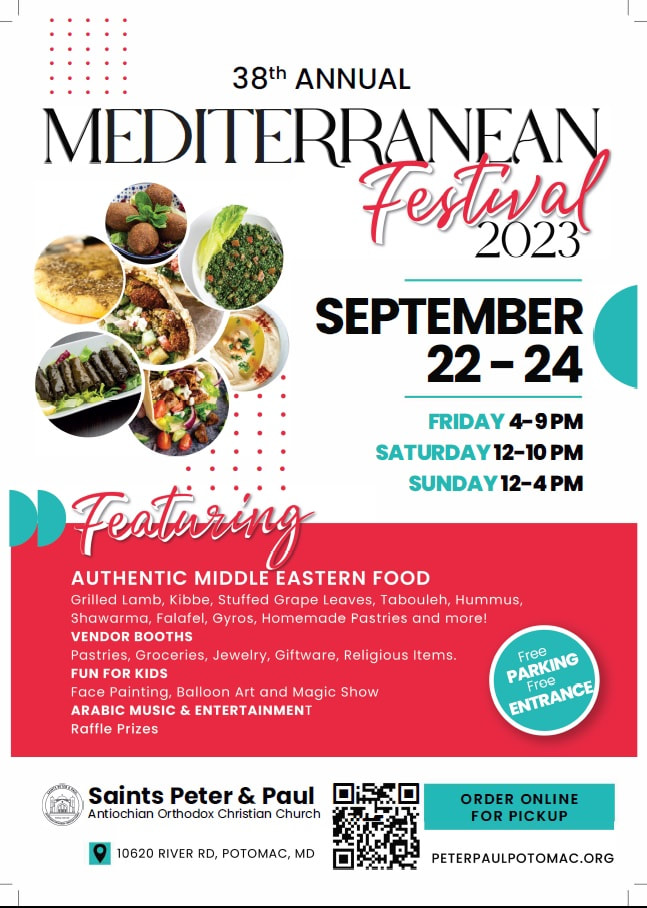 (POTOMAC, MARYLAND) Saints Peter and Paul Antiochian Orthodox Christian Church in Potomac, Md. will proudly host its 38th Annual Mediterranean Festival the weekend of September 22-24. Festival hours will be as follows: Friday, Sept. 22, from 4-9 p.m.; Saturday, Sept. 23, from noon-10 p.m.; Sunday, Sept. 24, from noon-4 p.m.
Authentic Middle Eastern food, crafts, and religious items for sale, live Arabic music on Friday night and DJ Gilbert on Saturday night, children's activities, and church tours throughout the weekend will be among the highlights. Middle Eastern delicacies on the menu will include grilled lamb, kibbeh, tabouleh, hummus, gyros, falafel, shawarma, spinach pies, meat pies, and a variety of other traditional dishes, along with popular Arabic pastries. Both dine-in and carry-out food and pastries will be available for sale throughout the festival weekend.
"Our annual Mediterranean Festival is a wonderful event that gives us a chance to share our beautiful culture and traditional foods with the broader community, along with the opportunity to welcome people into our church to learn more about the Orthodox faith," said Michael El-Hage, Festival Chair. "We look forward to a great celebration and hope to see many people join us throughout the weekend."
Other highlights of the festival will include:
A raffle to win a brand new 2023 Tesla Model 3 or a $35,000 cash option. In addition to the grand prize, the raffle will include the opportunity to win 2nd and 3rd place prizes of $2,000 and $1,000, respectively. The cost per raffle ticket is $100 and no more than 1,000 tickets will be sold. Tickets may be purchased online via this link: https://www.peterpaulpotomac.org/car-raffle.html
A Middle Eastern pastry counter featuring a variety of baked goods including baklava, kanafeh, maamoul (date cookies), ghraybee (shortbread cookies), custard-filled triangles, and other delectable, sweet treats.
Online-ordering and delivery at the carry-out counter will be available during the festival. Please visit the online ordering here: https://www.peterpaulpotomac.org/menu.html
Live music, DJ and dancing, including a Middle Eastern band featuring string and percussion musicians who play the "oud" and "derbekeh" instruments, on Friday, Sept. 22, from 6-8 p.m. Then on Saturday, Sept. 23, DJ Gilbert will be playing a selection of both Middle Eastern and American musical selections, including an evening dance party.
A children's area with games, face painting, a moon bounce and playground, and other activities. Award-winning, young children's entertainer "The Great Zucchini" will perform outdoors on Saturday. Sept. 23 at 1 p.m.
Artisan bazaar/vendors: Immerse yourself in the sights and sounds of an artisanal bazaar, where local craftsmen and vendors will showcase their talents and offer an array of unique products for patrons to peruse and purchase.
Church tours: For anyone who might be interested, Fr. Luke Rabee Toumi and parishioners will be offering short tours of Saints Peter and Paul's breathtaking church sanctuary, where they will learn about the rich history of the Antiochian Orthodox Christian Church and witness the church's beautiful iconography.
Community outreach: As a church committed to making a positive impact, a portion of the festival proceeds will be directed towards supporting charities and organizations in need, including the Orthodox Christian Mission Center, International Orthodox Christian Charities, FOCUS North America, Orthodox Christian Prison Ministry, and, locally, the Montgomery County Family Justice Center.
Saints Peter and Paul Antiochian Orthodox Church is located at 10620 River Road in Potomac, Maryland, about one mile north of Falls Road. For more information about the church or the festival, please visit: peterpaulpotomac.org
Compiled by Arab America
Visit Arab America's blog here!