The Food of Andalusia - A Gourmet Arab Legacy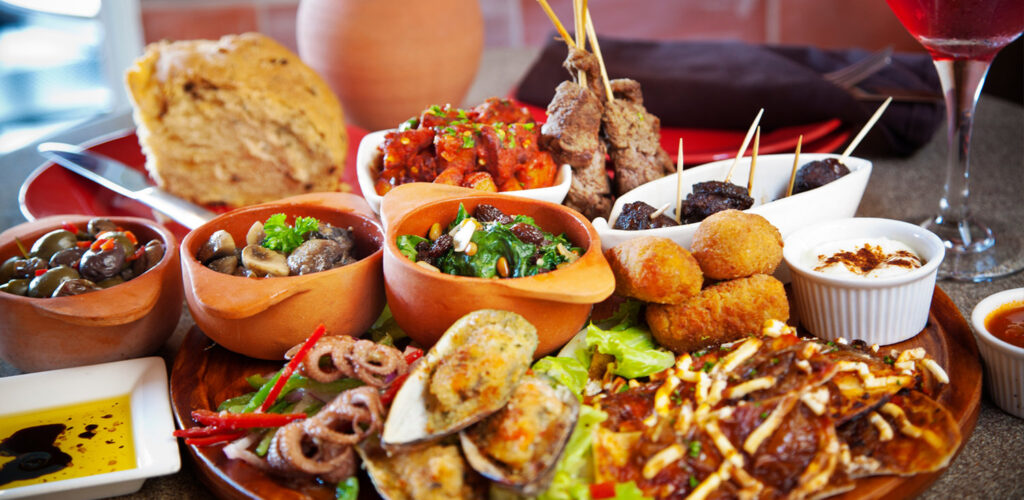 By: Habeeb Salloum/Arab America Contributing Writer
Andalusian cooking is a part of the larger Spanish culinary art and is based on the triangle of garlic, saffron and olive oil.  Andalusia is the worlds' largest producer of olive oil and has been famous as a producer of olives and garlic since before Roman times.  Tartessians, Iberians, Phoenicians, Greeks, and Romans left their mark in the kitchen of this Mediterranean land. However, it was under the refinement of the Muslim rule that Andalusian cuisine was most profoundly affected.   The Kingdom of Al-Andalus, or Moorish Spain, brought an authentic revolution in ways of irrigation and farming and a myriad of new products unheard of in Europe before. 
It was the Arabs in Andalusia who created the modern dining room, the current order of eating dishes. Ziryab, a Baghdadi Arab of many talents, but best known as a musician and singer, is credited with having revolutionized the food and table manners of Europe. Perhaps, his greatest contribution to the European culinary world was the order or management of eating a meal. Before his time, food was consumed with no system and usually eaten by hand. Ziryab laid down the courses of a meal, beginning with soup, then entrée, followed by dessert or fruit – the method by which we continue to eat our meals.
After the discovery of the 'New World', Andalusia was the first place in Europe where the exotic food products brought from the Americas were first cultivated such as avocados, chocolate, corn, peanuts, peppers, potatoes, squash, and tomatoes. These American plant-foods and, above all, previous Arab influences have been instrumental in the development of the modern Andalusian cuisine. Andalusia, today, is noted for its gazpacho, a favourite summer dish, whose history goes back to the Moors. As for sweets Andalusia has an endless variety of obvious Arab origin, which are often admirably preserved by the nuns of the many convents.
These few dishes, all of Arab origin, will tantalize one's palate with their flavours and familiarize non-Andalusians with the unique taste of Spain's Andalusia.
Fried Liver – Higado Frito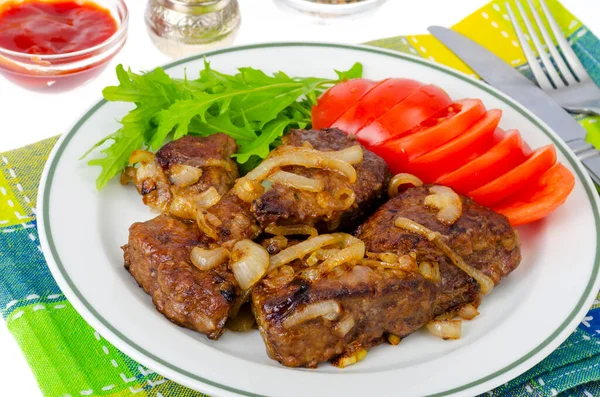 Fried liver, served as an appetizer, is often on the menu in Spain and the Arab East.
4 tablespoons olive oil
1-pound fresh beef, calf, or lamb liver, cut into ½-inch cubes
4 cloves garlic, crushed
1/2 small hot pepper, seeded and very finely chopped
3 tablespoons finely chopped parsley
1 teaspoon salt
1/2 teaspoon black pepper
1/4 teaspoon allspice
Heat oil in a frying pan, then sauté liver over medium heat until it just begins to brown.
In the meantime, thoroughly mix remaining ingredients, then pour over liver and stir-fry for about 2 minutes. Serve hot.
Pickled Eggplant – Berenjena en Escabeche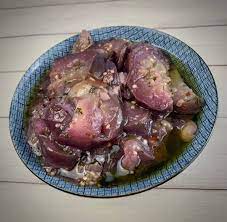 Found at bars and fairs, in southern Spain this dish is still prepared according to an old Arab recipe.
1 pound very small eggplants, about finger-length long, with stems trimmed
4 cloves garlic, crushed
4 tablespoons olive oil
1 1/2 teaspoon salt
1 teaspoon cumin
1/2 teaspoon black pepper
1/4 teaspoon chili powder
1/2 cup vinegar
water
Place eggplants in a pot and cover with water then bring to boil. Cover and cook over medium heat for 5 minutes then drain and allow to cool.
Place in a glass or Pyrex vessel, then combine remaining ingredients, except water. Pour over the eggplants then add water to cover and seal.
Allow to stand for 3 days before serving.
White Garlic Soup – Sopa de Ajo Blanco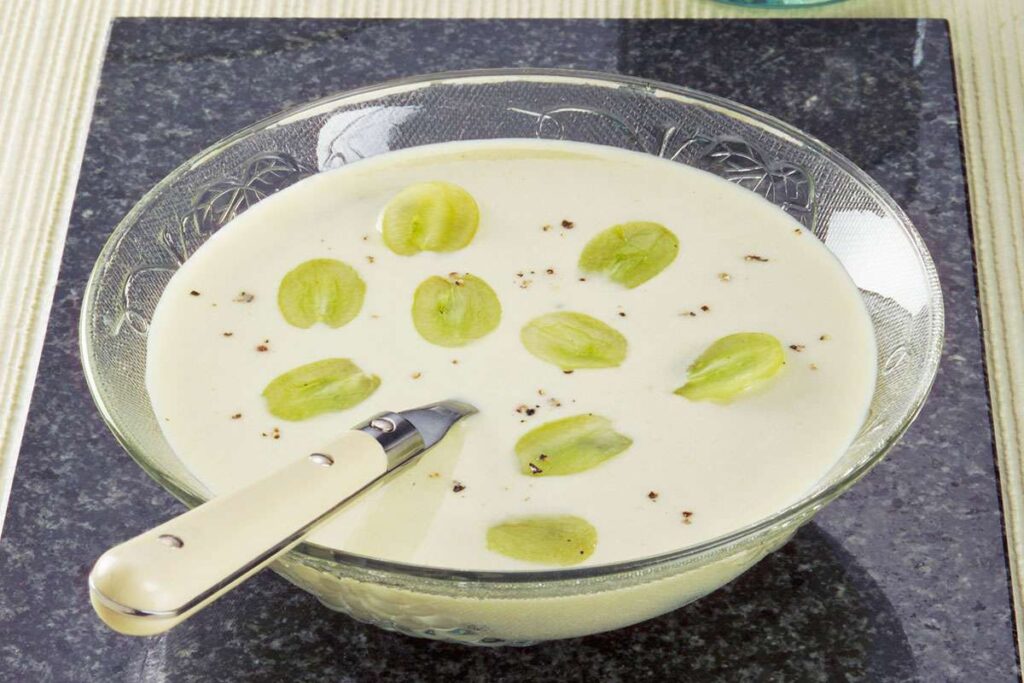 Serves about 6
Some food historians consider this soup, typical of Malaga, to be possibly the original Moorish version of gazpacho.
1/4 loaf white bread, crust removed
3/4 cup blanched pulverized almonds
6 cloves garlic, crushed
4 tablespoons olive oil
2 tablespoons vinegar
1 teaspoon salt
5 cups water
3/4 lb seedless white grapes
Place bread in a bowl then cover with water. Allow to stand for 2 minutes then with hands, squeeze the water out. Place the squeezed bread and the remaining ingredients, except the grapes, in a food processor, then process for a minute. Transfer to a serving bowl, then cover and refrigerate for at least 12 hours. Stir, then garnish with the grapes and serve.
Butter Cookies – Polvorones a la Andaluza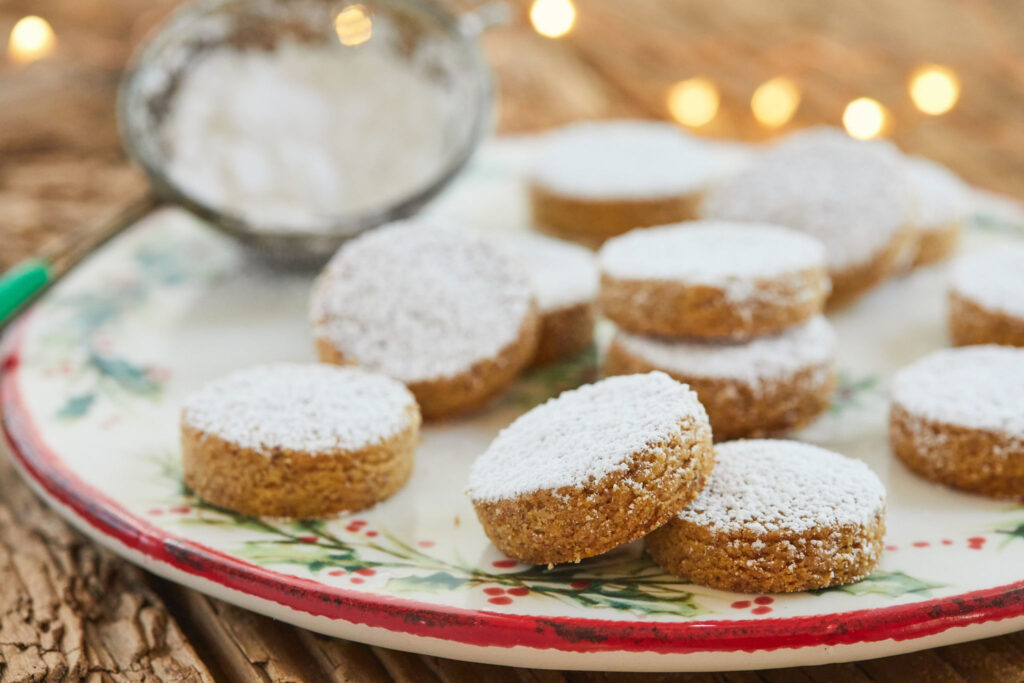 Makes about 36 cookies
In the Middle East, a similar type of cookie called ghrayba is a common pastry.
1 1/4 cups melted butter
2 egg yolks
1 tablespoon rose-water
2 1/2 cups flour
1 cup granulated sugar
1/2 teaspoon salt
1/2 teaspoon cinnamon
1/3 cup icing sugar
In a mixing bowl, place butter, egg yolks and rosewater, then beat for a few moments. Add flour, granulated sugar, salt, and cinnamon, then combine thoroughly to make a dough.
Roll dough into walnut size balls, then place on an ungreased cookie tray and pat down to 1/2-inch thickness.
Bake in a 300ºF preheated oven for 30 minutes or until cookies begin to brown on the bottom, then remove from oven and allow to cool.
When cookies are cool sprinkle with icing sugar, then serve or store in a tightly covered container.