"The Prophet", by Lebanese-American Poet-Philosopher Kahlil Gibran, Celebrates its 100th Anniversary on September 23, 2023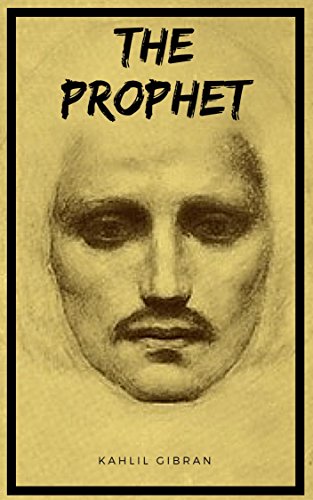 Photo Credits: Kindle
By: Joanna Sawtari / Arab America Contributing Writer
The Profound Impact
On September 23, 1923, the world welcomed a literary gem as Gibran Kahlil Gibran, the celebrated Lebanese writer and poet, unleashed "The Prophet" upon readers. This profound masterpiece has left an indelible mark on countless people worldwide, captivating hearts with its timeless themes and thought-provoking messages. As we celebrate its 100th anniversary, it becomes imperative to explore not only the impact of "The Prophet," but also Gibran's intentions that led to this extraordinary work. Through its exploration of countless prevalent topics, "The Prophet" has etched its place in the realm of literature. Join us in paying homage to Gibran as we embark on a journey to the enduring legacy of his masterwork.
Where It All Begun
Gibran's decision to write "The Prophet" stemmed from a confluence of factors including his personal experiences, philosophical beliefs, and a desire to share his wisdom with the world.
Throughout his life, Gibran had experienced various trials and tribulations, moving back and forth between the U.S. and Lebanon, surrounded by different cultures and religions. These experiences instilled a clear understanding of the human condition in him, as well as a deep empathy for the struggles and joys that shape our existence. Many argue that it was this empathy that drove him to express his insights and promote inclusivity and belonging through the medium of writing.
The Story
Set in the city of Orphalese, the story unfolds as Almustafa prepares to embark on a journey back to his homeland after residing there for twelve years.
As news of his imminent departure spreads, the townspeople gather around him, eager to seek his wisdom. Almustafa becomes their guide, sharing viewpoints on various aspects of life through a series of poetic and philosophical discourses.
Through Almustafa's teachings, readers delve into the depths of love, marriage, children, work, and other fundamental aspects of human existence. Almustafa's words resonate with readers as he highlights the transformative power of love and the significance of embracing both joy and sorrow.
Moreover, Almustafa imparts his wisdom regarding the pursuit of personal fulfillment and the purpose of work. He encourages individuals to find joy in their careers, viewing it as a means of self-expression and a contribution to the greater community.
As the story progresses, Almustafa continues discussing themes of freedom and death, offering unique perspectives on each. He encourages individuals to embrace their inner freedom, to be curious about the simplest things, and to view death as a natural part of our life cycle.
Upcoming Celebratory Events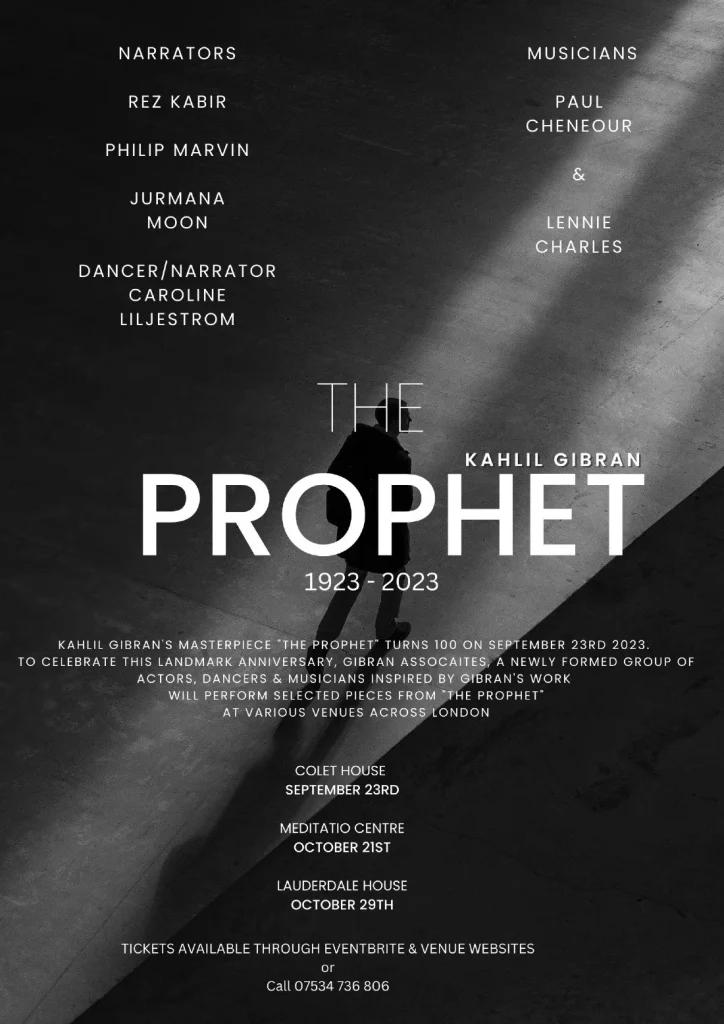 London Flyer / Photo Credits: The Prophet
An exhibit in SOHO, New York called "A Greater Beauty: The Drawings of Kahlil Gibran" honors another one of Gibran's talents: drawing. This exhibit encapsulates his drawing style in over 100 pieces around The Drawing Center.
Gibran is not only being honored within the U.S.. Frankly, even larger events are being hosted in London under the newly established "Gibran Associates." They are performing extracts from "The Prophet" at venues through September and October this year, turning his words into visual and tangible art.
Check out Arab America's blog here!