Arab America Foundation Announces Speakers and Performers for 4th Annual CONNECT Arab America: Empowerment Summit November 3-4, 2023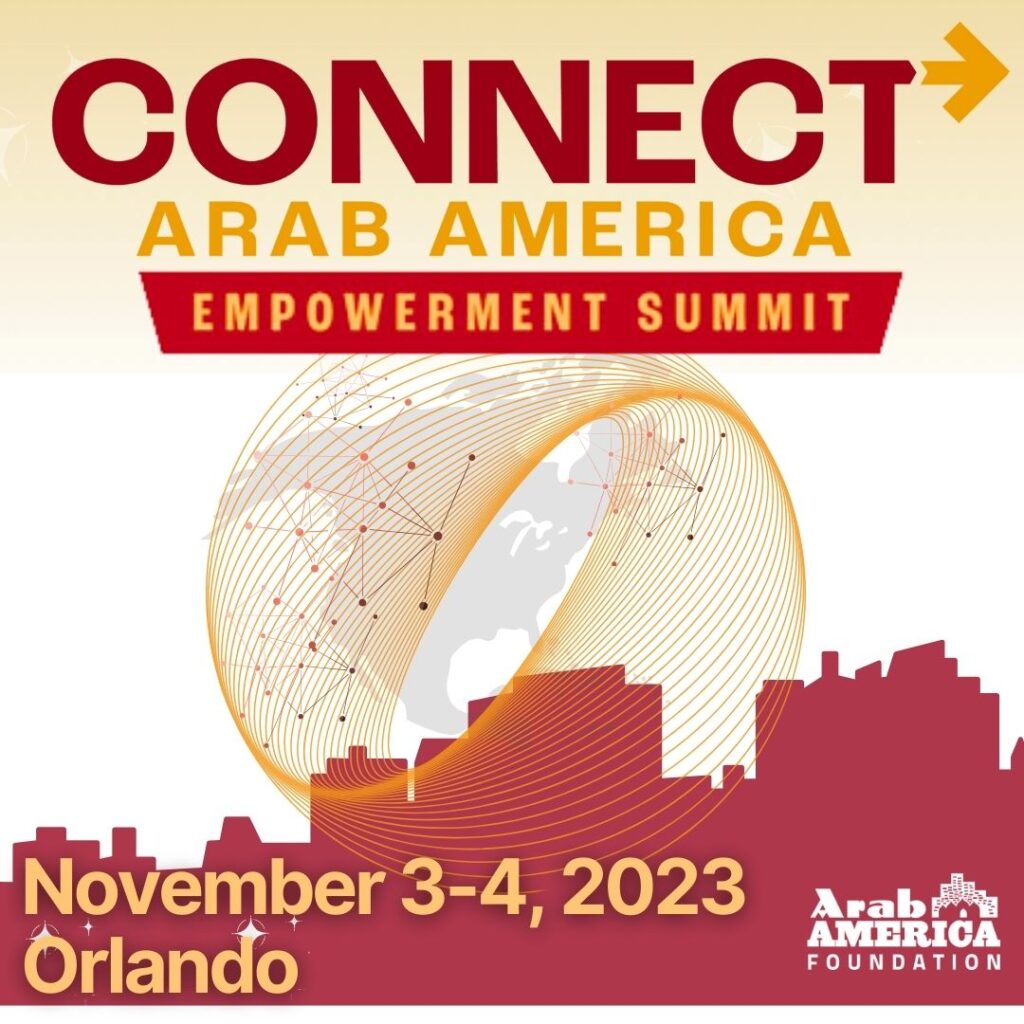 FOR IMMEDIATE RELEASE
(WASHINGTON, D.C., October 11, 2023) The Arab America Foundation is excited to announce its speakers for the CONNECT Arab America: Empowerment Summit on Saturday evening, November 4, 2023, at the Doubletree by Hilton Orlando Hotel at SeaWorld.
This year, our program delves into conversations about Arab heritage, women's empowerment, leadership, and emotional well-being, enriched by captivating cultural performances," said Warren David, president of Arab America and co-founder of the Arab America Foundation. He went on to say, "Cultivating connections among us carries profound importance, fostering both professional growth and social bonds, allowing us to amplify our voices within our community and reverberate across the wider society.
The Arab America Foundation (AAF) is a non-profit (501c3) educational and cultural organization. The mission of AAF is to promote the Arab heritage, empower and educate others about the Arab identity, connect Arab Americans, and build coalitions with diverse organizations across the U.S.
Meet the Speakers and Performers to Date (more to be announced):
Dr. Adel Korkor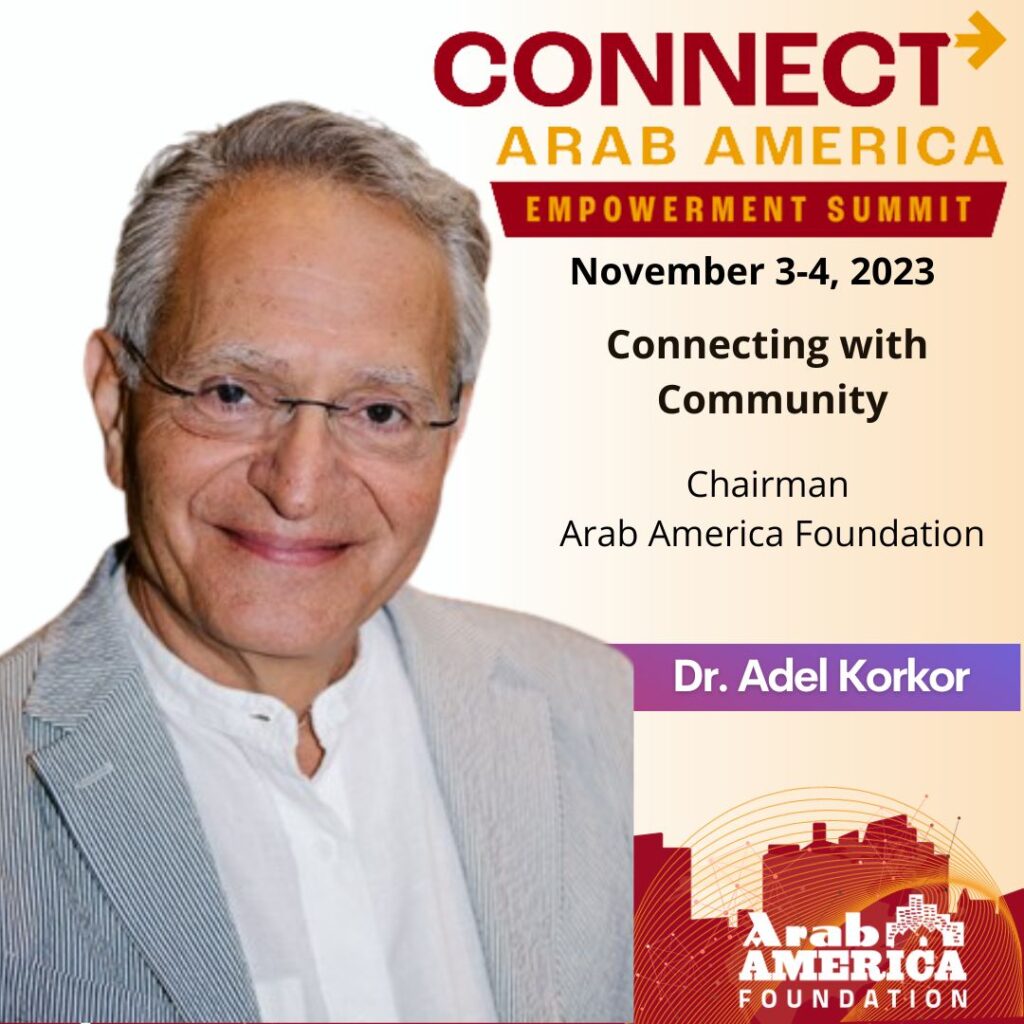 Dr. Korkor established or played a key role in expanding numerous healthcare companies. Several have gone on to either be acquired or go public. He owns five patents, all related to medical devices and two are already in the marketplace. His interest has always been in the area of improving existing medical technology and making medical devices safer for patients. In 2017, he sold Purity dialysis centers to Davita Inc., a publicly traded company, and stepped down from his clinical practice to dedicate much of his time, energy, and resources to the needs of patients who are suffering from mental illness. He believed in the power of physical health in mental health. To enforce such a role, he organized and ran 5K in all 50 states in 50 days both in 2018 and this year. In addition, his foundation has been promoting, early detection and treatment of mental illness and improving access to services as the key to addressing the mental healthcare crises we are experiencing. Dr Korkor is an Arab American. He was born in Lattakia, Syria and despite over thirty years of being a US citizen, has remained engaged with the Arab American community in the United States of America. He has provided, in addition to financially supporting many established organizations involved with the Arab American cause, much leadership for the purpose of uniting Arab Voices in the face of numerous religious and ethnic challenges confronting the Arab community in the
Warren David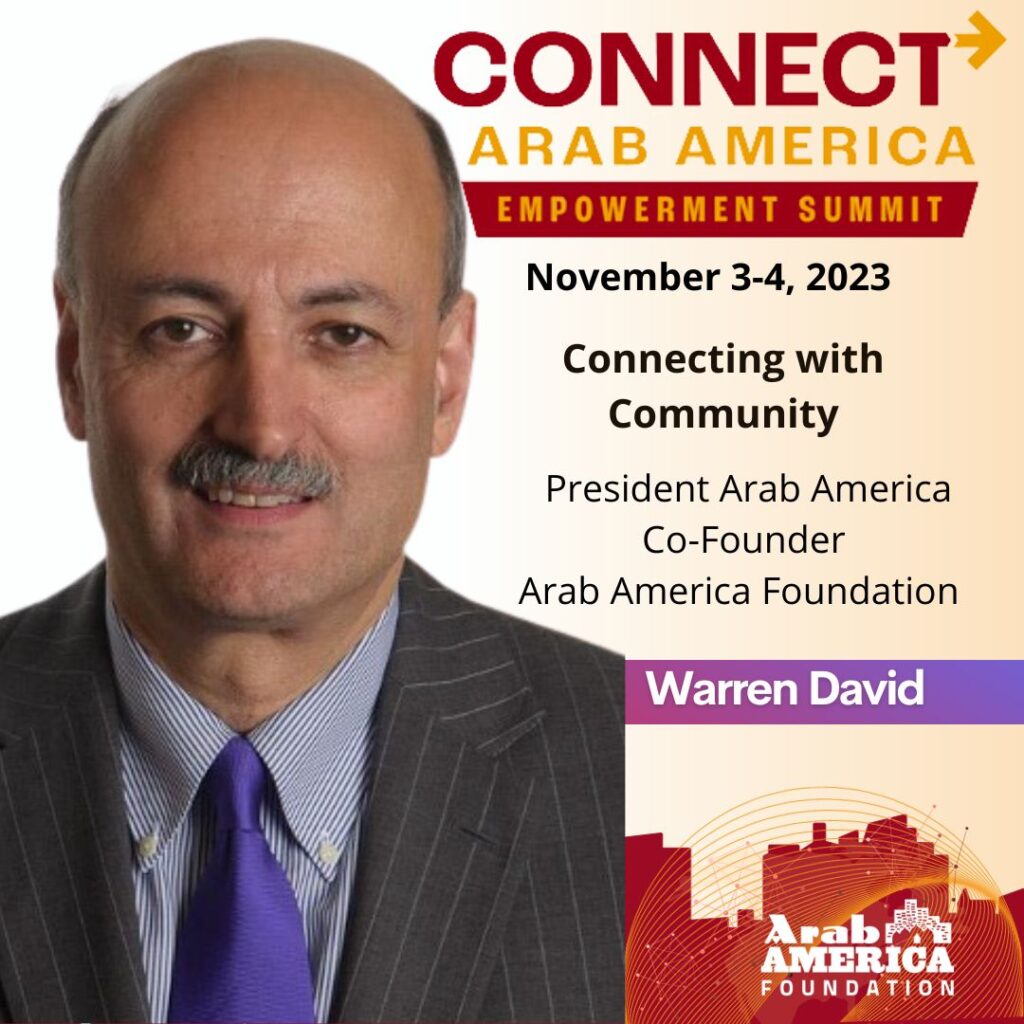 Warren David is the president of Arab America (www.arabamerica.com) a national media organization founded with the purpose of promoting an accurate image of the Arab American community and identity through several digital media platforms which include: an online website; Arab America E-News; and several social media platforms. He is a co-founder of the Arab America Foundation, a non-profit that promotes the Arab heritage and empowers Arab Americans in the U.S. He is the former national president of the American-Arab Anti-Discrimination Committee in Washington, D.C., and was executive producer of the nationally acclaimed public television series, "Arab American Stories." A third-generation Arab American of Syrian and Lebanese heritage, he has invested his time and personal resources to document and tell the story of the Arab American experience.
Dr. Amal David
Dr. Amal Khalil David is Director of Operations and Outreach at Arab America (www.arabamerica.com) and co-founder and board member of the Arab America Foundation, where she currently leads a grass-roots network of Arab heritage teams across the country. A Palestinian born in Nazareth, she earned her Ph.D. in Communication with an emphasis in multicultural education. She has over 35 years of experience in bilingual education as an administrator in Detroit Public schools and as an adjunct professor teaching at college levels. Additionally, she was a producer and a host of several radio programs in Detroit. In Washington DC, she created and developed the largest grass-roots Arab American women's initiative in the U.S. Her participation as a community leader and advocate portrays a positive image of Arab American women.
Bassel Abdallah
Bassel M. Abdallah is Ohio co-team leader of Arab America Foundation. He lives in Ohio with his wife Sahar and his 3 children Samar, Maher and Yara. Bassel holds a PhD in law from the Lebanese University. He graduated from the Lebanese University- Filière Francophone de Droit, with a Bachelor of Laws and was admitted into practice in Lebanon. He furthered his legal education at Paris II Panthéon-Assas University in Paris, France, earning an LLM in Business Law. He immigrated to the United States, which piqued his interest in immigration law. He attended Case Western Reserve University in Cleveland, Ohio, graduating with honors with a Master of Laws in U.S. and Global Legal Studies. Bassel is the General Counsel and Director of Corporate Strategy at Progressive Expert Consulting. He is the founder and managing partner of Abdallah Immigration Law.
Mona Abdulla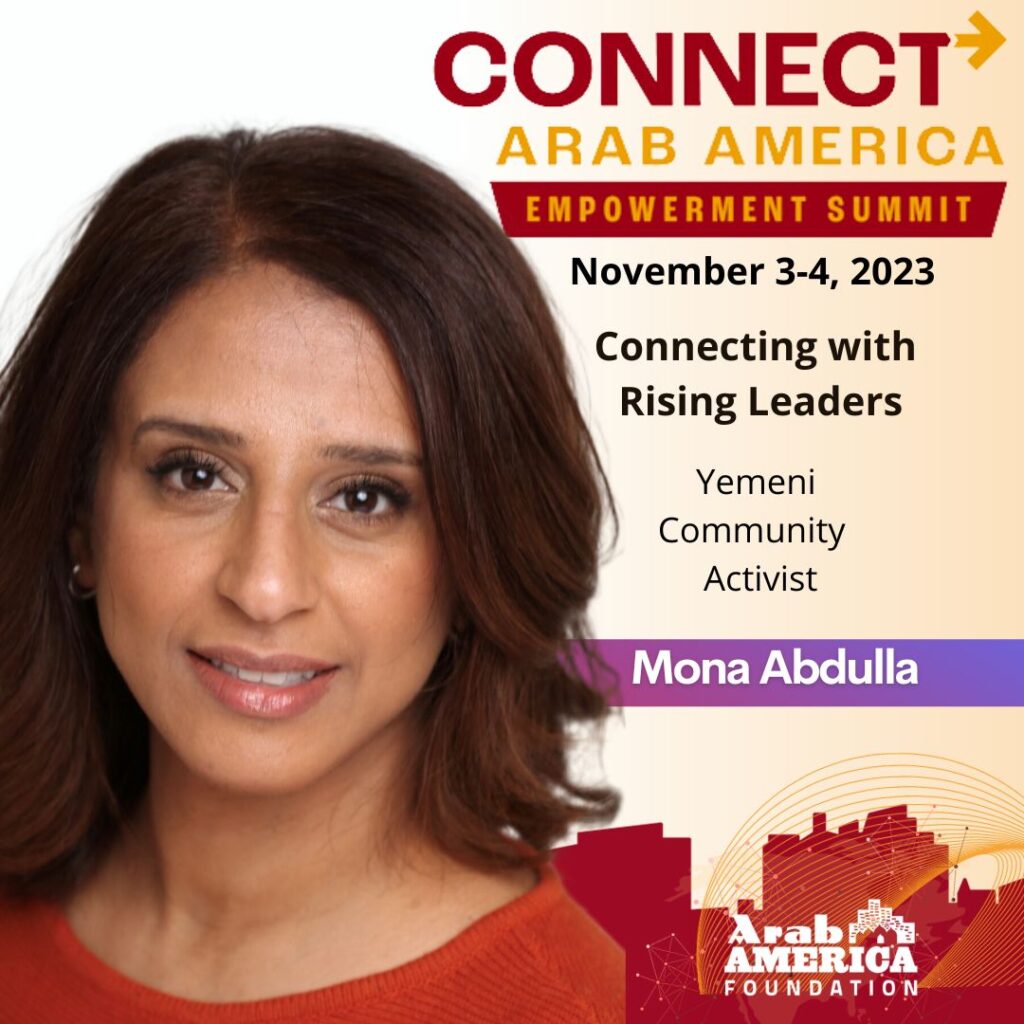 Mona Abdulla is the mother of two boys and the daughter of Yemeni-American immigrant parents. She was born and raised in Buffalo, NY, and is currently the Co-Director of a nonprofit. Mona received her Master's degree in College Student Affairs from Buffalo State. She also serves as a Board Trustee for Lackawanna City Schools and loves working for the public. When Mona was a child, she remembers how fun it was to grow up with two cultures. Because of this, she feels she can easily connect with people from various backgrounds. Being able to view the world from different perspectives has given her the passion to be the voice for Arab Americans, women, and minorities. Mona hopes to use this insight to speak out against injustices and to demand change. She would also like to empower women through her work.
Farah Abu Adeela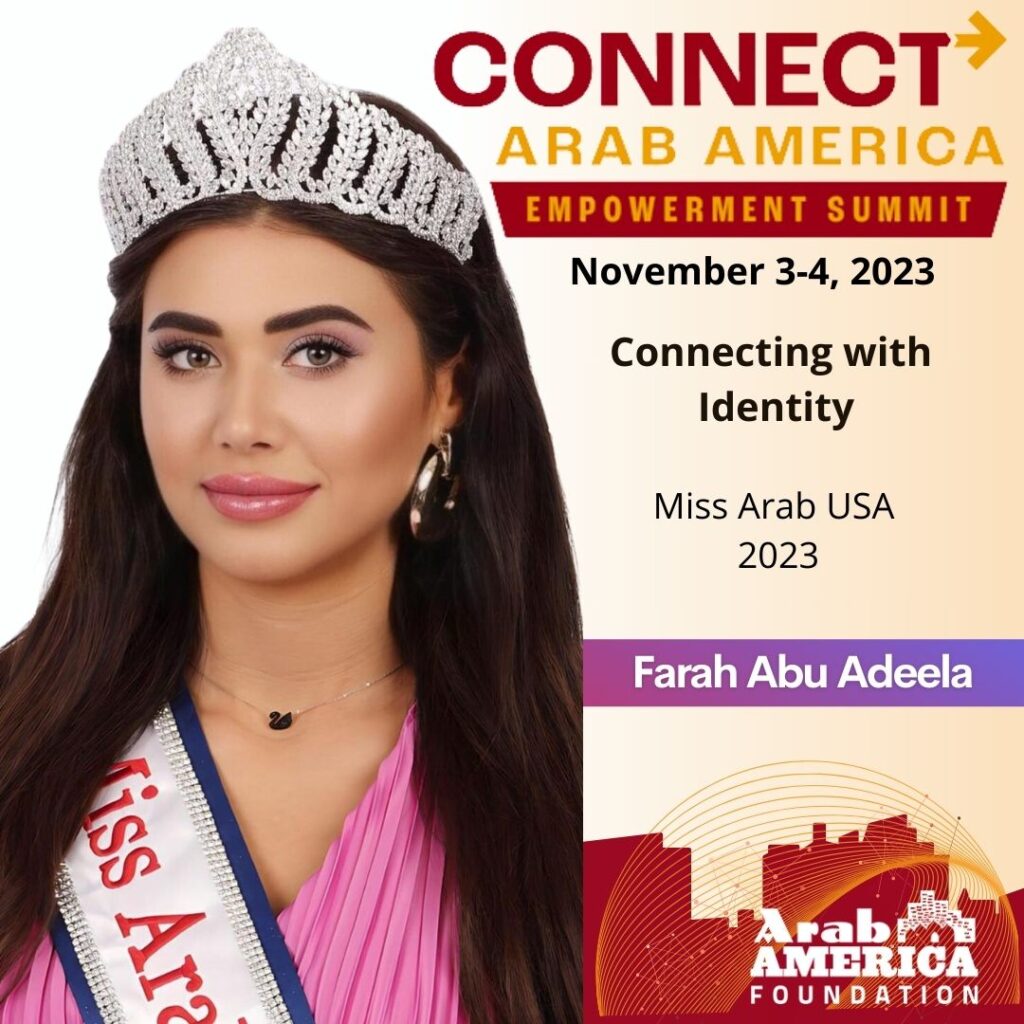 Farah Abu Adeela, a Jordanian immigrant from Chicago IL, was crowned MISS ARAB USA on July 15th, 2023. Farah was born in Jordan to a middle-class family who was going through a rough financial situation when she came to life, she grew up knowing that she was responsible for getting whatever she wanted without help. Farah never knew what impossible meant, she was always a giver even when she had nothing to give, she is stubborn and will create something big out of nothing. Farah was always on the honor board in school just for her polite behavior, and she was a volunteer with the "We Are Jordan Organization" which is a youth organization in Jordan that does community charity. Farah is an athlete who was a member of the sports team in school and joined the cycling national team in Jordan for 5 years as well as the boxing national team for 3 years. Farah became a model when she was 16 as she walked for big brands of national and international designers. She graduated high school with no chance of college because of her financial situation so she became a flight attendant with a big commercial airline to be able to see the world and to get a chance to go to school. Farah graduated from Petra University in Jordan with a bachelor of Translation (English-Arabic). She was promoted to a private jet flight attendant with a Saudi corporation in 2021 and during the pandemic, Farah decided to move to the USA and worked as a leasing agent and a translator while she was getting classes in health care management. Currently, she is a manager with a health corporation in Chicago. Farah has a career that she loves now and she still joins big fashion shows, she is still an athlete who doesn't skip the gym, and although she knows that she achieved a lot so far compared to where she started, she still believes that this is just the beginning.
Sara Shouhayib Alawar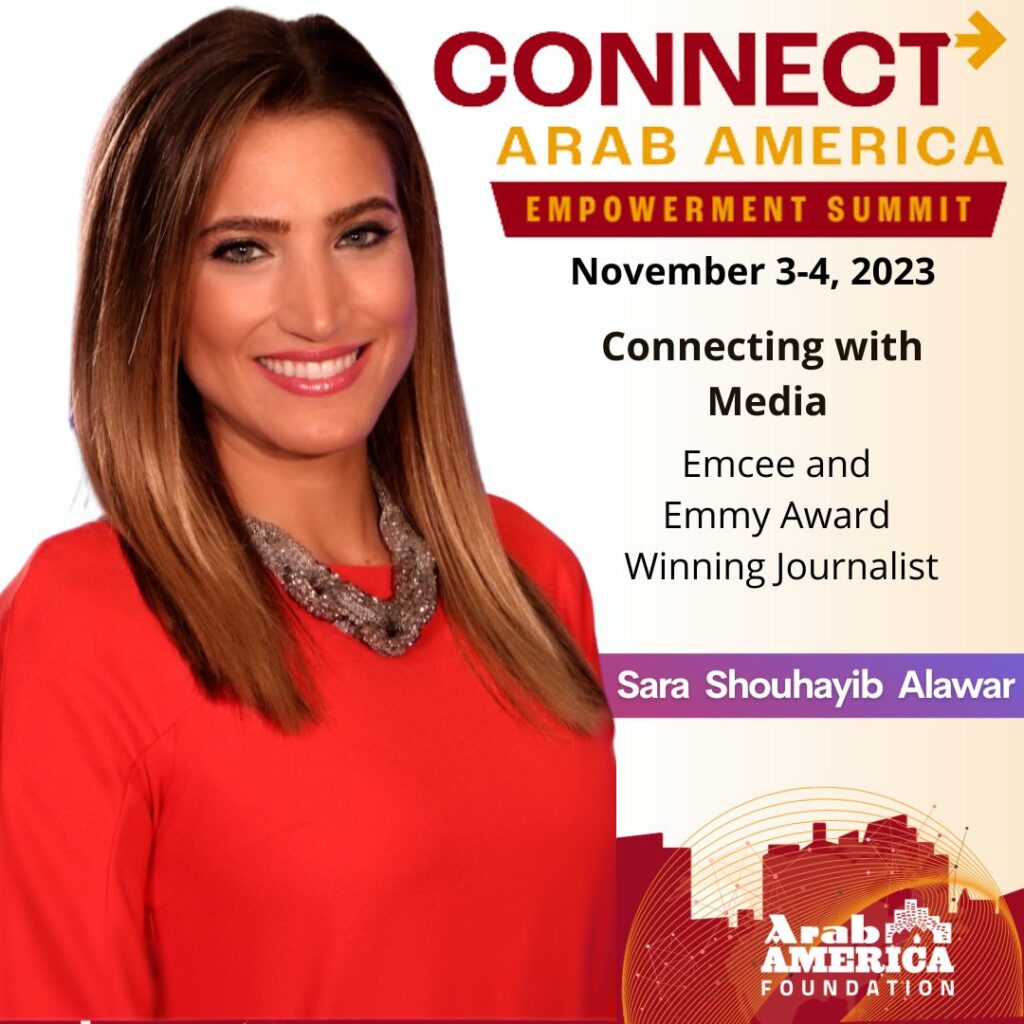 Sara Shouhayib Alawar is the founder and owner of Capital Emcee, specializing in emcee, voice-over, and on-camera services. Sara has emceed over 30 events across the United States, including in Michigan, Ohio, California, Texas, and Washington D.C. She's a former television news anchor and reporter and an Emmy and Golden Mic Award-winning journalist. She's currently based in Houston, TX but was born and raised in the metro-Detroit area of Michigan. She graduated from the University of Michigan in 2013, where she studied Communications and Spanish with a minor in Environmental Science. She also received an M.S from the Medill School of Journalism at Northwestern University in 2015. She's a proud daughter of Lebanese immigrants and is passionate about causes and initiatives that give back to Lebanon and the Arab world.
Stefan Ateek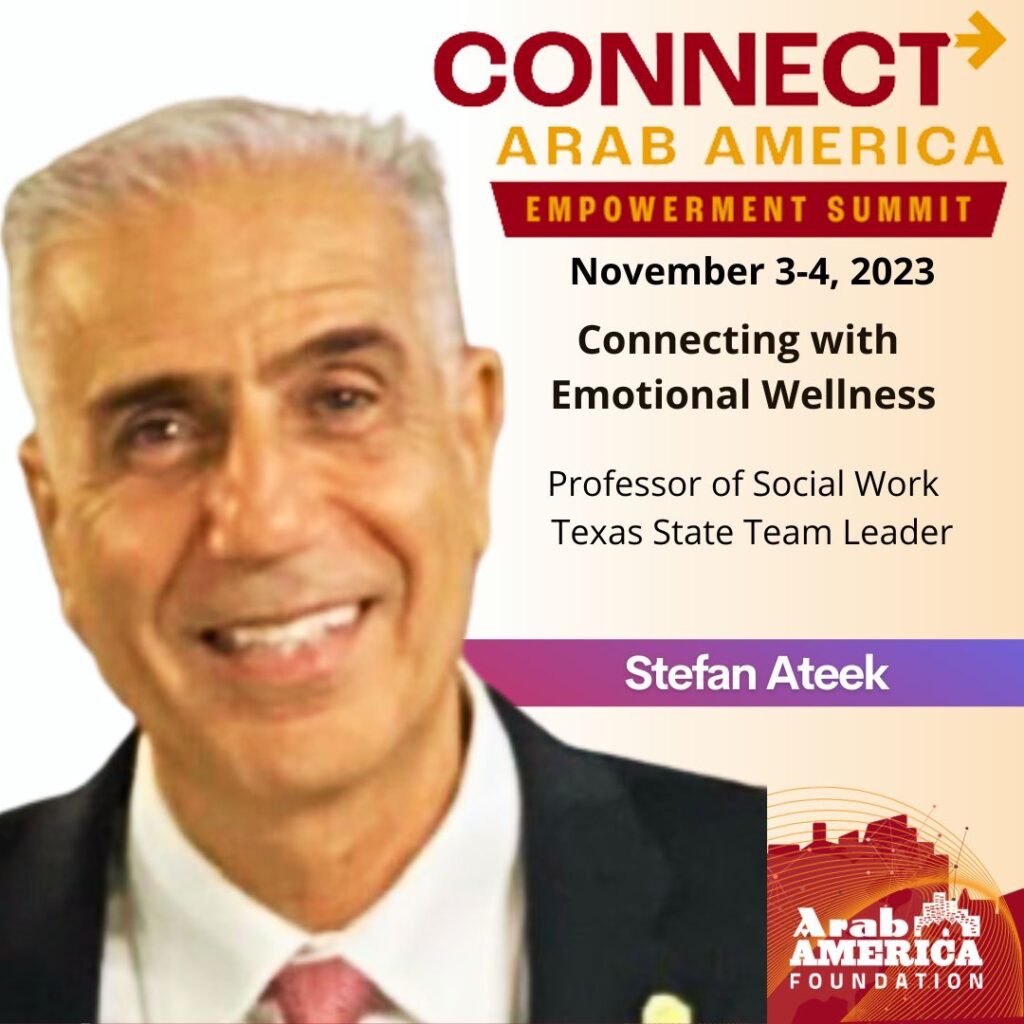 Stefan Ateek is a Professor of Social Work employed at Collins College and formerly at the University of Texas. Stefan has more than 30 years of experience developing and operating specialized programs in the area of criminal justice. He was born in Nazareth where he visits frequently and maintains numerous family and professional contacts. Stefan is the Arab America Foundation Team Texas Leader. In addition to serving on the NPI Board, Stefan is a Nazareth Hospital Ambassador in the US. He has numerous organizational involvements including Health Outreach to the Middle East, Arab American Friends of Nazareth, and Mariam Foundation. Stefan has received numerous awards related to his board and community involvements including the "Christ Like Award" from Health Outreach to the Middle East, the Trailblazer Award from the Arab America Foundation, and a special recognition as "Advisor of Probation in Texas" from Texas senator, Mike Moncrief while acting Governor for a Day. Stefan has obtained funding from foundations including Amon G. Carter, Simmon's Family, and Sid Richardson Foundations.
Dr. Shatha Atiya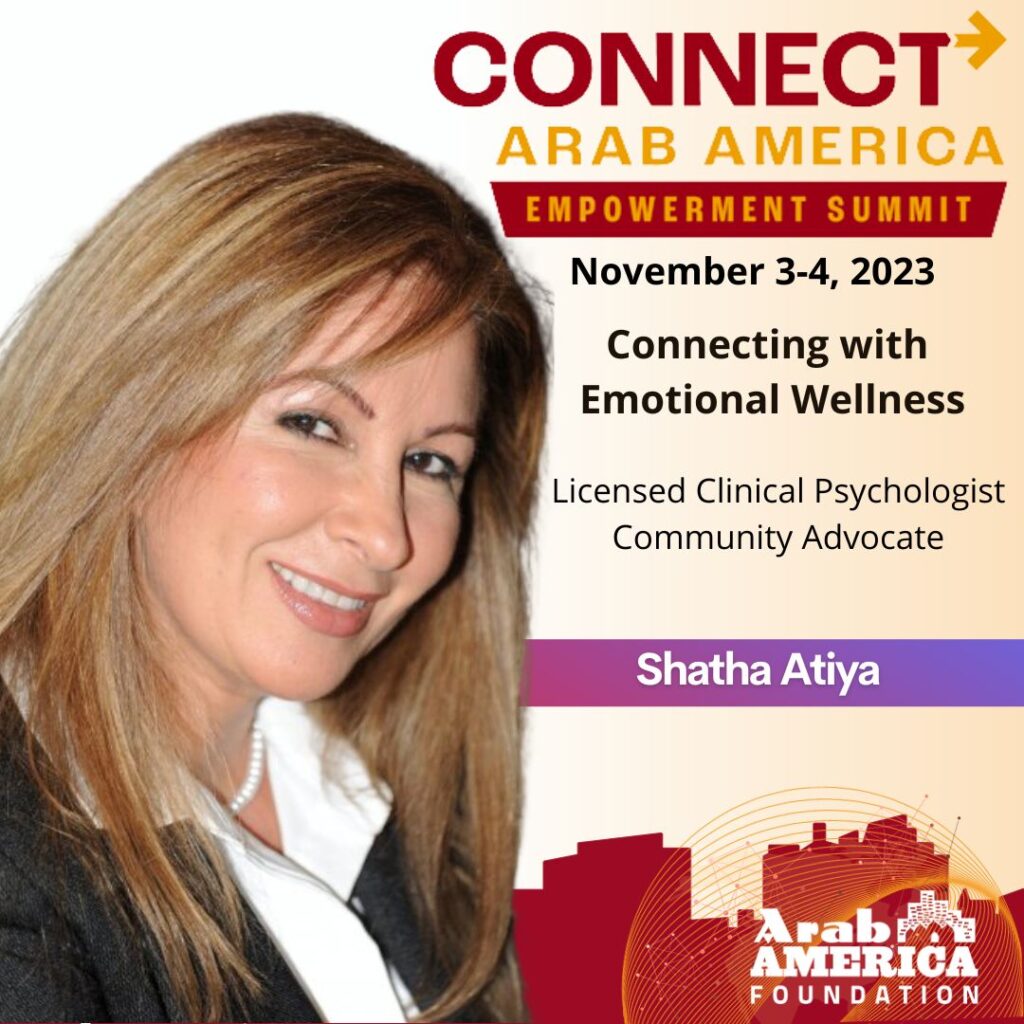 Dr. Shatha Atiya is a licensed clinical and forensic psychologist based in Ft. Lauderdale, FL. She is also a forensic examiner for both the Broward and Miami Dade Circuit County Courts and on the ADC National Board.
Omar Baddar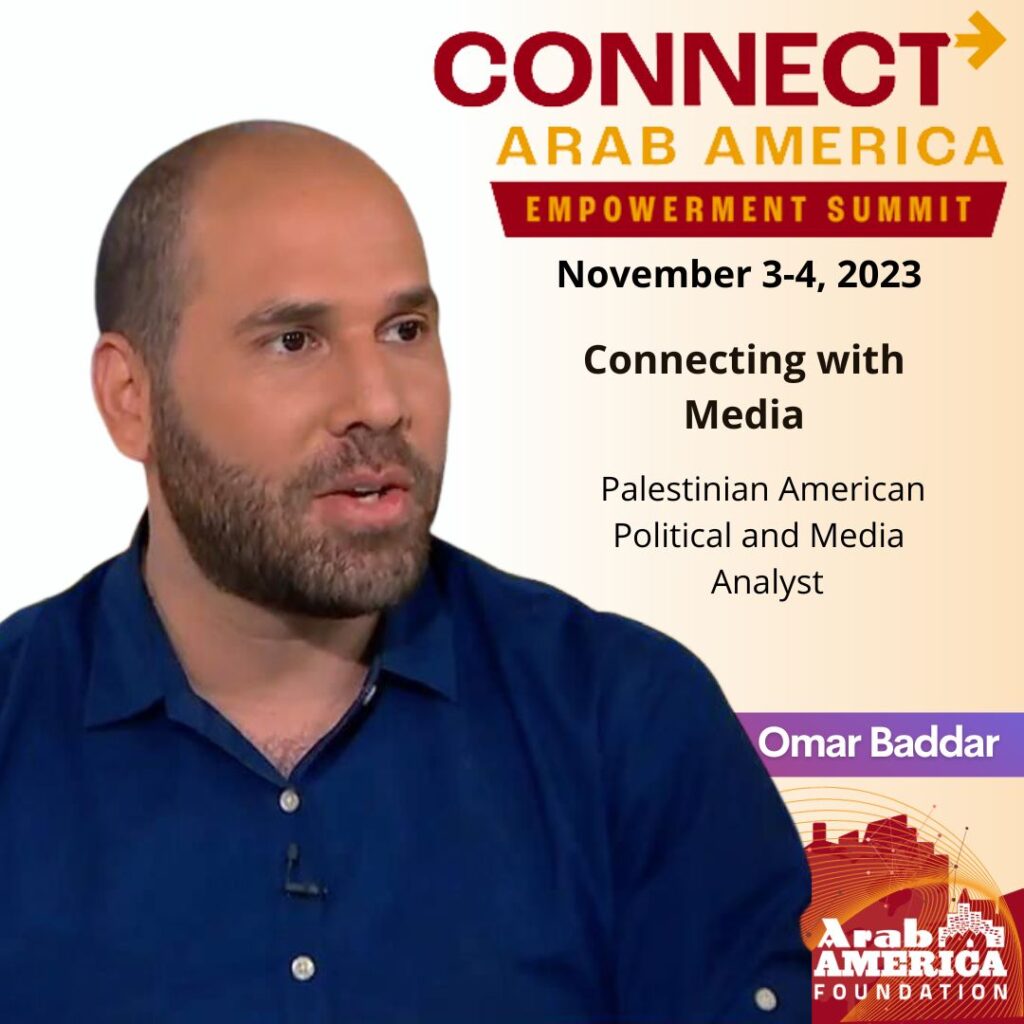 Omar Baddar is a Palestinian American political analyst based in Washington, DC. His academic research and extensive communications and advocacy work has focused on US policy towards the Palestinian-Israeli conflict. His media appearances include CNN, MSNBC, BBC, Al-Jazeera, Sky News, Voice of America, and other outlets, and his writings have appeared in Salon, Newsweek, Huffpost, the Daily Beast, and Jadaliyya, among other platforms.
Maria Banou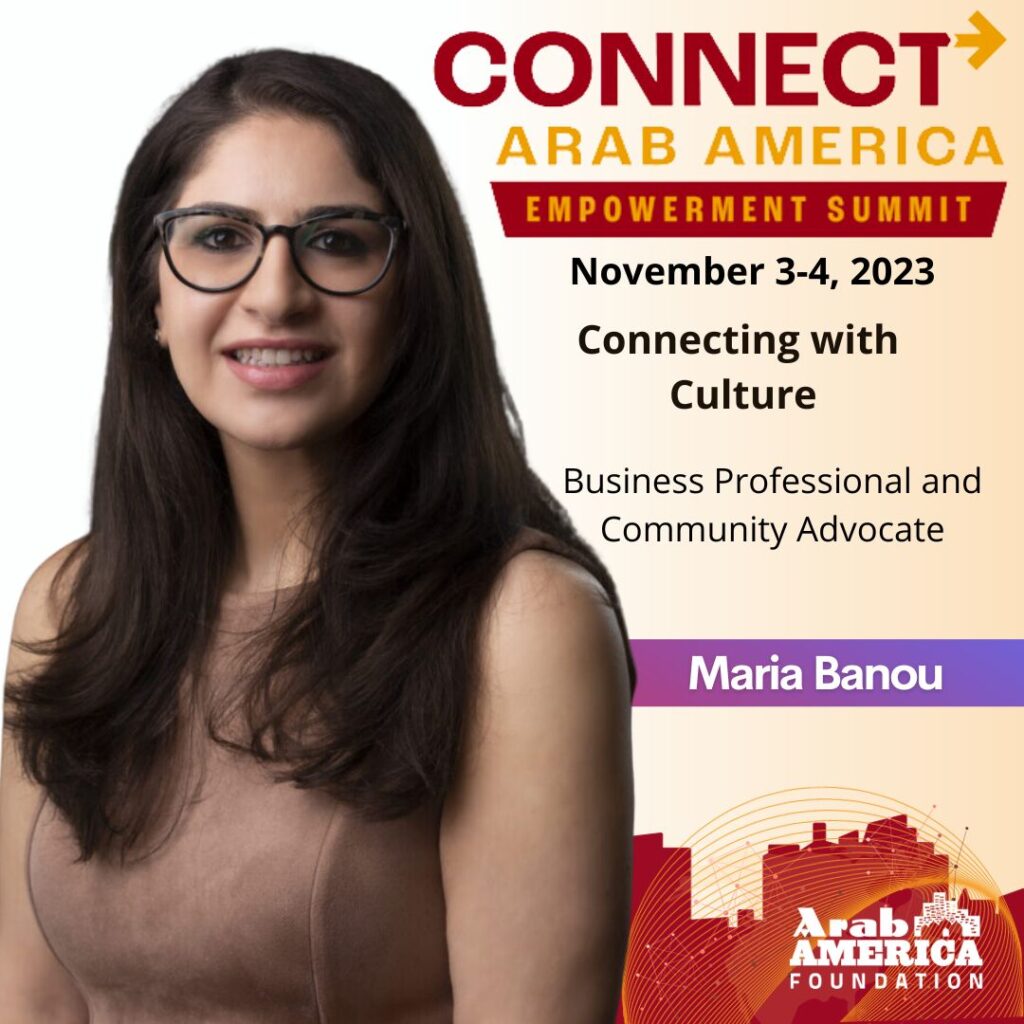 Maria Banou is a first-generation Iraqi-American accounting professional hailing from Metro Detroit, Michigan and soon to be residing in Chicago, Illinois. She has been championing the Arab American Foundation's strategic objectives since Spring 2021 and is a part of Arab America's 30 Under 30 Class of 2022. She served as Co-State Team Leader with Nabeleh Ghareeb for the State of Michigan from January 2022 to June 2023. Maria is a Senior Accounting Advisory Consultant for Deloitte, a leading global professional services firm. At Deloitte, she helps Fortune 500 companies identify technologies that enable automation and promote efficiency within their accounting and finance organizations. Outside of client work, Maria is an active contributor to Deloitte's growing MENA & Allies DE&I Community objective of creating a positive impact on the broader MENA community through collaboration with external non-governmental organizations. Ms. Banou also serves as the Treasurer of the Board of Directors at Hope House Detroit, a non-profit that offers after-school programming for children residing in inner-city Detroit. She has been providing her accounting expertise to the organization since 2015, along with volunteering with their girls' empowerment program.
Dr. Issa Batarseh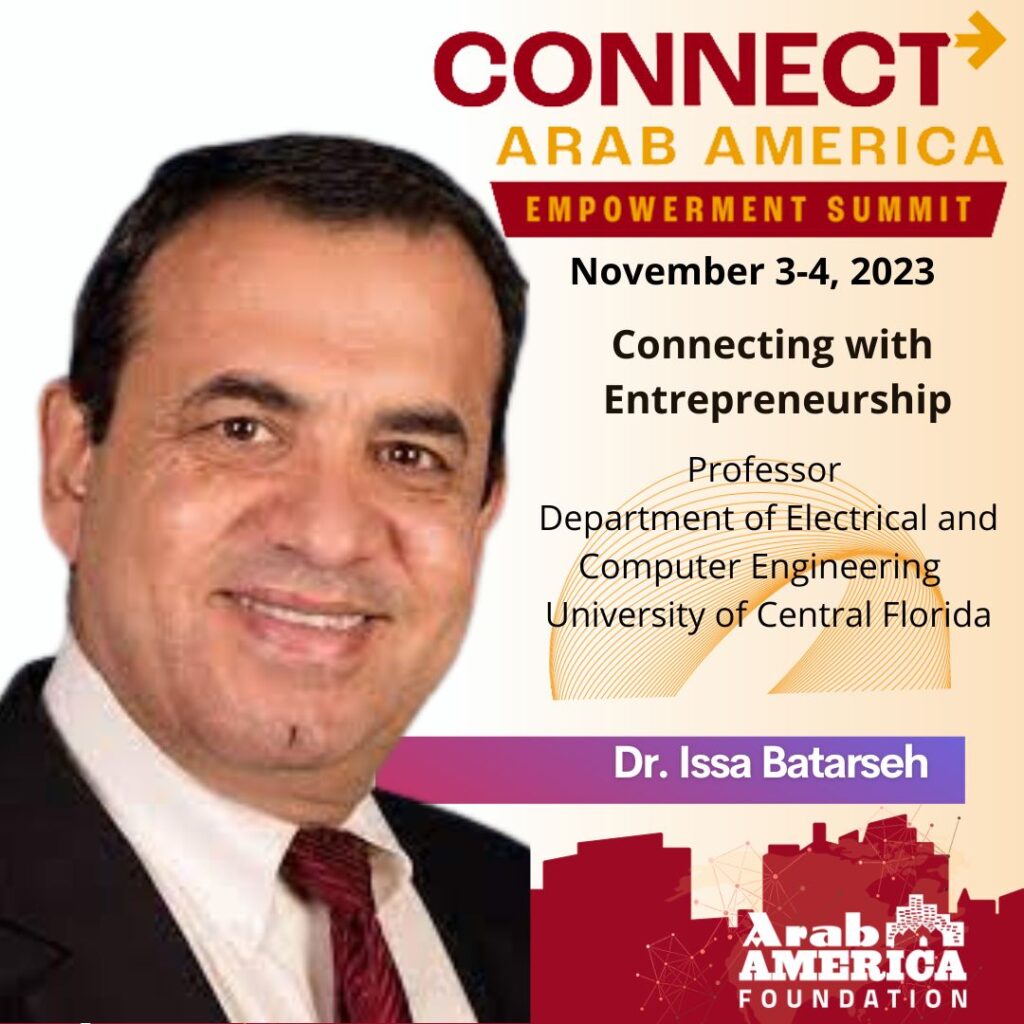 Issa Batarseh is the Director of the Energy System Integration Division at the Florida Solar Energy Center (FSEC) and professor of electrical and computer engineering at the University of Central Florida (UCF), in Orlando. Batarseh is being recognized for inventing and developing low-cost, high-efficiency micro-inverters for photovoltaic (PV) applications that led to the creation of the first compact single solar PV panel. The technology developed by Dr. Batarseh and his team at UCF has made significant contributions in smart solar energy conversion. As a passionate entrepreneur and innovator, Batarseh co-founded two successful solar-focused start-up companies: Petra Systems and Advanced Power Electronics Corp. (APECOR), both of which are now operating nationally and internationally. Petra Systems launched in 2007, by licensing Batarseh's patents from UCF. Today, Petra designed and manufactured the first smart-grid interactive solar power system for installation on utility distribution poles. And, the Florida-based APECOR is a leading designer of solar chargers for military applications. Batarseh is a Fellow of the National Academy of Inventors, AAAS, and IEEE, and holds 31 U.S. patents.
Joy Batteh-Freiha
Joy Batteh-Freiha is a Jacksonville, Florida native and a first-generation Palestinian American. A lifelong member of the Ramallah American Club of Jacksonville, she served as its president for three consecutive years and is currently serving her third, two-year term as a member of the Board of Directors. In addition, Joy is a Board Member At-Large for the American Federation of Ramallah Palestine and is a staunch advocate for Palestinian human rights. Joy has a Bachelor of Arts in Communications and a Minor in Classical Literature from the University of North Florida. She is a former editor of Jacksonville's daily newspaper, The Florida Times-Union, and has worked in communications for several healthcare associations throughout her career. Currently, she is the Assistant Director of Marketing and Content at the University of North Florida in Jacksonville.
Dr. Leslie Jameleh Cloud
Dr. Leslie Jameleh Cloud attended medical school at the Medical College of Georgia, followed by an internship, neurology residency, movement disorders fellowship, and a master's degree in clinical research at Emory University. She joined the faculty at The Parkinson's & Movement Disorders Center at Virginia Commonwealth University in 2011 and has served as Parkinson's Disease Program Director since 2013. Clinically, her focus is on the comprehensive clinical care of patients with Parkinson's Disease. On the research side, her expertise in the gastrointestinal aspects of PD and the use of wearables to analyze and treat freezing of gait and other motor symptoms in PD. She has received funding from the Michael J Fox Foundation and the National Institutes of Health for her investigator-initiated research, and she has been the site investigator on many industry trials.
Ameera David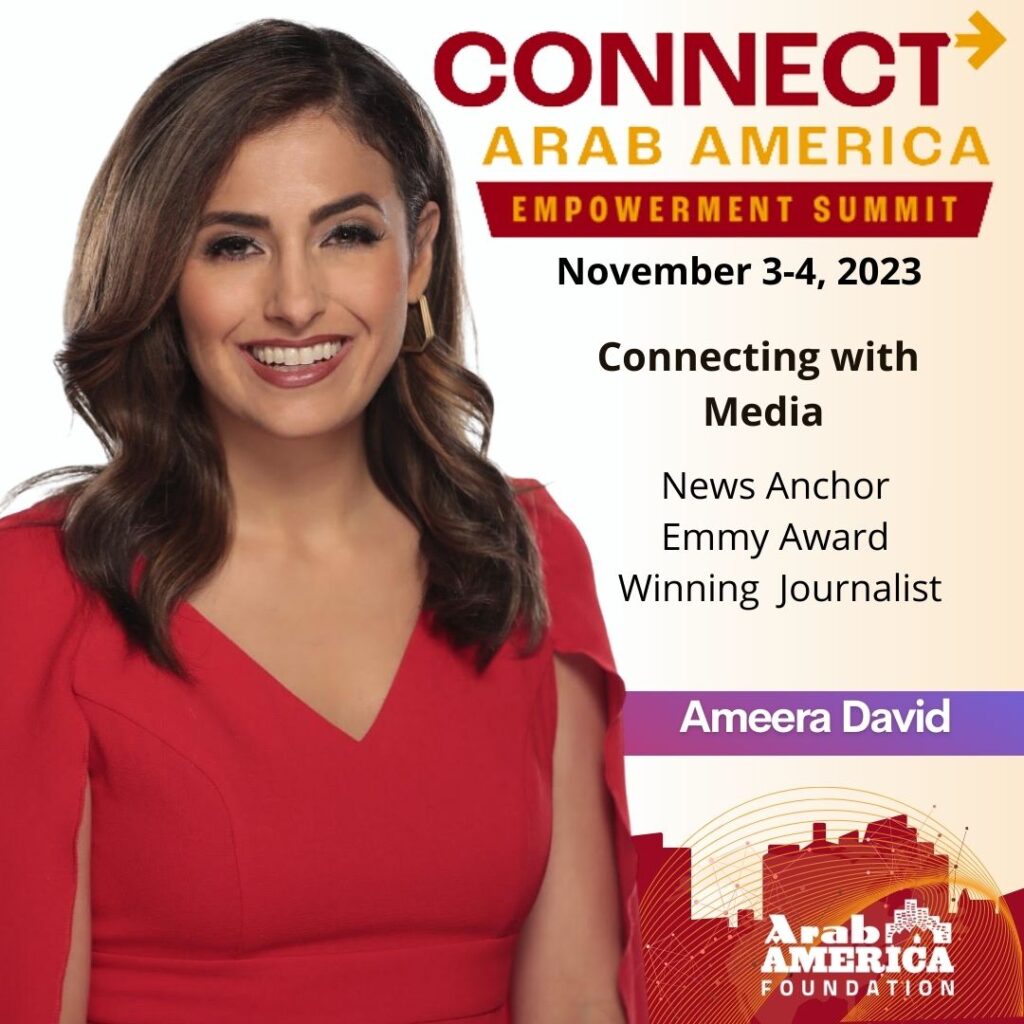 Ameera David is WXYZ's ABC 7 Detroit's weekend evening anchor and weekday reporter. She also leads flagship coverage of The Rebound Detroit Metro Detroiters, which covers the recovery from the damaging financial impacts of COVID. She brings resources and guidance for her career in TV journalism for NBC News's Washington, DC bureau. David took on numerous roles by working as a White House producer, assignment desk manager, and production assistant for Brian Williams and Chuck Todd. She is a native of Detroit, having grown up on the city's east side, attended Detroit Public Schools, and was deeply entrenched in the city's vibrant Arab American community as a young woman. Ameera is a graduate of the University of Michigan and has a Master's degree from Columbia University's Graduate School of Journalism in New York City. David was awarded in the 'Best Anchor' category by the New York Festivals World's Best TV & Films. When not reporting, she enjoys trying out new eateries in Metro Detroit, salsa dancing, traveling, and connecting with viewers via social media. Finally, she is the daughter of Warren and Dr. Amal David, the president and Co-Founders of Arab America and the Arab America Foundation.
Abe Diab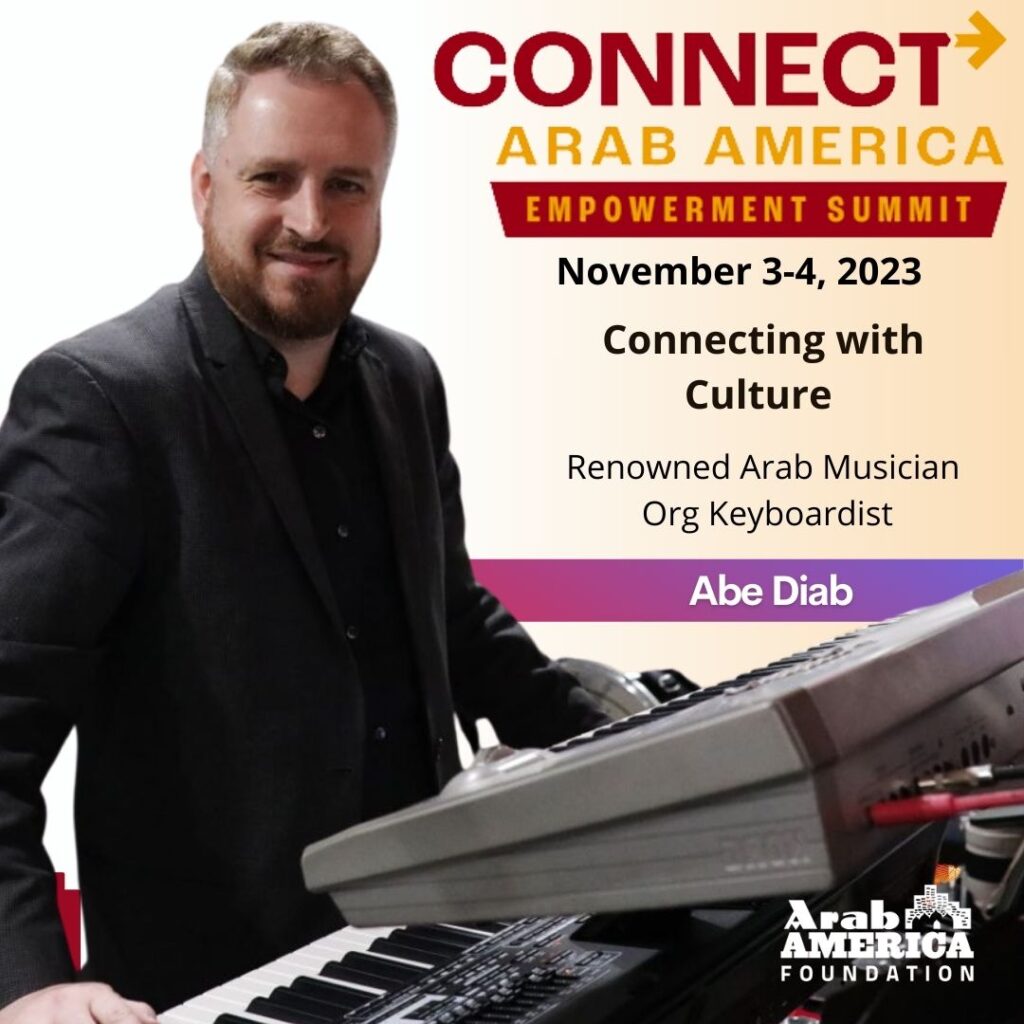 Abraham Diab was born on December 14th, 1974. He has been in music most of his life, since the age of 7. He was introduced to the Arab Org at the age of 13 by his late father, Abdallah Abbas, who was his teacher and who inspired him to follow his dreams. Di ab performs with local Arab ensembles at private weddings and parties. Additionally, he plays the Arab Accordion, performing with various orchestras. A keyboardist for over 30 years, and a percussion for 42 years, Diab is a proud Arab American musician excited to perform at this year's fourth annual CONNECT Arab America: Empowerment Summit.
Dr. Manal Fakhoury
Dr. Manal Fakhoury calls herself a personal development addict. Her friends call her the opportunity maker. Her passion intersects leadership with service. Manal is the Founder and CEO of Fakhoury Leadership International, where she coaches executives, mentors youth, and assists inmates in resetting their lives. Manal is a graduate of Leadership Ocala, Leadership Florida, a Distinguished Toastmaster, a member of the National Speakers Association, and serves on local and multiple national boards. She and her husband, Riadh, also are passionate about helping the community create legacy wealth with their investment vehicle, Vestech Partners.
Nabeleh Ghareeb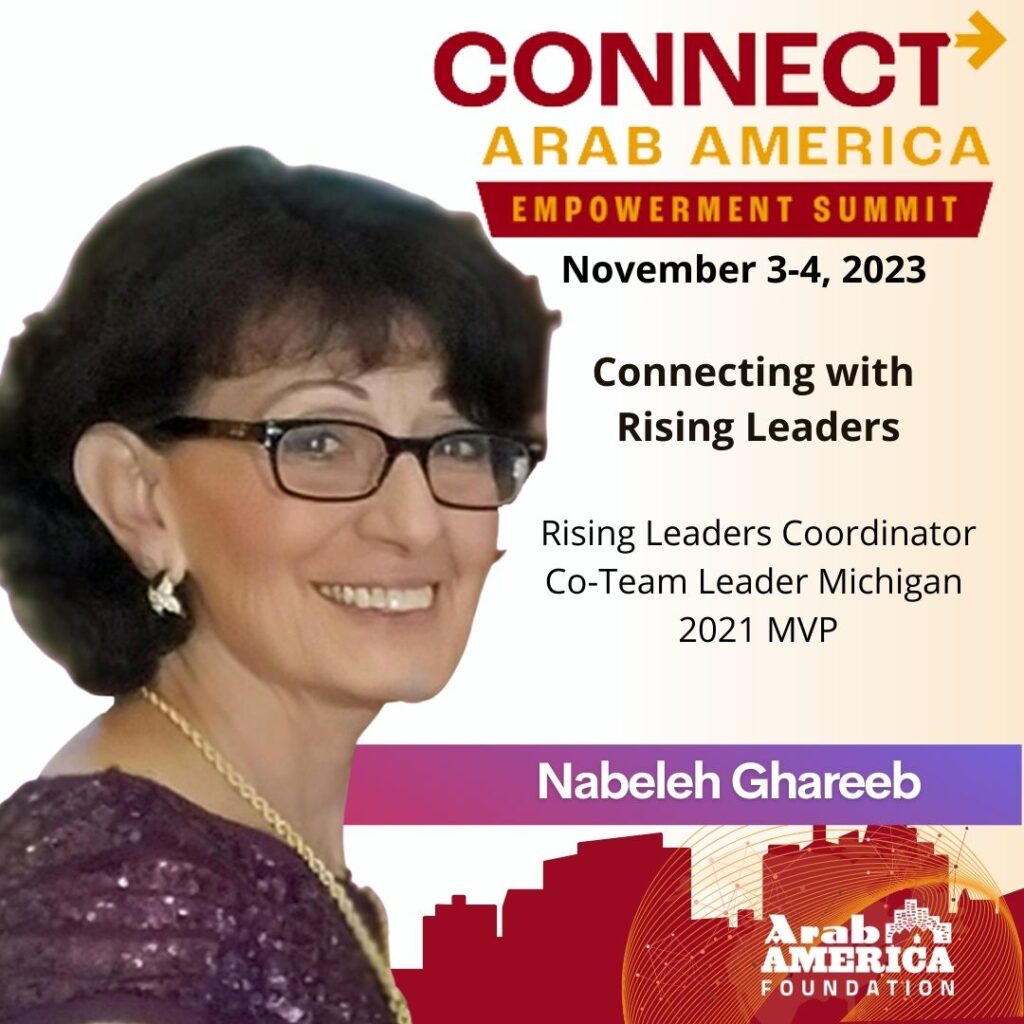 Nabeleh Kakish Ghareeb is a business consultant and project manager for multiple non-profit agencies in the city of Detroit. In her role, she leads and manages projects in a turnkey process, from strategic thoughts to creating state-of-the-art programs for non-profit agencies. Nabeleh served in various leadership roles in non-profit organizations and Higher education institutions. In her most recent roles as Chief Strategy and Administrative Officer at the Children Center of Wayne County and Associate Vice president of Business Operations at Wayne State University. In 2021 Nabeleh was appointed by Governor Gretchen Whitmer to the Commission on Middle Eastern American Affairs. Nabeleh volunteers with several organizations, such as the Arab America Foundation, where she co-coordinates a project that is dear to her heart, Recognizing Arab American Rising Leaders. Nabeleh is active with the Arab American Women Business Council, where she served two terms as President of the Council and is still involved with the Grant Committee. Nabeleh completed her undergraduate studies in Business Management at Wayne State University and her master's degree in education administration and Postgraduate at the University of Toledo. She is married to George Ghareeb.
Marwa Ghumrawi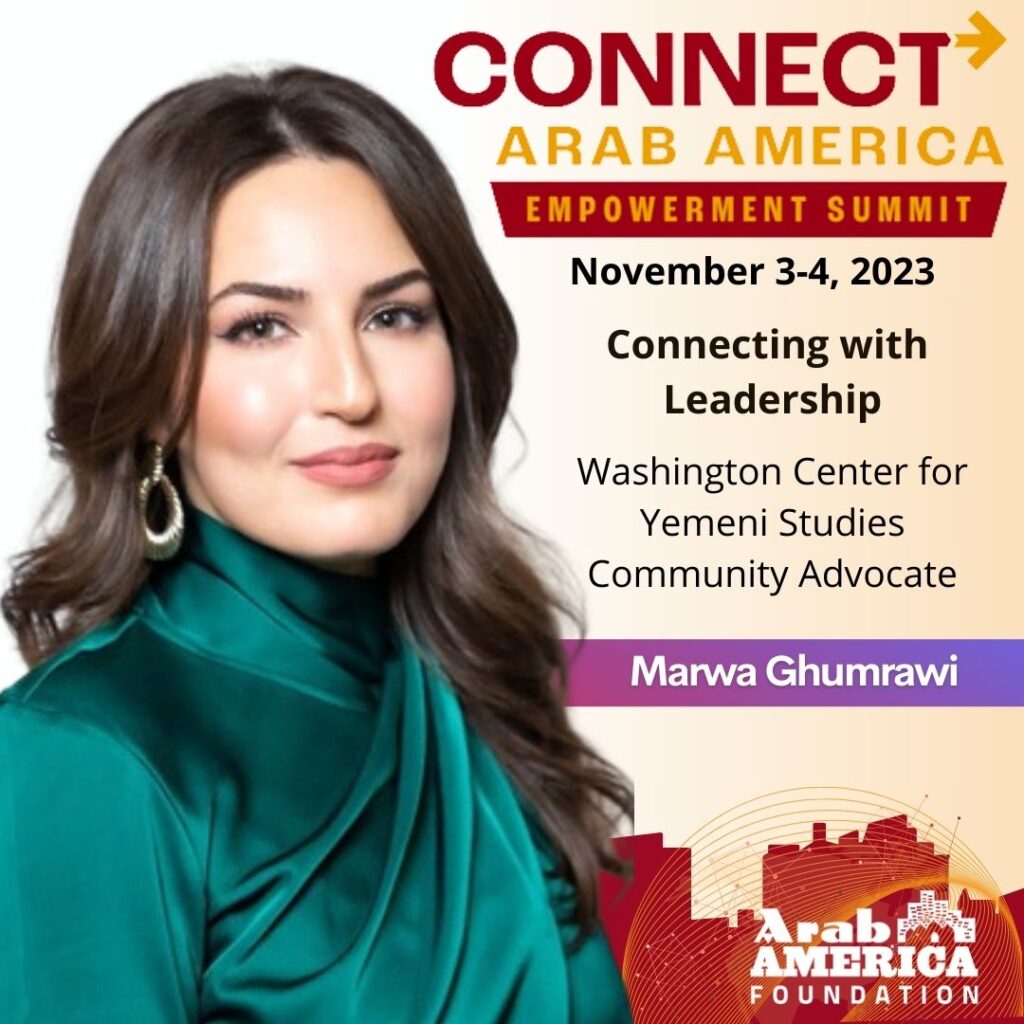 Marwa Ghumrawi is a Lebanese American from Cleveland, Ohio, and the recipient of the Arab America Foundation's 40 under 40 Award in 2023. Her unwavering devotion to cultivating rich cross-cultural experiences and promoting her Arab heritage was instrumental in establishing AAF's Arab America Arts Initiative and its inaugural Arts Exhibition. In her role at the Washington Center for Yemeni Studies, she spearheaded the launch of WCYS's Annual Conference in Washington, DC, and Yemen Advocacy Day on Capitol Hill, furthering the organization's influence in nurturing a profound understanding of Yemen and its people. Drawing from her background in Cultural Diplomacy at the UAE Embassy, Marwa excels in crafting programs that facilitate cultural dialogues and forge bilateral partnerships. Prior, she organized Fashion Showcases to generate funds for initiatives empowering women locally and globally. During her graduate studies, Marwa contributed to a pivotal report for the Ohio Department of Health, laying the groundwork for state regulations of on-site wastewater treatment systems. She holds an M.S. in Agricultural Engineering and a B.S. in Biology from The Ohio State University.
Nawal Hamadeh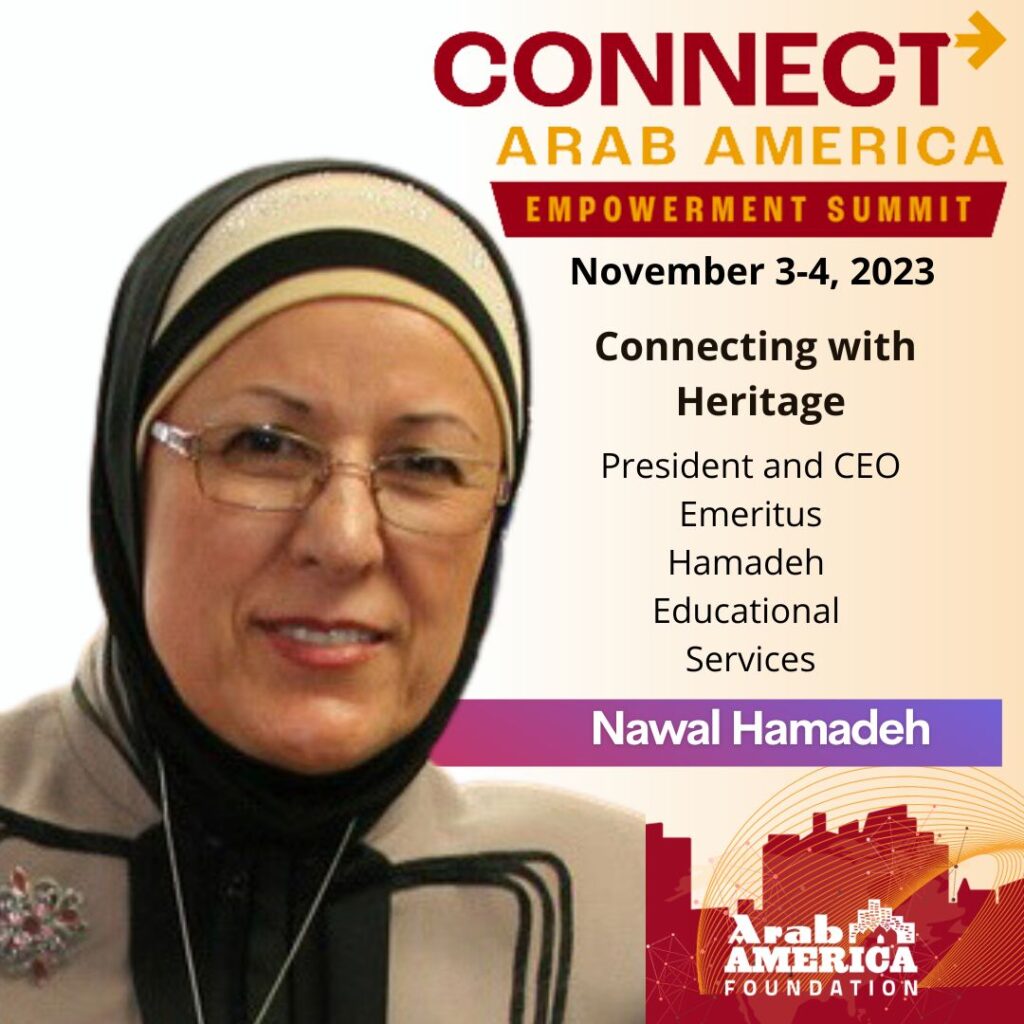 Nawal Hamadeh is a prominent member of the Arab American Community, Founder and Chairman Emeritus Executive of Hamadeh Educational Services, and co-president of Rite Choice Home Health serving over 3000 patients in the metro-Detroit area with positive clinical outcomes and recovery. She is also the Founder and President of the American Educational Foundation, President and CEO of HES READS LLC, and Founder and Past School Superintendent for 23 years of four successful and highly regarded public school academies: Star International Academy in Dearborn Heights and Canton, Universal Learning Academy in Westland, Noor International Academy in Sterling Heights, and Universal Academy in Detroit. Hamadeh is committed to providing complete quality educational management services to students in Pre-K-12 to ensure their success in this ever-changing global society with a focus on the Michigan Core Curriculum, international standards, multicultural education, and foreign languages. HES schools is currently serving about 3800 students with over 400 staff members.
Dr. Mahbuba Hammad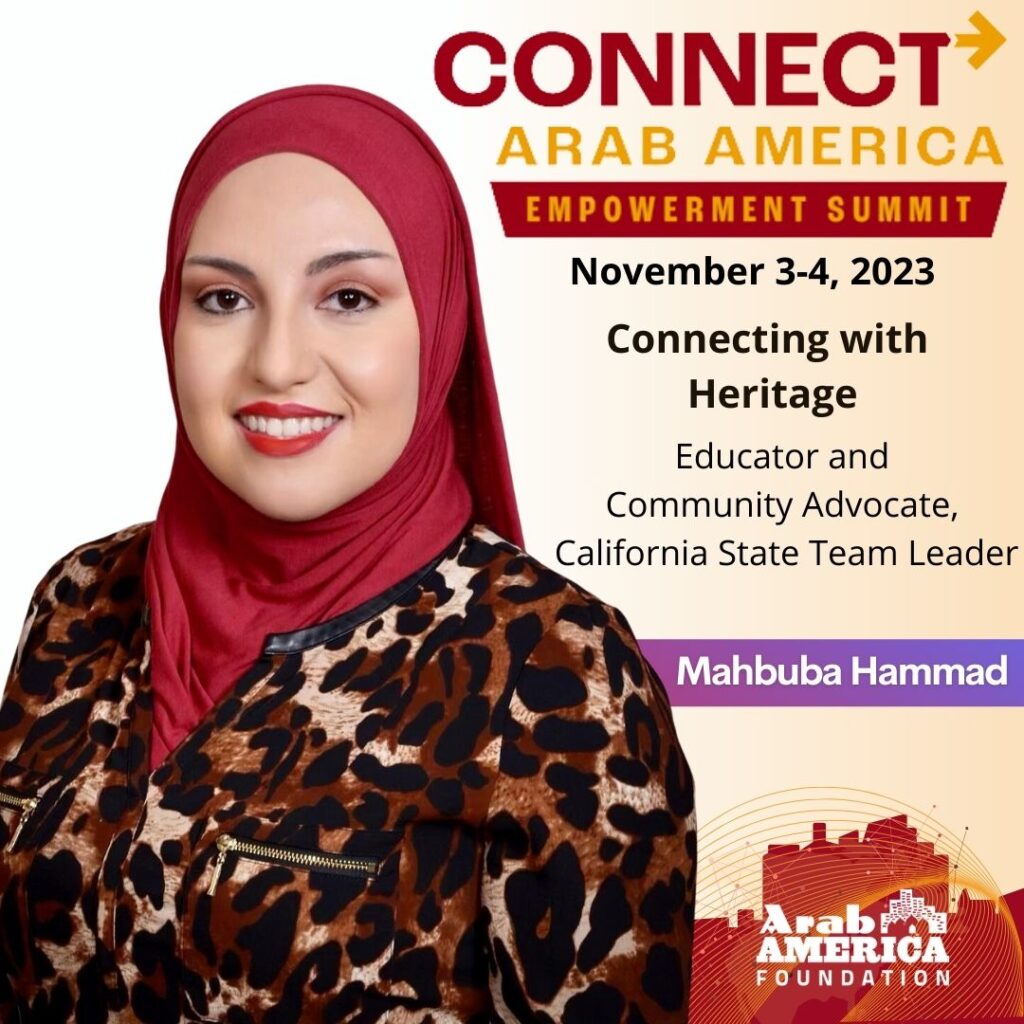 Dr. Mahbuba Hammad is a researcher and educator at the intersection of educational leadership, language pedagogy, and public health. She is quadrilingual and proud of her Arab-Latino roots. In 2023, she spearheaded legislation in California to permanently recognize April as Arab American Heritage Month, leading to its historic recognition by the California State Legislature. Dr. Hammad serves in many capacities as an instructor and director of multiple projects and national/international initiatives in public educational and nonprofit organizations. She has extensive experience in grant development, instruction, teacher training, assessment, and program administration and has worked with students in K-16. She was named by the International Literacy Association (2019) as one of 30 Under 30 literacy leaders and visionaries creating positive change in the global literacy landscape. She was also honored (2019) by Assemblymember Eloise Gómez Reyes as one of 30 Under 30 individuals who exemplify dedication, innovation, and service in the 47th district in the Inland Empire; and was recently named one of 40 Under 40 Arab American Leaders by the Arab America Foundation.
Jamie Hyder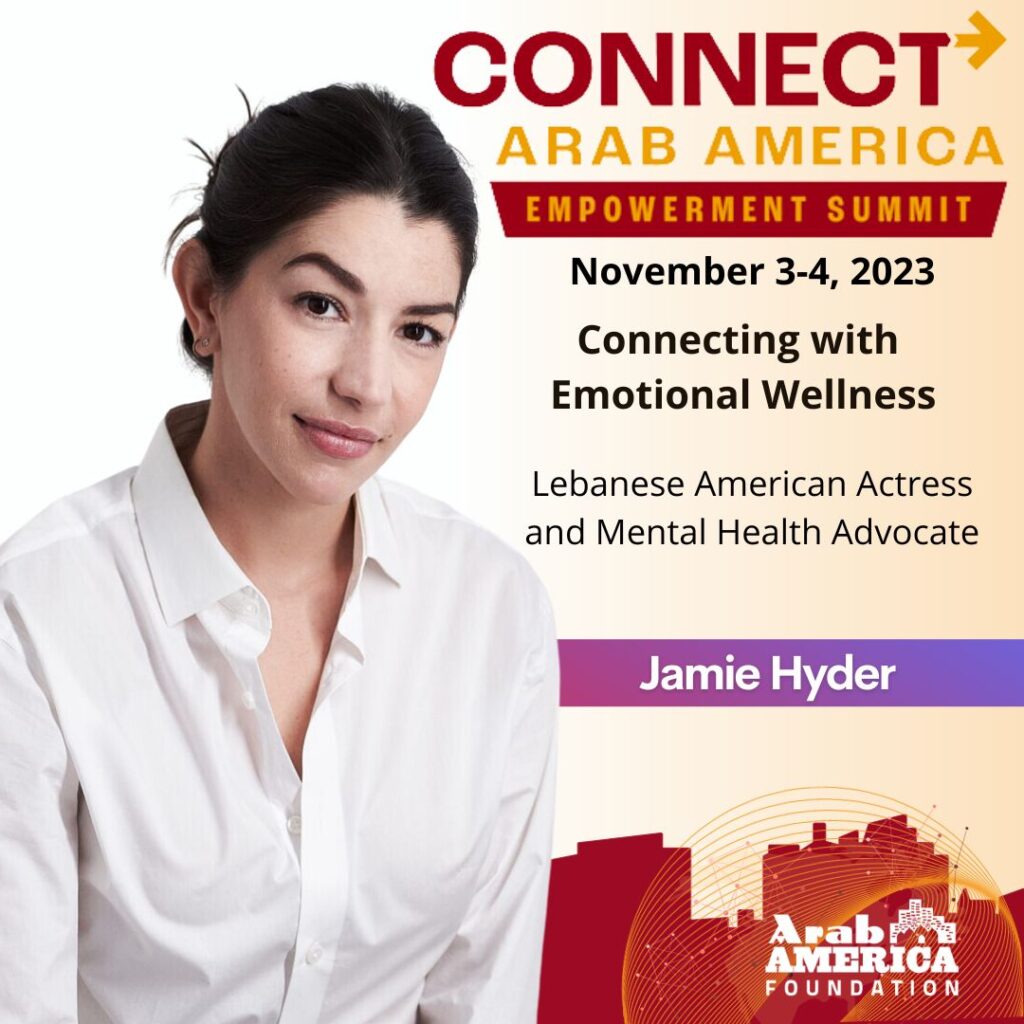 Jamie Hyder is a Lebanese-American actress and advocates from the Washington, DC area. Since she was young, Jamie has loved sharing her heritage with others. Whether convincing someone to try kibbeh nayeh for the first time or educating others on the correct pronunciation of "hummus", she loves watching others develop an appreciation for her culture. In an attempt to reach even larger audiences, Jamie works to incorporate her heritage into her roles whenever possible. For example, upon playing the lead in the Call of Duty franchise, Jamie asked to have a Lebanese flag attached to her character's uniform, and when she joined the cast of Law & Order: SVU, Jamie worked with the show to incorporate her heritage into her character – complete with a gold nameplate in Arabic. Using her platform, Jamie works with organizations such as Beit el Baraka and Impact Lebanon to raise funds and awareness for challenges faced by the Lebanese people. She also works with the National Alliance on Mental Illness, and disaster aid organizations such as World Central Kitchen and the Giving Kitchen, in an effort to get resources to those in need. Currently, Jamie is developing a TV series aimed at fighting negative news headlines surrounding the Middle East, by featuring the vibrant range of delicacies, traditions and trades the Arab world has to offer.
Noura Ismail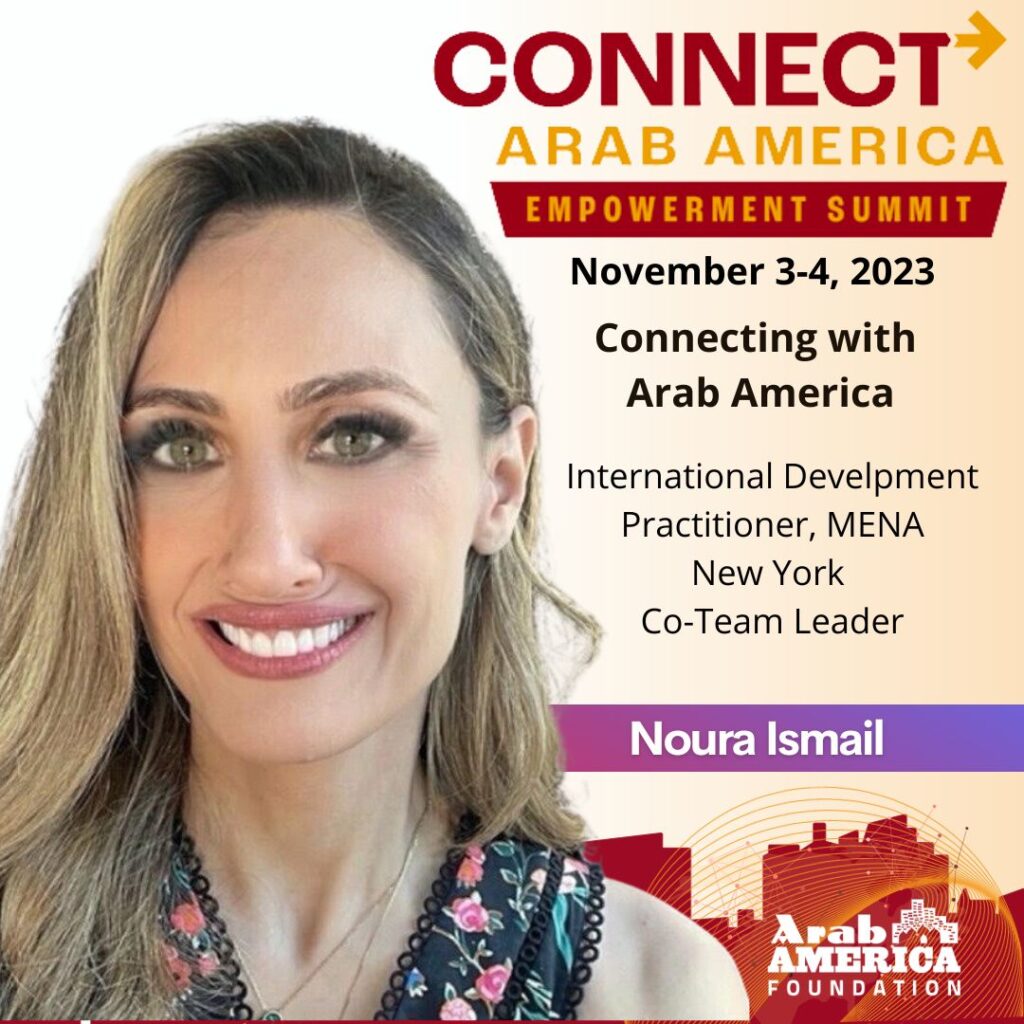 Noura Ismail has nearly 10 years of experience as an international development practitioner for the MENA region, specializing in economic mobility pathways for displaced populations. She is the Global Program Director at Talent Beyond Boundaries, an initiative in cooperation with the UN Refugee Agency focused on designing and implementing skilled migration pathways for refugees globally. Noura was previously part of Ashoka's Social Finance team where she led research on market-based social innovations in the Arab world and also served as a Kiva Fellow and Global Challenge Fellow at the University of Oxford. She was named an Expo Live Global Innovator for Expo 2020 Dubai and 40 Under 40 by the Arab America Foundation in 2021. Noura holds a BA in Middle Eastern Studies (Summa Cum Laude) from the George Washington University and an MBA from the University of Oxford. She is currently completing further postgraduate studies at Columbia University. Noura is Syrian-American and resides in New York City
Eynas Jarrar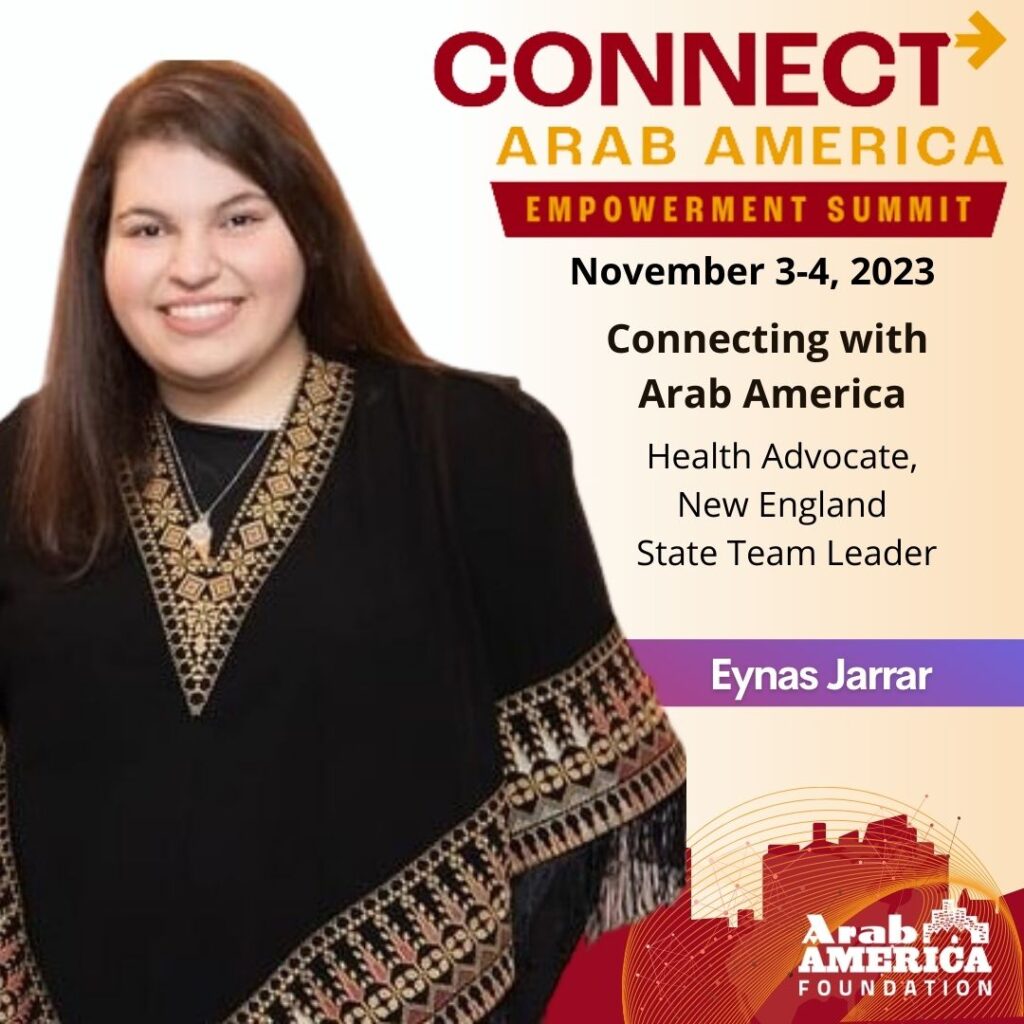 Eynas Jarrar identifies herself as a proud Arab American who is passionate about sharing her culture and heritage with the community. She resides in the granite state of New Hampshire and is currently the Co-leader for Team New England. Eynas has been involved with New Hampshire's Arab American Heritage Month Proclamations and event planning to educate and discuss the importance of the Arab identity in the United States, to help break barriers and stigmas about Arab Americans. She serves as the Treasurer for Palestine Children Relief Fund – Boston Chapter; a non-profit organization that works on providing medical and humanitarian work to children in the Middle East. With her involvement, Eynas is currently an MPH student at the University of Bridgeport where her studies focus on global health policy. In addition, she has worked on research for mental health issues in refugees arriving to the States and in implementing disease prevention programs in refugee camps.
Omar Kurdi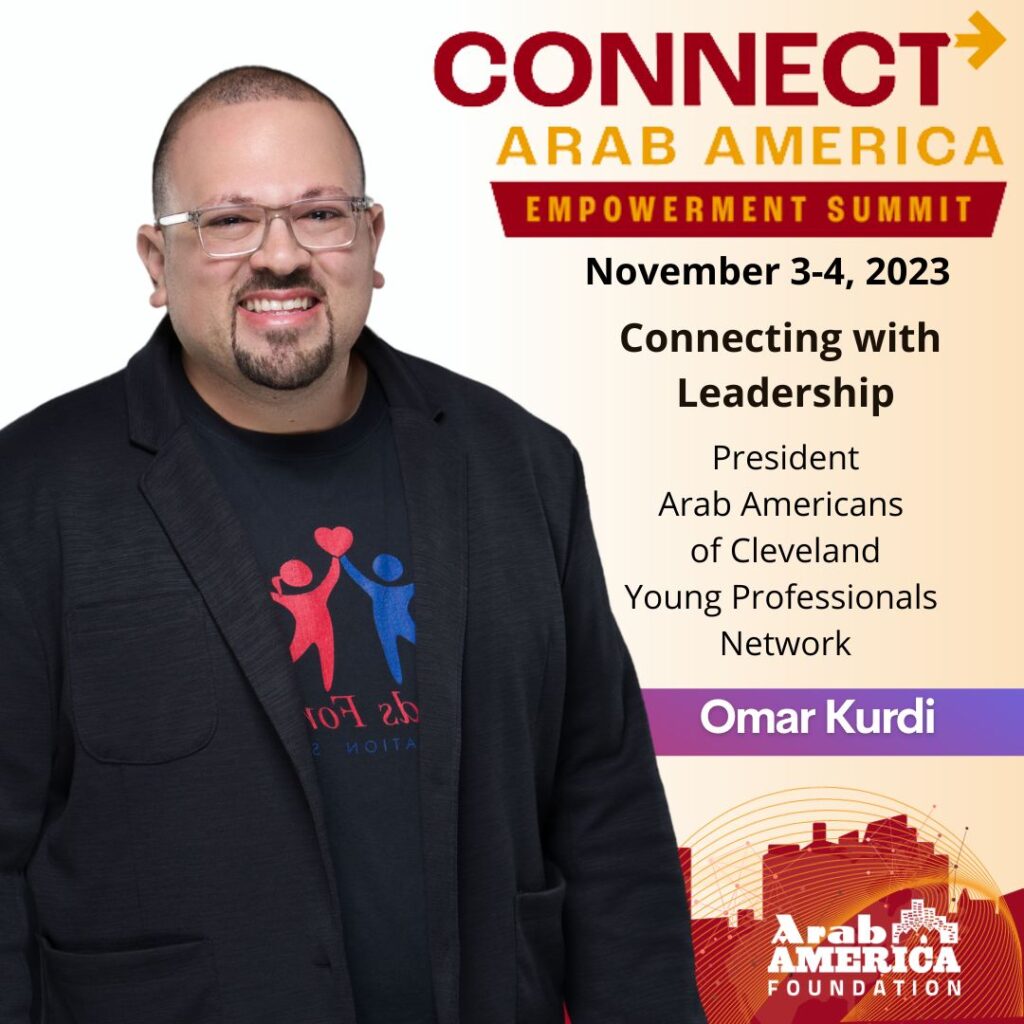 Omar Kurdi is Jordanian American and is from Cleveland, Ohio. He is the CEO of Friends for Life Rehabilitation Services, an agency that provides services to adults with developmental disabilities. He holds a master's degree in public administration and a bachelor's degree in international relations. Outside of work, he is a writer with two published poetry collections and a performing artist. He is a founding member of MasrahCleveland Al-Arabi, a theatre company within Cleveland Public Theatre that aims to connect with the Arabic-speaking communities in Cleveland. Omar was elected to serve on the board of Cleveland Public Theatre in 2019 and served till May 2023. He previously served on the Community Advisory Board of Ideastream, the local NPR and PBS affiliate. He is the Co-Founder and President of Arab Americans of Cleveland – Young Professionals Network, a newly formed organization committed to connecting all young Arab Americans in the city and creating a solid network of professionals. AAC hopes to help Arab Americans advance professionally while also showing pride in their Arab American identity. In 2020, Omar was selected as a Notable Immigrant Leader by Cleveland Crain's Business Magazine and as one of 40 Under 40 Arab Americans Leaders by the Arab America Foundation for his professional and artistic work. In 2021, Omar was selected as one of 40 Under 40 Business Leaders by Cleveland Crain's Business Magazine; he was the only Arab American on the list. Just recently, Omar was selected as one of 25 Under 35 Movers and Shakers in Northeast Ohio from the Cleveland Professional 20/30 Club.
Nibal Malshi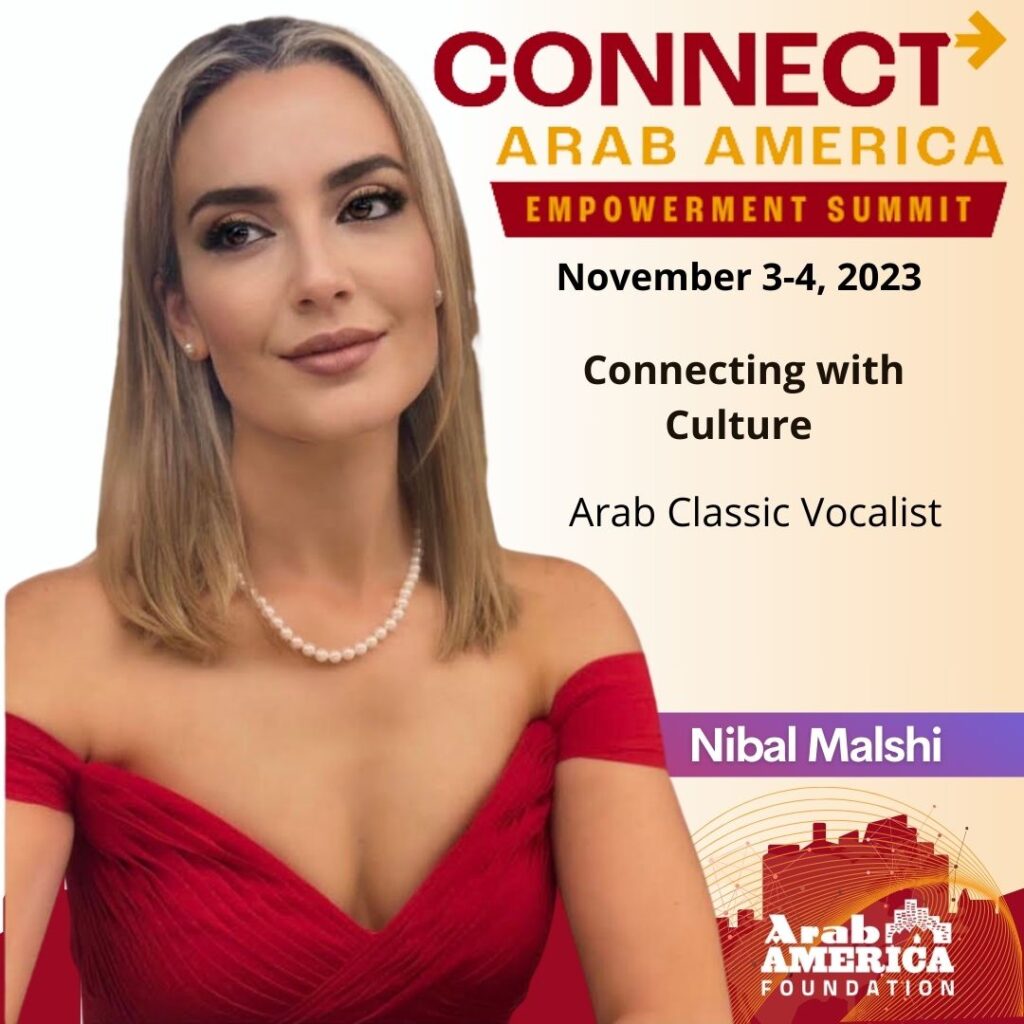 Nibal Malshi Is a Palestinian artist, born in the city of Haifa & raised in Isfya Village, located on Mount Carmel in Palestine. Malshi started singing at the age of 5 and devoted her life to the love of music inspired by many Arab and Mediterranean artists. She is also an actress and has performed in musicals and plays written by poets such as "Samih' Al-Qasem", "Shakeeb Jahshan", "Jubran Khalil Jubran" and others, in addition to singing and acting she is a dance teacher and a choreographer. Nibal graduated from the Academy of Music and Dance in Jerusalem, where she was the first to major in Arabic singing, and also majored in dance earning two Bachelor's degrees. She received the "Al-Qattan" foundation scholarship for performing arts and was chosen to participate among other artists in a dance workshop partnered with KVS from Brussels for a month in Ramallah, a Voice for Peace project in Germany, and musicians' programs in London. "Jerusalem Bride" directed By Sahira Dirbas was her first acting film experience, the movie was screened in Palestine, Europe, and the United States and was nominated for many awards. In 2010, she released her first written and composed song, "Kilmatak" or "Your words", and was elected the singer of the year in her hometown Haifa. She continues to write her own songs and partners with well-known Middle Eastern musicians, and her catalog of four songs can be found on all musical platforms. In the United States, she performs with master musicians, and Nibal sang with the National Arab Orchestra, she performs all around the states and at various events such as the AANM Grand Gala in October 2021 in Detroit, the ACC Gala in December of 2021 in Houston, the Connect Arab America: Empowerment Summit in Washington DC in November 2022. In addition, she performed at the Rene Moawad Foundation in March 2023, the Palestine Foundation on April 30th, and many more. Her New York debut happened in November 2021 at the Roulette Theater in association with the Robert Browning Association and Roulette Intermedium and again in March 2023. Today, Nibal is based in Texas, working on her first album to include songs written and composed by herself and collaborating with other well-known musicians and artists.
Micheline Maalouf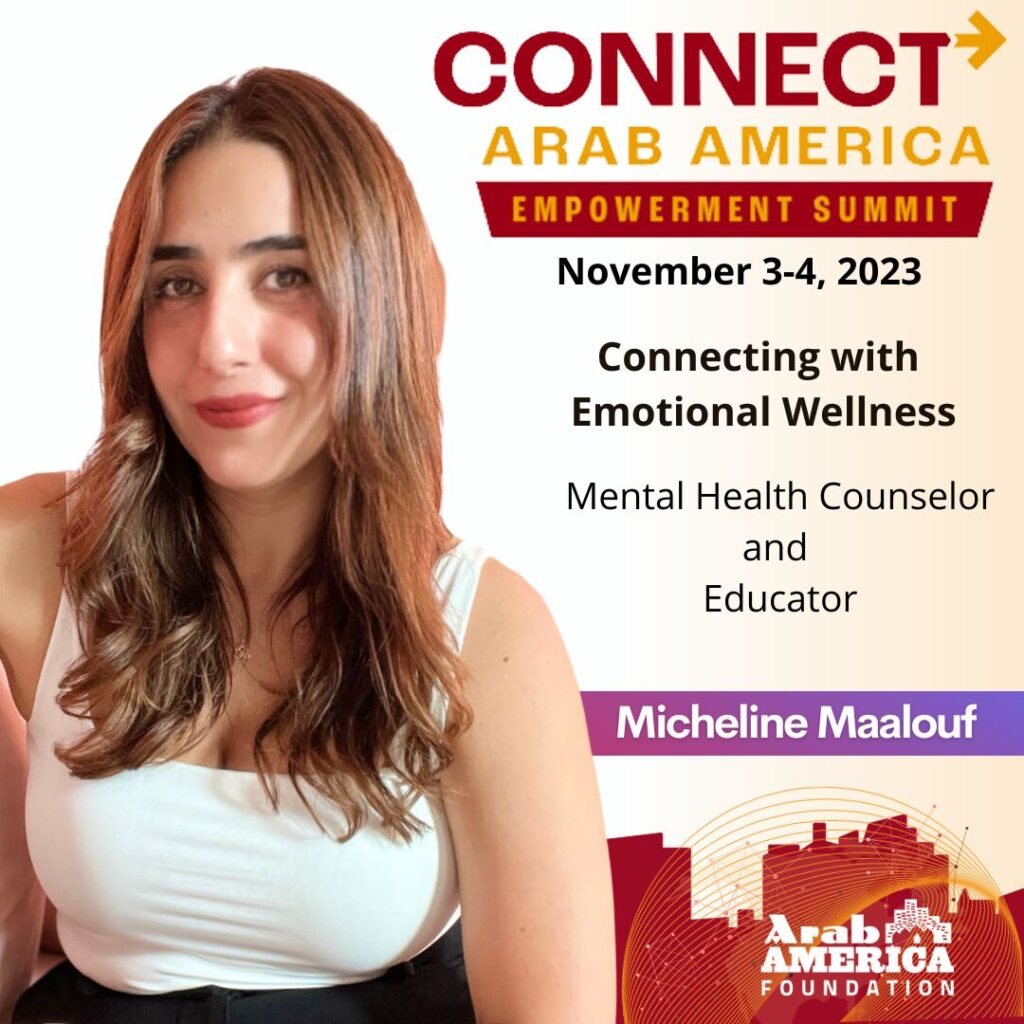 Micheline Maalouf is an Arab-American Therapist and a worldwide mental health educator, advocate, and speaker. She is a licensed mental health counselor turned accidental mental health influencer and content creator. Micheline speaks and teaches about the topics she finds important and vital. Maalouf started creating content to help increase access to mental health information and resources during the pandemic and she quickly realized how important this work was. Her content centers around topics we can all relate to and take something from to improve our well-being, connection, and empathy with the world. In Maalouf's mental health practice, she specializes in the treatment of Anxiety disorders such as generalized anxiety, OCD, and panic as well as trauma disorders, more specifically, childhood and relational trauma disorders. She loves and combines various empirically proven treatment modalities such as Acceptance and Commitment Therapy (ACT), Eye Movement Desensitization and Reprocessing Therapy (EMDR), and Emotionally Focused Therapy (EFT). She pays close attention to neurobiology and nervous system states to help individuals understand what is happening within their bodies and help them regulate and heal. Fun facts: Micheline speaks 4.25 languages, and she has lived in 3 different countries and visited many more. In Maalouf's spare time, you can find her binge-watching reality TV or finding a new restaurant to eat at.
Jad-Evangelo Nasser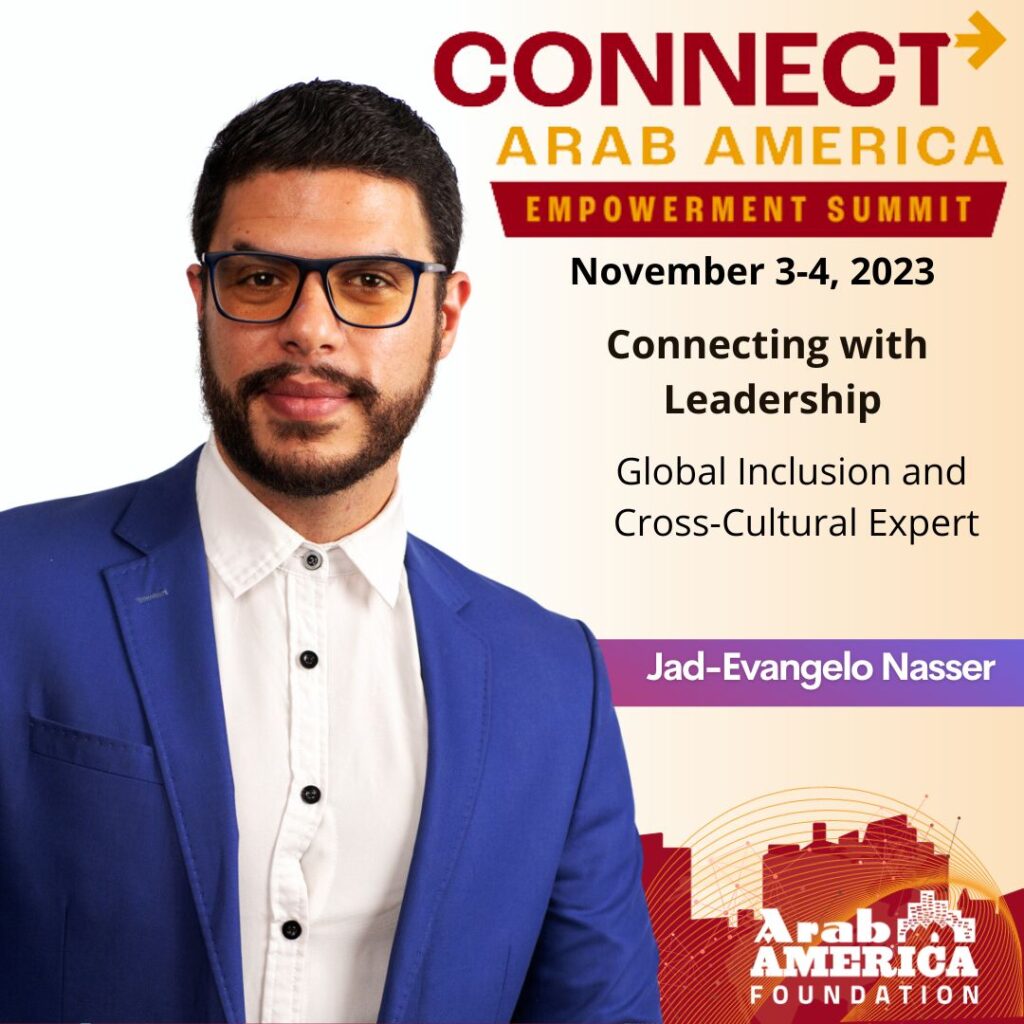 Jad-Évangelo Nasser is a Business Strategist, Educator, and Filmmaker with 10+ years of global experience in advertising, marketing, media production, and higher education for a variety of international markets (Middle East, North Africa, and North America). With fluency in 5 languages (including French, Spanish, Arabic, and Haitian Creole) and accolades with The Black Wall Street Times, Prime Video, IMDB, AdAge, and Arab America, Jad-Évangelo focuses on DEIJ strategies at the core of global learning, intersectionality, and cultural connections. He has extensive experience as a public speaker, curriculum developer, business consultant, and facilitator. With an MA from Parsons School of Design and an award-winning film ONCE UPON A COLOR, Jad currently teaches classes at West Virginia University, South University, Post U, and the University of North Texas.
Nano Raies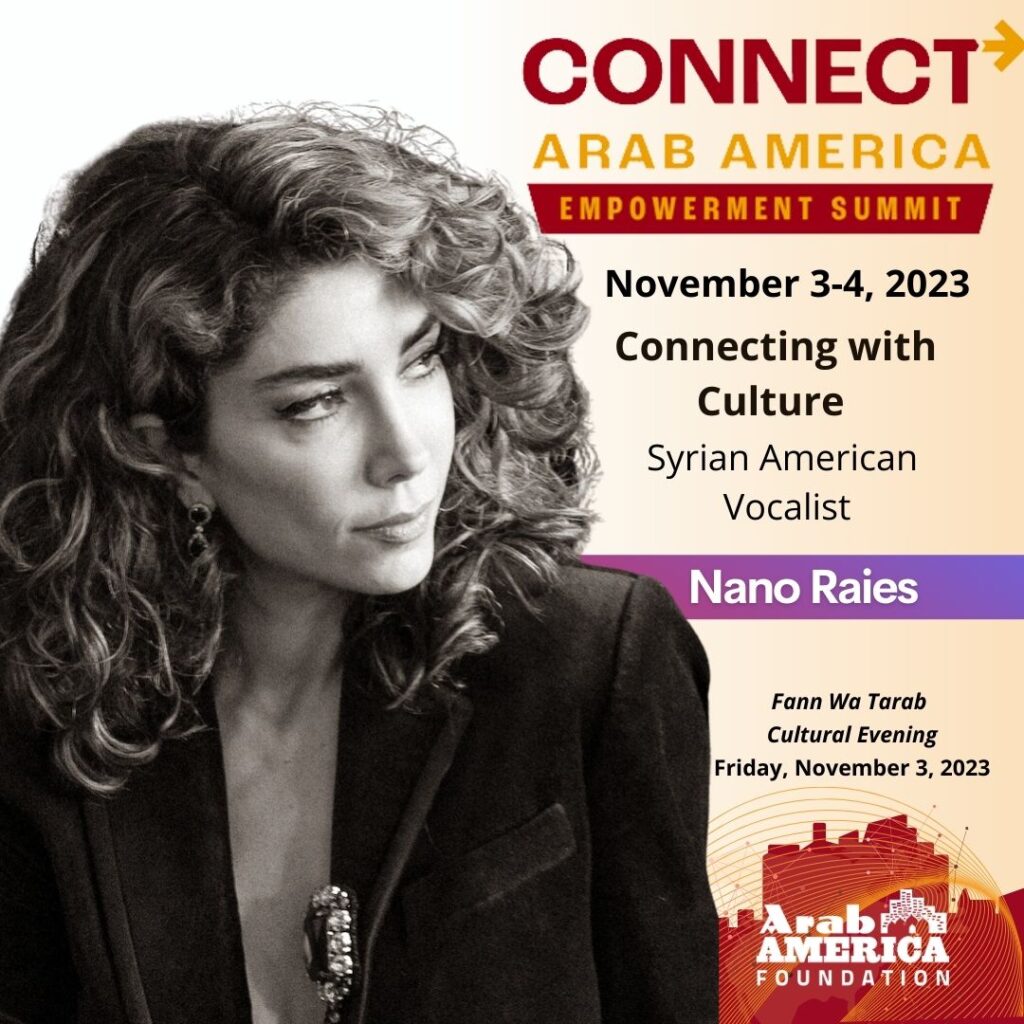 Nano Raies is a Syrian-American singer-songwriter, composer, musician, and actress. She studied music at Berklee College of Music after fleeing the war in Syria, becoming the first Syrian woman to attend and graduate from Berklee—one of the top music schools in the world. She then moved to New York and studied acting at William Esper Studio. Nano started her music training at the age of 5 studying classical piano for 17 years. While attending architecture school and pursuing her master's in landscape design, she was training her voice with Arax Chekijian, a rare vocal coach of our time, who's been her mentor until today. Nano sings in Arabic, English, and French. With her music, she combines her Arab background with Western and modern music. Her songs take a critical look at social norms, and they speak boldly about our current struggles and strive to bring awareness to unique topics.
Mona Sadeq-Omar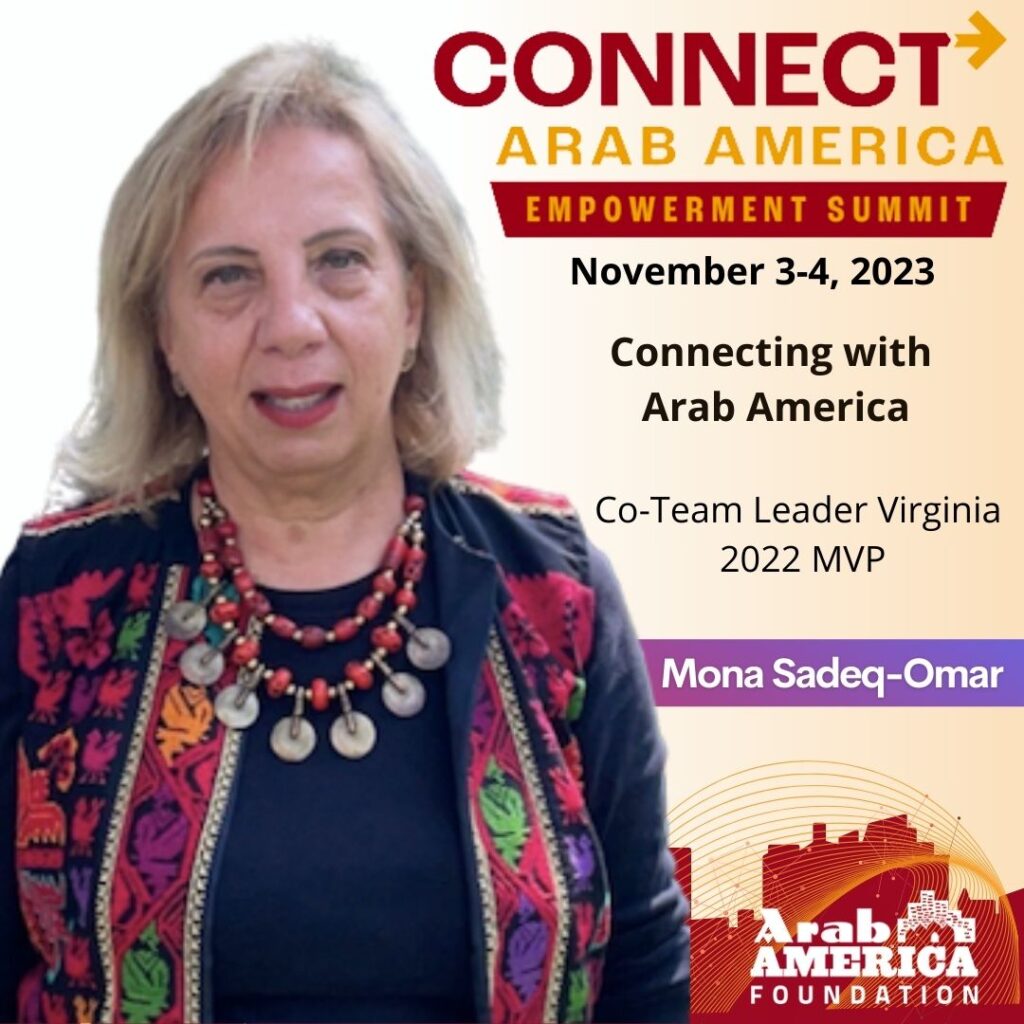 Mona Sadeq-Omar received her B.A. from Lebanese American University in 1980 and her MPA from George Mason University in 2002. She has extensive experience working for private and public sectors in finance and accounting. In addition to her activism with the Arab America Foundation, Sadeq-Omar has been actively involved and supportive of several non-profit organizations. In 2020, she became the executive director of the American Palestinian Women's Association-APWA. In 2015, she helped co-found the National Arab American Women's Association-NAAWA as treasurer and then president. She is a current board member of the Muslim Women's Association.
Wesam Shahed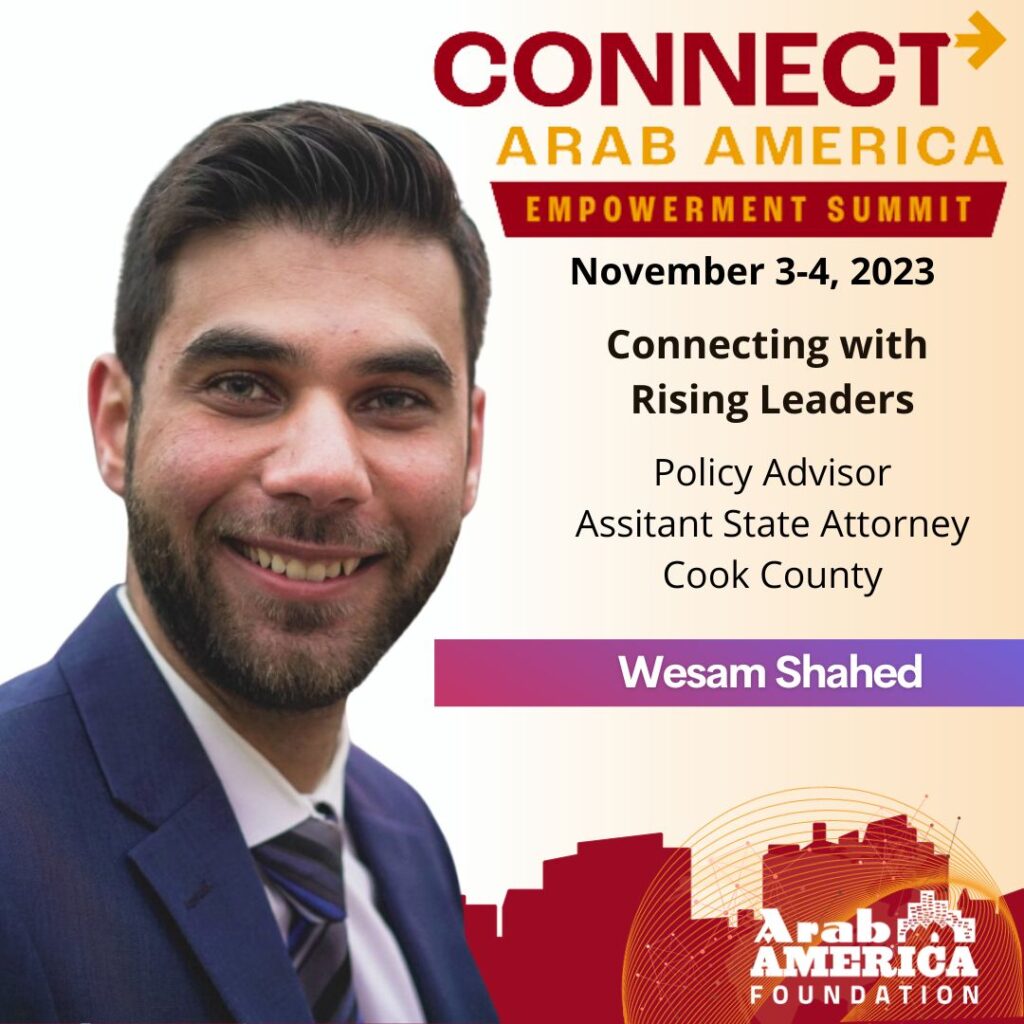 Wesam Shahed is a first-generation Palestinian-American from Chicago, Illinois. He serves as a Policy Advisor – Assistant State's Attorney at the Cook County State's Attorney's Office (CCSAO), the second-largest prosecutor's office in the US. Wesam has not only been recognized as one of the most promising young talents in the CCSAO, but he has also been internationally recognized in the Arab American Foundation's "30 Under 30." Wesam recently gave a TEDx Talk on criminal justice reform titled "Does Justice Always Require a Conviction?" discussing misconceptions about prosecutors and what alternative prosecution methods need to be focused on. Wesam's involvement ranges far beyond his day job, as he is the Finance Director for the first Muslim and Palestinian American to be elected by the Democratic Party into Illinois's House Legislature in 2023. At only 24, Wesam earned his B.A. in Pre-Law: Business Management from Loyola University Chicago and his Juris Doctor (J.D.) from Michigan State University College of Law. Wesam holds executive leadership positions for the Arab Professional Business Association (APBA), the American Civil Liberties Union (ACLU), the Arab American Bar Association, the Muslim Civic Coalition, the Shriver Center on Poverty Law, and the AB Korkor Mental Health Foundation.
Simon Shaheen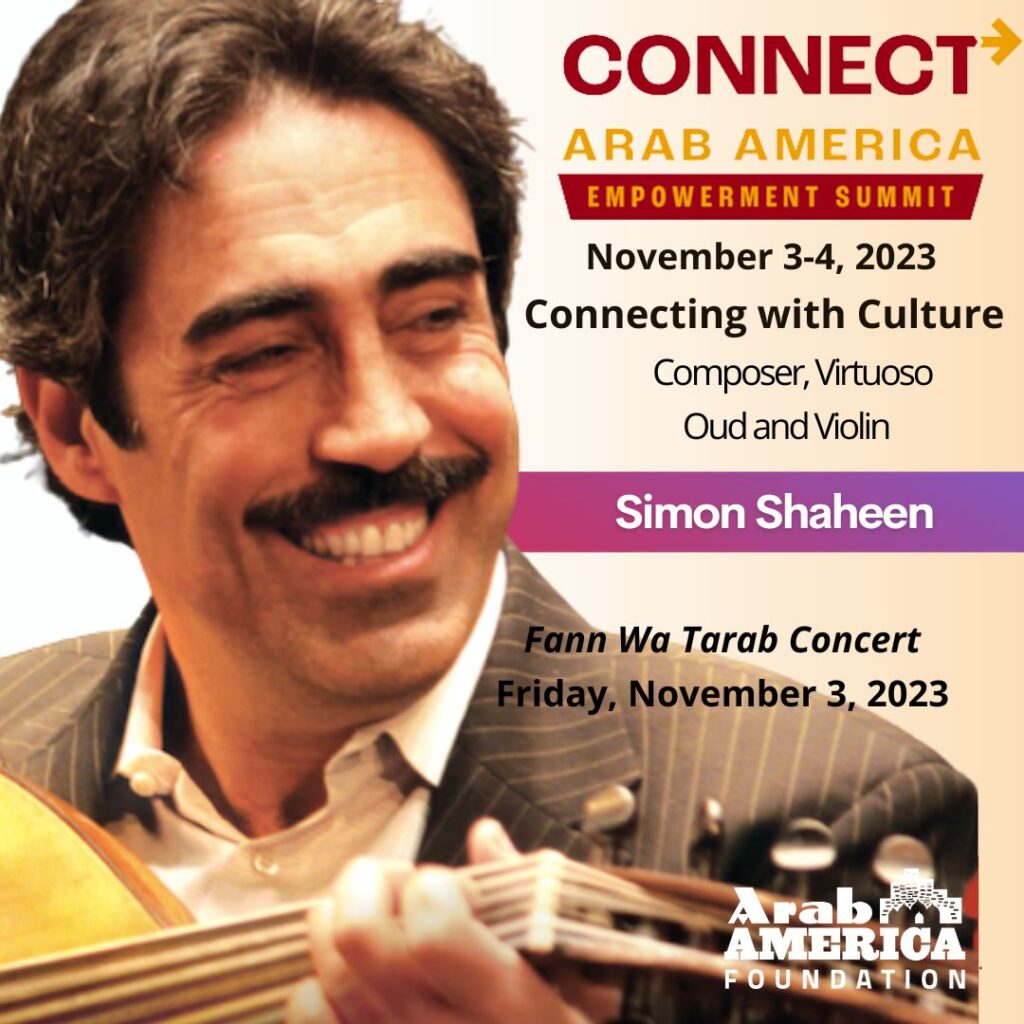 Simon Shaheen dazzles listeners as he deftly leaps from traditional Arab sounds to jazz and Western classical styles. His soaring technique, melodic ingenuity, and unparalleled grace have earned him international acclaim as a virtuoso on the oud and violin. Shaheen is one of the most significant Arab musicians, performers, and composers of his generation. His work incorporates and reflects a legacy of Arab music, while it forges ahead to new frontiers, bracing many different styles in the process. This unique contribution to the world of arts was recognized in 1994 when Shaheen was honored with the prestigious National Heritage Award at the White House. In the 1990s, he released four albums of his own: Saltanah (Water Lily Acoustics), Turath (CMP), Taqasim (Lyrichord), and Simon Shaheen: The Music of Mohamed Abdel Wahab (Axiom), while also contributing cuts to produceR&Bill Laswell's fusion collective, Hallucination Engine (Island). He has contributed selections to soundtracks for The Sheltering Sky and Malcolm X, among others, and he composed the entire soundtrack for the United Nations–sponsored documentary, For Everyone Everywhere. Broadcast globally in December 1998, this film celebrated the 50th anniversary of the United Nations Human Rights Charter. Butemperhaps his greatest success has come with Blue Flame (ARK21, 2001), where he led his group, Qantara, on a labyrinthine journey through the world of fusion music to discover the heart of the Middle East.
Tala Shatara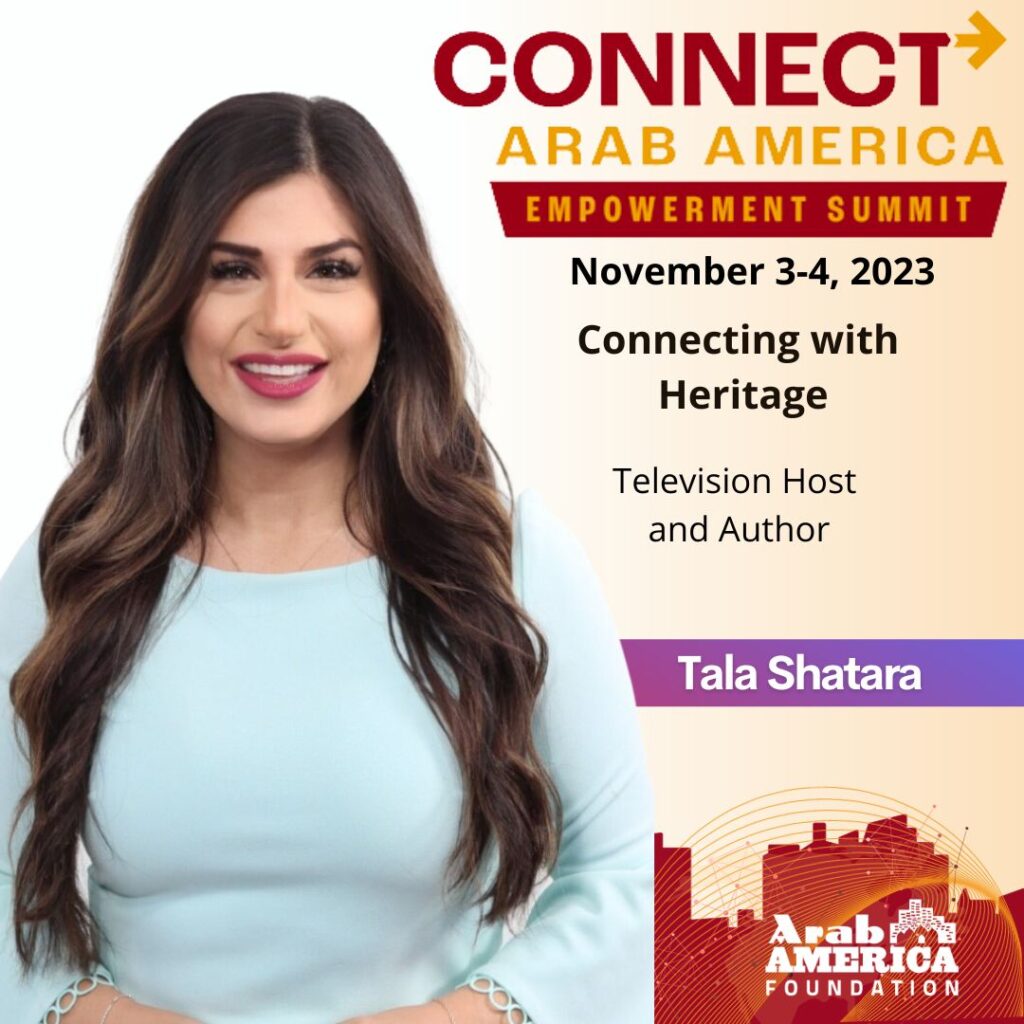 Born and raised in Knoxville, TN, Tala Shatara is a true southern gal. She attended Alcoa City Schools K-12 and then went on to study Journalism and Electronic Media at the University of Tennessee. Tala lived in Nashville for a couple of years, diving into entertainment law and intellectual property. She soon found her way back to East Tennessee and is now putting her degree to work at WATE Six on Your Side. Tala is the co-host of Living East Tennessee, a lifestyle broadcast that showcases the positive things, places, and people throughout the region. During her time at UT, Tala worked in sports and entertainment news. Tala volunteers and works alongside organizations such as Girl Talk Inc., The Wesley House Community Center, Interfaith Health Clinic, and the Arab American Club of Knoxville. In addition, she currently serves as a member of the Diversity and Inclusion Board, at the College of Communication and Information. She values physical health and wellness and strives to share that love with others as a spin cycle instructor. Tala also advocates for emotional and mental health and went on to write and publish her first book at the age of 25. "Finding Plan B" was born out of unexpected trauma and change that came from the effects of Covid-19. This book takes readers into a life that Tala finally opened up about during her time living in Nashville. Tala enjoys spending time with her family, friends, and cats! She loved to watch Grey's Anatomy, Friends, The Office, and more! She loves living in East Tennessee so that she can get to spend her time outdoors and with nature. Tala is an avid social media user and loves to create content during her off hours. Her favorite attribute is fashion, which has become a way of self-expression and influence.
Sarah Shendy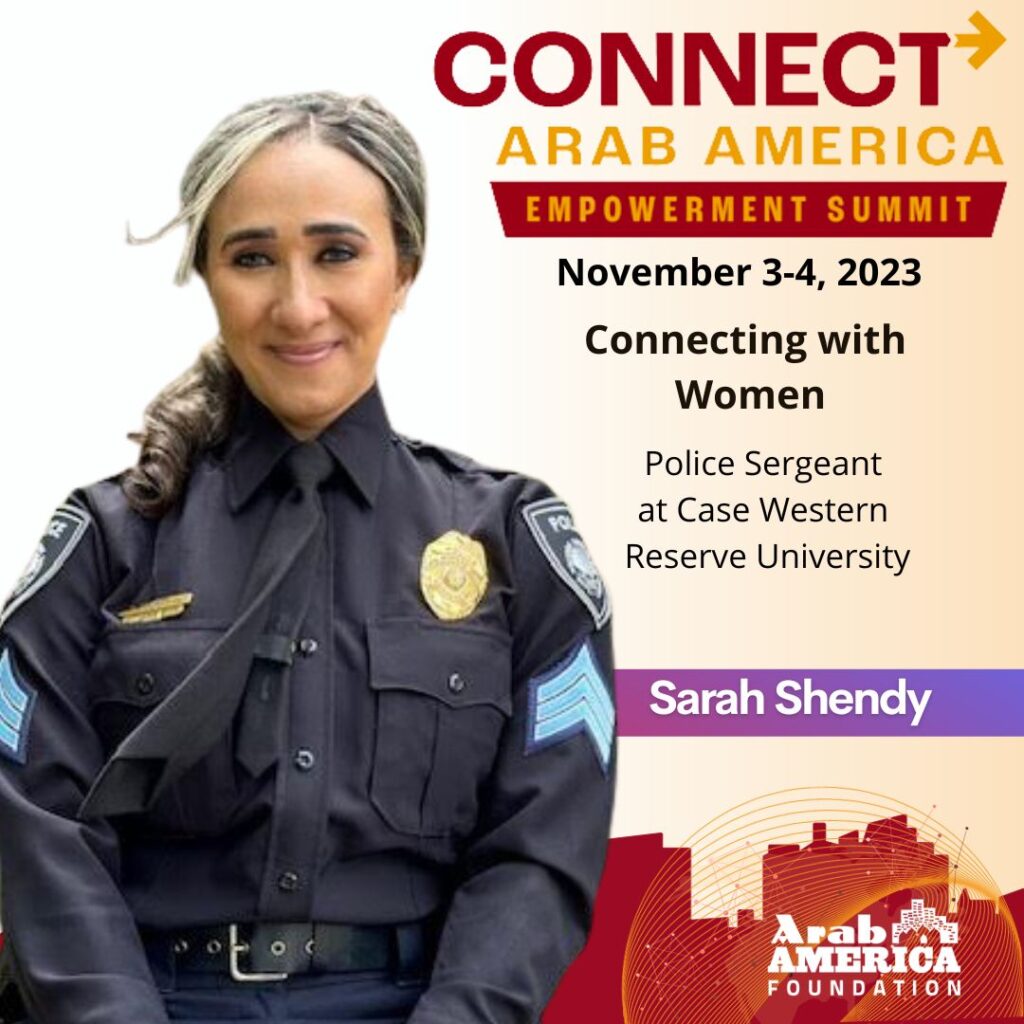 Sarah Shendy is a police sergeant with over 15 years of law enforcement experience. She made history by being the first Arab American Muslim female police sergeant in Ohio.  In 2012, Shendy designed a class that's geared to educate law enforcement on interacting with the Middle Eastern population. In 2014, Shendy was selected by AG Mike DeWine to serve on a panel evaluating the training of law enforcement officers. Shendy earned a bachelor's and master's degree in criminal justice. Shendy, a designated hometown hero and a trailblazer, is in the Kent State University Magazine and published with Police1.com. In June of 2020, Shendy was appointed by Governor DeWine to be the inaugural Director of the Office of Law Enforcement Recruitment. In July of 2022, Shendy was the recipient of the International Association of Chiefs of Police 40 Under 40 Award. She was the only Arab American female on the list.
Dr. Eman Tadros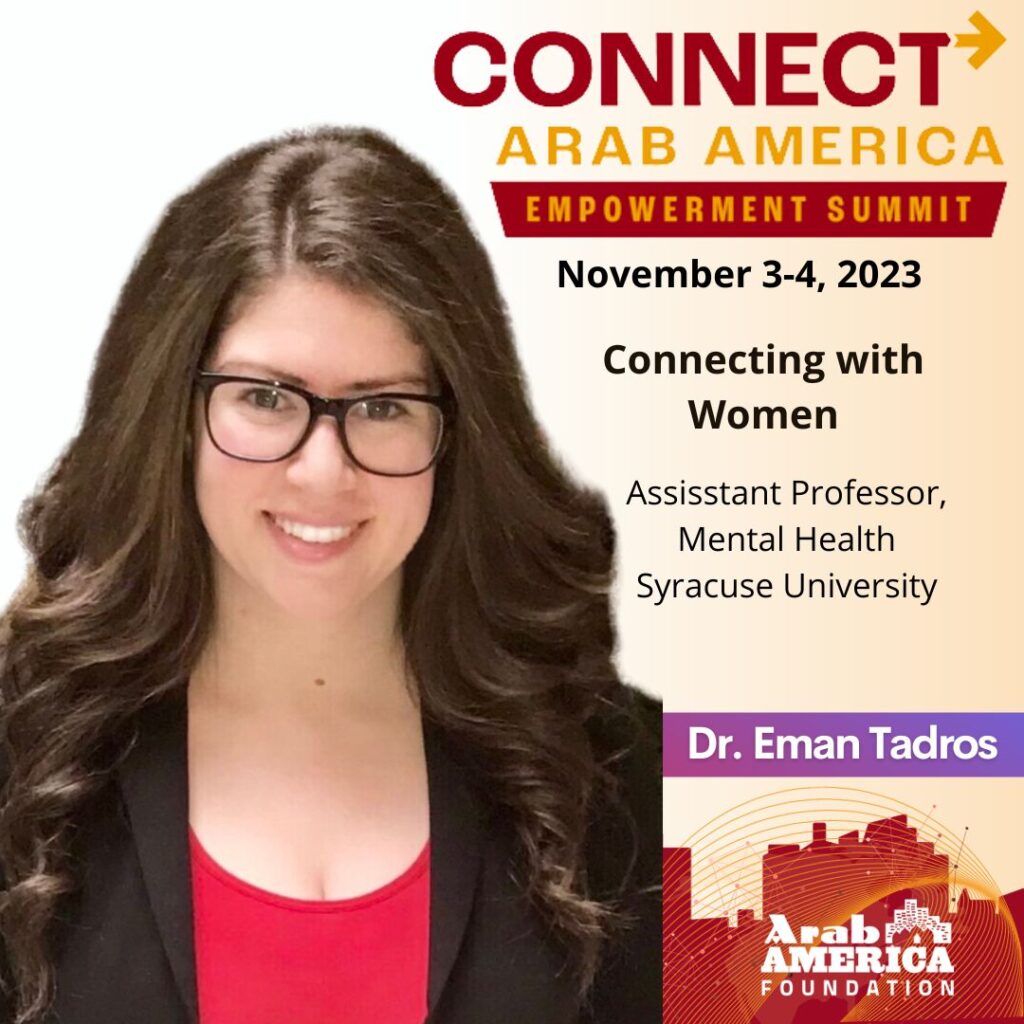 Dr. Eman Tadros is a Jordanian and Cuban Assistant Professor at Syracuse University in the Department of Marriage and Family Therapy. She is a licensed marriage and family therapist, MBTI certified, an AAMFT Approved Supervisor, and the Illinois Family TEAM leader. Her research focuses on incarcerated couples and families, culturally informed systemic treatment, and Arab American relationships.
For press inquiries: Claire Boyle: cboyle@arabamerica.com
To register for this event: REGISTER HERE
For sponsorship and exhibitor opportunities: Contact Warren David (313-999-6000) wdavid@arabamerica.com
For more information about the Arab America Foundation, please visit: Arab America Foundation
Check out Arab America's blog here!