Arab America Foundation Celebrates National Arab American Heritage Month Celebration 2023 with a Spectacular Event at Amazon Headquarters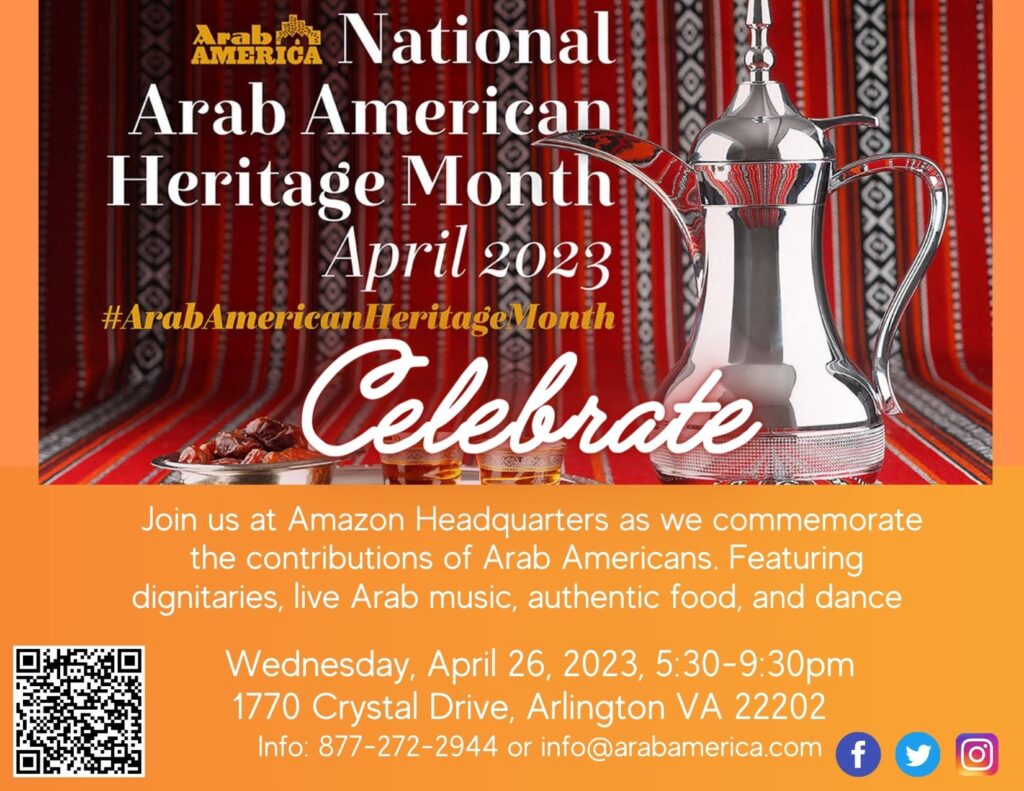 By: Salma Heram / Arab America Contributing Writer
The Arab America Foundation, in collaboration with the Arabs for Amazon, hosted its annual National Arab American Heritage Month Commemoration on Wednesday, April 26, 2023, at Amazon Headquarters in Arlington, Virginia. The event celebrated Arab American accomplishments, history, fashion, and music. The evening featured remarks by dignitaries, a cultural fashion show, live music, poetry, and lots of dancing. The Commemoration event in the evening came after an afternoon at the Library of Congress, where Palestinian-American Congresswoman Rashida Tlaib hosted a luncheon in honor of National Arab American Heritage Month.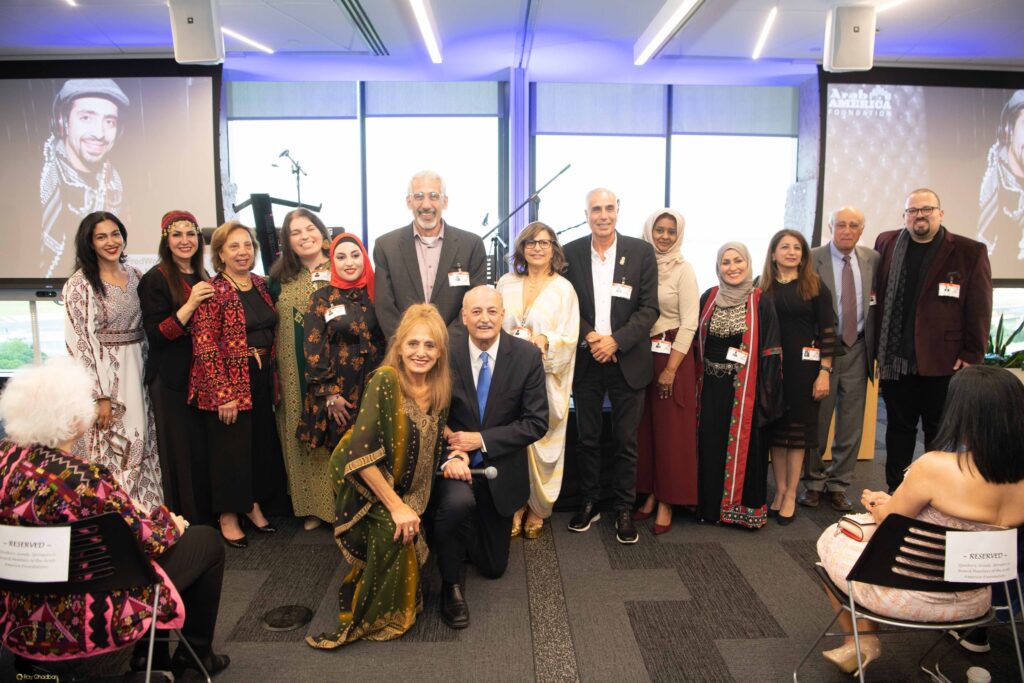 Reception, Grand Entrance, and Opening Remarks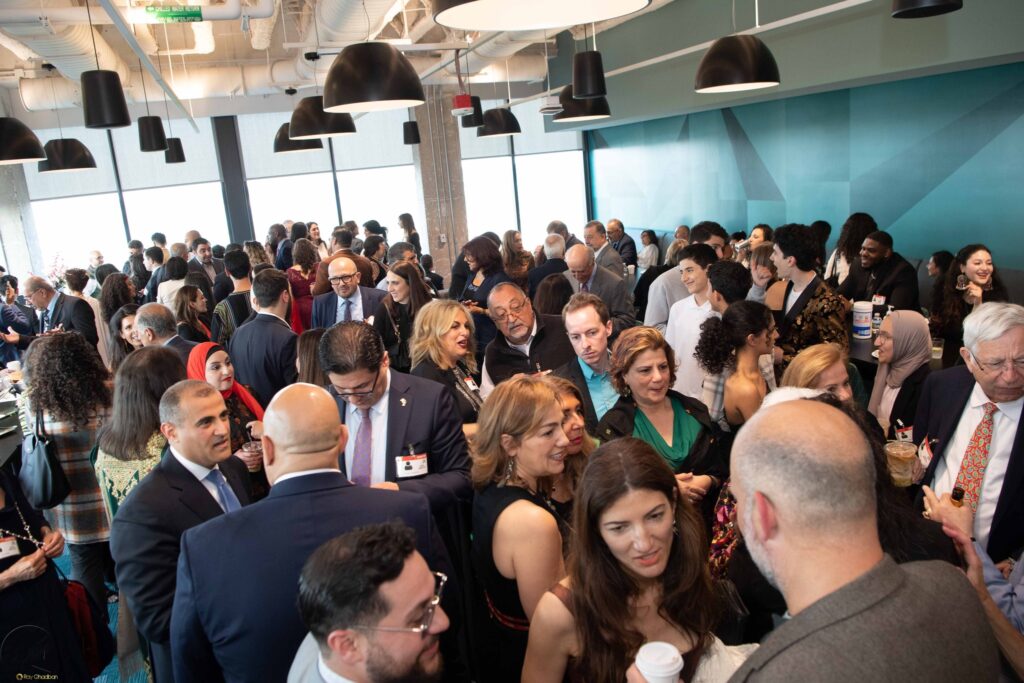 After being escorted by Amazon employees to a scenic conference room on the thirteenth floor of Amazon Headquarters, guests enjoyed a light lunch of falafel sandwiches, a popular Arab staple. After about an hour of networking, meeting new and old acquaintances, and taking photos, the real fun began.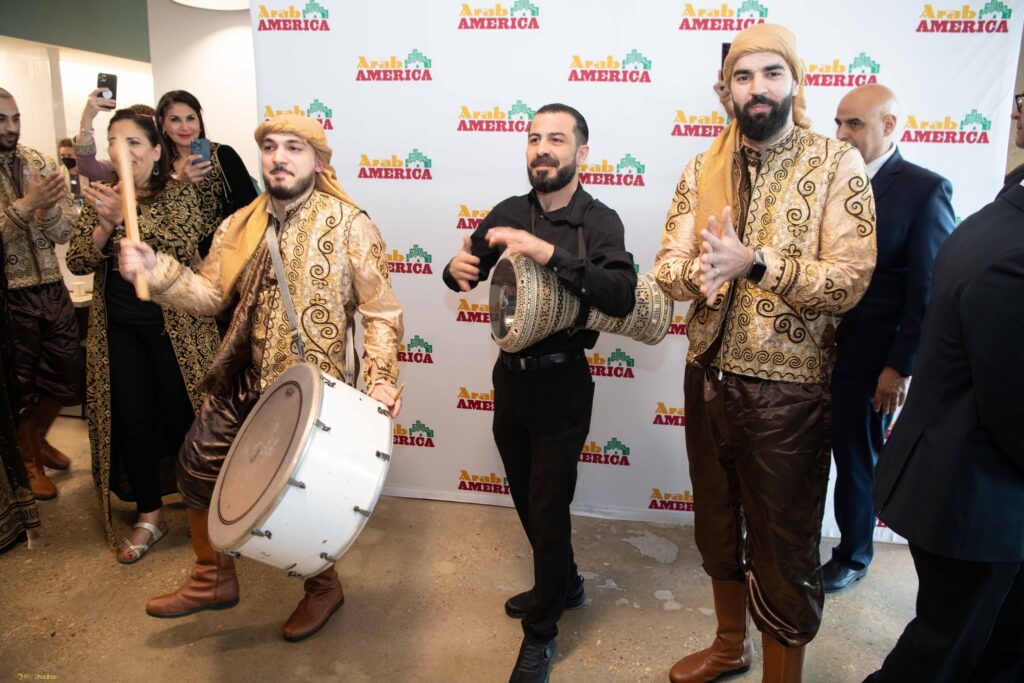 The Faris El-Layl Folkloric Dabke Troupe led guests upstairs with an energetic zeffi, accompanied by drumming and dancing.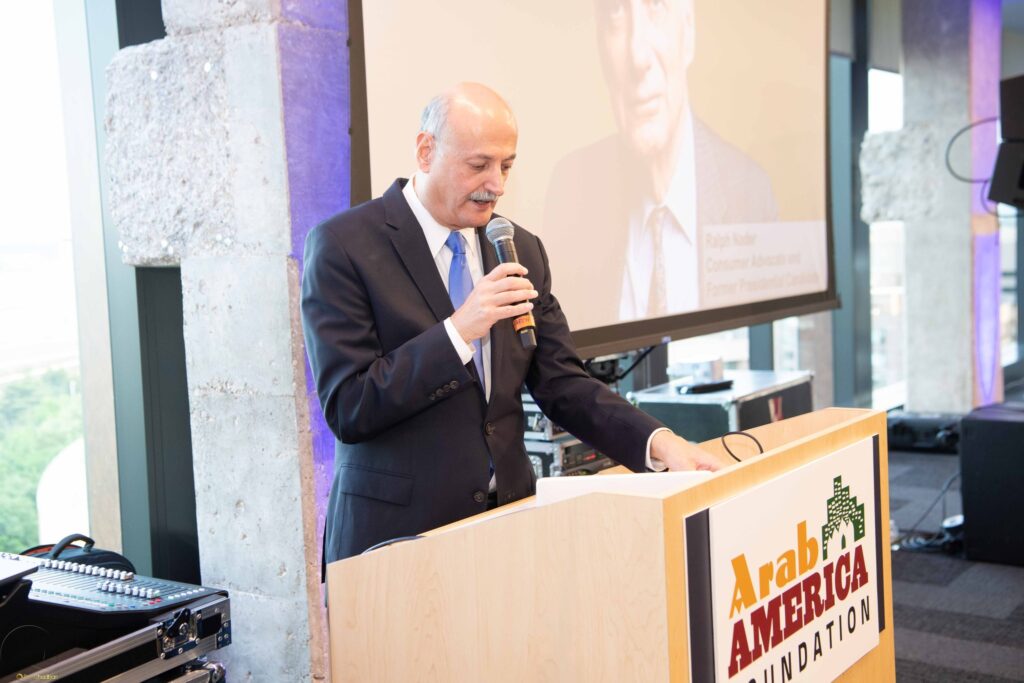 As guests took their seats, Warren David, President of Arab America and cofounder of Arab America Foundation, welcomed them to the event and spoke of the significance of National Arab American Heritage Month. He took the audience through the history of NAAHM, the story of which can also be found here.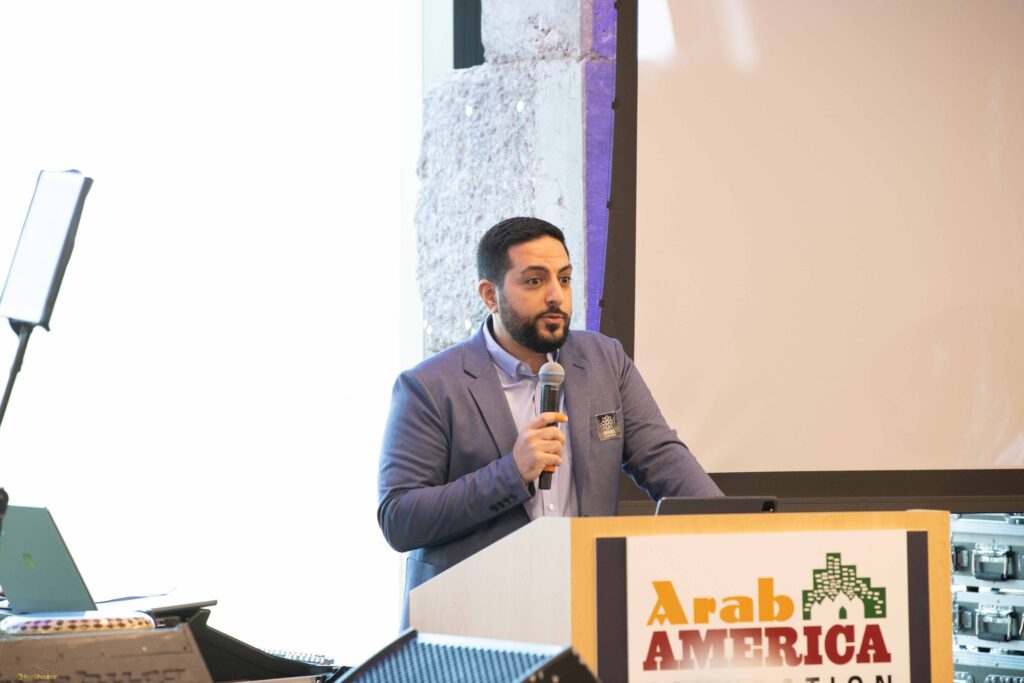 Next, Mr. David welcomed Carl Hage, founder of Arabs at Amazon to the stage. Mr. Hage welcomed guests to Amazon Headquarters and took them through the exponential growth that Arabs at Amazon have experienced, with chapters throughout the country and worldwide.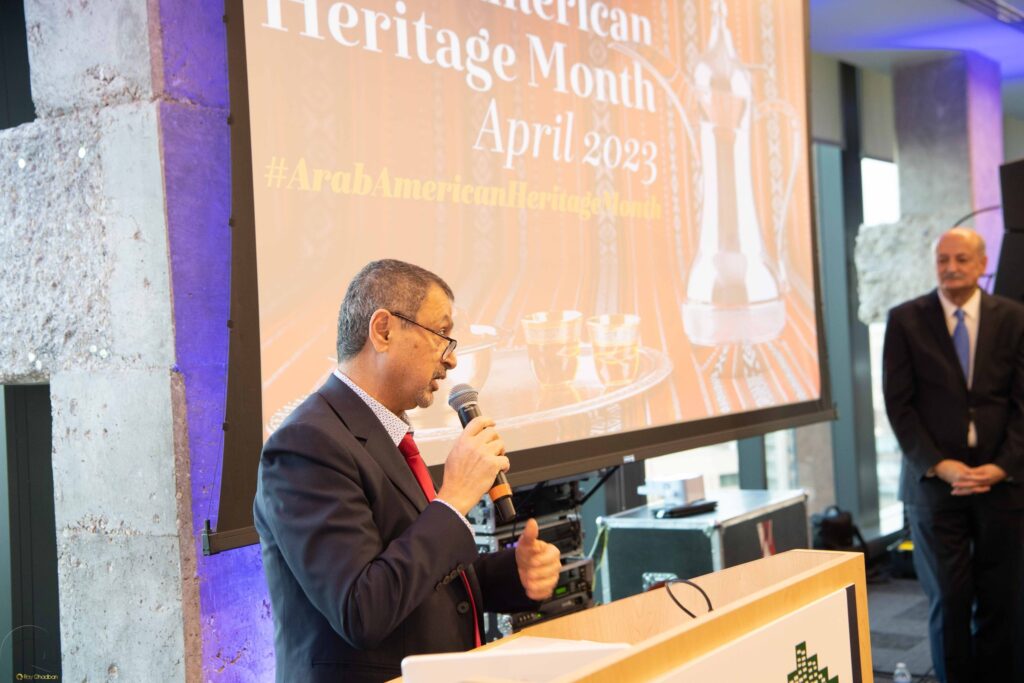 Then, the Vice Chairman of the Arab America Foundation, Issam Andoni, also welcomed guests, expressing the significance of NAAHM. Finally, Dr. Amal David, Co-founder of Arab America Foundation, energetically expressed her excitement at all the historic accomplishments of Arab Americans and Arab America Foundation, and the success that NAAHM has continued to be.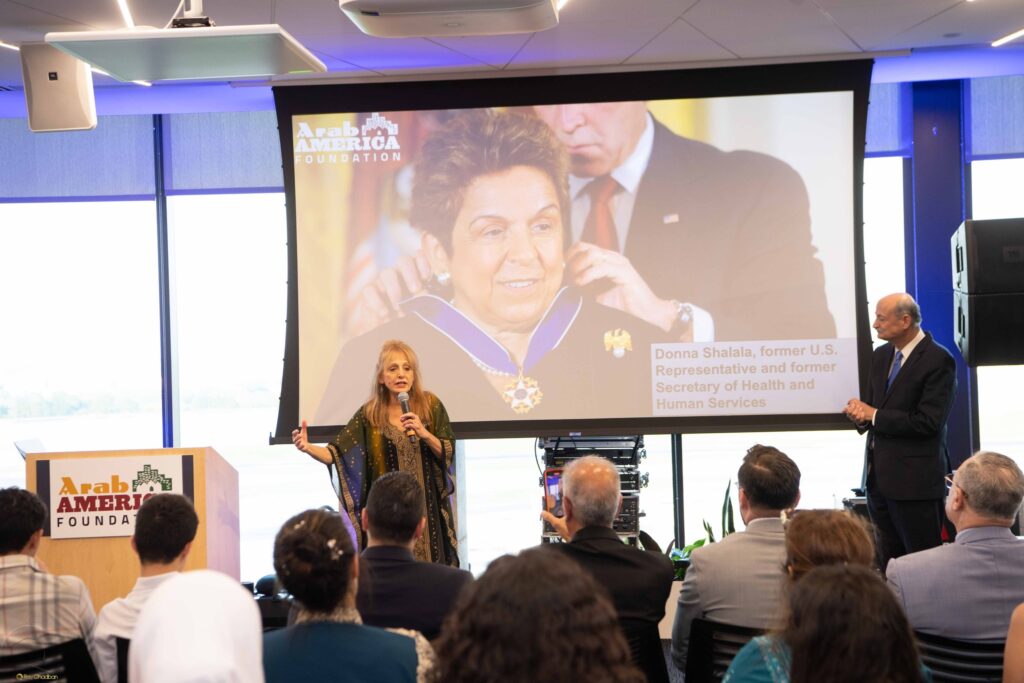 Dr. James Zogby, President of the Arab American Institute and a pioneer in Arab American advocacy, asserted the importance of NAAHM and commended the achievements of his fellow Arab Americans. He affirmed that "we are defining ourselves" and stressed our right to do so, declaring that "we are not going anywhere." He encouraged the audience to be more understanding of the work that Arab American public servants in government are doing, explaining that when they're at the table, "things don't get said that would've been said," and that "many things wouldn't happen if they weren't there." He concluded by proclaiming that "we can't be on the outside looking in; we've got to be inside making a difference."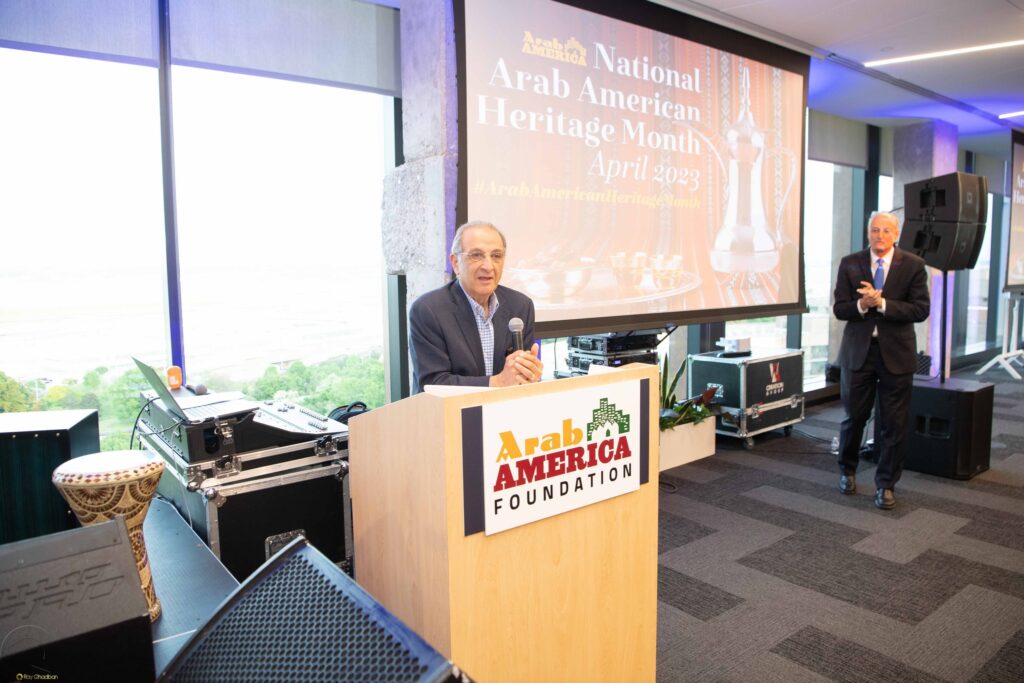 Poetry and Music
Heather Raffo, Iraqi-American award-winning playwright and actress, performed for the first time her newest piece titled "What Arab Americans Know". This moving poem told a story many in the audience resonated with, encompassing the struggles her Iraqi father faced coming to the U.S. and her journey into understanding and embracing her identity as an Iraqi-American. Enjoy an excerpt of her poem below:
"Arab Americans know 
the pull between the rugged individual and responsibility 
the dictator and democracy 
we know oppression and opportunity 
assimilation and identity 
service and need. 

We know that you need boot straps and dreams 
help and a hand   
because we know this country is built by stolen people on stolen land. 

Because we know Gaza and Gettysburg 
like we know Bethesda and Baghdad 
Khartoum and Kansas City 
Cleveland and Cairo 
Damascus and Detroit.

Arab America 
What did it take to get here today?   
For my father? 
And your mother? 

What did it cost?   
And what did we gain? 
 
When our new country  
is on the same precipice as our old country 
what will we do, Arab America, with what we know?" 

--Selection from "What Arab Americans Know" 
by Heather Raffo

After this gripping piece, Lebanese-American vocalist (and National Arab Orchestra Chairman) Usama Baalbaki performed "Mawtini," an equally emotional song of the homeland.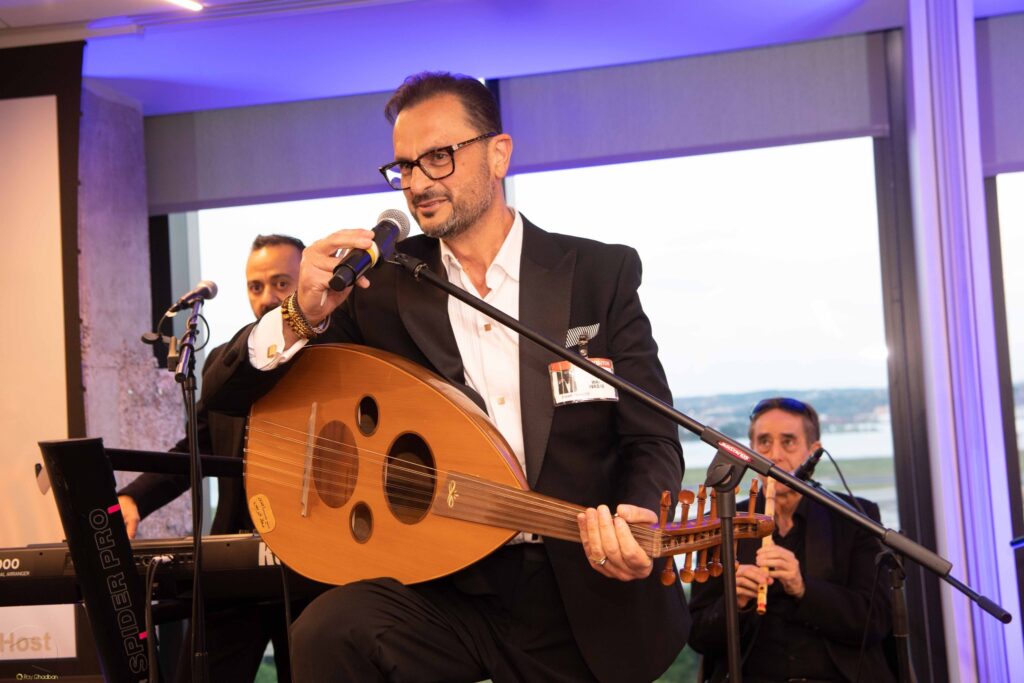 Remarks By Dignitaries and a Special Message from the White House
After Baalbaki's beautiful artistic display of Arab culture, guests were honored with the presence of several dignitaries. Brenda Abdellal, Egyptian-American Assistant Secretary of Partnership and Engagement at the U.S. Department of Homeland Security took the podium first, delivering a moving speech about the importance of representation in public service and encouraging young people to pursue such a career, and pushed the parents in the audience to encourage their children to do so as well. Speaking of our ancestors and the Arab-American pioneers that came before us, Abdellal said: "we carry their identity on our shoulders," emphasizing the importance of our role as the next generation of Arab Americans.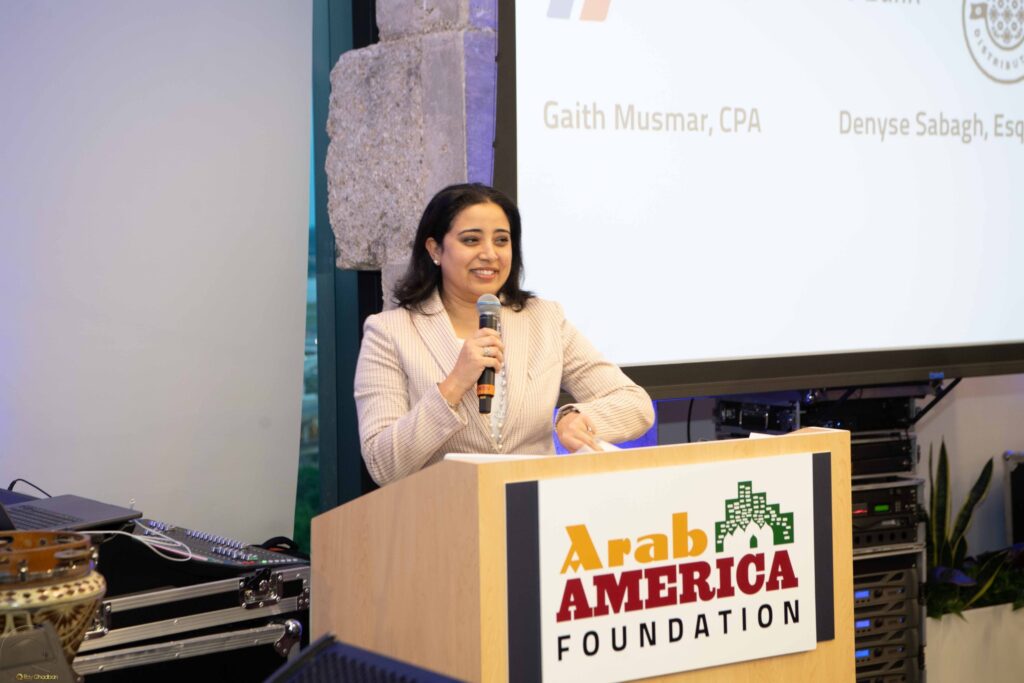 Next, Hady Amr, the Special Representative for Palestinian Affairs at the U.S. State Department, delivered his remarks, followed by Hanene Tajouri Bessassi, the new Ambassador of Tunisia, who spoke powerfully about the alliance between Arabs and Arab Americans.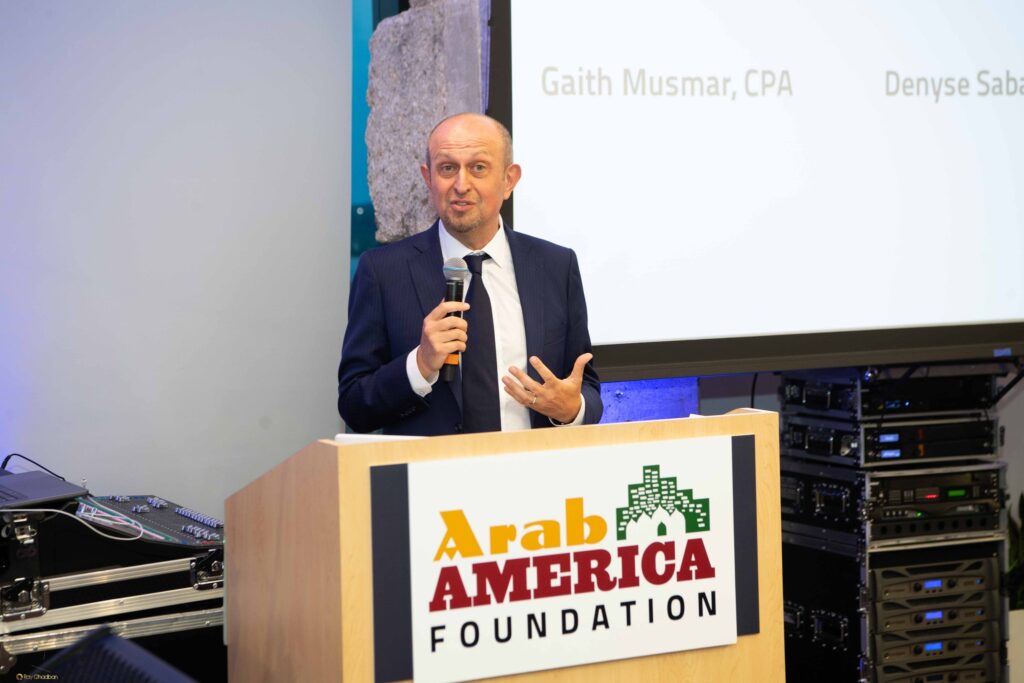 Finally, staff members from Congresswoman Rashida Tlaib's office presented Mr. Warren David with the framed proclamation of National Arab American Heritage Month by President Joseph Biden.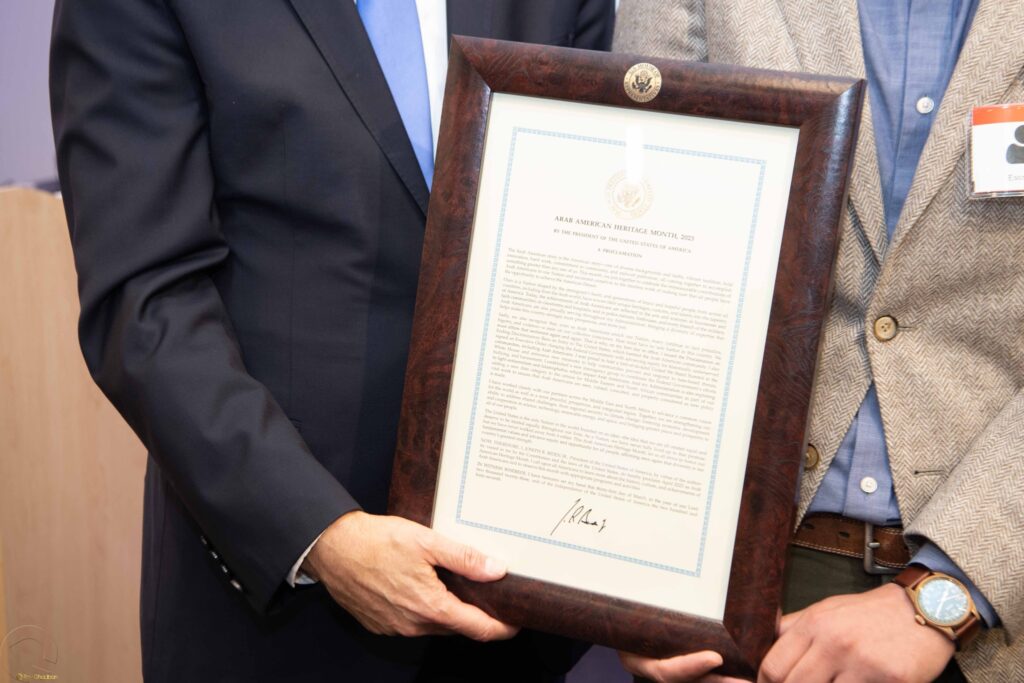 Then, guests were surprised by a special message from Dr. Jill Biden, First Lady of the United States. In it, she recognized the incredible contributions of Arab Americans in our society and reinforced President Biden's commitment to fighting discrimination and racism in our country. She emphasized that "the history of our nation is the history of the Arab Americans who helped shape it."
Next, the Secretary of Education, Dr. Miguel Cardona also shared a message in honor of National Arab American Heritage Month, emphasizing that "Arab Americans personify the best of our democracy: strong family ties, resilience, a diversity of faith, a fierce commitment to education and to giving back to the community."
Fashion Show
Arab America Team Michigan member, Dr. Halo Charara, presented a fashion show of traditional attire from across the Arab world. Women and men graced the stage in ornate, gorgeous garments, representing Iraq, Jordan, Morocco, Kuwait, Sudan, Tunisia, Yemen, and Palestine.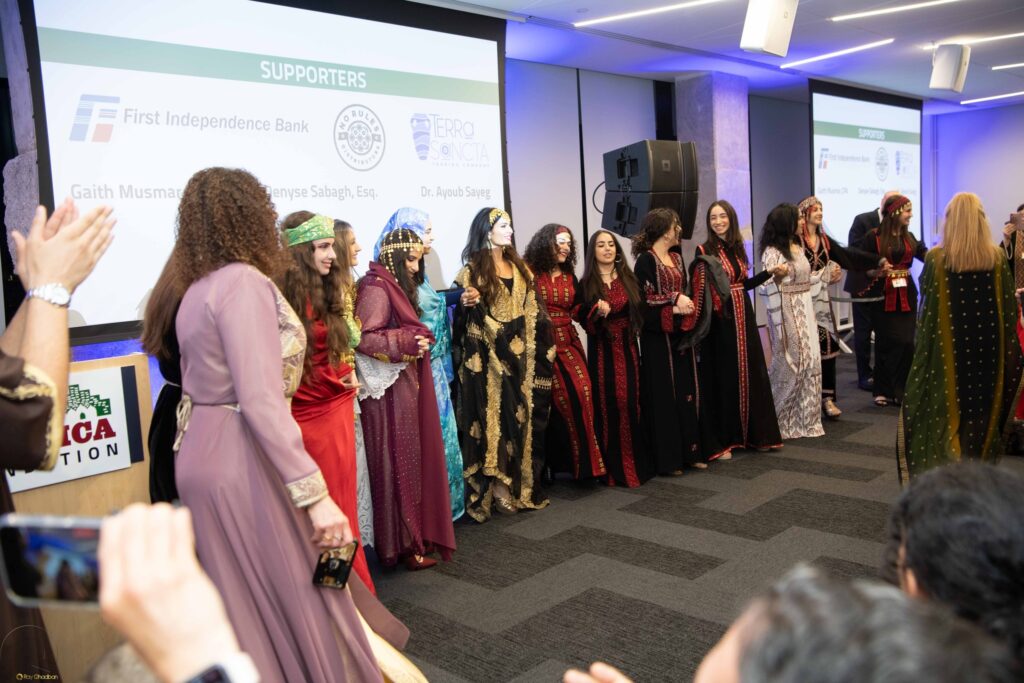 After all the models had walked the runway, both guests and models alike broke out into dabke and energetic dancing. Afterward, Mr. David provided closing remarks and invited guests to dinner.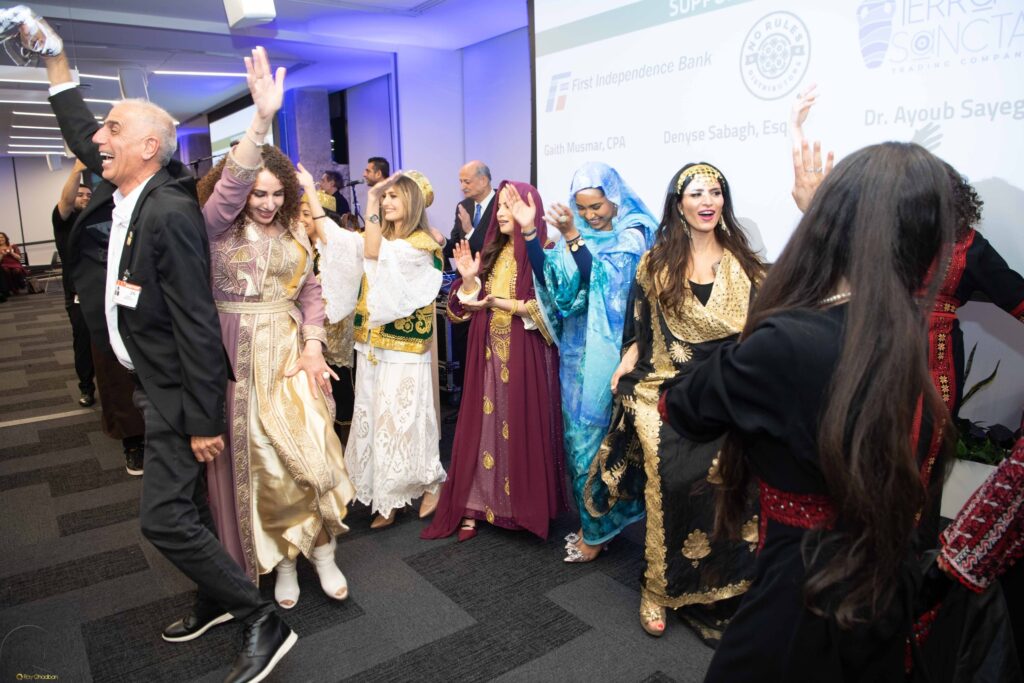 End of the Evening
After dinner, Usama Baalbaki performed songs across the Arab world, announcing "I'm going to take you guys from country to country." Guests of all ages danced and sang along, enjoying the evening in the community.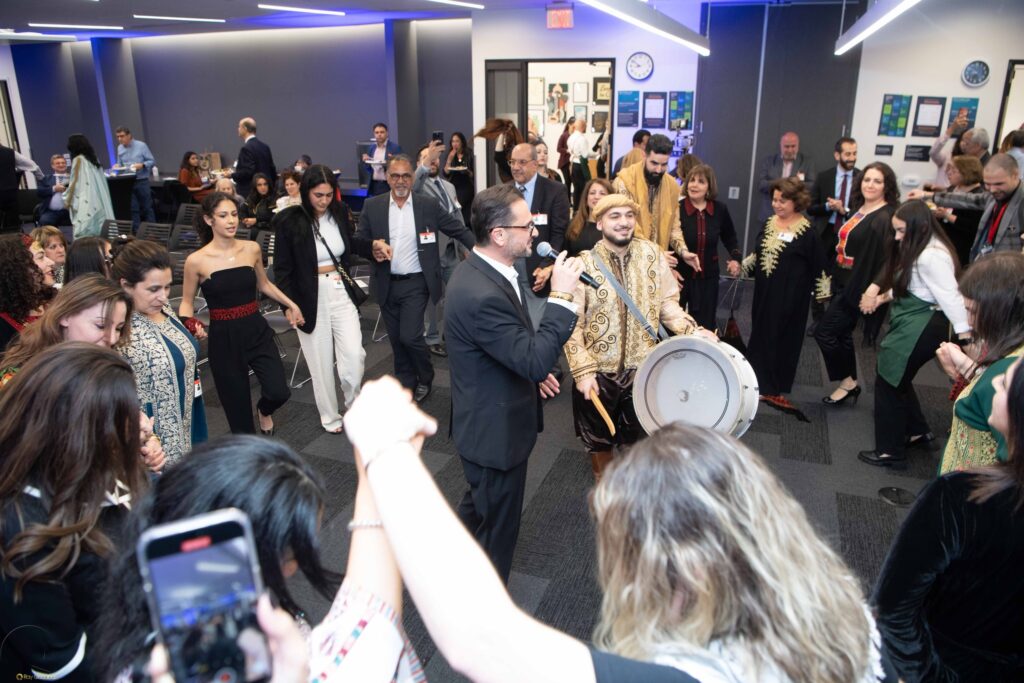 At the end of the evening, a surprise proposal from a Palestinian couple warmed the hearts of guests, closing the night with hope and joy.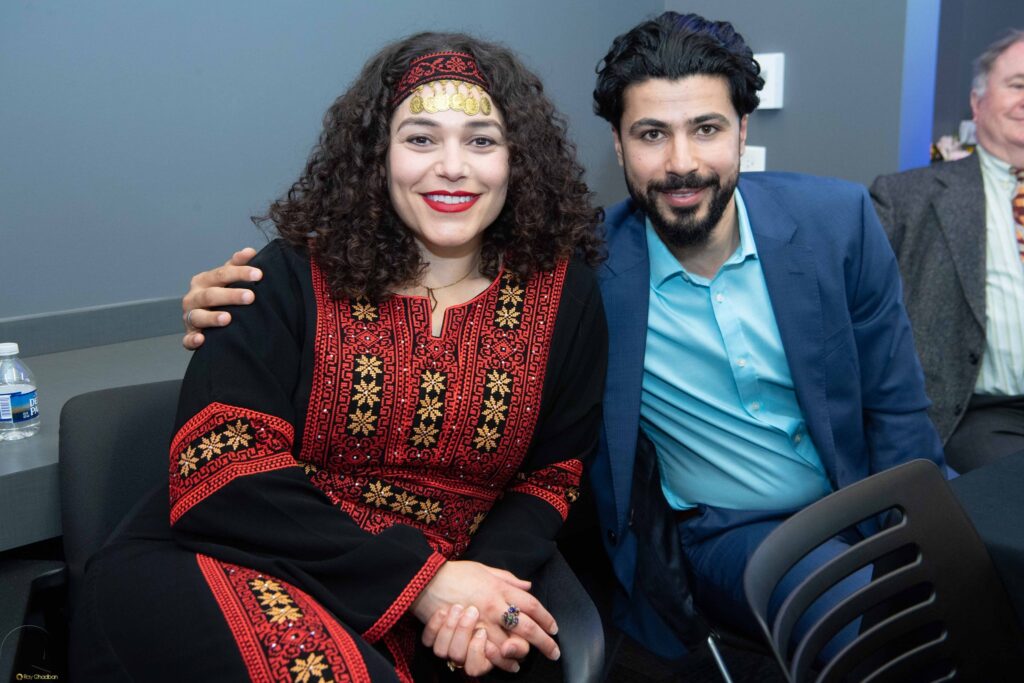 During the month of April, the Arab America Foundation formally recognizes the achievements of Arab Americans through the celebration of National Arab American Heritage Month (NAAHM). Across the country, cultural institutions, school districts, municipalities, state legislatures, public servants, and non-profit organizations issue proclamations and engage in special events that celebrate our community's rich heritage and numerous contributions to society.
Arab America and the Arab America Foundation launched the National Arab American Heritage Month initiative in 2017, with just a handful of states recognizing the initiative. Each year, our grass-roots network of over 250 Arab American volunteers in 28 states gathers hundreds of proclamations from their states, counties, municipalities, and local school districts.
The Arab America Foundation (AAF) is a nonprofit 501(c)(3) cultural and educational organization that promotes Arab heritage, educates Americans about Arab identity, and connects and empowers Arab Americans across the United States
Event Video
Sponsors
A big THANK YOU goes out to all of our sponsors. This event wouldn't be possible without them. We're extremely grateful for their support!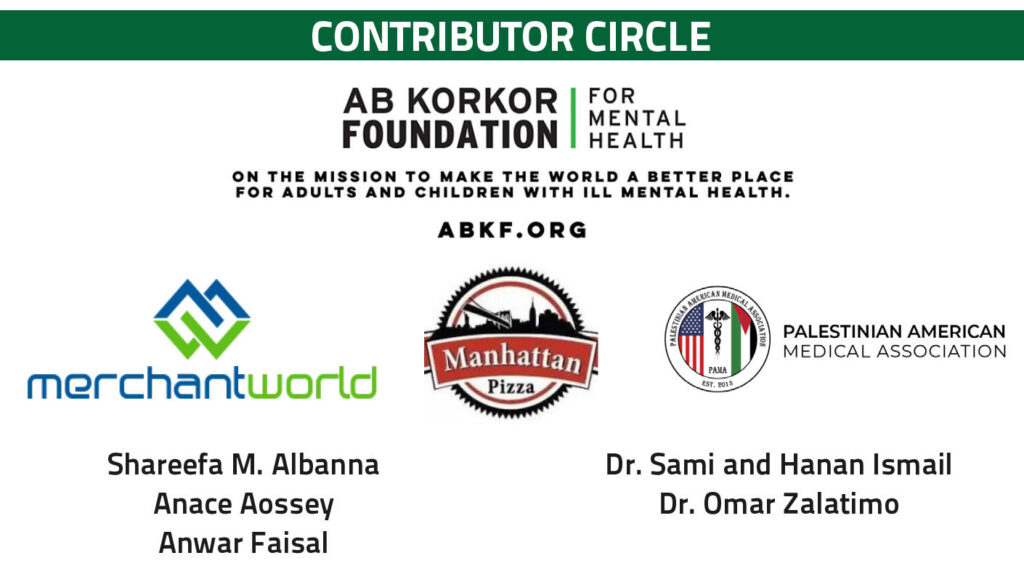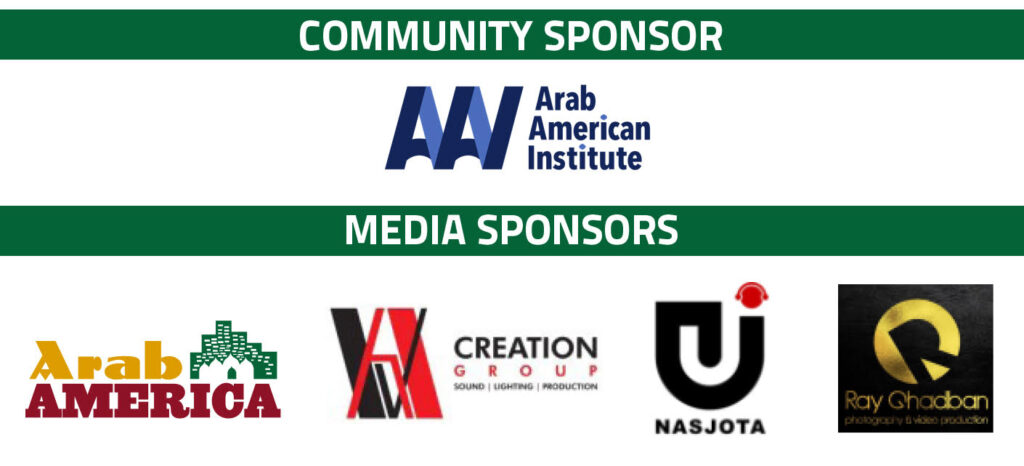 Check out Arab America's blog here!