Arab Americans
Dina Habib Powell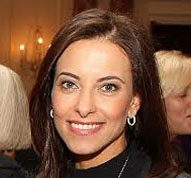 Dina Habib Powell (née Habib), born 1973, is the former Assistant Secretary of State for Educational and Cultural Affairs for the United States government.[1] She was in charge of the Bureau of Educational and Cultural Affairs, a part of the State Department. Currently, she is the global head of corporate engagement at Goldman Sachs.[2]
Career
She was Director of Congressional Affairs and Senior Advisor to the Chairman at the Republican National Committee from 1999 to 2001.[3] She was Special Assistant to the President and Associate Director from 2001 to 2003. In 2003 Powell became the Assistant to the President for Presidential Personnel, succeeding Clay Johnson III.[4]
On March 14, 2005, President Bush nominated Powell for the position of Assistant Secretary of State for Educational and Cultural Affairs at the State Department under White House Advisor Karen Hughes. She was confirmed by the Senate on June 24, 2005. Condoleezza Rice then designated her Deputy Under Secretary of State for Public Diplomacy and Public Affairs to Karen Hughes.
On May 2, 2007, Mrs. Powell announced her departure from the Department of State to become the Director of Global Corporate Engagement for the Goldman Sachs Group.[5] She was succeeded as Assistant Secretary of State by Goli Ameri on March 19, 2008.
On February 3, 2014, Goldman Sachs announced that "Dina Habib Powell, president of the Goldman Sachs Foundation and global head of the Office of Corporate Engagement (OCE), will also become head of Goldman Sachs Bank USA's Urban Investment Group (UIG). She will maintain her current responsibilities for OCE with the Executive Office."
Personal life
She is married to Richard C. Powell, a former COO for Burson-Marsteller, former chief communications officer at Bloomberg, now president of Teneo, and has two young daughters.
References