Arab Americans
DJ Khaled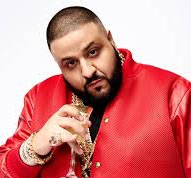 Khaled Khaled (born November 26, 1975),[1] better known by his stage name DJ Khaled, is an American record producer, radio personality, rapper, DJ and record label executive. He is a radio host for the Miami-based urban music radio stationWEDR and the DJ for the hip hop group Terror Squad. In 2006, Khaled released his debut album Listennn… the Album. He went on to release We the Best (2007), We Global (2008), Victory (2010), We the Best Forever (2011), Kiss the Ring (2012) and Suffering from Success (2013). In 2009, Khaled became the president of record label Def Jam South and he is also the CEO and founder of We the Best Music Group. Currently, he hosts the weeknight program TakeOver on Miami-based urban music radio station WEDR with fellow host K. Foxx; Khaled states that he has worked for the station professionally since 2003. Early in his career, he DJed for a south Florida regional station Power 96.5 FM.[2] In 1998, Khaled worked as a DJ for M Luther Campbell for Campbell's Friday night WEDR radio show The Luke Show.[3]
From 2004 to 2006, Khaled assisted in the production of the hip-hop albums Real Talk by Fabolous, True Story by Terror Squad, All or Nothing by Fat Joe, and Me, Myself, & I by Fat Joe.[4]
Biography
Early life
Khaled was born in New Orleans, Louisiana to Palestinian parents.[1][2][5]
2006–08: Listennn… the Album and We the Best
On June 6, 2006, his debut album Listennn… the Album was released by Koch Records; it premiered on the US Billboard200 chart at number 12.[6]
We the Best (2007) is his second album with singles "I'm So Hood" with T-Pain, Trick Daddy, Plies, and Rick Ross and "We Takin' Over" with Akon, T.I., Rick Ross, Fat Joe, Birdman, and Lil Wayne. "We Takin' Over" peaked at number 28 on the USBillboard Hot 100 and number 11 on the US Hot Rap Tracks chart and was certified Gold by the Recording Industry Association of America on November 20, 2007.[7] Khaled made a guest appearance on Birdman's 2007 album 5 * Stunna on the single "100 Million"; which also features Rick Ross, Dre, Young Jeezy and Lil Wayne. That year, Khaled won two Ozone Awards: one for Best Video ("We Takin' Over") and another for Best Radio DJ.[8]
2008–10: We Global and Victory
In 2008, Khaled's third album We Global came out with singles "Out Here Grindin" with Akon, Rick Ross, Lil' Boosie, Trick Daddy, Ace Hood, and Plies, followed by "Go Hard" featuring Kanye West and T-Pain. RIAA certified the single "I'm So Hood" Platinum on June 4, 2008.[7] That year, Khaled won DJ of the Year awards from the BET Hip Hop Awards and Ozone Awards.[9][10]
He was appointed the president of Def Jam South in 2009.[11]
His fourth studio album Victory was released on March 2, 2010. The album featured guest appearances from Drake, Lil Wayne, Rick Ross, Nas, Snoop Dogg, Ludacris,Nelly and more. The single "All I Do Is Win" featuring Ludacris, Rick Ross, Snoop Dogg and T-Pain was certified as a double-platinum single. Other singles include: "Put Your Hands Up" featuring Ross, Young Jeezy, Plies and Schife, and "Fed Up" featuring Usher, Drake, Ross and Jeezy. The album had low sales and debuted at number 12 on the Billboard 200.
2010–12: We the Best Forever and Kiss the Ring
DJ Khaled announced the title of the album, We the Best Forever, on Twitter.[12] On August 19, Khaled signed to Cash Money Records along to Universal Motown, the album will be released under the label, also under E1 Entertainment, Terror Squad, Def Jam South and Khaled's own label We the Best Music Group, with confirmed guests as Fat Joe, Chris Brown, Keyshia Cole, Cee Lo Green, Cool & Dre, Rick Ross, Kanye West, Jay-Z, Nas, Birdman, Lil Wayne, T.I., Akon, Drake and Nicki Minaj[13][14][15][16] The first single titled "Welcome to My Hood", featuring Rick Ross, Plies, Lil Wayne and T-Pain was released in January 13 of 2011, which was produced by The Renegades, and co-produced by DJ Khaled himself and The Nasty Beatmakers. The song is the first released under Cash Money Records and Universal Motown,[17] a music video was filmed in Miami, Florida and directed by Gil Green, featuring cameos by Flo Rida, Bow Wow, Busta Rhymes, and other artists.[18] The next single, "I'm On One", featuring Drake, Rick Ross and Lil Wayne, was released on May 20, 2011. DJ Khaled performed the song at BET Awards 2011 which aired on June 26, 2011.[19]
On December 10, 2011, DJ Khaled announced the title of his next album, Kiss the Ring, via a video, with the release date as "coming soon", presumed 2012.[20] Guests on the album are T-Pain, French Montana, Future, Wiz Khalifa, Nas, Plies, Ace Hood, Kanye West, Rick Ross, Meek Mill, Big Sean, 2 Chainz, Jadakiss, Kirko Bangz,Mack Maine, Tyga, T.I., J. Cole, Kendrick Lamar, Big K.R.I.T., Mavado, Wale and many more. Khaled mentioned that he had a verse from someone very special which was later revealed as Scarface. The first single released was "Take It to the Head" featuring Chris Brown, Rick Ross, Nicki Minaj and Lil Wayne. The second single released was "I Wish You Would" featuring Kanye West & Rick Ross. Kiss the Ring was released on August 21, 2012.[21] The third official single was "Bitches and Bottles" featuring T.I, Lil Wayne, and Future.
2013: Suffering from Success
In January 2013, DJ Khaled announced that he had already started working on his seventh album and that it will be titled Suffering from Success. After going to a doctor due to a bald spot on his beard the doctor told him he was "suffering from success" which inspired the album title.
The first single from the album is titled, "No New Friends" and features Drake, Lil Wayne and Rick Ross, along with production coming from Boi-1da and Noah "40" Shebib.[22] On April 14, 2013 DJ Khaled released a promotional video for Suffering for Success and the first single "No New Friends".[23] The single was then premiered the following day and released to iTunes of April 19, 2013.[24][25] "No New Friends" has since debuted at #55 on the Billboard Hot 100. On June 10, 2013, it was announced that Suffering from Success would be released on September 24, 2013.[26]
On July 25, 2013, Khaled publicly "proposed" to fellow Cash Money artist Nicki Minaj via MTV. He supported his offer with a 10 karat diamond ring from Rafaello & Co., valued at about $500,000.[27] Later, he reaffirmed his proposal in an interview with Power 106's DJ Felli Fel, stating: "I ain't a young boy no more. I'm on my thinking the future. I just had to be honest. I always liked her. She's my friend, of course. And I like her. It's more than a crush."[28] On July 29, 2013, in an interview with Funkmaster Flex, Minaj denied Khaled's proposal, saying: "Khaled is my brother and Khaled was not serious with that damn proposal, ya'll. Please let it go. He was kidding."[29] The same day, Flex premiered Khaled's new single, titled "I Wanna Be with You" which featured Minaj, as well as frequent collaborators Future and Rick Ross. This lead some to believe that his proposal was a "publicity stunt" to promote his new single.[30][31]
2014–present: I Changed Alot
On April 28, 2014, DJ Khaled announced in an interview with MTV that Jay-Z will be featured on his new single. The interview was noted due to Khaled "cursing, gesturing, and tossing the microphone to the floor in an effort to convey the importance and impact of the music he has coming this summer."[32] Few hours after that, he released the single called "They Don't Love You No More", also featuring frequent collaborators Rick Ross, Meek Mill and French Montana. The song will be on his eight studio album titled I Changed Alot, which is set for a 2015 release.[33][34] Then the following day, "They Don't Love You No More" was serviced to mainstream urban radio in the United States.[35]
On July 1, 2014, Khaled announced that he has partnered with Danish audio company Bang & Olufsen to launch his own brand of headphones, titled "We the Best Sound".[36] The brand is advertised in the video "They Don't Love You No More."
On August 8, 2014, Khaled released the official artwork for the second single from I Changed Alot entitled "Hold You Down" which features Chris Brown, August Alsina,Future and Jeremih, and is produced by Bkorn, Lee On the Beats and LDB. The single was released on August 11, 2014, along with a music video, directed by Gil Green.[37] On November 3, 2014, Khaled released the remix to "Hold You Down" featuring Usher, Rick Ross, Fabolous, and Ace Hood.
On May 11, 2015, the DJ revealed that he's parted ways with Cash Money Records, amicably. "I'm not signed to Cash Money at all. I've been off for a minute," Khaled revealed. "It's not that I'm here to promote that I've been off. That's family. But, nah, it's just We The Best. Nothing negative, everything's beautiful." [38]
On the same day, DJ Khaled released the third single off the upcoming album I Changed Alot titled How Many Times, featuring Chris Brown, Lil Wayne and Big Seanproduced Bkorn, Lee On The Beats and OZ.[39]
Discography
Recurring collaborators
This chart lists every artist who has appeared in at least 3 different albums by DJ Khaled (including bonus tracks and remixes). His most frequent collaborator is Rick Ross, who has appeared on 26 songs, among all seven of Khaled's albums.[40] The only other artists to appear on every album is Birdman and Lil Wayne, while Plies has appeared on six out of the seven.
Awards and nominations
BET Hip Hop Awards

2009, DJ of the Year (Nominated)
2008, DJ of the Year (Won)[42]
2008, MVP of the Year (Nominated)[43]
2008, Best Collabo ("I'm So Hood (Remix)") with Young Jeezy, Ludacris, Busta Rhymes, Big Boi, Lil Wayne, Fat Joe, Birdman, & Rick Ross (Won)[44]
2007, People's Champ Award ("We Takin' Over") with Akon, T.I., Rick Ross, Fat Joe, Birdman, & Lil Wayne (Nominated)[45]
2007, Best Hip-Hop Collabo ("We Takin' Over") with Akon, T.I., Rick Ross, Fat Joe, Birdman, & Lil Wayne (Nominated)[46]
Grammy Awards

2012, Best Rap/Sung Collaboration: "I'm On One" with Drake, Lil' Wayne & Rick Ross (Nominated)
References