Arab Americans
Donna Shalala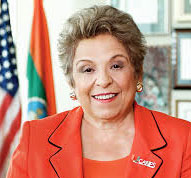 Donna Edna Shalala (/ʃəˈleɪlə/ shə-lay-lə; born February 14, 1941) was United States Secretary of Health and Human Services under President Bill Clinton from 1993 to 2001. She has been president of the University of Miami, a private university in Coral Gables, Florida, since 2001. On September 8, 2014, she announced that she would be retiring at the end of the 2014-2015 school year. Previously, she was the chancellor of the University of Wisconsin-Madison from 1988 to 1993. She was awarded the Presidential Medal of Freedom, the nation's highest civilian honor, by President George W. Bush in June 2008. Shalala has been selected to lead the Clinton Foundation after she leaves the University of Miami.[2]
Early life
Shalala was born in Cleveland, Ohio, of Maronite Catholic Lebanese descent, to Edna Smith and James Abraham Shalala.[3] She has a twin sister, Diane Fritel. She graduated from West Tech High School and received her bachelor's degree in 1962 from Western College for Women, which in 1976, merged with Miami University in Oxford, Ohio.
She served as a Peace Corps volunteer in Iran from 1962–64, where she worked with other volunteers to construct anagricultural college.[4]
In 1970, she earned a Ph.D. from the Maxwell School of Citizenship and Public Affairs at Syracuse University in Syracuse, New York.[5]
Academic career
Shalala began her teaching career as a political science professor at Baruch College (part of CUNY), where she also was a member of the American Federation of Teachers union. In 1972 Shalala became a professor of politics and education atTeachers College, Columbia University, a job she held until 1979. Concurrently, from 1977 to 1980, she served as the Assistant Secretary for Policy Development and Research at the U.S. Department of Housing and Urban Developmentduring the Carter administration.
Shalala's first experience with academic administration came in 1980 when she became the 10th President of Hunter College, serving in this capacity until 1988.
She next served as Chancellor of the University of Wisconsin–Madison. Under her chancellorship and with her support, the University adopted a broad speech code subjecting students to disciplinary action for communications that were perceived as hate speech. That speech code was later found unconstitutional by a federal judge.[6] Also while chancellor, Shalala supported passage of a revised faculty speech code broadly restricting "harmful" speech in both "noninstructional" and "instructional" settings. The faculty speech code was abolished ten years later, after a number of professors were investigated for alleged or suspected violations.[7]
Secretary of Health and Human Services
Following a year serving as Chair of the Children's Defense Fund (1992–1993), Shalala was appointed United States Secretary of Health and Human Services in 1993 by President Bill Clinton. She served in this role for all eight years of his administration, becoming the nation's longest serving HHS Secretary. In 1996, Shalala was the designated survivor during President Clinton'sState of the Union address.
In her role as HHS Secretary, Shalala frequently drew criticism for her positions, which were seen by some as too liberal. The Washington Post labeled her "one of the most controversial Clinton Cabinet nominees".[6] She was also known for her fervent anti-drug stance. She was the first Lebanese-American to serve in a Cabinet position.
University of Miami
Shalala created a UM fundraising campaign called "Momentum", designed to raise UM's endowment from approximately $750 million to $1 billion; the goal was later increased to $1.25 billion by the end of 2007. In February 2012 the University of Miami announced Momentum2: The Breakthrough Campaign for the University of Miami, with $906 million already raised at the time of the public launch. On October 26, 2012, UM announced that Momentum2 hit the $1 billion mark, on track to reach the fundraising goal of $1.6 billion in 2016.
Drawing on her experience after serving as Secretary of Health and Human Services, Shalala teaches a course covering the United States healthcare system every spring semester.
In the fall of 2007, Shalala was inducted into UM's Iron Arrow Honor Society.
On September 8, 2014, Shalala announced that she would be stepping down at the end of the 2014-2015 academic year.
Custodial wages strike
Shalala was criticized for her handling of a nationally publicized custodial workers' strike at the University of Miami which lasted from February 28 to May 1, 2006. Critics said that UM's custodial workers were among the lowest paid university-based custodians in the nation and were not earning a living wage until the strike prompted Shalala to raise wages. Shalala was also criticized for living in luxury while the custodians did not even have health insurance.[8] Shalala criticized union organizer's tactics, including a sit-in that she said prevented students from attending classes.[8]
Other activities
Board member
Donna Shalala is currently serving on the Board of Directors of the U.S. Soccer Federation.[9] Shalala served as a member of the board of directors of Lennar Corporationfrom 2001-2012.[10][11] She served on the board of directors of Gannett Company from 2001 to 2011, retiring because of age limits.[12] The Chronicle of Higher Education has reported on the conflict of interest of Shalala sitting on boards of property development companies.[13]
Co-chair of Presidential Commission
On March 6, 2007 President George W. Bush named Shalala and Bob Dole to head a presidential commission called the President's Commission On Care for America's Returning Wounded Warriors. The commission was formed in response to a growing outcry over the care of wounded outpatient soldiers.
The commission included seven other members, ranging from injured war veterans to the wife of a wounded staff sergeant who suffered burns across 70 percent of his body. Demands for corrective action arose after the Washington Post exposed living conditions in a decrepit Army-owned building just outside Walter Reed Hospital and highlighted obstacles and delays in the treatment of soldiers who suffered serious injuries in Iraq and Afghanistan.[14] The commission subsequently issued several recommendations for improvement of these facilities.
Civic activities
In 1985, Shalala became a founding member of EMILY's List, a political action committee that seeks to elect pro-choice Democratic women to office.[15] Shalala served from 2001-2007[10] on the board of the Albert Shanker Institute, a small, three-member staff organization named for the former head of the American Federation of Teachers. She is an honorary board member of the American Iranian Council, an organization that seeks to promote closer U.S. relations with Iran.[16] She served [10] on the board of directors for Gannett Company.
Shalala serves as a co-leader of the Nutrition and Physical Activity Initiative at the Bipartisan Policy Center.[17] She serves as a distinguished senior fellow in the Economic Studies Program and the Engelberg Center for Health Care Reform at the Brookings Institution.[18]
Honors
On June 19, 2008 Donna Shalala was awarded the Medal of Freedom by President George W. Bush.[19] In 2010 she received the Nelson Mandela Award for Health and Human Rights.[20] She was inducted into the National Women's Hall of Fame in Seneca Falls, New York in 2011.[21] In 2014, she was recognized by the Harry S Truman Library with the Harry S Truman Legacy of Leadership Award.[22] Shalala has been awarded more than 50 honorary degrees.[10]
She has been elected to the Council on Foreign Relations; National Academy of Education; the National Academy of Public Administration; the American Academy of Arts and Sciences; the American Philosophical Society; the National Academy of Social Insurance; the American Academy of Political and Social Science; and the Institute of Medicine of the National Academy of Sciences.[21]
Countrywide Financial Loan Scandal
In June 2008, Conde Nast Portfolio reported that Shalala allegedly got multiple below-rate loans at Countrywide Financial because the corporation considered her an "FOA"–"Friend[s] of Angelo" (Countrywide Chief Executive Angelo Mozilo).[23]
Notes