37th Annual Lebanese Festival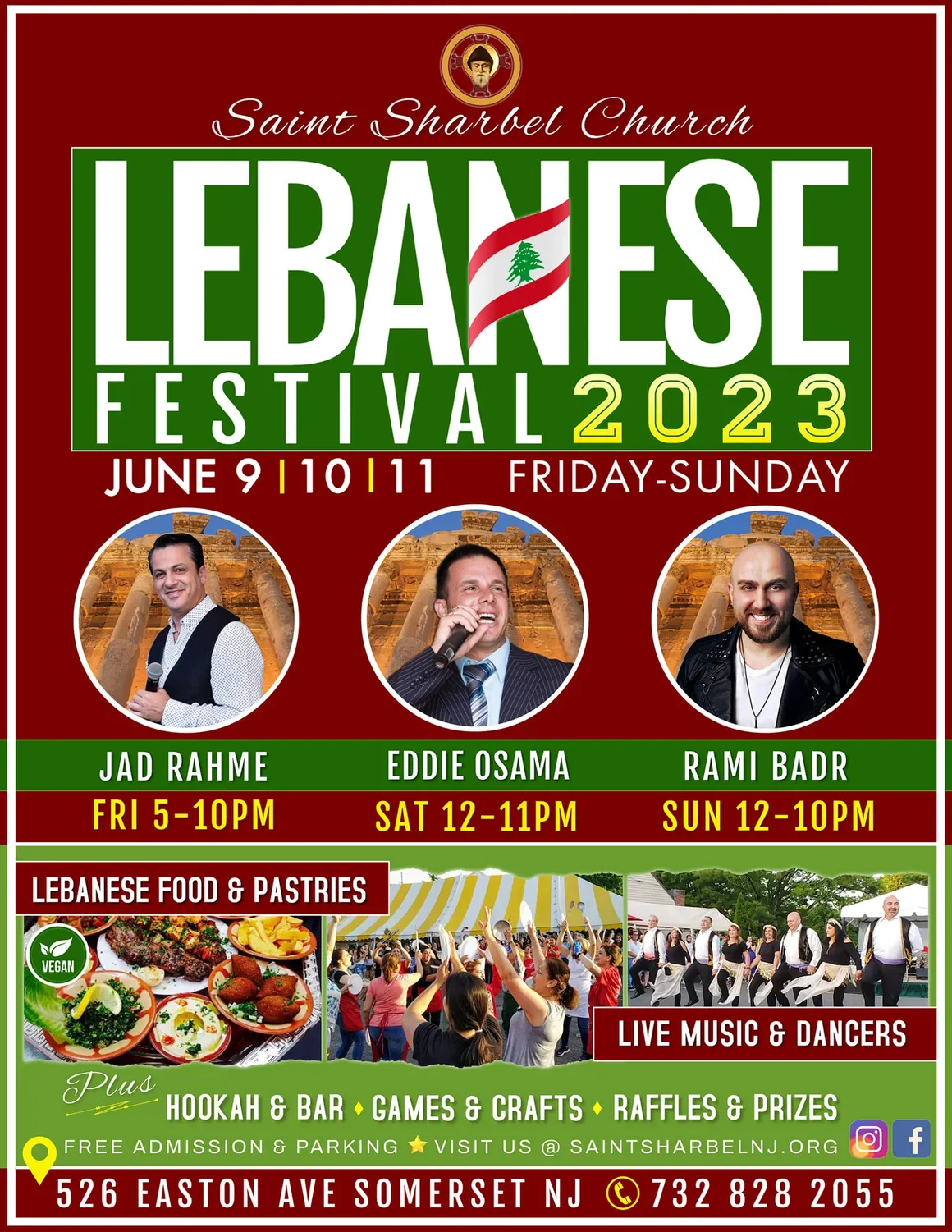 Date/Time
Date(s) - 06/09/2023 - 06/11/2023
12:00 am
Location
526 Easton Ave
Categories
Cost:
Free USD
Contact Person:
Laurie Machalany
Email:

Website:
https://saintsharbelnj.org/2023-festival
Phone:
7328282055
Organization:
Saint Sharbel Maronite Catholic Church

SOMERSET, NJ
We are excited to announce that we will hold our 37th Annual Lebanese Festival on Friday, June 9, 2023 from 5-10:00 p.m., Saturday, June 10, 2023 from 12-11:00 p.m. and Sunday, June 11, 2023 from 12-10:00 p.m. at St. Sharbel Maronite Catholic Church, located at 526 Easton Avenue, on the corner of Franklin Boulevard, in Somerset, New Jersey.
Better known as a Mahrajan, our Festival is a great outdoor gathering of families, friends and neighbors for authentic Middle Eastern food, music, dance and culture.  Traditional Lebanese foods such as falafel, shawarma (gyro), hummus, shish kabob, spinach pies, tabouleh, stuffed grape leaves and much more will be featured at the Festival.  Plus, there will be many vegetarian, vegan and gluten free options!  In addition, a large assortment of Middle Eastern pastries such as baklawa, mamool, namoura, and ghraybeh will be available to indulge in. Also, our bar features beer, spirits and non-alcoholic drinks.
For entertainment, there will be live music featuring a different singer each day. Performing on Friday evening will be Jad Rahme. On Saturday, singer Eddie Osama will
perform, and on Sunday, Rami Badr will be singing both traditional and popular songs from Lebanon.  For everyone's enjoyment, there will be dancing, as well as folkloric dance performances by our parish children, teens and young adults. In addition, there will be souvenirs, a Super 50/50, backgammon and hookah.
The Lebanese Festival is made possible through the efforts of the parishioners and friends of St. Sharbel Maronite Catholic Church. It was born out of the desire to celebrate the wonderful and ancient Lebanese culture and the traditions that have survived through the ages, despite wars and crises that have for many years haunted and still haunt the Lebanese people. Because of the abundance of Middle Eastern cuisine, live music, dancing, and games of chance, the Festival is recognized as one of the most outstanding annual events in the community.  People from throughout New Jersey, Pennsylvania, and the Tri-State region regularly attend the Festival.  It is held as the largest fund-raising project for the building of our new church complex.
Admission and parking are FREE and everyone is invited to attend.  For further details, you may call the parish office of St. Sharbel Church, at (732) 828-2055 or visit us on our Facebook page, Instagram or website at www.saintsharbelnj.org.