AMP Leading DC Rally to Commemorate Nakba 75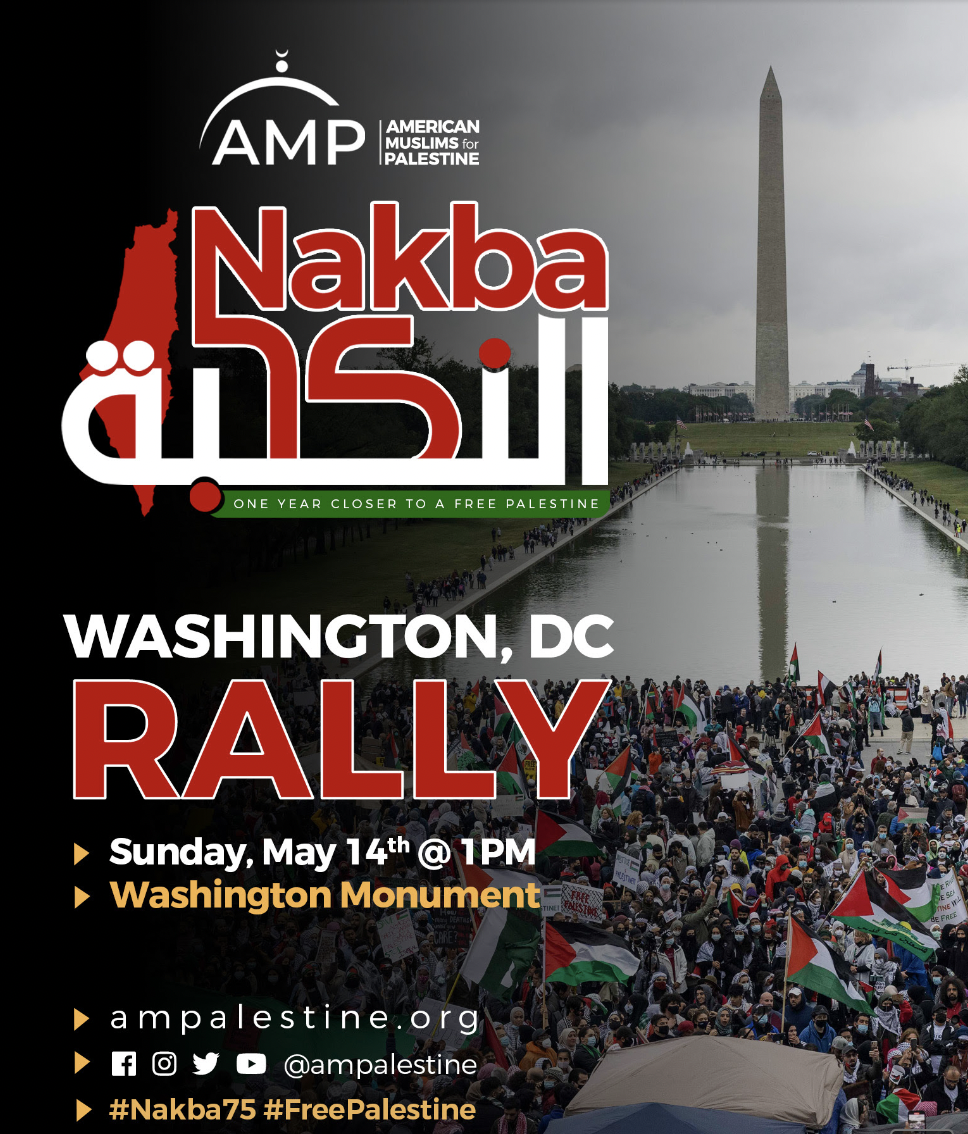 Date/Time
Date(s) - 05/14/2023
1:00 pm
Location
Northeast Quadrant Washington Monument
Categories
Cost:
0.00 USD
Contact Person:

Email:

Website:
https://www.ampalestine.org/
Phone:

Organization:
American Muslims for Palestine

Washington, D.C.
American Muslims for Palestine (AMP) announces a rally demonstration at the Washington Monument in Washington, DC on Sunday, May 14th at 1:00 PM to commemorate the 75th Anniversary of the Nakba.
It is undeniable that the cataclysmic events that took place in Palestine between 1947-1949 catastrophically altered the lives of Palestinians and sent shock waves throughout the world. The scale and brutality of the horrifying events of the Nakba remain etched in our collective memory and the trauma passed on from generation to generation.
What the Nakba set in motion 75 years ago was a long and violent process of ethnic cleansing, dispossession, and violent erasure of Palestinians that continues unabated today. It is a profound reminder that the global institutions and human rights laws created in the post-WWII era to prevent crimes against humanity were not designed for the Palestinian or Arab or Muslim subaltern. The British, the UN, the United States, and many others underwrite, endorse, and participate in this process of the ethnic cleansing of Palestinians from Palestine.
It is, however, remarkable that the Palestinian people continue to survive, resist and build for a better future despite the insurmountable odds and painful suffering. It is for that reason that we not only commemorate the tragedy that befell the Palestinian people and the entire region during the Nakba, but we also celebrate Palestinian resilience and perseverance. As the occupation and settler colonization of Palestine intensifies, so does advocacy and action for the Palestinian people.
We cannot let this moment go by without taking a stand that is befitting of our cause and people.
SAVE THE DATE: On Sunday, May 14th at 1 PM, AMP and supporters from across the Palestine movement will lead a rally in Washington, D.C. at the northeast quadrant of the Washington Monument to commemorate the Nakba.
We encourage all to make plans to attend. More information will be sent in the coming weeks with regard to the program and logistics for those coming from out of town.
Sincerely,
Dr. Osama Abuirshaid
Executive Director, AMP