BellyRhythm Belly Dance Retreat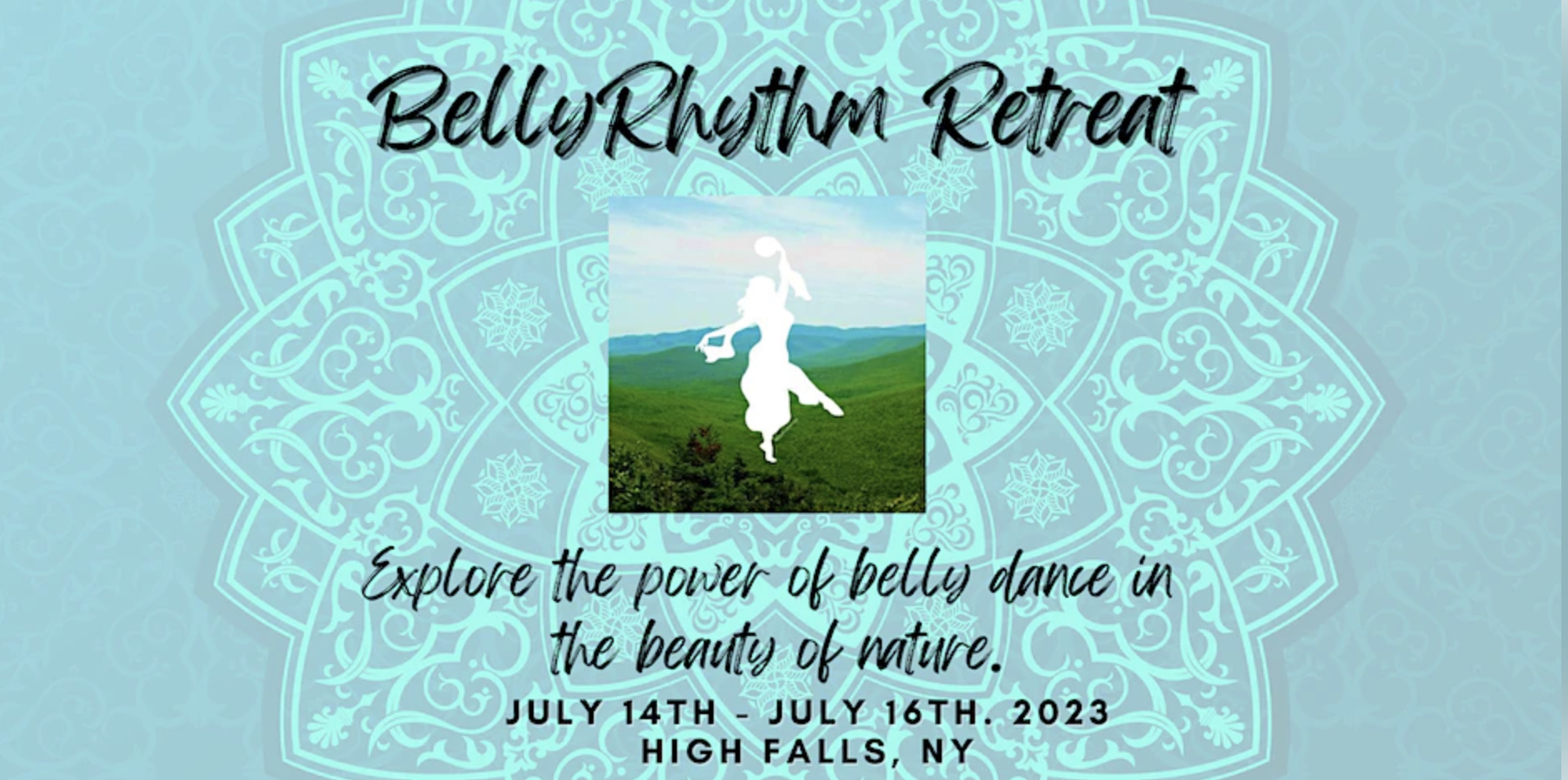 Date/Time
Date(s) - 07/14/2023 - 07/16/2023
12:00 pm - 3:00 pm
Location
Life Bridge Sanctuary
Categories
Cost:
677.91 USD
Contact Person:
Audie Odum-Stellato
Email:
audiesbellyrhythm@gmail.com.
Website:
https://www.eventbrite.com/e/bellyrhythm-belly-dance-retreat-tickets-576284541577?aff=ebdssbdestsearch
Phone:

Organization:
BellyRhythm

HIGH FALLS, NY
Ever dream of a place where you can dance, laugh, hike, learn, connect, refresh, play, explore, grow and breathe? At BellyRhythm Retreat 2023 you'll learn from notable belly dance instructors in the lush and beautiful grounds of Life Bridge Sanctuary in High Falls, NY while enjoying great food and lively company.
This is the tenth BellyRhythm Retreat I've hosted. Ten amazing events sharing the beauty and power of belly dance. I hope you can join me for this very special event.
Here's what you can expect:
•Choice of 14 classes from 4 professional instructors
•Multi-level classes allowing you to go deep into a technique
•Enjoy evening activities with performances and games
•Beautiful scenery
•Delicious, healthy food prepared by our personal Chef
•Scenic Hiking trails
•Close to airport, trains & highways
•Slow down and relax into dance 
Activities and classes begin at 2PM Friday July 14th and end Sunday July 16 at 2PM
For more info feel free to contact me audiesbellyrhythm@gmail.com.
Retreat Workshops
Fan Veil Mastery with Audie: Making Your Own Fan Veil, Fan Veil Techniques Part 1 & 2. Of all the props used in dance the fan veil is one of the most versatile. It can flutter, swoop and wrap around the dancer to express a million images and emotions. Audie has worked with fan veils for many years resulting in stunning stage performances. 
Immersive Cane Study Part 1 & 2 with Adira Elham. You will explore four styles of cane dance ( Saidi, Saidi Raks Assaya, Lebanese and Egyptian) with focus on Lebanese and Egyptian styles. You will be able to do simple cane moves that can be used in your own cane performances right away! Adira with be focusing on Lebanese and Egyptian cane dance but you will also learn some important history and information about the different styles. By the end of the workshop you will have a better understanding of the styles and the differences that make them unique and beautiful. This class is designed to set you on the path of cane work along with equipping you with information and moves to help you develop your own style and cane dance preference.
Salimpour Technique and Combos with Parts 1 & 2. with Angelique. This technique class focuses on drills to help improve your speed, stamina, and precision in bellydance technique. We will then work on applying those drills to various combo's so you can see the practical nature of how they can be used. 
SharQui Dance (3 classes) with Kris. Ditch the boring workout. In a SharQui class, you'll learn new moves and combinations in flow. You'll gradually build up to more complex movements starting with the very basics – your feet! If you can walk in place, you can bellydance with SharQui.
Soulful Shabbi Urban Remix with Adirah Elham
Shabbi Belly Dance is a flirty, playful, and confident style of dance. The word shabby" Of the people", is a dance of the working class in Egypt. This workshop will include traditional shabby moves with a Detroit Homegirl type of flare! This remix of a workshop is high energy full of authentic Detroit music and moves that you might make you want to participate in our show what you learned Diva Soul Train Review! Soul and sassiness all in one….the only requirement is that you come with some sass in your spirit!