How Technology is Improving Mental Health in Saudi Arabia
By: Menal Elmaliki / Arab America Contributing Writer
Vision 2030 is Saudi Arabia's "strategic framework" to improve the quality of life and image of the country. Their aim is to make the country's economy less reliant on oil by improving its economy with an aim to invest in public service sectors such as health, education, infrastructure, recreation, and tourism. The vision was intended to be a step forward for these once nomadic Arab bedouins. The transformative economic and social reforms are meant to highlight Saudi Arabia's rich history, culture, traditions, and delicious cuisine.
The kingdom has come a long way, from allowing women to drive in 2018 to allowing more women in the public sector. They have also improved their economic and social policies, work culture, and regional relationships. A kingdom with many critics, some are calling their attempts an "end of progress without change," others 'lackluster' and only 'face-value,' but others acknowledge what they call a real development especially in their health sector.
The kingdom hopes to technologically advance and to improve the health of civilians primarily those in the workplace. Prioritizing health digitally means not only improving well-being services but also changing the overall attitude toward mental health. Covid-19 highlighted the importance and prioritization of technology as mental health worsened due to social distancing. Using digital means to improve health is strategic since smartphone rates in the Kingdom of Saudi Arabia are among the world's highest, an estimated 93% of citizens use devices to access digitized public services.
Start-Up Apps Helping Saudi's Mental Health Crisis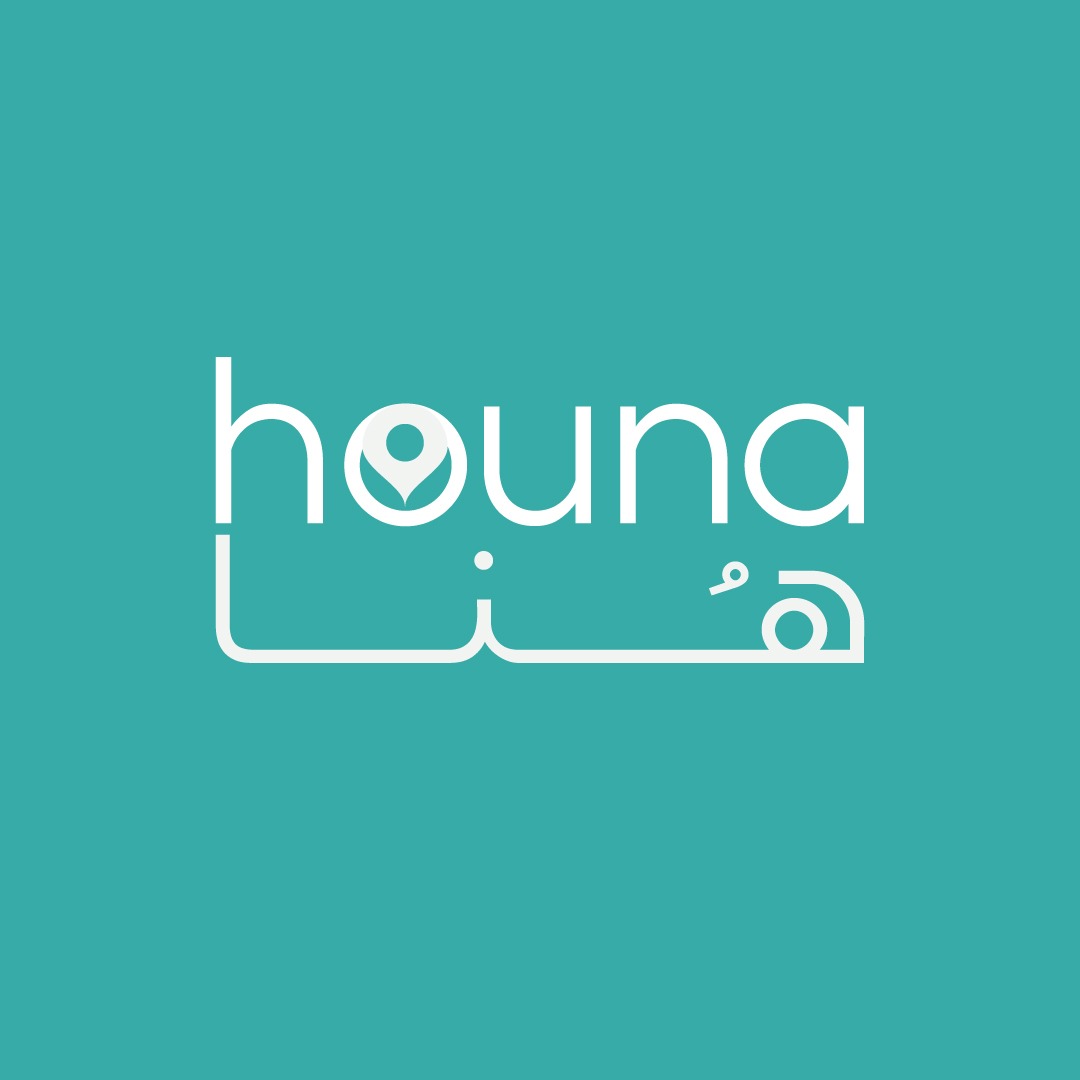 Saudi workers can now improve their mental health with start-up apps, such as Tuhoon and Houna. These apps are made specifically for improving the mental health of Saudis. Since society is conservative, and culture plays a huge role, the information is personalized to be culturally relevant. They can log in during work hours and simply unwind. While also accessing it at home to improve their quality of sleep. These apps allow users to manage their stress through exercises such as music, meditation, sleep stories, book summaries, and instructional audio. All are meant to boost mental health.
Tuhoon and Houna are making waves, revolutionizing mental health, and utilizing social media to destigmatize mental health. Tuhoon was founded in 2021 during the pandemic. The apps have been described as simple, convenient, and effective. They even offer surveys to first determine your condition and then providing you with an accurate and fast assessment of your symptoms. Additionally, the app educates users on how to ameliorate their mental health illness before it becomes a risk. Offering treatment through exercises. As well as providing information through podcasts, articles, webinars, and online events. It also allows users the opportunity to connect with medical professionals and therapists. The founder of Houna plans to open or establish a wellness center in the future.
A Structural Change
Despite the public's exposure to mental health, efforts to destigmatize mental health are slow. There can only be real change with efforts made by the government. In order to improve mental health it needs to be discussed in the public sphere. The public also needs to be educated on a regional scale. Overall, the increase in public education and public access to mental illness information allows families to decrease the stigma toward mental illness patients and health providers. It will also help people who struggle with illness to make better decisions. Adopting a positive attitude will better help in the outcome and recovery of victims.
In the Kingdom, it was reported in 2022 that "four in five of those suffering with mental health illnesses in Saudi Arabia are not seeking help or treatment," and according to a landmark report, these untreated mental health illness costs the GCC $3.5 billion each year. Saudi's regional Gulfi neighbor, UAE, is making strides to also improve mental health, bolstering mental health services, and urging residents not to suffer in silence.
Work Sectors Surveyed
Mental health has come a long way in the kingdom since 2017. It was concluded from a cross-sectional survey, in 4 major cities, that "better attitude toward mental health services and lesser impact of traditional beliefs predicted better attitude toward mentally ill people". The survey showed the effectiveness of an educational intervention. A larger amount of knowledge contributed to a better attitude toward mental health services.
This in turn influenced positive changes in the medical students' attitudes toward psychiatry, intervention efficacy, role definition, and the functionality of their roles. The study also found that those whose profession is in the health sector, and have a family history of mental illness, will more likely have a positive attitude toward mental health. In 2018, research from a cross-sectional study reported that healthcare students, in the capital city of Riyadh, were supportive in researching and addressing causes and treatments of mental illness due to exposure.
In the same year, data was collected from 400 randomly selected undergraduate health professional students in Riyadh. All in the hopes of improving the attitude of mental illness. The real progression starts at the root. With health care workers and researchers' the main goal was to first remove stigma from health care professionals. That way whenever patients come in for help they won't be turned away. According to a recent survey, the majority of the population in the workplace find discussing the topic of mental health publicly unfathomable and feel uncomfortable. Many feel that openly discussing their mental illness makes them vulnerable to public scrutiny. In the kingdom, the younger generation is trying to navigate around conservatism. Doing this by addressing controversial and touchy topics like mental health openly.
Mental Health in Saudi Workplace
Mental health problems are universal. Affecting people of all cultures, ages, and socioeconomic statuses. With depression being the number one mental health problem. There is a large stigma in addressing mental illness that is viewed as shameful. Due to this, the only way to garner research and honest opinions was anonymously.
In a country as strict as Saudi Arabia, public officals determined that answers must be anonymous due to the sensitive topic. According to the CEO of Tuhoon, Fares Grandeur, "The surveys were filled out anonymously, which made workers more receptive to talk about their issues," told Arab News.
The anonymous surveys contributed greatly to the health research of the company. Tuhoon collaborated with the Saudi National Center for Mental Health and the Ministry of Health. The report was done for the purpose of advancing mental health research and finding solutions. However, the only way to address the issues of mental health is to know them. 4,000 employees in Saudi Arabia's Workplace were interviewed and the report was titled, "State of Wellness at the Workplace".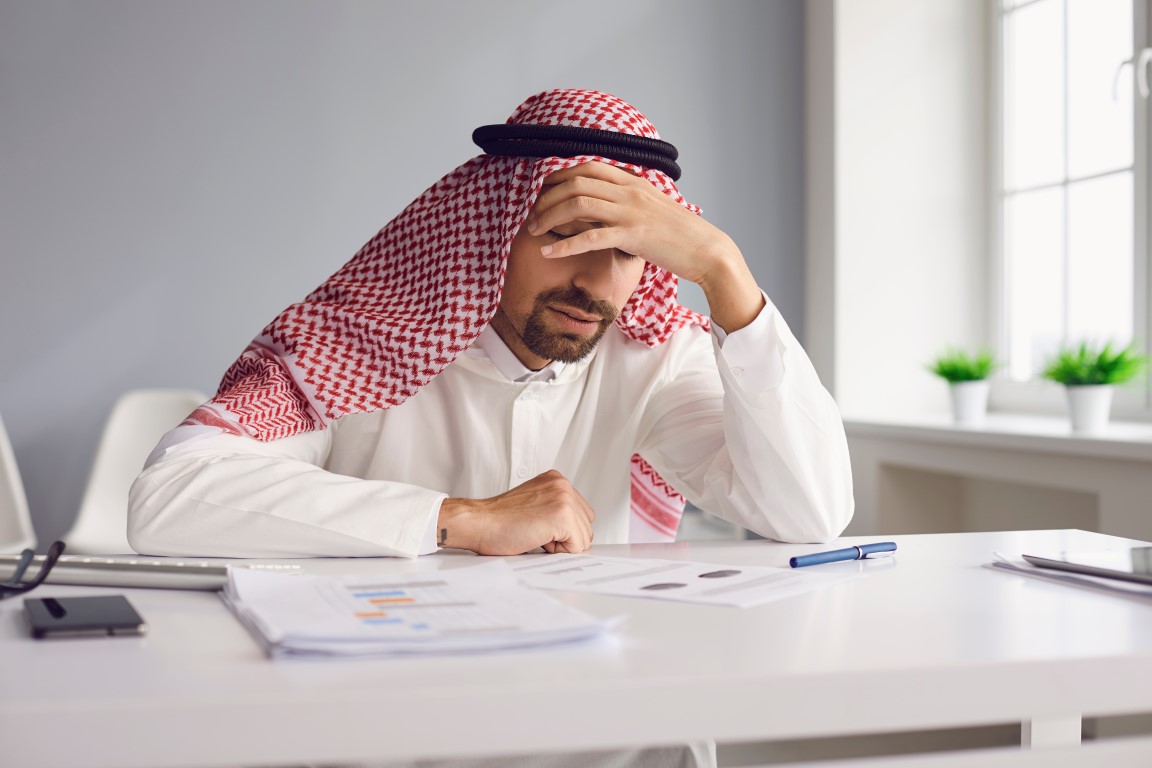 Social Issues Impacting Mental Health
Some of the research findings include that 4 in 5 employees admitted to feeling at least one mental health crisis during the past year. Surprisingly 36% of those that participated in the survey admitted to experiencing at least one form of bullying in the workplace, 34% feel unappreciated at work and 57% believed that work-related stress has an effect on their mental health. The most common mental health problem was burnout, followed by anxiety and stress.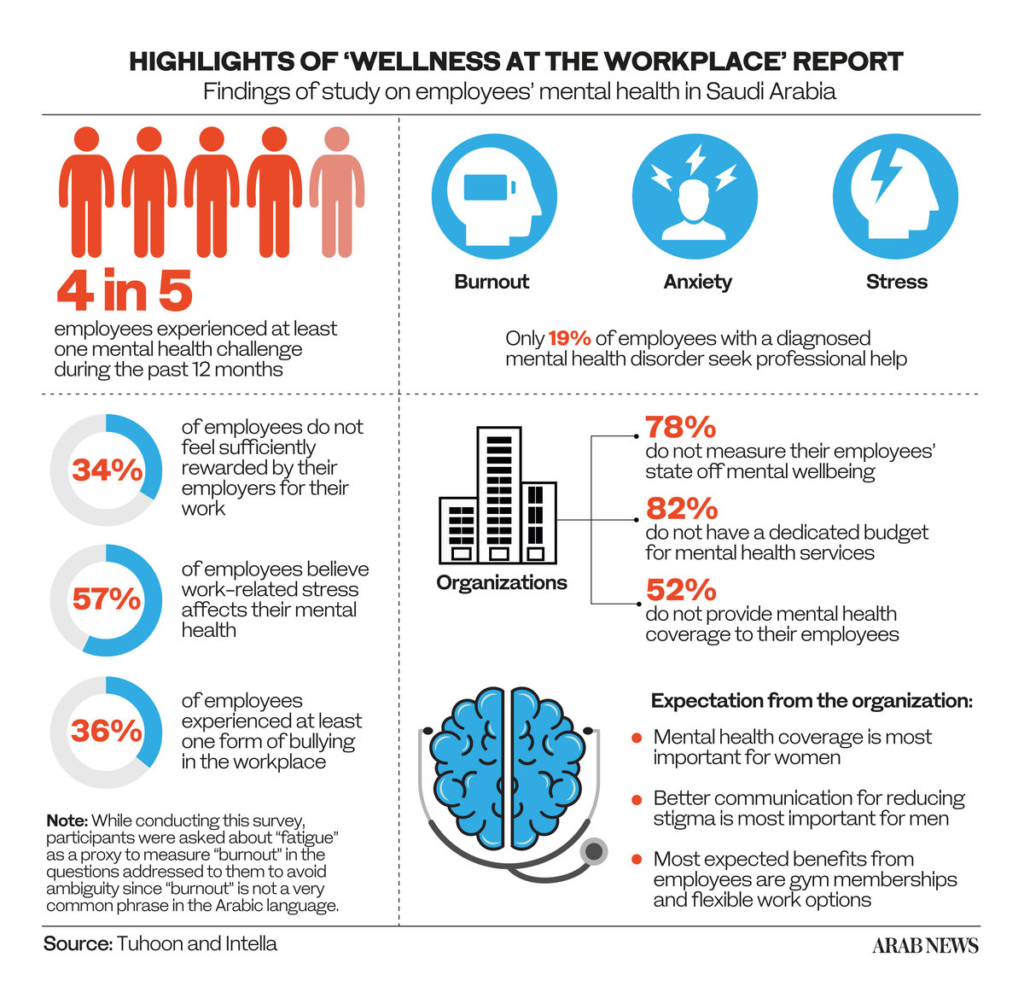 According to the report, females were more willing to converse on a personal level but not discuss their mental health because they will be seen as weak, inferior, or even incompetent. Further drawing on an embeded stigma that already exists of women in the workplace and society. Another finding shows that the younger generation was more open to discussing their mental health whereas those over the age of 45 were reluctant and had more traditional and conservative values. The research goes on to reveal that "women were 62% more likely to develop a mental health problem in men," and 44% of women in the workplace where more likely to feel anxiety and a burnout than compared to men, only 32%.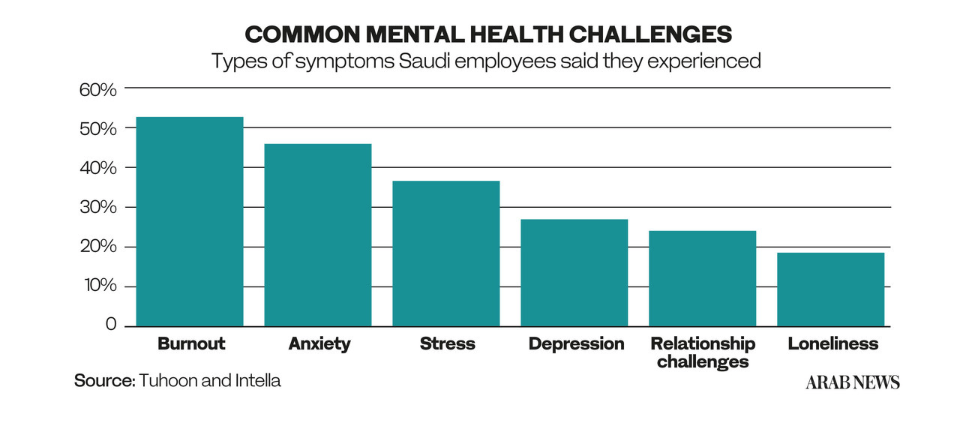 According to many Saudis remote working during COVID had affected their mental health. Initiative was taken by startups like Tuhoon to address the needs of those suffering from mental health challenges. These apps highlight the importance of smartphones, it is an essential part of a person's life and life is not functional unless you have one. The Kingdom is utilizing technology to tackle the needs of citizens especially since mental health is a taboo topic and people prefer to struggle in silence than ask for help. Smartphone apps are designed to improve the quality of mind, soul, and life through the means of mind exercises such as sleep stories, deep- focus music, masterclasses, and emergency playlists." All these activities and exercises are backed by science and curated by doctors, clinical psychologists, and certified meditation and self-awareness coaches. 80% of the companies claim that there is no budget to address the needs of mental health in the workplace and 78% of companies do not even acknowledge the need to measure their workers mental health and thus it is incumbent upon private sectors and the government to change attitudes on mental health and create a positive effect on the whole of society.
Check out Arab America's blog here!