Pathbreakers of Arab America: Ayman Mohyeldin
By: John Mason / Arab America Contributing Writer
This is the fifteenth in Arab America's series on American pathbreakers of Arab descent. The series includes personalities from entertainment, business, sports, science, academia, and politics, among other areas. Our fifteenth pathbreaker is Ayman Mohyeldin, born in Egypt of an Egyptian father and Palestinian mother, who moved to the States when Ayman was five years old. He has made a truly remarkable impact on broadcast journalism in reporting on the 2011 'Arab Spring' events in Cairo and across the Arab World and presently he continues his broadcast career with his own show on cable MSNBC TV. Ayman has prominently made clear his support of the Palestinian people.
Ayman Mohyeldin makes his mark on broadcast journalism through excellence in reporting on the Arab Middle East
Mohyeldin was born in Cairo, Egypt to an Egyptian father, Medhat Mohyeldin, and a Palestinian mother, Abla Awwad on April 18, 1979. His father, a certified public accountant, and mother immigrated to Marietta, Georgia when Ayman was five years old. Following high school in Georgia, he studied at the American University in Washington, D.C., earning a BA in international relations, with an emphasis on the European Union. Ayman followed with an MA in international politics, with a focus on Peace and Conflict Resolution.
Soon after his studies, in 2003-5, Mohyeldin worked in Iraq as a foreign news producer with CNN. Later, as a broadcast journalist, NBC assigned Ayman as a desk assistant for the Washington D.C. bureau. His first major reporting assignment was of events following the 9/11 attacks in New York City, on the Pentagon in Arlington, Virginia, and in western Pennsylvania. Wikipedia reports that Mohyeldin described his opportunities arising from 9/11 as follows: "There was a real shortage of people with language skills or expertise in the Middle East. Just because of my language skills and the timing, so to speak, I got a lot of experience. I was thrown into a mix of things that normally desk assistants at my level would not have gotten."
During that interview, Ayman continued: "I started working on some big pieces that had to do with investigating 9/11 and all kinds of international terrorist connections… I was doing translation mostly, but I was also developing themes or threads to stories that either had some Middle East connection to them or some type of Arabic language skills required. So, it was an unbelievable experience at a really young age."
But it was more than luck that involved Mohyeldin's involvement in the coverage of major news events in the Arab World and Middle East. Examples of such events include the Iraq War (2003-11); the first multi-candidate presidential Egyptian elections in 2005; Israel's withdrawal from the Gaza Strip; the 2005 Palestinian elections in the Gaza Strip; the Sharm al-Sheikh resort bombing (July 2005) and the Jordan Hotel bombings (November 2005).
Mohyeldin's work on the CNN documentary "Iraq: report" about the daily struggles of Iraqis during the war was nominated for an Emmy Award. As an associate producer for the NBC News Special, his work on "Ship at War: Inside the Carrier Stennis" and "Inside the Real West Wing" also received Emmy nominations. While with CNN, Ayman was involved in the production of CNN specials "Islam: The Struggle Within" and "Hajj: A Spiritual Journey."
In a brief stint with Al-Jazeera English, Mohyeldin covered the 2011 Egyptian Revolution, broadcasting from the Al Jazeera news building in Cairo for several hours straight on January 28, 2011. During that broadcast, he reported on the Egyptian protests as protesters and Egyptian police battled for control of the 6th October Bridge. Subsequently, "the Egyptian Interior Ministry revoked Al-Jazeera's broadcast license and forced the closure of their Cairo bureau, claiming the network was conspiring with opposition groups to overthrow the government." Ayman was one of five Al-Jazeera journalists arrested and briefly detained by Egyptian authorities.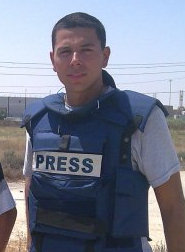 After rejoining NBC, Mohyeldin covered significant stories around the Arab World. Back in Egypt, in the summer of 2013, Mohyeldin extensively covered the removal of President Mohamed Morsi from power In Egypt. He also reported extensively in Ukraine in 2014, following Russia's claim on Crimea and after its attacks on both Kiev and Donetsk. He has experienced a few incidents in his reporting, mainly over stories he covered in the West Bank and Gaza.
In one story, Ayman was a direct witness to an event involving an Israeli police attack on a Palestinian in Gaza. Because of a dispute over his reporting, he was pulled from the story and replaced by NBC correspondent Richard Engel, reporting from Tel Aviv. NBC was subsequently criticized by independent media outlets for removing Mohyeldin, "with many believing he was singled out for portraying Palestinians with empathy and social media trends accusing NBC of pro-Israel bias." Ayman returned to Gaza on July 18, 2014, to continue his reporting.
Ayman became an MSNBC anchor on the Ayman Mohyeldin Reports and subsequently as a host of Ayman on weekend evenings on MSNBC. He and his Tunisian-born wife, Kenza Fourati, and their two children, Dora and Idris live in New York City.
Ayman "sounds off" on Israeli PM Netanyahu's characterization of Saudi's potential normalization of relations with Israel
It appears as if the U.S. is supporting an initiative between Saudia Arabia's Mohammed bin Salman and Israel's Binyamin Netanyahu to normalize relations between the two countries. This story is fine so far, except that it is assumed that the Saudis need Palestinian approval of the deal, which, according to Jewish news source, Tikum Olam, "The Saudis need Palestinian approval of the deal as 'cover' to protect its reputation among its own citizens and other Muslim states." Otherwise, Saudi will be accused "of quashing Palestinian dreams of an independent state."
Another accusation against the Saudis is that they are willing, along with the Palestinian Authority (PA), to "kill Palestinian national aspirations in exchange for a rich payday." The Saudi payoff would be in the domain of $1 billion for the PA. Tikum Olam alleges, "The PA banks on its own citizens not putting up much of a fight, assuming they are too exhausted by Israel's crushing and incessant attacks on Palestinian towns and villages to do so. It also banks on its security services to put down any such protest." Also in the deal is Saudi's demand of the U.S. for a nuclear deal, which offers the Kingdom a nuclear reactor—sworn to be for civilian purposes only.
In a recent Instagram message responding to the "normalization deal," Mohyeldin objects strongly to Israeli Prime Minister Netanyahu's characterization of it. It first responds to Netanyahu's presentation of a new, post-normalization Middle Eastern map. See Ayman's Instagram post below:
Mohyeldin is a credit to his journalism profession and to his Arab American, Egyptian, and Palestinian legacy.
Sources:
–"Ayman Mohyeldin," Wikipedia List of Arab Americans, 2023
–"Saudi Arabia to Normalize with Israel, Palestinian Authority to Get Billion-Dollar Buyoff," Tikum Olam, 9/7/2023
–Instagram message, Mohyeldin responding to Netanyahu's "The New Middle East" and comments on Saudi normalization of relations with Israel, week of 9/18/2023
John Mason, PhD., who focuses on Arab culture, society, and history, is the author of LEFT-HANDED IN AN ISLAMIC WORLD: An Anthropologist's Journey into the Middle East, New Academia Publishing, 2017. He has taught at the University of Libya, Benghazi, Rennselaer Polytechnic Institute in New York, and the American University in Cairo; John served with the United Nations in Tripoli, Libya, and consulted extensively on socioeconomic and political development for USAID and the World Bank in 65 countries.
Check out our Blog here!