Recipe of the Day
Shlada Fijl wa Latsheen - Orange and Radish Salad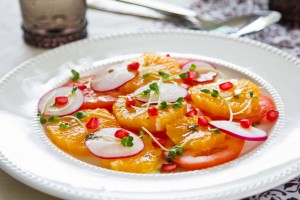 Serves 4 to 6.
12 seedless mandarins, peeled
1 cup coarsely grated red radishes
4 tablespoons lemon juice
4 tablespoons brown sugar
1 tablespoon olive oil
1 teaspoon orange blossom water
1/2 teaspoon salt
1/2 teaspoon cinnamon
Section mandarins, then place along with radishes in salad bowl and set aside. In a small bowl, combine remaining ingredients. Pour over the mandarins and radishes, then toss and serve immediately.