Recipe of the Day
Bureek Batata - Potato Turnover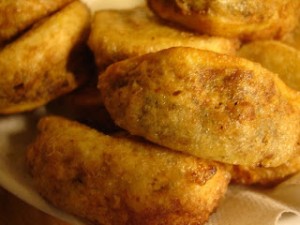 2 1/2 cups mashed potatoes
1 small onion, very finely chopped
1/2 cup chopped parsley
1 teaspoons salt
1/2 teaspoon pepper
1/2 teaspoon cumin
1/8 teaspoon cayenne
1 package egg roll wrapper (20 pieces)
oil for frying
Thoroughly combine all ingredients, except egg roll wrappers and oil, then divide into 20 portions.
Place one portion of the potato mixture near the right hand bottom corner of each sheet. Then fold the end of sheet over the filling, then fold in the sides and brush the farthest end with water and roll closed.
Fry in hot oil, then drain on paper towels and serve warm.