Recipe of the Day
Ruzz Jaari - Rice and Lamb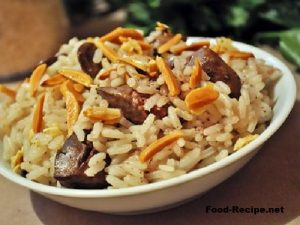 Serves about 4.
3 tablespoons butter
1/2 pound lamb, cut into 1/2 inch cubes
1 cup rice
2 cups of water
1/4 teaspoon cumin
1/4 teaspoon ground coriander seeds
1/2 teaspoon salt
1 tablespoon tomato paste, diluted in 1/4 cup water
Melt butter in a frying pan then sauté meat over medium heat for 10 minutes. Add rice then stir-fry for 1 minute. Stir in remaining ingredients, then bring to boil. Cover and cook over medium/low heat for 25 minutes, stirring a number of times to make sure rice does not stick to bottom of pan. Turn off heat, then re-cover and allow to cook in own steam for 30 minutes.