Recipe of the Day
Shawrabat Samak - Fish Soup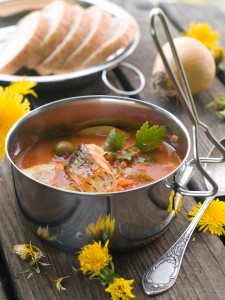 Similar soups such as this broth are found all around the Gulf area. I relished such a soup in one of the peoples' eating-places in Dubai. Serves about 8.
4 tablespoons olive oil
1 medium onion, finely chopped
1 small hot pepper, finely chopped
4 cloves garlic, crushed
1 tablespoon grated fresh ginger
2 teaspoons salt
1 teaspoon turmeric
1/2 teaspoon cumin
1/2 teaspoon ground coriander seeds
1/2 teaspoon pepper
6 cups water
4 tablespoons tomato paste, diluted in 1-cup water
1/2 pound fish fillet (any type), cut into small pieces
1/2 pound shelled shrimps, tails removed
4 tablespoons finely chopped fresh coriander
Heat oil, then sauté onion and hot pepper in a saucepan over medium heat for 10 minutes. Add garlic and ginger then stir-fry for further 3 minutes. Add salt, turmeric, cumin, ground coriander, pepper, water and diluted tomato paste, then bring to boil. Stir in fish and shrimps, then cover and bring to boil. Cook over medium heat for 20 minutes, then stir in fresh coriander and serve.