Egg or Dairy Allergy? Try Vegan Basbousa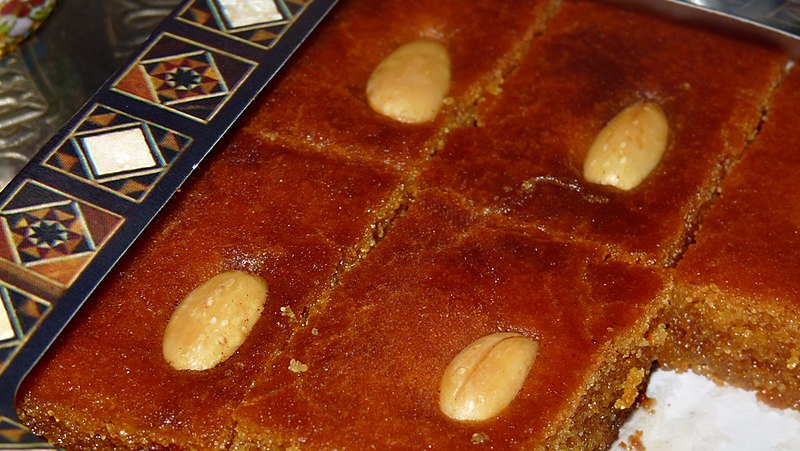 By: Alison Norquist / Arab America Contributing Writer
Likely originating in Egypt, basbousa is a semolina cake soaked in rose water syrup. Going by many names throughout the Middle Eastern region. The sweet combination of semolina flour, butter and yogurt, and almonds or other nuts has been a Ramadan staple for centuries. This basbousa recipe, which replaces the full-fat butter and yogurt with dairy substitutes, creates a deliciously sweet cake suitable for vegans and those with dairy or egg allergies.
Ingredients
Sugar Syrup
2 cups white sugar
1 cup water
2 tablespoon rose water or orange water
5 cardamom pods
Cake
3 cups Coarse semolina
1 cup vegan butter or shortening
1 tablespoon rose water or orange water
1 teaspoon baking soda
1 pinch salt
1½ teaspoon baking powder
1 cup nondairy yogurt like coconut, almond, or soy
½ cup white sugar
1 teaspoon tahini
30 almonds for decoration
Preparation
In a medium saucepan, combine water, sugar, cardamom and rose water. Stir through and bring to the boil for about 6 minutes. Set aside to cool down to room temp.*
Preheat the oven to 350 degrees.
In a large mixing bowl add semolina and plant based butter or shortening. Combine well using hands until a dough forms. Cover with cling wrap and set aside for a minimum of 30 minutes.
Once dough has rested, crumble dough using your fingers and add sugar, rose water, baking soda, baking powder, salt, plant-based yogurt. Stir until combined with hands or a spatula.
Coat the baking tray with tahini and flatten the dough into the tray as evenly as possible.
Use a knife to push the edges down and off the tray and then cut into squares or diamond pieces and place one almond in the middle of each piece.
Bake the cake by placing it in the middle of the oven for the first 15 minutes and then move it to the top for the last 15 minutes. Baking time is approximately 30min or until lightly golden
Evenly pour a generous amount of sugar syrup over baked cake.Allow to cool down to room temp before taking the pieces out to ensure it has set.
Notes
* If you cool your cake completely before adding the syrup, gently warm the syrup until it loosens up in order for maximum saturation. If you are pouring the syrup on a warm cake, there is no need to heat the syrup.
*Other nuts, like pistachios or hazelnuts, can be substituted if desired.