Arab Americans Celebrate National Arab American Heritage Month--April 2021
FOR IMMEDIATE RELEASE
(WASHINGTON, DC) March 31, 2021 – During the month of April, the Arab America Foundation, formally recognizes the achievements of Arab Americans through the celebration of National Arab American Heritage Month (NAAHM). Across the country, cultural institutions, school districts, municipalities, state legislatures, public servants, and Arab Americans will engage in special events that celebrate our community's rich heritage and numerous contributions to society.
"This is the time of the year when we take pride in the contributions Arab Americans are making in education, medicine, law, business, technology, government, military service, and culture," said Warren David, president of Arab America, he went on to say, "This year, we celebrate the accomplishments of educators, writers, poets, and musicians, who promote the Arab American heritage and culture–a testament to the contributions Arab Americans have made to America's rich diversity."
The Arab America Foundation has formed a national advisory team and twenty-four state teams of over two hundred fifty Arab Americans to approach governors, state legislatures, mayors, city councils, superintendents, school board members, and other public officials to issue NAAHM proclamations and adopt our educator curriculum kit, which is being disseminated to school districts across the nation as part of the month-long celebration.
Proclamations
Arab America Foundation state teams are acquiring proclamations from governors, state legislators, mayors, and county executives from across the country. For an updated list of proclamations, click here.
Educator's Curriculum Kit
The Educator's Curriculum Kit highlights the history of Arab migration to America, geographic understanding of the Arab world, Arab American diversity in faith and language, interesting customs and traditions, issues affecting our community, and our many achievements in business, politics, education, and more. You can request a curriculum kit to be sent to a school district or individual school by contacting Dr. Amal David.
Resources
Arab America is committed to gathering and promoting the community's events and stories through our website and social media platforms during this month of April. Every week, Arab America will feature cultural events taking place throughout the US on our events page, and share compelling success stories of Arab Americans on our blog page. Additionally, Arab America has compiled a resource guide listing resources and content regarding the Arab and Arab American identity and culture.
3 Celebratory Events in April
National Arab American Heritage Month formally commemorates the contributions of Arab Americans during the month of April featuring three exciting events.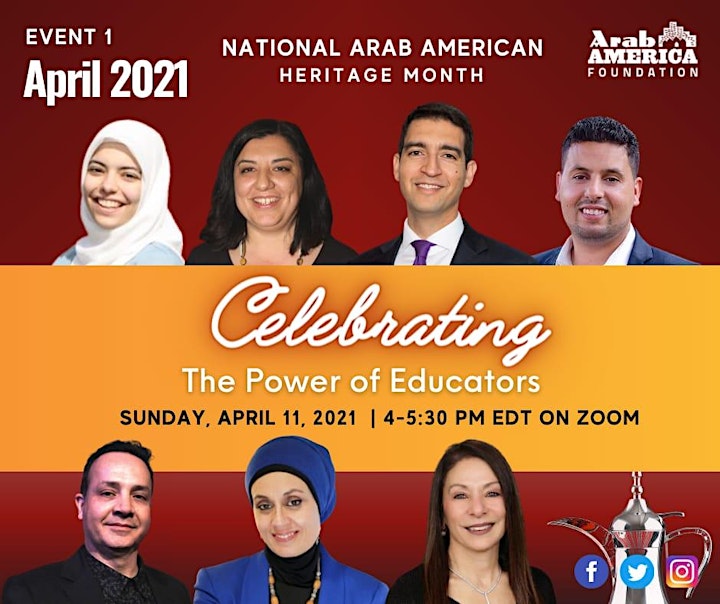 Event 1: Celebrating the Power of Educators
Sunday, April 11, 2021, 4-5:30 pm ET
(Followed by a networker 5:30-6 pm)
Join us as we discuss the significant role of education in enhancing knowledge about the Arab American identity and heritage. Panelists will recommend ways in which the community and educators can work together to impact students' understanding of the Arab American community and the Arab World.
Moderator:
Dr. Debbie Almontaser, Yemeni American, CEO, and President of Bridging Cultures Group Inc., Community Activist and Founding Principal of Khalil Gibran International Academy
Panelists:
Dr. Suzie Abajian, Syrian/Armenian American, Board Member, South Pasadena, California School Board, formerly, president of the School Board
Mohamed Abdel-Kader, Egyptian American, Executive Director Stevens Initiative, Aspen Institute, Former U.S. Department of Education Deputy Assistant Secretary, International & Foreign Language Education, Obama Administration
Lori Ajlouny, Palestinian American, School Board Vice President, Birmingham, Michigan Schools, Board of Education and community activist
Adel Mozip, Yemeni American, Board Trustee, Dearborn, Michigan Public Schools, and community activist
Karim Nagi, Egyptian American, musician, composer, ethnic dance artist, and educator specializing in traditional Arab music and widely known for his innovative approach In performing and teaching.
Abrar Omeish, Libyan American, Board Member-At-Large, Fairfax County, Virginia School Board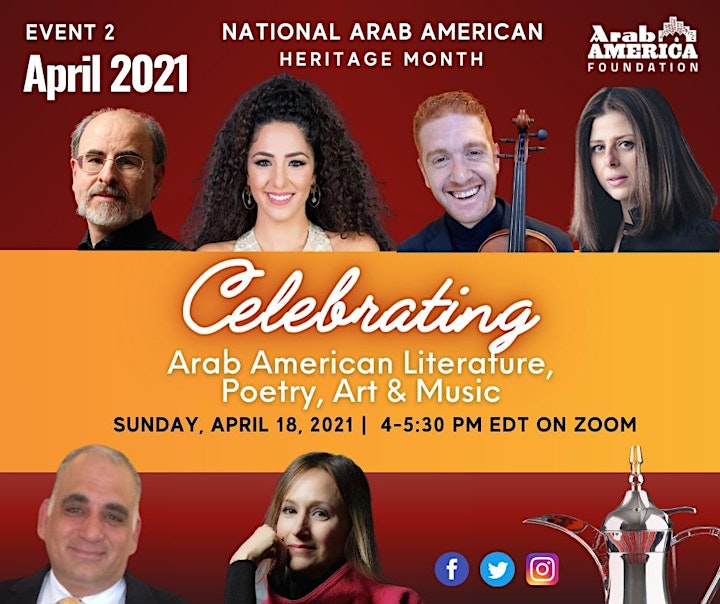 Event 2: Celebrating Arab American Literature, Poetry, Art, and Music
Sunday, April 18, 2021, 4-5:30 pm ET
(Followed by a networker 5:30-6 pm)
Panelists will discuss the rich literary, poetic, theatrical, and visual genres which contribute immensely to the Arab heritage. Hear how they incorporate their identities and experiences in their work, while expanding their talents with diverse influences.
Moderator:
Dr. Ramzi Salti, Jordanian/Lebanese Stanford Lecturer; Doctorate in Comparative Literature; Host of Arabology Radio
Panelists:
Nathalie Handal, Arab American (Palestinian), award-winning poet, writer, translator, and editor, professor of English and Creative Writing at Columbia University
Heather Raffo, Iraqi American, award-winning playwright, and actress whose work has been seen Off-Broadway, off West End, in regional theater, and in film
Dana Dajani, Palestinian American, award-winning, author, poet, and actress who performs spoken-word poetry solo in theatrical style
Dr. Mamoun Sakkal, Syrian American, award-winning calligrapher, artist, and designer of Arabic language typefaces, many of which are widely used as system fonts by Microsoft
Layth Sidiq, Iraqi/Jordanian American, award-winning violinist, composer featured on Latin Grammy-nominated albums, lecturer of Arab music, director, Arab Music Ensemble, Tufts University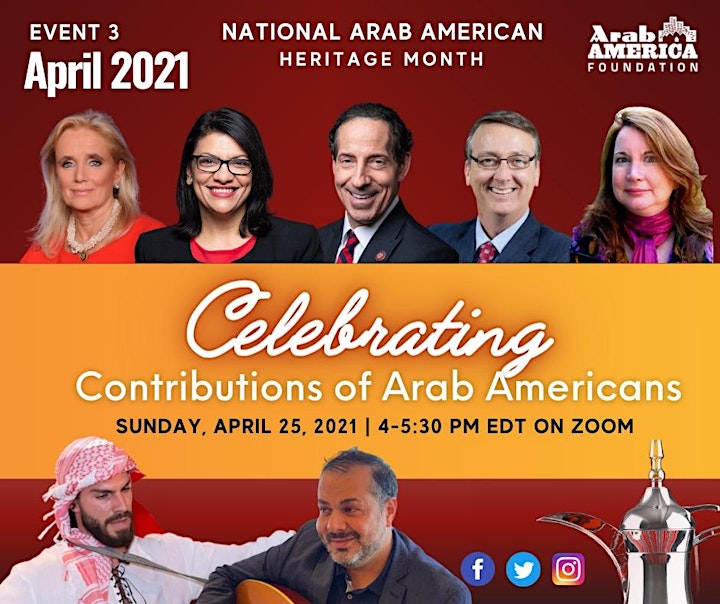 Event 3: Celebrating the Contributions of Arab Americans
Sunday, April 25, 2021, 4-5:30 pm ET
(Followed by networker, 5:30-6 pm)
For over a century, Arab Americans have made numerous contributions to virtually every aspect of American society: in medicine, law, business, education, technology, government, military service, and culture. As a result, their contributions have helped build a better nation. We will hear from numerous public officials, educators, and community leaders who will commemorate and pay tribute to the contributions of Arab Americans. The event will also include several Arab American music artists who will celebrate this special month through their performances.
At this online event you will:
Hear from Members of Congress, elected officials, and community leaders
Enjoy live Arab music reflecting the Arab culture
Confirmed Guests to Date:
Congresswoman Debbie Dingell (MI-12)
Congresswoman Rashida Tlaib (M-13)
Congressman Jamie Raskin (MD-8)
Mike Duggin, Mayor of Detroit
Scott Brabrand, Superintendent of Fairfax County Public Schools
Lauren Montague, Executive Director, The Center for Middle Eastern Studies at Harvard University
Arab Pop Stars Massari and Elyanna
Muath Edriss, Syrian American Vocalist, Oudist, and Zaffi Chanter
Michael Kahwajy-Hyland, Lebanese American Dabke Dancer Extraordinaire
About the Arab America Foundation
The Arab America Foundation (www.arabamericafoundation.org) is a non-profit educational and cultural organization that promotes the Arab heritage in the U.S., educates Americans about the Arab heritage and identity, and connects and empowers Arab Americans.
National Arab American Heritage Month Sponsors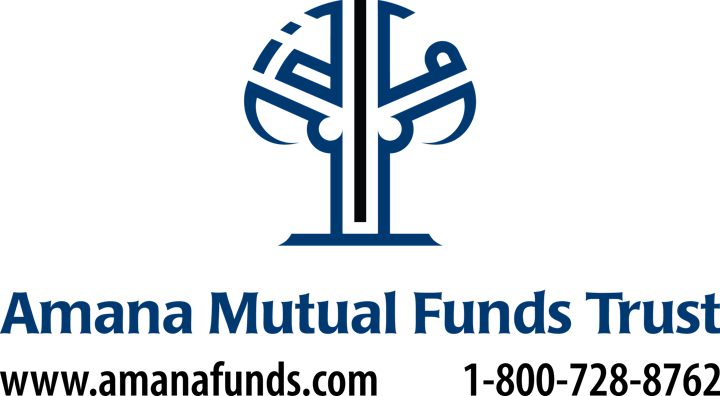 Special Thanks to Supporters
Fred Hadeed
Andoni Family Foundation
Hamideh Enterprises
Salam International
MEDIA INQUIRIES
National Media Contact:
Claire Boyle
cboyle@arabamerica.com
877-272-2944
Compiled by Arab America