Breaking: President Joe Biden Recognizes National Arab American Heritage Month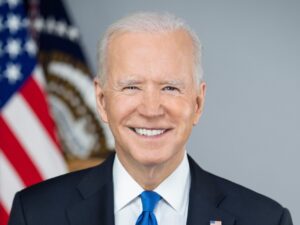 FOR IMMEDIATE RELEASE
(WASHINGTON, DC) April 25, 2021 – In a letter to Arab America and the Arab America Foundation, the president of the United States, Joe Biden, recognized National Arab American Heritage Month (NAAHM). The letter was released at the Arab America Foundation's annual commemorative event on Sunday afternoon which celebrated the contributions of Arab Americans
In the letter, Biden expressed congratulations and best wishes "to all those celebrating National Arab American Heritage Month." He stressed that "the Arab American community is essential to the fabric of our Nation"  and that he was honored to be a part of a celebration that "recognizes Arab American culture, heritage, and contributions to American society."
Biden went on to say, "diversity is one of our greatest strengths, and it is essential that we continue celebrating, promoting, and educating others about the myriad ways that the Arab people have advanced human civilization and contributed to the well-being of our Nation."
Warren David, president of Arab America and a co-founder and board member of the Arab America Foundation was elated and said that "this is the first time a sitting US president has recognized Arab Americans in celebrating their heritage and their contributions to America's rich diversity."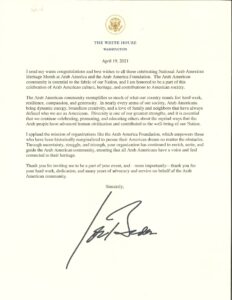 White House.Message from President Biden to Arab America
Both the US State Department and Department of Homeland Security recognized National Arab American Heritage Month and the accomplishments of Arab Americans.
The Arab America Foundation has formed a national advisory team and twenty-four state teams of over two hundred fifty Arab Americans to approach governors, state legislatures, mayors, city councils, superintendents, school board members, and other public officials to issue NAAHM proclamations and adopt our educator curriculum kit, which is being disseminated to school districts across the nation as part of the month-long celebration.
Arab America is committed to promoting an accurate narrative through the website and social media platforms. The Arab America Foundation (www.arabamericafoundation.org) is a non-profit educational and cultural organization that promotes the Arab heritage in the U.S., educates Americans about the Arab heritage and identity, and connects and empowers Arab Americans.
MEDIA INQUIRIES
National Media Contact:
Claire Boyle
cboyle@arabamerica.com
877-272-2944
Compiled by Arab America
Check out Arab America's blog here!