Special Dinner Dance Lebanese Buffet by Hanna's & Musician Nadim Bourjaili - RSVP by Tues. 3/28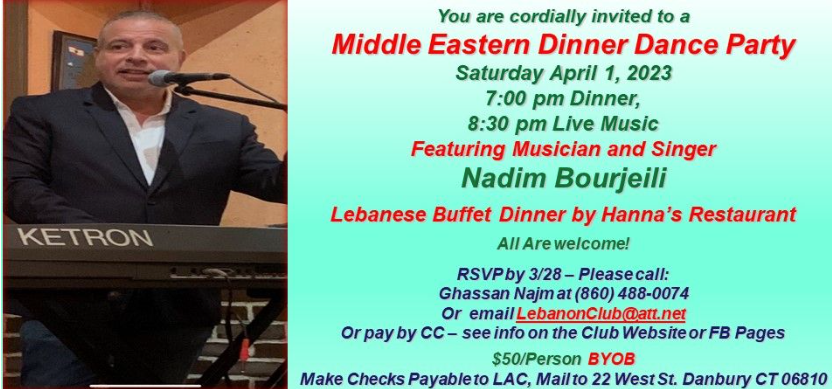 Date/Time
Date(s) - 04/01/2023
12:00 am
Location
Lebanon-American Club of Danbury
Categories
Cost:
$50/person BYOB USD
Contact Person:

Email:
Lebanonclub@att.net
Website:
https://allevents.in/danbury/special-dinner-dance-lebanese-buffet-by-hannas-and-musician-nadim-bourjaili-rsvp-by-tues-3-28/200024047001345
Phone:

Organization:
Lebanon-American Club of Danbury

DANBURY, CT
Special Dinner Dance Lebanese Buffet by Hanna's & Musician Nadim Bourjaili – RSVP by Tues. 3/28
Lebanese Specialty featuring Mezza: Hommus, Baba Ghannouj, Shankleesh (cheese mix), Kibbee Nay (Raw Beef) and Fattouch Salad.
Main Entree: Lamb and Veg. Grape Leaves, Baked Kibbee (Beef), Chicken and Rice, Moussaka (Vegetarian Eggplant). Great meal shared with Members, family and friends. For reservations send email to 
Lebanonclub@att.net
, and check your group reservation.
$50/person BYOB