Recipe of the Day
M'sey'eer - Salty Salad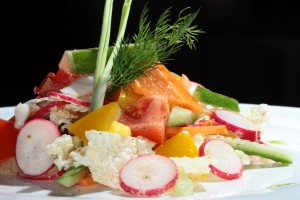 Serves about 8.
1/2 small hot pepper thinly sliced
2 medium sweet peppers sliced into thin rounds
2 medium carrots sliced into 2 inch long very thin sticks
1 small fennel bulb quartered then thinly sliced
6 medium radishes, sliced into thin rounds
5 tablespoons salt
4 tablespoons lemon juice
cold water
Place all ingredients in a bowl then cover with cold water. Stir until all the salt is dissolved. Let stand for 2 hours then drain out the water. Re-cover with fresh water and allow to stand for half an hour then drain. Chill in refrigerator before serving.