Recipe of the Day
Tahini Salad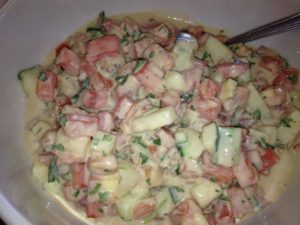 This salad goes especially well with dishes like falafel, which call for tahini on the side.
Ingredients
2 medium tomatoes, diced into 1/4-inch cubes
1 medium cucumber (6- to 8-inches), diced into 1/4-inch cubes
1/2 cup finely chopped green onions
2 tablespoons finely chopped fresh coriander leaves (cilantro)
2 tablespoons finely chopped fresh garlic leaves or 2 cloves garlic, crushed
5 tablespoons lemon juice
4 tablespoons tahini (can be found be Middle Eastern or health stores)
3 tablespoons water
1/2 teaspoon salt
1/2 teaspoon black pepper
1/4 teaspoon cumin
1/8 teaspoon cayenne
Preparation 
Place, tomatoes, cucumber, green onions and coriander leaves in a salad bowl and set aside.
Place remaining ingredients in a blender, then blend for a minute. Pour over vegetables then toss.
Serve with falafel as a salad. If falafel are served in sandwiches, place two heaping tablespoons in each sandwich.