Charity

Business Genre
American Palestinian Women's Association (APWA)
APWA is a non-profit, non-political, secular, organization, established in 2004 by concerned American Palestinian women in The Washington, DC Metropolitan Area.
APWA aims to:
• Address the needs of American Palestinian women and their families.
• Build American Palestinian women's capacity to improve their familial social, cultural and economic conditions.
• Create support networks for American Palestinian women and their families for better and more effective integration in the U.S.
• Introduce the Palestinian narrative thru cultural interaction to build cross-cultural bridges between and among our communities.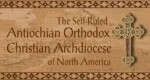 The Antiochian Orthodox Christian Archdiocese of North America, is an Archdiocese of the Orthodox Patriarchate of Antioch and All the East. The church traces its roots to the first century Antioch, the city in which the disciples of Jesus Christ were first called Christians. Located in Englewood, New Jersey, the Archdiocese is comprised over close to 300 parishes and missions throughout North Amerioca.