CSID's 21st Annual Conference - Why the US should Support Democracy?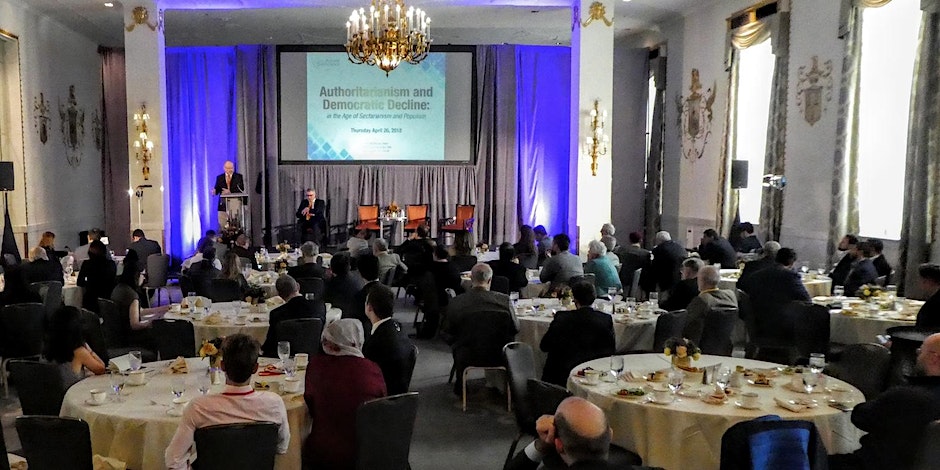 Date/Time
Date(s) - 06/01/2023
8:30 am - 5:30 pm
Location
The Mayflower Renaissance Hotel
Categories
Cost:
$75-$1000 USD
Contact Person:

Email:

Website:
https://www.eventbrite.com/e/csids-21st-annual-conference-why-the-us-should-support-democracy-tickets-621082383127
Phone:

Organization:
Center for the Study of Islam & Democracy (CSID)

WASHINGTON, DC
The CSID Annual Conference is the international conference on Islam & Democracy, held in Washington DC, attended by experts & policymakers.
Tentative Program
8:45 – 9:0150 Registration & Continental Breakfast
9:15 – 9:30 am Opening Remarks
Prof. Asma Afsaruddin – Chair of the CSID Board
Prof. Dalia Fahmy – Chair of the Program Committee
9:30 – 11:00 AM – PANEL 1:
The Cost of Authoritarianism: Assessing U.S. Mideast Policy over the Long Term
Moderator: Dalia Fahmy – Associate professor of political science, LIU Brooklyn
Shadi Hamid – Senior Fellow, Brookings Institution
Sarah Leah Whitson – Executive Director, Democracy in the Arab World Now (DAWN)
Wa'el Alzayat – CEO, Emgage
Ismail Numan Telci, Vice President, Center for Middle eastern Studies, ORSAM, Turkey
11:00 – 12:00 PM – PANEL 2:
Middle East Authoritarianism and the subversion of Western democracy
A Conversation with David Kirkpatrick
The New Yorker Magazine
Moderator: Nader Hachemi, Director, The Center for Middle East Studies, University of Denver
12:00 – 1:30 PM – Keynote Luncheon
Keynote Speakers:
Damon Wilson – President, National Endowment for Democracy (NED)
Amaney A. Jamal – Dean, Princeton School of Public and International Affairs,
Princeton University
Moderator:  Radwan Masmoudi
Founder and President, Center for the Study of Islam & Democracy
1:30 – 3:00 PM – PANEL 3
Political Islam and Democracy:  A 45-year Retrospective
Moderator:  Dan Brumberg, Georgetown University
POLITICAL ISLAM: MORE THAN ISLAMISM
Jocelyne Cesari – Visiting Professor of Religion, Violence, and Peacebuilding at Harvard Divinity School
Ennahdha and Tunisia's Transition: A Forensic Look at What Went Wrong
Monica Marks – Professor of Middle East politics at New York University, Abu Dhabi
Islam and Democracy: Lessons learnt from the "Arab Spring"
Andrew March – Professor of Political Science, University of Massachusetts, Amherst
Deina Abdelkader – Assoc. Professor, Political Science Dept., University of Massachusetts Lowell
Tunisia Still Survives…?
William Scott Harrop – Doctoral candidate, Department of Politics, University of Virginia
Consolidating Democracy in Tunisia: Uncertain Future for Democratic Institutions and the Role of the United States
3:00 – 3:15 PM Coffee and tea break
3:15 – 4:45 PM – PANEL 4
The Role of Islamic Values in Building a Just Society and Political System
Moderator:  Asma Afsaruddin – University of Indiana
What Does Islam Really Say about the Rights, Status and Behavior of Women? The Interpretations of Islam Embraced by Ordinary Muslim Citizens in the Arab World
Mark Tessler – Professor of Political Science, University of Michigan
How Islamic values can contribute to building a free society
Mustafa Akyol – Senior fellow at the Cato Institute's Center for Global Liberty and Prosperity
Inheritance Laws and the Limits of (and Prospects for) Gender Equality in the MENA
Youssef Chouhoud – Assist. Professor, Political Science, Christopher Newport University
What Explains Voter Preferences in Tunisia's Transitional Elections?
Lindsay Benstead – Director, Middle East Studies Center, Portland State University
WHY DEMOCRATIZATION OF THE ARAB WORLD IS IMPORTANT FOR THE BALKANS?
Marko Veković – Professor and Executive Editor Politics and Religion Journal, Belgrade, Serbia
4:45 PM – 5:30 PM – Keynote Speech
A Message from Tunisia:
The Role of the International Community in Defending and Supporting Democracy in Tunisia
Sheikh Rached Ghannouchi
Former Speaker of the Tunisian Parliament 2019-2021
Speech by Ahmed Gaaloul, Member of the Executive Committee of Ennahdha, on Behalf of Sheikh Rached Ghannouchi
5:30 pm – Closing Remarks
————–
Co-Sponsored by:
Emgage
Muslim Public Affairs Council (MPAC)
The Center for Muslim-Christian Understanding, Georgetown University