Labor of Love: Embroidering Palestinian History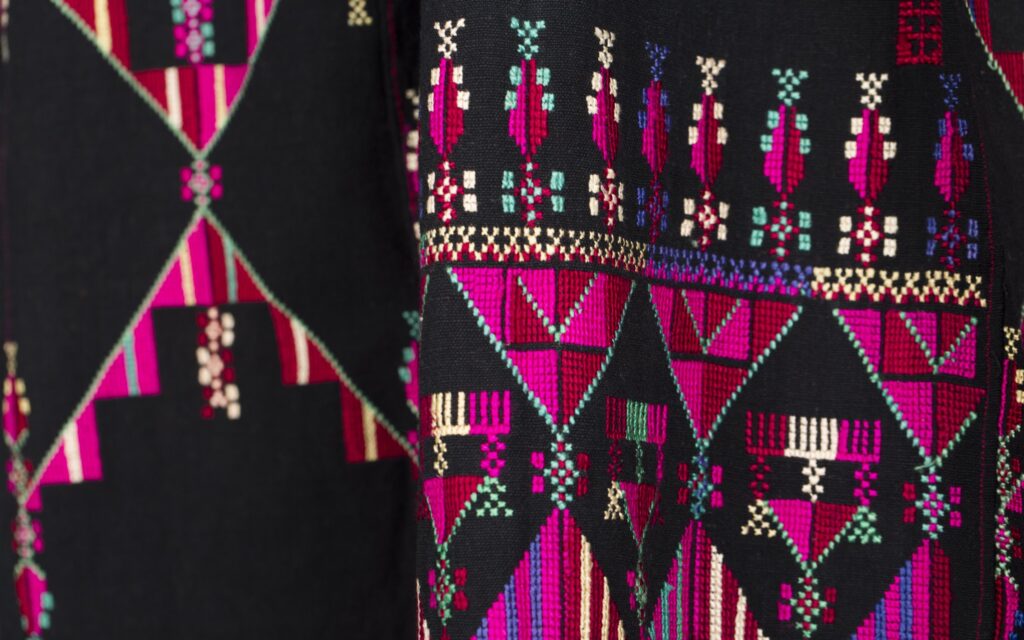 By: Souria Dabbousi / Arab America Contributing Writer
The Qatar Museum has opened an exhibition in honor of Palestine and the Palestinians. The Labor of Love exhibition takes visitors on a journey to the discovery of tatreez (embroidery). It showcases the history of tatreez and how it has been woven into the fabric of Palestinian society.
History of Tatreez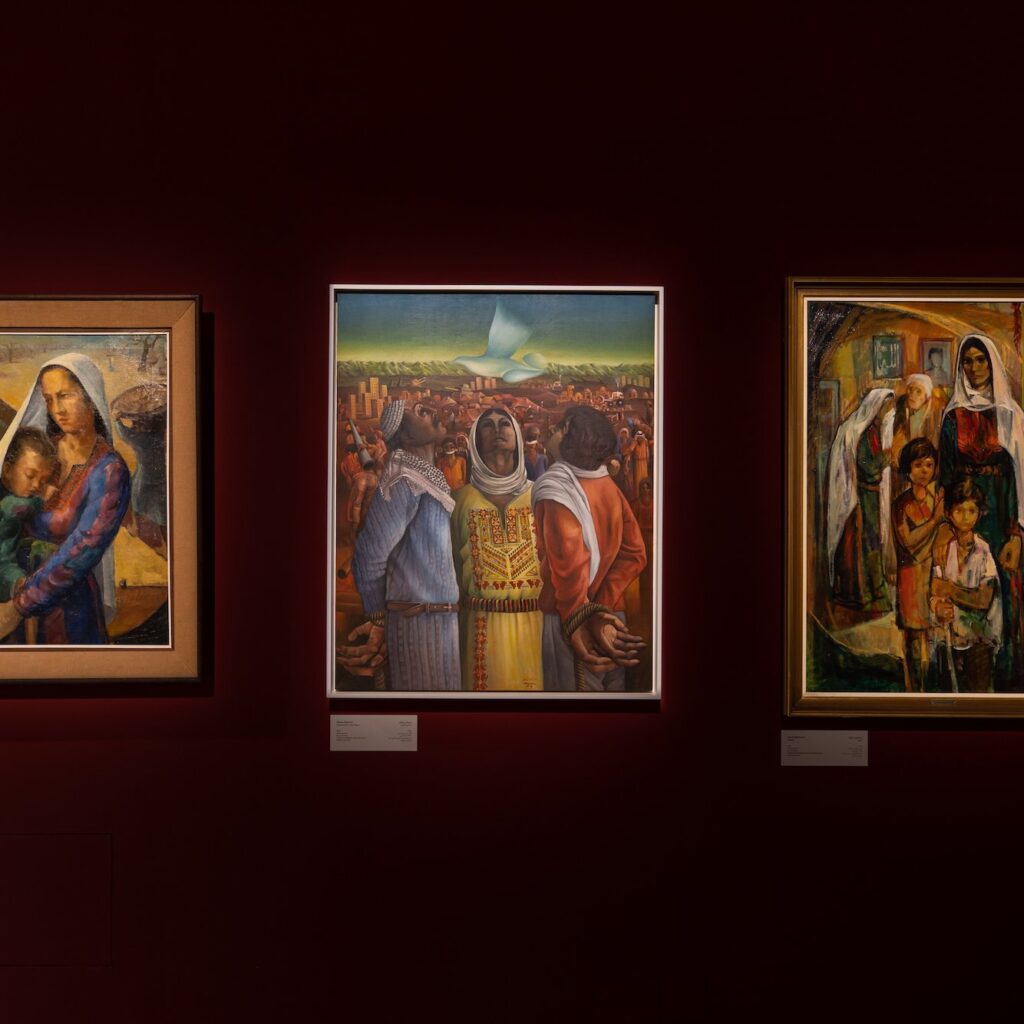 Tatreez (embroidery) originated in Palestine over 3,000 years ago and held great significance. It is a unique form of embroidering that allows various patterns to create traditional motifs, each containing a significant meaning and symbolizing important events.
After the tragic event of the 1948 Nakba, tatreez took on a new form of design. It encompassed symbols representing heritage, longevity, and power. Political posters in Palestine and abroad commonly featured ladies wearing embroidered Palestinian dresses (thobes) and tatreez. Embroidered thobes were worn throughout the significant period of demonstrations against Israeli occupation during the First Intifada (1987–1993). Traditional motifs like cypress trees and horseshoes coexisted with symbols like doves, weapons, maps, and political slogans to create a tangible picture of political conflict.
Protesting with Tatreez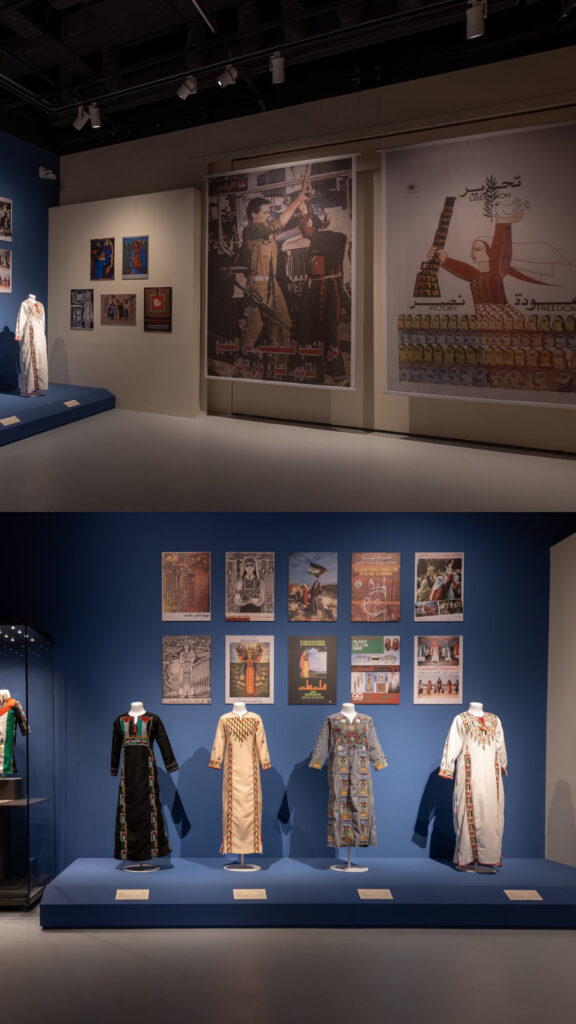 In 1987, the first Intifada broke out. Palestinian colors were banned in public, and Palestinian flags were confiscated. So, embroidery became the new form of resistance. Thobes, also called Intifada dresses, were made and worn by women of the West Bank. Blue, gray, and black thobes were embroidered with national motifs. Some used historic symbols along with the Dome of the Rock, the Ship of Return, or the letters P-L-O which stands for Palestine Liberation Organization. These garments were seen as active political resistance.
Tatreez Throughout Regions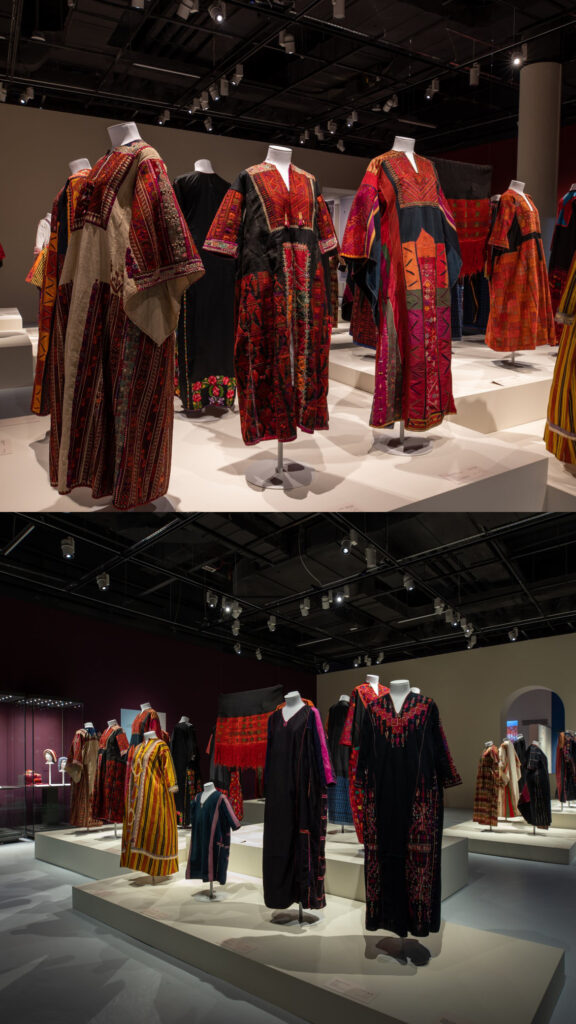 Each region has tatreez designs specific to that area that signifies their culture and values. The Hebron area is known for its jallayeh, a split-front coat dress made from thick materials and worn over the main dress. However, as time evolved and social norms changed, women began sewing up the slits and openings of the jallayeh.
The Yaffa region incorporated tatreez of citrus and figs on their thobes due to their history of their residents working in imports and exports of oranges, cotton, olives, and sesame products.
Details on thobes signified their origin. Thobes from villages near Ramleh and Yaffa were light, with light tatreez and usually white fabric. Thobes from Gaza were known for their geometric patterns, scattered tatreez, and usually in red and pink color palettes.
The Bedouins from the Naqab desert and other southern regions wore black thobes, some with pointed sleeves and others with narrow sleeves.
Thobes from Beit Dayan were known for their fine tatreez with tiny stitches.
Tatreez Inspiration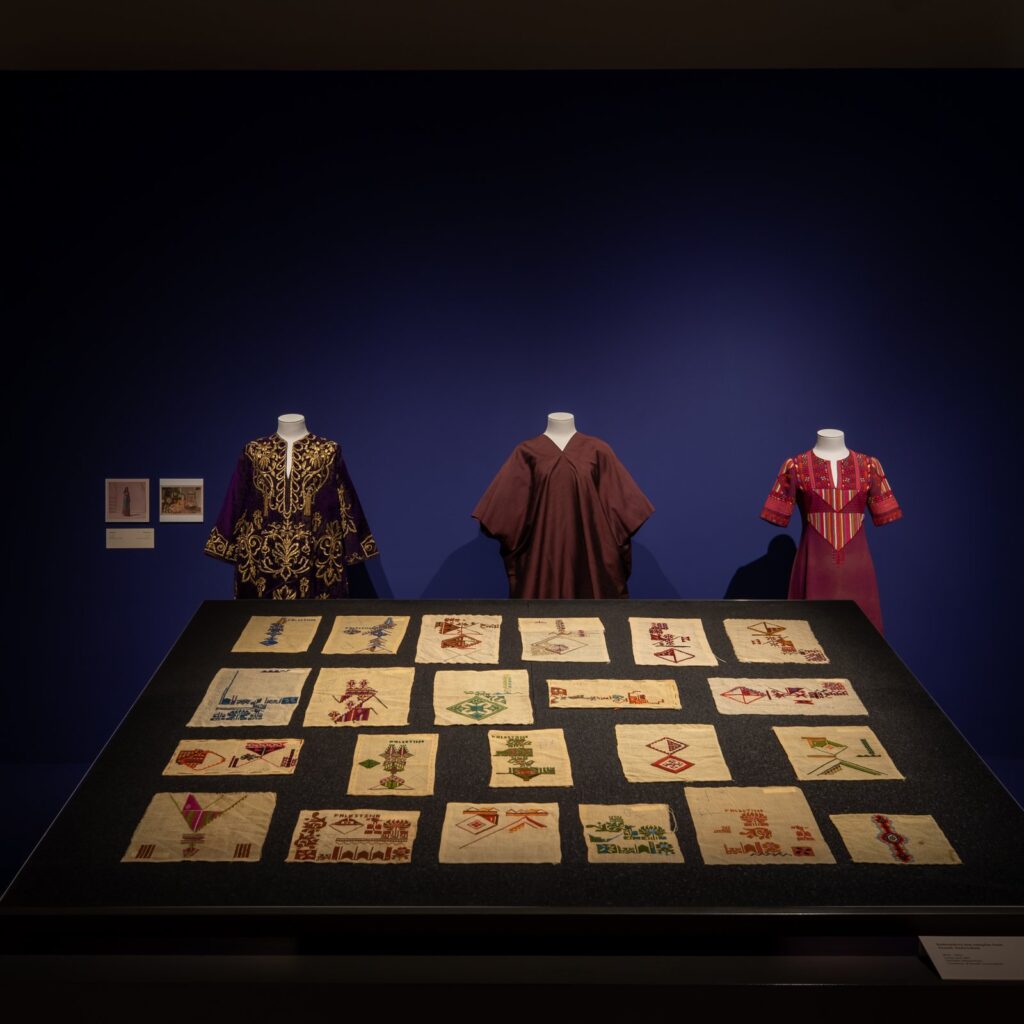 "Inspiration for tatreez patterns came from flora, fauna, architecture, religious fashion, carpets, mosaics, daily life, and even local political events." Women would spot a motif on another woman's dress and rush home to embroider it. This would force a new design and turn it into something new.
Raja El-Zeer
The Labor of Love exhibition featured many items and shared many stories; however, the last object is a thobe made by Raja El-Zeer This thobe was made by Raja to wear to her son's wedding in 2014 and somewhat departs from the Palestinian embroidery traditions.
The tatreez, cut, silhouette, color, and motifs aren't 'traditional' Palestinian designs. The dress's silhouette reflects the more uniform styles that have been popular since the 1980s, and its color scheme is not what would have been worn previously. Both its motifs and the all-over patterning are non-traditional. Although Raja made and wore it, this garment is still a Palestinian embroidered dress, much like its 100-year-old sisters. Raja's creations serve as a reminder that embroidery is still an active and modern craft.
Check out Arab America's blog here!